We'd be down for micro-living if we could have a tiny house as stylish, bright, and modern as Kelly Christine's beautiful space. A lifestyle and interior photographer — with a gorgeous print shop, by the way (we're drooling over that Grand Canyon print in her living room) — Kelly's tiny house is parked in sunny Texas, where she lives with her husband Canaan and their two cats.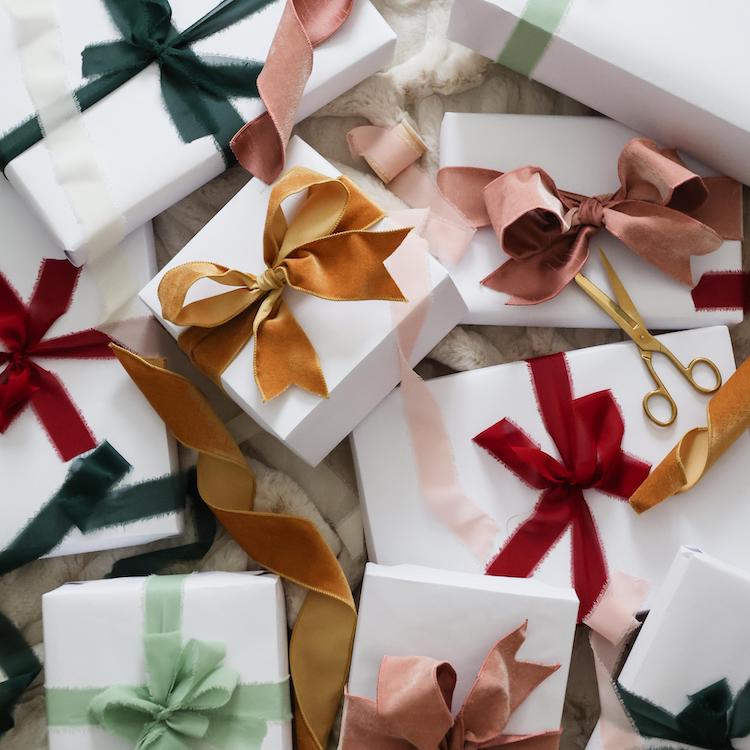 the perfect gifts for everyone—and we mean everyone—on your list
Here, we got the scoop on converting to living in a tiny house — everything from how to get started to where to put all your "less than appealing" looking stuff. Plus, we dig into Kelly's creative process, how she chose paint colors and accents for her home, and what she prioritized in her small-but-cozy space.
Name: Kelly Christine, Lifestyle + Interior Photographer behind Kelly Christine Photo
Age: 26
Square Footage: 312
Rent or Own: Own
City: Golden, TX
Did you always know you wanted to pursue a career in photography?
Not always! I started shooting as a hobby when I was 15. I went to college for fashion design and ultimately got more enjoyment out of photographing my projects than I did in designing them. Once I graduated, I decided to pursue photography full-time.
How has your creative process evolved since you started?
When I started out, like many new photographers, I was shooting many different subjects. Photographing weddings, products, kids, fashion, etc. While I still shoot a variety of subjects, over the years I've really honed in on what I feel like I'm most passionate about, but continue to try new things and not take myself or my work too seriously.


What are your favorite subjects to shoot?
Kids! I also have found a new love of photographing interiors over the past several years. But kids are constantly inspiring me.
How do you market your business?
Word of mouth is the bread and butter for my business. My clients are awesome. Once in a while, I get someone who found me through Instagram.
When did you decide to start selling prints? Do you have a favorite?
About two years ago. It's easy to become a little complacent with photography, shoot the same subjects over and over. I love my work and what I do but I wanted to start a side project to challenge myself.
If they're on the site, they're my faves. I add and remove photos pretty often if they just aren't exciting or inspiring me. Right now my very favorite is probably Deal Beach. It was shot on 35mm in a little coastal town outside of London where my husband's grandma was raised. That day we visited her childhood home, the church where she married his grandpa (who just passed around Christmas), and strolled this pebbled beach at sunset. It was a magical day. An old favorite is Cloud In A Can. No special story, I just think it looks really freakin' cool.

We're #obsessed with tiny house living! How did you decide to go tiny?
My husband and I spent our honeymoon on the West Coast, road-tripping from San Francisco to Portland. While on our vacation we stayed in lots of tiny spaces; an airstream, a tiny cabin in the woods, a tiny garage apartment — that all felt very comfortable. At the time, we lived in a 3/2 house with our friend and had filled our space to the max with a lot of stuff. Once we decided to give it a try, we downsized to a 700 sq. ft. apartment. We lived there a year and a half. This was a test period for us to see if we really wanted to go tiny. We loved it so much we decided to go for it!
What was the most challenging part about transitioning to tiny living?
The downsizing process was challenging, but fun and exciting. Also, unless you own your own piece of land that doesn't restrict you to certain building requirements, you're going to run into the issue of where to put your house. We sure did. We couldn't find anywhere to put it in the city. Luckily, we have access to family property 80 miles outside of Dallas and we were able to put our home there for now.
What were some things you were not willing to lose by going tiny?
My husband has an enormous library of books and we both love films and video games. We managed to find a way to comfortably store all of it in our home. Other things I wasn't willing to part with are all the cards he's made me the past 11 years we've been together (that's one homemade card per holiday so there are a lot!), my printed photos, a few family keepsakes, etc. but those items are stored at my mother-in-law's house.



How did you find your tiny house? Did you have a plan going in of how you wanted everything laid out?
We had our home custom built by American Tiny House in Longview, TX. We had a general idea of the layout we wanted. Once we talked to Andrew at ATH, he reworked it a bit for us to make it just perfect.
We knew from the beginning we wanted an awesome living space that was cozy and inviting.
We've never lived in a tiny house, but we've lived in some pretty tiny studio apartments. Small spaces definitely make you reevaluate your priorities in terms of stuff. What did you prioritize in your space?
We knew from the beginning we wanted an awesome living space that was cozy and inviting. We watch a lot of movies and play video games so we needed a lot of storage and a comfy pull-out couch/bed for guests.
Storage space was also a priority, but many tiny homes we saw had exposed storage. We have a lot of not-so-pretty things we needed to store, like suitcases and camping gear. So glad we went with the hidden storage above the bathroom.
What are some things you love about living in Texas?
I love that it's central to everything. There's a major airport close by that can take you almost anywhere and usually with no stops. I also love the unique landscapes. You've got East TX piney woods, West TX plains, beautiful rolling hill country, and diverse cities like Dallas, Austin, and Houston in between.

Do you have a favorite area of your home? Where do you end up spending the most of your time?
In the living room!
Your organization is on point — everything has a place. Is it easier to stay tidy in a smaller space?
It is easier! We have a place for everything and we don't have many multiples of smaller things like dishes, towels, blankets, utensils, etc. We tried to just narrow down to what we need and that makes it much easier for everything to have its own place.
We're all about that pop of teal in your bathroom. How did you decide on a color scheme?
Thank you! We matched it to be very close to "Dark Harbour" by Benjamin Moore. We knew we wanted the house to have a bright, neutral interior so we decided to go for a fun, bold color in the tiny bathroom.

Even with a smaller square footage, your home feels very airy and spacious. How did you achieve that balance?
Tallest ceiling height possible, windows on all sides and high up for extra light, and bright, white shiplap walls.
There was a lot of compromising throughout the design process, but we both love how it turned out.
What was it like creating a space for yourself and your husband, Canaan? Do you have similar design aesthetics?
We've kind of figured out how to blend our styles. There was a lot of compromising throughout the design process, but we both love how it turned out.
What kind of compromises?
There wasn't a whole lot that we disagreed on. Finding a stain color that we both loved was a little challenging but we're happy with the one we picked. There is more compromising happening now that we're living in the home. I like to change things up once in awhile but for him, he's happy for the house to stay the same for a long, long time. Right now I'm trying to convince him that a photo collage would look awesome in the empty wall space on the stairs. Still needs more convincing, haha.

You've really maximized the outdoor area around your home as well — we're super jealous of those mesh seats! 
Thank you! Scored the set for $10 at an estate sale. During the fall, we had several parties with friends and we utilized the outdoor space quite a bit as well as the inside. It holds more people than you'd think!
Do you plan to stay in the same place with your tiny house? Or are you planning to take it on the road?
We don't plan to travel in our tiny house, however, we will probably move it at some point.
​Don't sweat the small stuff. (My 26-year-old self needs to listen to this too.)​
Do you have any favorite spots in Golden?
Golden only has a population of about 250 people. Though it's small, it has a lot of great people and history and charm to it. That said, there aren't a lot of places to go. There is the Golden Homestead, which is a beautiful wedding and events venue in a refurbished historic building and it's where we had our wedding reception. I also love the Golden Grocery. It's as cute as it sounds. When I was a kid I would walk to it to rent .99 cent VHS tapes.
So that means you head into Dallas pretty often, huh?
All of the time! I go for work, to visit friends, or for a date night with Canaan.
What advice would you give your 23-year-old self?
Don't sweat the small stuff. (My 26-year-old self needs to listen to this too.)
Kelly Christine is The Everygirl…
Current go-to breakfast?  
Fruit and hot tea!
Sweet or savory?
Sweet!
Spirit animal?
I seriously couldn't think of anything so I took a quiz. Haha. I got "llama"! I'll take it.
If you could have lunch with one woman, who would it be and why?
Jane Goodall seems like she was such a badass lady! She dedicated her life to protecting endangered species and to conservation and more. Would be amazing to pick her brain.