Let's be honest: 30 is the new 20, and I'm welcoming my new stage of life with open arms. While your 20s are about figuring out who you are, what you want to do, and who you want to surround yourself with, your 30s come with knowing who you are—and that includes knowing what your personal style is. Dressing yourself in your 30s is more about quality than quantity, which means I'm looking to add investment pieces to my closet that I might not have when I was younger.
If there's one thing to accomplish this weekend, it's hitting up one (or two or three) of these Memorial Day sales that'll make your home, wardrobe, and budget happy
Now that I feel more established, the key to embracing this confident new chapter is to declutter and minimize items I don't need and invest in staples that will serve a purpose. We're talking about a classic pair of boots, a nice tote bag, and timeless pieces that I'll have for the next decade that will make getting dressed in the morning a breeze.
If you're a 30-something who's thirty, flirty, and thriving, I'm here to recommend the 10 pieces I'm investing in now that I'm entering a new decade.
1. A classic shoulder bag
A classic shoulder bag is a must-have in any wardrobe. Not only are shoulder bags chic and easy to style, but they're practical for everyday wear and can fit all of your necessities. Depending on what you're looking for, you can go classic with a black bag or spice it up with a fun print or bright color. Bonus: A shoulder bag is great for travel and is secure since it sits close to your body.
2. An oversized blazer
A black blazer is an essential piece that can serve more than one purpose in your wardrobe. Wear it as an everyday jacket, to the office as a complete suit look, or layer it over a white tee and high-waisted pants to achieve a cool girl-inspired vibe.
3. A quality trench coat
The trench coat has stayed in style forever, and for good reason. Its lightweight nature is perfect for in-between seasons and can be layered over a chunky knit during cooler months. Elevate any look instantly with a relaxed trench coat and layer with a scarf for the perfect third piece.
4. Vintage jeans
There's something so satisfying about putting on a pair of jeans that fit just right. Stretch denim is good if you're seeking comfort or something to wear around the house, but nothing compares to a rigid pair of vintage denim that won't stretch throughout the day. Vintage denim ages like a fine wine—the wear only gets better with time.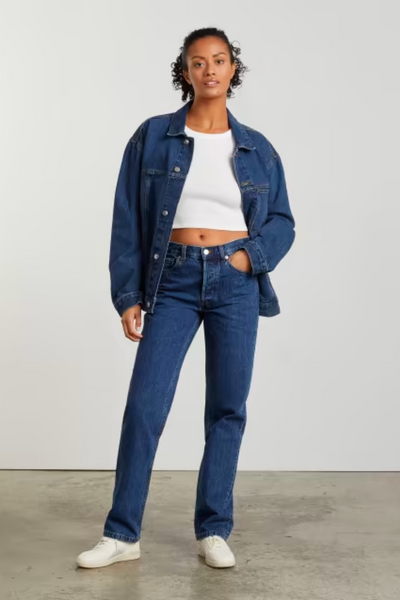 Everlane
3 colors available
5. Classic black booties
There are hundreds of styles of boots to choose from, some classic that will be around forever and some trendy that will leave with the changing of seasons. But one thing is for sure: You cannot go wrong with a classic black bootie. Versatile and stylish, you can wear them with denim and a leather jacket or dress them up with a sweater dress and tights.
6. An everyday tote bag
Whether you're working from home or commuting to work every day, an everyday tote is essential to a 30-something's wardrobe. Throw in your planner, a water bottle, or whatever you may need, and use your tote day to night from the gym to dinner with friends.
7. A classic belt
Maybe you're thinking, a belt is a necessity, really? Really. A belt can be used for practicality or fashion, but a classic belt is great for elevating any look while also serving the purpose of quite literally holding your pants up. I size up in my bottoms because I like things baggy, so a belt always comes in handy.
Madewell
4 colors available
Anderson's
3 colors available
8. A pair of trousers
In years past, trousers were considered more of a workplace staple, but, as of late, they've evolved into a chic, everyday closet staple. A good pair of trousers will last you a long time and add variety to your existing items in your closet. Pair with a tight turtleneck, and layer with a trench coat for a quintessential fall look. They're the perfect piece to swap out your jeans for whenever you want something a little extra.
Everlane
4 colors available
9. A cashmere sweater
You have made it to 30 and now it's time to treat yourself. There is nothing quite like the feeling of soft cashmere on the skin. Invest in a neutral-colored piece that you can wear time and time again, and thank yourself every time the temperatures drop.
Naadam
3 colors available
Reformation
2 colors available
10. White sneakers
As someone who prioritizes comfort in my footwear, this one was a no-brainer. A classic white sneaker is a jack of all trades and can be styled with an athleisure look or your most elegant dress. Depending on your style, you can get a pair with a platform or keep it simple with a classic, low-top flat sneaker.