After engaging in online dating exclusively for the last year, it's safe to assume many of us are ready to get back in the game and actually meet some of our dates IRL. (Dating apps are preparing for a major surge in what they're calling the "Summer of Love.") And if you're fully vaccinated (meaning two weeks after your second dose of the Pfizer or Moderna or two weeks after your single dose of Johnson and Johnson COVID-19 vaccine, according to the CDC), this might actually be a reality. (Talk about a hot girl summer, am I right?) If dating during COVID looked one way, what the heck does it look like now?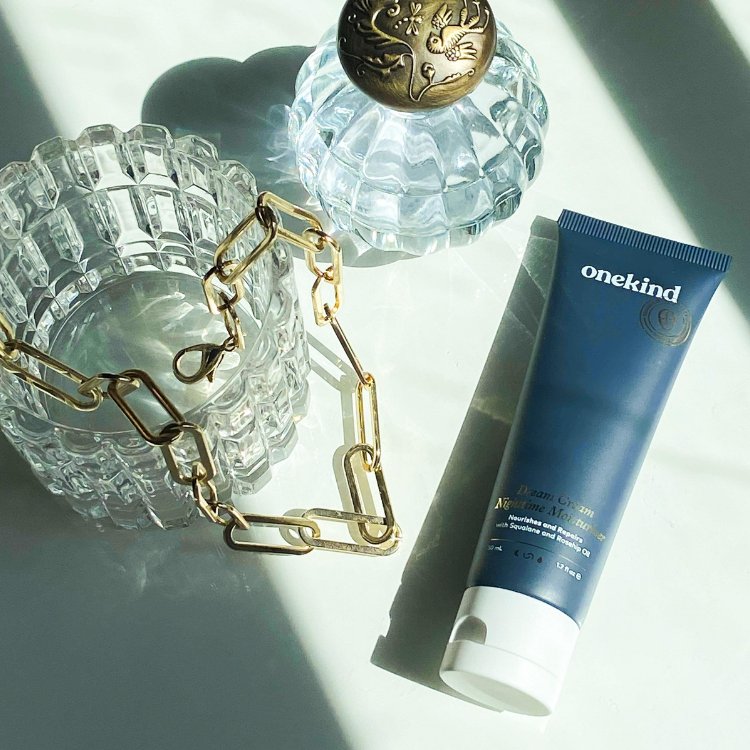 you just pay shipping—use code EVERYGIRL to get yours today!
Jumping back into dating in the wild after spending the last 16 months indoors isn't like it once was, and dating feels like a whole new territory now. How do I tell them I'm vaccinated? What if they don't want to get vaccinated? Where can we go? Can I pleaaaase kiss someone for the first time in so, so long? All your questions about dating while vaccinated, answered:
How to Tell Them You're Vaccinated
According to dating app OK Cupid's data, users who said they planned to get vaccinated got more likes than those who said they would not. Additionally, 40% of millennial and gen-Z-aged OK Cupid users said they would cancel a date with someone who said they wouldn't get the vaccine. Now, dating apps like OK Cupid, Tinder, Hinge, Plenty of Fish, and more are causing even more of an incentive for folks to get vaccinated, adding a badge to profiles for those to display their vaccination status. (Plus, those who use the badge get a free algorithm boost too!)
But what if your app of choice doesn't have a badge? Dating coach and founder of The Broom List Tennesha Wood stands by adding your vaccination status to your bio if you're on a dating app or telling potential dates that you're vaccinated before meeting up. "Sharing your status can get you more dates, but it can also be an exercise in openness, trust, and vulnerability," Wood said. "Sharing your vaccine status also makes your date feel comfortable enough to reciprocate and share theirs as well." If you feel a little cold or official just stating it clear-cut, you can always bring it up in a question about where you want to travel now that you're vaccinated, what you're hoping to do this summer, etc. Not only do these break the ice, but they get that important topic out there too.
How to Ask if They're Vaccinated
But what should you do if you've told them but they haven't reciprocated and you'd like to know their status before going on a date? Although it feels awkward, if knowing your date's vaccination status is important to you, you'll want to ask them early on whether they are currently vaccinated or plan to be. Bring up that you're vaccinated, and see if they reciprocate in the conversation.
If you're worried about checking someone's vaccination card or just going about the honor system, rest assured that you can go with your gut on if you should trust them. "If you don't trust that your date is being honest about their status, it might be a sign of a broader issue of trust," Wood said. If you're worried they're not being truthful, that might be a bigger sign that they're not a good match anyway.
What to Do if They Won't Get Vaccinated
"If it's important to you that your date is also vaccinated and they don't plan to get the vaccination, listen to their concerns and share why you believe it's important," Wood said. "You can also offer your experience with getting the vaccine and offer to accompany them to support." If this is a person you're interested in and excited to get to know, you don't have to write this off immediately if you don't want to, but if being with a partner who is vaccinated is a value of yours, take that into consideration when online dating.
"Regardless of your date's vaccination status, you should act in a way that keeps yourself and the people around you safe," Wood said. Don't let a date pressure you into meeting up if you're uncomfortable or unsure of their vaccination status.
Where To Go
Outdoor Dining
Parks
Museums
Brewery/Distillery/Vineyard
Drive-in Movie
One-on-one in your homes
Basically, anywhere goes, but you'll want to make sure you're meeting up in a public place that requires masks. For one, meeting up in a public place is just the safest thing to do for everyone involved, even in non-COVID times, but if you're meeting up in a masked environment, you can rest assured that everyone around you is being safe. While you should always make decisions based on your own health and boundaries, if you're a little nervous (both COVID and otherwise!), avoid going to a bar where lots of people are moving around indoors.
Since masks are still required in public places, it's safe to say you'll arrive places wearing your masks and remove them once you're seated (or during the entire activity if you're indoors like at a museum). If you're meeting up outside—like a park—it's also a good idea to bring a mask just in case; but if you feel comfortable, the CDC OKed vaccinated people being outside without a mask, so you're good to go.
Can We Hook Up?
The CDC gave the green light for small groups of vaccinated people to gather indoors sans masks, so consensual, vaccinated adults can pretty much resume normal pre-pandemic dating activities. 😉 Actually, one of the safest ways to hang out is at home one-on-one with two vaccinated people, so if you're waiting for a sign to be able to kiss, touch, etc., this is it! If your date isn't fully vaccinated yet, the CDC says it's OK as long as they're the only unmasked, unvaccinated household you see.
As always, consider your circumstances. Do you live with an unvaccinated, high-risk person? Do you live in a high-risk area? Even if you and your dates are fully vaccinated, keep in mind other factors to stay safe and keep those around you as safe as possible.
Bottom line: if you're ready to date, the world is ready for you too. Just don't forget to bring a mask just in case!