There's a certain happiness that comes from basing your life around doing what you love and Vicky Theodorou is the perfect example of this. As the founder of Heirloom, an event catering and styling company, she discovers inspiration in her everyday life and embodies creativity in her every project.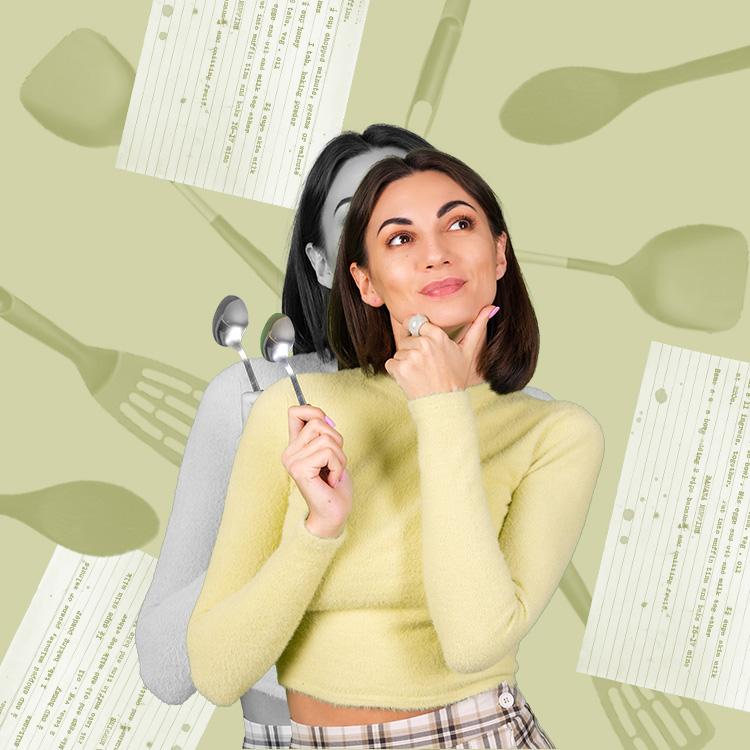 high in protein, good for gut health, and anti-inflammatory? yes, please!
When she isn't hosting memorable events for her customers, you can find Vicky in her dreamy 1200 sq. ft. D.C. home. With her talent for styling and her passion for entertaining, Vicky's home is a combination of various design styles and furniture that highlights the best parts of each one. Here, she dishes on her favorite room in her home, her pet-friendly elements, and the key to decorating boldly.
Name: Vicky Theodorou, Founder & Style Director of Heirloom
Age: 32
City: Washington D.C.
Own: Own
Square Footage: 1,200
Years Lived In: 2
What was your first job out of college and how did you land it?
My first job out of school was a marketing research gig in California the summer I graduated. It was the perfect first job. It paid well and I had the opportunity to see, taste, and experience so much since the role required I travel all over the West Coast. Traveling is one of the things that keeps me inspired and continues to help pave my path to a more enriched outlook. I landed the gig in one of the ways I develop my business now, by nurturing and developing relationships, something I've always believed in for all relationships – including business-related ones. During my travels, I met the owner of the company who was a guest speaker in one of my marketing courses at East Carolina University. While talking shop, I found out about the job opportunity and basically said, I'll take it, before he had even offered it! Essentially, go after what you want with no reservations!
A home to me is a safe haven. A reprieve from the rest of the world and everyday stresses. It's important to make it feel that way.



Your catering and event design company, Heirloom, sounds like a dream come true for anyone who wants to host an unforgettable event. What inspired you to create it?
I took a long hard look at my career path somewhere in my mid-20s and although I was seeing financial success as an online marketing strategist for small businesses for a company in North Carolina, I knew it wasn't enough. So I started dabbling in the things I love, for an audience.
I started hosting my marketing clients in my home creating mini artisan menus, styled creatively. Way before Pinterest existed and back when Facebook was a .edu community only! I realized the food coupled with the food styling component were a match made in heaven for me, it fed my need for creativity. Although, it was still missing the other side of me: the left brain – the business mind and entrepreneurial spirit in me. I decided to head back to D.C. (a large event market) to work in catering to get to know all the inner workings of what creates a flawless event, from A to Z.
My background in fashion while working in Italy for luxury brands like Chanel, Maserati, and Disaronno Liqueur, paired with my love and history in good, seasonal, and creative food was the perfect recipe for special events. Heirloom as a custom menu and event styling company filled a void in the saturated D.C. catering market. Catering was always the logistics of food. I made every attempt at the beginning to master the logistics of food – which is a requirement of any good catering company, and then introduced the specialized menus and the styling components. No one in the industry was doing that and that was part of the reason Heirloom took off like a rocket. We were providing something unique and more importantly, what people wanted and were hungry for. People were like, what, where did they come from? It was all part of the strategy!
Along with your own catering company, you also have a beautiful home in D.C. What makes this location special to you?
A home to me is a safe haven. A reprieve from the rest of the world and everyday stresses. It's important to make it feel that way. The location in Capitol Hill was the perfect mix of city with a little quiet, not so bustling but just enough to feel all the energy the city of D.C. offers.
Did your role as the founder of Heirloom have any influence in the design of your home?
My inner stylist definitely shined through while incorporating all the various elements involved, especially for the dining room and kitchen. Although, styling food and events is very different than interior design, especially when you're doing it for yourself. It's natural to create for clients – the creative and functional side are the perfect pair for me, but designing for yourself sometimes makes you fall into analysis paralysis. So I enlisted the help of two of my fellow creative female entrepreneurs, Heloise from Mintwood Home and Shannon from Shannon Claire Interiors who are experts in the home design game. Collaborations are always best!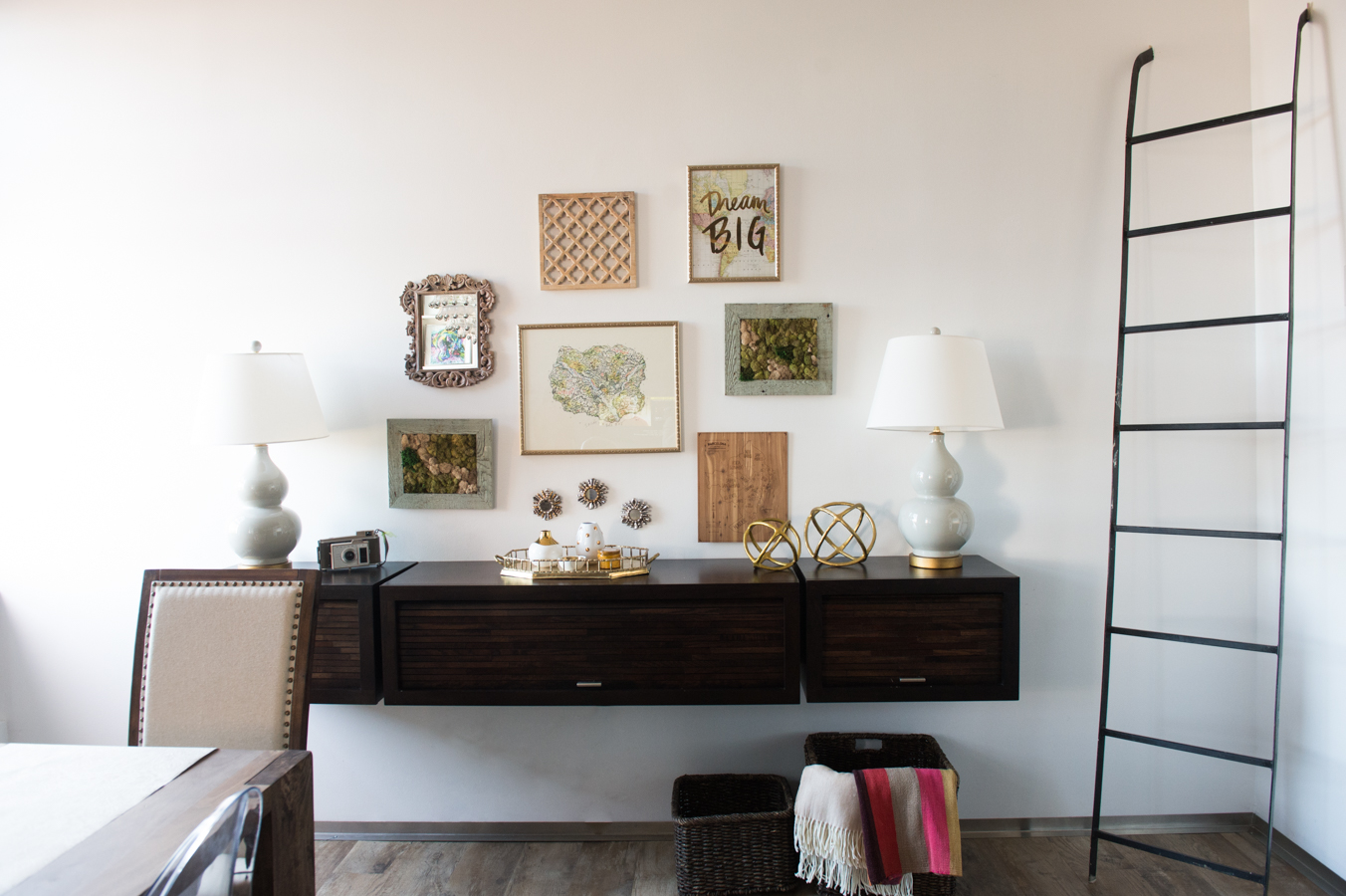 We love the chair set you chose for your dining room table! How did you decide on this fun look?
My personal style is very much a juxtaposition of two looks. Modern meets vintage or romantic meets contemporary. Combining the clean-cut mango wood table with various chair styles was the perfect combination to create a mixed but cohesive look.
We're still gushing over your dining room — the minimal look with splashes of gold is so elegant. Did you run into any challenges when creating this theme?
Staying in the neutral color palette was more challenging than it appears. It was easy to start picking artwork or props outside the neutral palette. Styling within those parameters was definitely a creative exercise. I love the way it came out, understated yet impactful.
Your all steel kitchen is definitely a sight to see! Tell us what influenced you to choose this design.
I wanted the kitchen to be styled and feel like a commercial chef grade kitchen which often times people are not able to see at a restaurant since it's behind the scenes. Choosing to have some of the shelving open helped break up all the stainless steel to make it feel more comfortable, just like a home would. The mix of both worlds! Entertaining has always been my thing. I express love through good food and event styling to fit the intended mood and that all starts in the kitchen!
Entertaining has always been my thing. I express love through good food.

Every room in your home seems to have a different color scheme and overall vibe – what are your tips for people who want to decorate boldly yet still want their home to look cohesive?
Pick a theme for each room and stick with it. For me, it was having an underlying color hue and layering from there. If it's a neutral theme, for example, it was choosing three to five neutral colors then adding pops of unexpected elements like gold, copper, or rose gold that match well with those underlying tones.
What's your favorite room in your home?
Oooh, that's a tough one. Surprisingly, the family room. Sitting on the couch with my laptop, a cozy blanket, and my closest ones around feels peaceful.
You have such cute table accessories around your home. Where are your favorite places to buy decor? Is the process more of a hunt or do you go in knowing exactly what you're looking for?
Because I love the juxtaposition of mixed styles, I definitely explore the best of all worlds; online shopping at trusted favorites like All Modern and Mintwood Home, browsing through CB2, World Market, and West Elm, or perusing through local vintage and antique stores. If it speaks to me, I buy it and make it make sense in my home design. It's the times that you are actually looking for something specific that you don't find it! Then you end up finding something even better. That's important, being flexible to the creative aspect and where it may take you.
How long did it take from move in to get to a point where you decided your home was officially "done"?
When the "feeling" of home was finally there. There was probably a month period of just moving one or two things around on a daily basis before that happened! The whole design process took about three months. You can't rush the creative side of your home, it's a work in progress, you have to feel good about it so it's okay to take your time.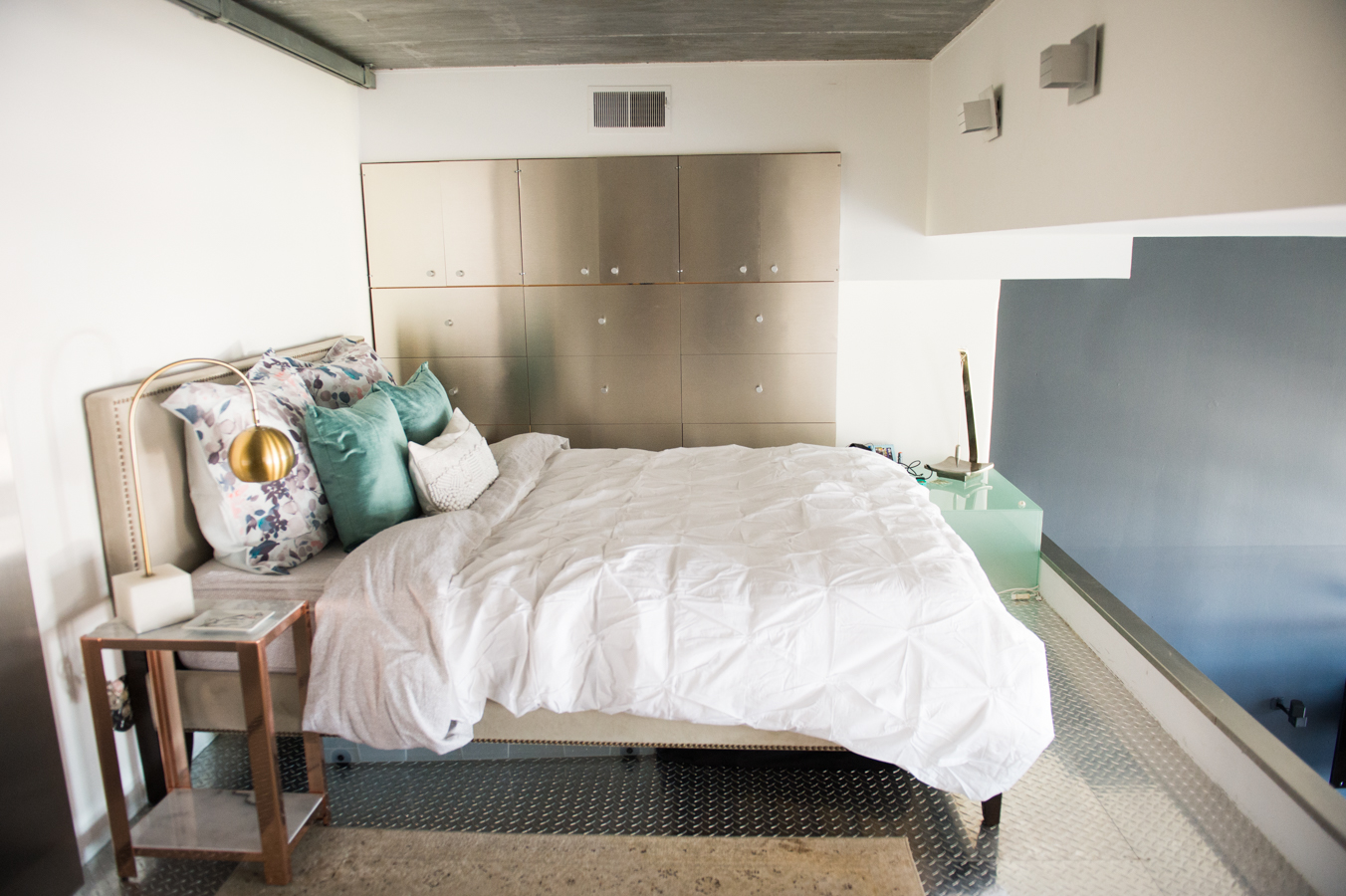 What is the one piece of furniture you couldn't live without?
Oooh, that's tough. My bed!
What advice would you give your 21-year-old self?
Believe it's okay to step away from the conventional path. It's not meant for everyone, but it's meant for you. Follow your intuition and always remain genuine in your intentions and things will fall into place.
Vicky Theodoru is The Everygirl…
The movie you could watch over and over again?
A League of Their Own
Your iPhone camera roll is full of….
Pictures of my sweet baby boy Maddox, my work or works in progress, travel snaps, and everyday inspo from all around! No selfies though… 😉
Sunrise or sunset?
Sunrise. There's this eerie inspiration and motivation that takes place when you're up before the rest of the world. Sets the tone for the day.
Guilty pleasure?
Reality TV… ugh! Housewives, I like New York & Beverly Hills.
If you could have lunch with any woman, who would it be and why?
I literally have a list. If I had to choose one it would be Michelle Obama. Intelligent, genuine, kind, a pillar of strength, beat the odds stacked against her and persevered. Finally, even with a powerful man by her side, she shined brighter on her own and carved her own path in her mission and career.