Doused in rich hues, velvety textures, and brass finishes, Victoria Solomon's NYC apartment embodies sophistication. As the owner and interior designer of Victoria Elizabeth Design, Victoria's home is just one of the many snapshots that captures her balance of creativity and skill.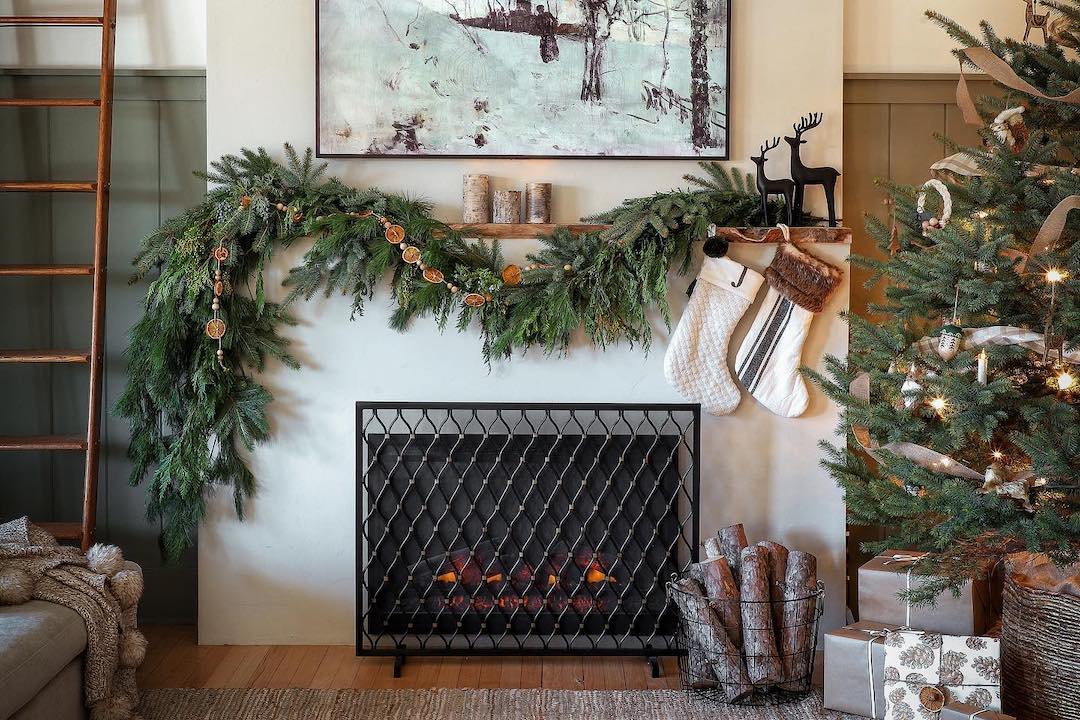 there's still time to deck your halls
From a young age, Victoria had an opinion on how a home should look. In college, she dabbled in different courses of study until she landed on fine arts, where a silly titled book taught her something very important about herself. If Victoria knew one thing, she knew she wanted to make stuff; she wanted to design.
At one of her first internships, she had the opportunity to work with designer Windsor Smith in Los Angeles. After a few years, Victoria realized her true design dream—she wanted to start her own firm. After careful planning and calculation, she launched Victoria Elizabeth Design. Victoria now spends her days creating beautiful spaces tailored to each client's taste—although, we love her own!
Keep reading for more of Victoria's perspective on designing her own space, working with clients, and starting her own design firm!
Name: Victoria Solomon
Age: 26
Current title/company: Owner and Interior Designer at Victoria Elizabeth Design
Education: Simmons College in Boston
When did you know you wanted to be an interior designer? 
It took a while for me to figure out. You don't often learn about interior design as a career before college (or even in college). But there were a couple signs along the way. Like when I was six-years-old and my dad hired an interior designer. I wasn't happy with the fabric options she provided and I wanted to see more! When I was in school, I struggled to figure out a major. I switched from nutrition to graphic design, and then to fine art. In one of my intro classes, we were required to read The Cheese Monkeys, a book about art students figuring out college. There was a quote in the book that stuck with me: "But at the end of the day, you can't major in "Making Stuff," so it was "Art" by default." I love this quote and still do. The idea that you can make something and create something—whatever that is, is so fantastic. And I loved the idea of making and creating the ideal space for someone.
During one of my first internships, I had the opportunity to work alongside design genius Windsor Smith in LA (where I'm originally from). I spent a couple of years at Windsor Smith Home learning the ins and outs of the industry from textiles to space planning. I realized then that I wanted to work towards having my own design firm and follow in her footsteps.
You have worked with many big-name designers throughout your career. What are some of the most valuable career lessons you learned? 
It was essentially along the lines of: "Remember design rules, but don't forget creativity." In design there are so many technicalities and guidelines—whether that's the glamorous world of plumbing, planning for electrical, fitting a sofa in an elevator, etc. But even with all those rules and mandatories, don't forget to think outside of the box and remember why you're doing what you're doing. I take this advice to heart everyday—there's always something unexpected that comes up! Interior design is about creating beautiful and livable solutions for those challenges.
Tell us about starting your own design firm. How did you make this transition and what was the most difficult part about the process?
The most difficult part was when to make the transition. I'm a very risk-adverse person so I wanted to make sure that if I was going out on my own, it would be a success. When I was working full-time and had clients on the side, it was tricky to discern if my business was growing or if I was just having a lucky month. I kept track of my growth and got to a point where I could forecast the next two to three months. Once I did this, I felt comfortable launching Victoria Elizabeth Design.
What is the design philosophy behind Victoria Elizabeth Design? How do you combine your personal aesthetic with the vision of your clients?
Victoria Elizabeth Design is based on the idea that anyone can and should live in a dream home. My clients' styles are varied, which can definitely be seen in my work! All my clients are unique and live such different lives; I like to celebrate that and create spaces that are tailored to them. My own personal style is very different from my clients' styles, but I still apply the same design logic to their homes as I do my own.
What is a typical day for you? 
It varies everyday! Interior design is so tactical and physical: go here to check out tile, meet with a handyman to install artwork. I try to set aside days for certain things; one day for going to the design center or checking out pieces, another day for client installs and meetings, and of course a day to actually get work done on the computer. That way I'm not running around too much and having meals in the car! In the morning, I respond to emails and put orders through. After that, I have meetings or go shopping from 10:00 AM to 6:00 PM. I usually get back to my computer at 8:00 PM to catch up on emails. I try and get some actual work done on the computer later at night—I'm a bit of a night owl!
You live in the Hell's Kitchen neighborhood of New York City. What do you love about your neighborhood and what drew you to the condo you live in? 
We really fell in love with the apartment. It has two beautiful gardens on the grounds, which are perfect for picnics, playtime with our dog Brentley, or lounging in the summer sun. We like to say Hell's Kitchen is a neighborhood in the process of discovering itself. It's known for upcoming restaurants, after-work bars, and of course, lost Times Square tourists who have walked too far west.
Tell us about your home! Do you own or rent? How long did it take you to get the condo looking like it does now? 
We rent. We were planning on living in a condo in New York for about a year, so during that time I thought about how I wanted to design the space and shop for furniture. It took a couple of days to paint and install cabinets and artwork, but all the furniture was there. During that year, I was always shopping for the perfect vintage pieces and perfecting the furniture plan. Many people don't have the luxury of having time to plan; I always recommend to start shopping right away as soon as you know you're moving.
What were your design goals when decorating your home? Did you face any challenges in the process? 
I really wanted the space to feel glamorous and elegant but also completely livable. Like our dark, velvet sofa—it's very luxurious but also extremely comfortable! I refer to my style as "masculine glam" with dark, rich colors mixed with brass, velvet, mirrors, etc. I wanted it to feel like you were in a lavish NYC hotel. So I mixed dark paint colors, velvets, funky textiles, and lots of brass. I'm not crazy about open-concept layouts, so I made a point to visually separate our living and dining areas; I painted the living room and keeping the dining area white. I also added a large Moroccan rug to the living room to help ground the space. The round dining table feels organic and doesn't compete with the rectangular layout of the living room.
You have some beautiful statement pieces! What are some of your favorite places to buy furniture and décor? Did you decorate on a budget? 
Most of the pieces in the space are from the 1960s or 1970s: my Pace Collection coffee table, Palm Springs estate desk, brass leather dining chairs, and Knoll dining table. All of these were vintage scores I found at incredible deals. I love having a unique story behind each piece—like my coffee table that I found all the way in New Hampshire and managed to fit inside a Fiat! I love shopping on 1stDibs, Craigslist, Etsy, or Chairish for unique and authentic vintage pieces. I also love Mecox Gardens, Arteriors, Circa Lighting, Zinc Door, Jayson Home, and Jonathan Adler. Because I had time to plan for the space, I shopped around and was able to do most of the space at a lower cost. We splurged on our sofa, bed, and my desk. But many of the pieces were incredible scores from vintage stores and sites.
Did you undertake any DIY projects when decorating your space? 
I did a couple but I'm not that great at home decor DIY! I created all of the art in the space with my background in figure drawing. It's nice to be able to swap out art as I feel like it. I get a lot of questions and compliments on the large butterfly painting above the bar cart. It was a random Sunday night DIY project but I love how it came out. I also added the agate knobs to our media console for an extra touch of glam.
Where do you see yourself in five years? 
Back in Los Angeles! I'm originally from LA and the plan is to settle down there. I love the design culture in California—the roots of Hollywood Regency, Palm Springs chic, and 1920s art deco. I'm so inspired by all of those influences and would love to grow Victoria Elizabeth Design there.
Victoria Solomon is The Everygirl…
Morning or night? 
Night! I get so much more done once the clock hits 8:00 PM.
Dream Vacation? 
I've always wanted to go somewhere with clear, tropical water. We're going to Thailand in October so my dream should come true!
Guilty Pleasure? 
Oysters. I feel like I can never have enough! I usually order some for an appetizer and then a couple more for dessert.
If you could have lunch with one woman, who would it be and what would you order?
Shonda Rhimes. And not just because I'm a huge fan of Scandal and Grey's Anatomy! About a year ago she gave a commencement speech with some fantastic advice on doing instead of dreaming. It's how I've always lived my life and she delivered it so perfectly. One of my favorite lines was: "I think a lot of people dream. And while they are busy dreaming, the really happy people, the really successful, the really interesting, engaged powerful people are busy doing. Dreams are lovely. But dreams do not come true just because you dream them. It's hard work that makes things happen." I'm so inspired by her, her three incredible shows, and how she continues to challenge today's issues with her story lines and characters. I'd love to grab lunch at a seafood spot and I would order 24 oysters and a lobster roll!
Product Sources
Entryway
Chest, vintage from Craigslist
Double Diamond Rug, Anthropologie
Acrylic Tray, West Elm
Briarwood Paint Color, Benjamin Moore
Mirrored Frames, Home Goods (similar frames at West Elm)
Artwork, Victoria Solomon
Living Room
Conway Sofa in Black Velvet, Bernhardt
Pace Collection Brass Coffee Table, vintage from Craigslist (here is a link to one 1stDibs)
Moroccan Ivory Shag Rug, NuLoom
BESTA Media Console, IKEA
Agate Cabinet Pulls, West Elm
Robert Abbey Ant Bee Pharmacy Sconces, Wayfair 
Purple Silk Velvet Ikat Throw Pillow, Etsy
Blue Silk Velvet Ikat Throw Pillow, Etsy
Black Silk Velvet Ikat Striped Throw Pillow, Etsy
Violet Silk Velvet Ikat Throw Pillow, Etsy
RENS Sheepskin Throw, IKEA
Nixon Alpaca Throw Blanket, Jonathan Adler
Regina Andrews Alabaster Table Lamp, Shop Candelabra
Briarwood Paint Color, Benjamin Moore
Peekaboo Acrylic Nesting Tables, CB2
Arteriors Caviar Lamp in Rose Gold, Quality Bath
Marble Tic Tac Toe Set, Crate & Barrel 
Brass Desk, vintage from Etsy
Brass Leather Chair, vintage from Etsy
Buddha, vintage Artwork, Victoria Solomon
Dining Room
Cyclone Dining Table, Knoll
Brass Dining Chairs, vintage from Craigslist
Threshold Brass Bar Cart, Target
White Lacquer Tray, West Elm
Butterfly Print, Victoria Solomon
Lucite Napkin Holder, Furbish Studio
Tortoise Shell Ice Bucket, Furbish Studio
Black and White Bowl, vintage
Bedroom
Bed, Custom
Matouk Lowell Bedding, Gracious Home
Nixon Alpaca Throw Blanket, Jonathan Adler
Alastair Convex Mirror, Ballard Designs
Bittersweet Chocolate Paint Color, Benjamin Moore 
Arion Table Lamp, Dwell Studio
James Mont Chair, vintage
Beckham Platinum Indoor/Outdoor Rug, Dash & Albert 
Artwork, Victoria Solomon