There's something special about marrying someone you met in kindergarten… plus you get to re-design a beautiful home with them?! Amber and Adam Ford's story is our kind of fairytale. Their Tudor home is timeless and with a lifestyle and design blog, The Happy Tudor, to document their creative adventures, Amber and Adam are literal #goals.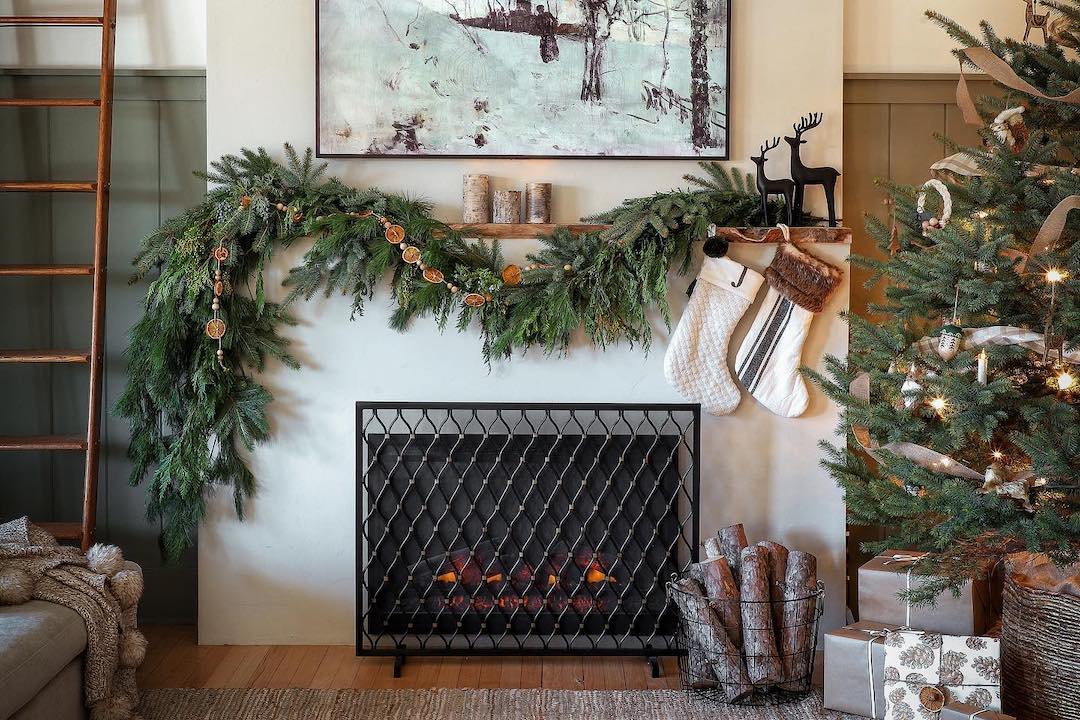 there's still time to deck your halls
The combination of their love for all things creative and Adam's knowledge of architecture allowed the couple to make their 1940s home into a haven full of natural light, wood detail, and leafy plants that give it a refreshing touch.
Here, Amber and Adam discuss how they kept the history of their home intact while transforming it, their favorite part of living in Knoxville, and what the future holds for their family (and blog!).
Name: Amber Ford, Public Health Educator, Registered Dietitian
Age: 25
Name: Adam Ford, Band Director, Photographer
Age: 26
Square Footage: 1900
Rent or Own: Own
City, State: Knoxville, TN
First things first, so how did you two meet?
We grew up in the same small town and attended the same school together from kindergarten through senior year of high school, but we really met and became friends in eighth grade. We began dating our sophomore year of high school (ten years ago now) and got married a little over three years ago!
You guys bought your first home (less than a year ago!) and named it The Happy Tudor. Why did you choose this name for your first home?
Going into the home buying process, we never expected to fall in love with a Tudor style home. To us, the word Tudor conjured dark, gloomy, and cavernous images. However, when we first stepped into our home, we were immediately taken by the amazing natural light, original floors and wood trim, and just the overall architecture, character, and bones. No doom and gloom in sight! Before starting the design process, we selected three words we wanted our home to encompass: calm, joyful, and captivating. These three words and our overall vision for our home caused us to reenvision what Tudor meant to us — a place that could feel cozy and happy with all of the natural Tudor charm. We wanted to convey our new sense of the word to others and thus coined our home "The Happy Tudor."
What were you looking for when you found this home? How did you know it was the right one?
Most importantly, we wanted a home with great natural light and lots of character and architectural details. We were willing to sacrifice space if it meant gaining charm and location.
Ideally, we wanted a home that had three bedrooms and at least two baths. We were initially struck by all the things that eventually led us to coin the home "The Happy Tudor." With that said, there were several dated areas of the home we knew would need a definite face lift.
Which of you took the reins in the design process? How do your design styles differ and/or complement each other?
I wouldn't say that one of us took the reins in the design process more than the other. We both have our individual strengths. Adam is incredibly detail-oriented, and I am able to keep the bigger picture in mind. Luckily, we have similar taste and style and both love design and anything creative. We love classic design with a mix of traditional and modern, making sure we balance trendiness and timelessness. Though we have each taken the lead on certain rooms and elements of the design at different times, we really have both been 100% invested from the beginning, always putting our heads together to pull together the most beautiful end product possible.
What was the first project you set out to do?
We actually had a plumber, hardwood flooring specialist, and cabinet installer scheduled to come and take a look at the house within a few hours of closing, which may seem crazy, but we'd done so much planning and couldn't wait to get started. My parents came into town that day (Friday the 13th!) and helped us immediately begin demo — gutting the bathroom (maroon toilet and all), painting walls, caulking windows, taking out kitchen cabinets, etc. Adam and I spent the next week coming to the house immediately after work to start painting every room, often until well after midnight. Looking back, I'm so glad we jumped in the way that we did. Our excitement and enthusiasm really helped quickly push us through many of the bits of renovation that can be so daunting and less exciting.
Were there any quirks of the house or problems you had to work around? If so, tell us about them and how you adjusted?
Absolutely! Our home was built in 1940 with multiple owners since then, each putting their own unique and sometimes questionable stamp on it. While there were certainly many quirks, which we'd expected with an old home, we were lucky that the bones were pretty solid. Nonetheless, a few of the most memorable problems that come to mind are: finding a snake behind the cabinets that were already detaching themselves from an unsound wall, having the air go out for a whole month during a Tennessee summer that delayed a good bit of work, realizing that our clawfoot tub wouldn't fit through the bathroom door and getting a wrench stuck for an hour while trying to remove the legs, and seeing that our kitchen ceiling was sagging after removing the dropped, popcorn ceiling. The list goes on and on, but what a learning experience it has been!
Which room was the most difficult to decorate?
I'd probably go with our living room, which was also one of the first rooms we started decorating. One of the primary challenges we faced was how to keep it feeling timeless yet current while also managing to figure out a workable layout as the room is very long. We weighed many times how to best keep it feeling open when walking in from the back while also setting off a distinct, comfortable conversation areas. We also worked diligently to bring in classic art, with framing in more traditional styles/colors. Picking out the right tile to be laid in front of the mantle was also a long process. On top of all of that, it required scaffolding to effectively paint our living room the beautiful white it is now (Benjamin Moore Distant Grey).
What's your favorite part of your home? Which room do you spend the most time in?
After doing so much work on the home and pouring so much time, love, and energy into every single room, that is such a hard question. Adam's favorite part of the home is most likely the living room, while mine is probably the kitchen. We definitely spend the bulk of our time in the living room.
Where are your favorite places to shop for furniture and decor?
Some of our favorite shops are Rejuvenation, Schoolhouse Electric, West Elm, and Serena & Lily. We like to pepper in designs and products from smaller stores throughout our home as well. We highly believe in the difference quality art can make in a space and spend a lot of time seeking out our favorite artists. Some of our favorites include Stella Maria Baer, Lulie Wallace (we also have a pillow covered in her fabric), Inslee, and Wickstrom Studio on Etsy. We also like to bring in items we find on our travels (they always hold such great memories) as well as older, antique or thrifted pieces to bring a different life or character into each space.
We LOVE all the wood elements in your home, especially the trim on the windows, doors, and ceiling. Was that a feature you added or was it there when you bought your home?
Luckily for us, all the wood elements in our home were already here and original to the home (built in 1940). The last thing we wanted to do was to get this beautiful, historic home and cover up all the charming details that come with the history. We've actually spent the last year refinishing the woodwork that was painted over upstairs. Honestly, when you have a lot of wood details in the home, you definitely have to consider it when designing, but it almost becomes a neutral element if that makes sense. We are careful with trying to bring in contrasting materials to avoid it feeling heavy or woodsy. We've also been very cognizant when picking paint colors simply because they can look totally differently up next to the tones in the wood trim. We tried to pick timeless, classic, and neutral colors that allowed the wood to pop and be a stunning feature of the home that it wasn't when the rooms were hot pink, bright blue, etc.
We have definitely been cautious when bringing in wood furniture, but we don't stray away from it. When we've brought wood pieces into the space, we try to bring in pieces that, though new, have the same level of craftsmanship that the original woodwork has. This is very true of our dining table. It was handmade in Vermont and has a finish that is supposed to age well. You will see in our dining room that we definitely didn't stray away from mixing and matching wood tones. While we definitely want the space to be beautiful, what fun is design if you can only create a beautiful product by following a specific, set formula?
Speaking of wood, your decor features a variety of shades. How do you mix and match while still looking purposeful?
We don't want it to feel overly matchy, but we usually try to bring in woods that are in medium tones that work together like neutrals. You don't see a lot of dark wood in our home because so much is already there naturally. We've really tried to bring in some lighter tones through maple, which we used in the kitchen, our dining table, and a few other accents. We feel like maple is an underutilized and beautiful material.
Adam, you designed the custom banquette for your kitchen. Tell us about that process. Are you custom designing any other features of your home?
Adam grew up studying architectural plans and renderings with his dad, who is an engineer. That, combined with his artistic ability, allowed him to sketch out the dimensions and details we wanted for the custom banquette. The whole process really wasn't high tech, and Adam certainly is not going to take up designing furniture full time! At one point, we actually took a large roll of paper and cut out pieces to scale to create a paper banquette to decide on all the proportions and details. Clearly, we are visual people. Fortunately for us, my dad is incredibly handy and built the banquette for us, even putting in adjustable legs to make sure there was no wobbling (old home problems). We hope to build in a window seat and bookshelves along a wall in one of our guest bedrooms, but that design process will be further down the road.
Your home features lots of live plants, which is so energizing and fun. What are the benefits to keeping greenery in your home? Where do you find and buy plants? And how do you keep them alive?!
Plants are so important to us! They add such an organic element to a space, whether it's a large fiddle leaf fig tree or small air plant. There have been a few times we've taken out plants to water them elsewhere. When you walk back into the space, you're immediately hit with how much colder and empty it feels. We also find that they are such a huge mood-booster in the winter months when those long, gray days can get rather gloomy. In addition to the beauty they provide, they also improve the air quality of your home, which is always a good thing. Most of the plants we buy are from a local, family-owned nursery in Knoxville, Stanley's Greenhouse. It's such a charming place with such knowledgeable staff. In the winter, we'll often go to walk around the greenhouse for a bit of a pick-me-up. While we have many plants, we are by no means plant experts! There have been more than a few plants that haven't lasted but, in the end, they're generally inexpensive and easy to replace.
Tell us about the artwork in your home. Adam, the piece above your TV was created by your sister! Do you generally try to curate an art collection filled with artists you know personally?
We honestly believe good quality artwork can make a drastic difference in any space. Every time we hang another beautiful piece of art, it takes the space to a whole new level. Adam's sister is an artist and art teacher, and he grew up in art lessons and drawing with her all the time. We also have Adam's artwork sprinkled throughout the house. His sister did an amazing job with the piece above our TV. We wanted a black and white piece (we already had so many pastel tones) and something that felt modern and timeless. We also needed a piece big enough to anchor that space without it being a gallery wall since we already had one gallery wall in our living room. We are clearly huge fans of art and are always trying to seek out new, fresh artists. Our art collection is a mix of artists we know personally, Etsy finds, art from other artists, and art we pick up on our travels.
What stores do you shop for home decor at? You know… when you aren't creating it yourself!
We love to mix items from big box stores and smaller businesses. We loved working with livenUPdesign to create custom upholstered benches! They were amazing and are big fans of the Everygirl! We also got a few vintage pieces from Everything But The House (EBTH), which is essentially a bunch of online estate sales. For window shades, though they can be pricey, we love The Shade Store and have been so impressed with both the quality of their work and their lifetime guarantee. Our dining table was handcrafted by Vermont Farm Table, and we are so impressed with their craftsmanship! We also get rugs from local stores, Rugs USA, One Kings Lane, etc. Adam has an unhealthy obsession with pottery and loves to buy pieces of pottery from shops (either locally, from Etsy, or from shops he finds on Instagram). One of our favorites is Tortus Copenhagen.
What's next for you two, your family, and your home? Where do you see yourselves in five years?
Personally, we hope to have kids within the next five years. In our home, we hope to overhaul our laundry room, finish the outdoor patio, redo the upstairs bathroom, and finish designing the two upstairs bedrooms (we are clearly gluttons for punishment). Professionally, we just launched our own website/blog, which is a lifestyle site called "The Happy Tudor" (of course). We are hopeful for the opportunities that may arise in growing The Happy Tudor as our major creative outlet. We aren't sure what the future holds, but we love learning and continuing to grow and are so excited to dream of the possibilities and where it could take us in five years!
We love Knoxville! What are some of your favorite spots in the city?
Knoxville is such a great city and has so many awesome things happening. We keep seeing it pop up on lists like top cities to start a small business, which I think really speaks to the spirit and momentum of our city. Our favorite place is definitely our downtown Market Square area. This is where most all of the festivals and events take place like the Dogwood Arts Festival, International Biscuit Festival, annual Christmas tree lighting, and our huge Saturday Market Square Farmers' Market. We're really fortunate to be so close to the Great Smoky Mountains, but we also have a lot of outdoor recreation just minutes from downtown. You can rent kayaks, paddleboards, and water bicycles to take out on the Tennessee River, and our Urban Wilderness, which is just minutes from downtown, is a great place for hiking, swimming, and biking. Some of our favorite places to eat include Wild Love Bakehouse, which has amazing croissants; Cruze Dairy Farm, a local ice cream shop that we visit way too often; Tomato Head, which has some of the most unique and delicious vegetarian dishes and awesome pizza; and OliBea, a wonderful place for breakfast and brunch. We have so many great unique small businesses like Union Avenue Books and Rala, which has lots of locally made cards, jewelry, and gifts.
What advice would you give to your 23-year-old selves?
Considering we were only 24 and 25 when we bought the house, I'd probably say to start saving up and to enjoy not having to mow a yard, haha! On a more serious note, we would definitely tell ourselves to continue to hone our eye for design, always seeking out beautiful spaces and images, evaluating how they were created, what we would change about them, and seeing how to best implement elements of the designs that resonated with us into our own home. It is through this process that we really feel you not only see what works and what doesn't but that you also come to develop your own style and design voice.
Do you have any hidden talents?
Adam is a band director and plays both trumpet and flute. He also is quite the artist and loves to draw, paint, do calligraphy, etc. All the photos we use are his! I love to cook and went to culinary school at night while earning my college degrees in nutrition and public health. It's such an outlet for me and something I really love.
Last thing you impulse-bought at Target?
A ceramic bunny. I have no idea why, but I LOVE cheesy Easter decorations. They've always been my favorite, and I looked forward to putting them out every year as a child. My mom still sends me pictures of hers every Easter. I'm excited to start my own collection and continue the beloved tradition!
Last song you listened to?
Red Flags by Andra Day
Coffee order?
Amber: Dark roast coffee with a splash of milk or cream
Adam: Iced coffee (translation — milk with a splash of cold coffee)
If you could have lunch with any woman, who would it be and why?
Michelle Obama. When she became First Lady, I was just starting my degree program in nutrition. The importance she placed on addressing childhood obesity and health and the work she was able to accomplish was unbelievable. It was so inspiring to see such a prominent figure so dedicated to issues I hold such a passion for. I've always admired how she carries herself with such poise and determination while also being able to let loose and jump rope and have fun with kids if that's what it takes. Beyond politics, I think she's such a fascinating, intelligent woman, and there's so much I'd love to discuss with her.