When Bustle's former Creative Director Liz Eichholz was registering for wedding gifts, she realized first-hand how difficult and frustrating it can be to do something that might seem like just a minor errand: shop for towels. There are so many different choices out there at so many different price points, which made trying to figure out which ones were the best for her pretty overwhelming. She turned to friend Lindsey Johnson, a finance expert with an MBA from Columbia, and the two decided to create a company that simplified the whole process. Enter Weezie, a towel (and robe!) company that allows you to order custom, luxury towels right to your door.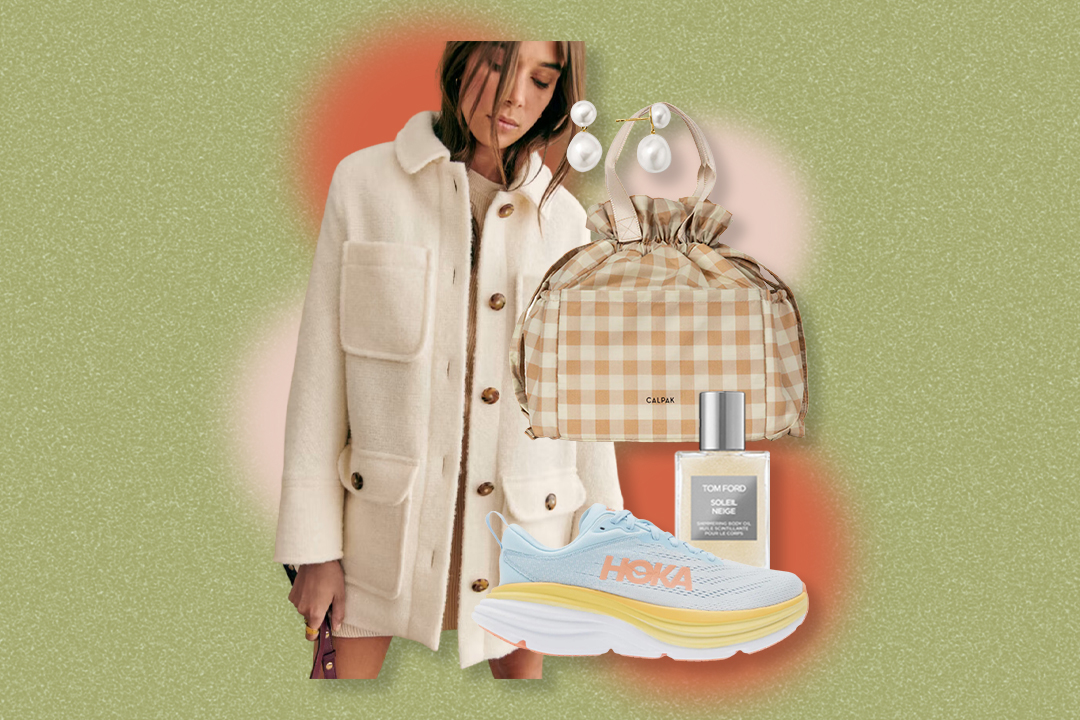 Now in their roles as creative director and CEO respectively, Liz and Lindsey shared with us a bit about what it was like to start and run their companies while pregnant, what it's like to work alongside a good friend, and the biggest things they've learned during Weezie's first year.
Name: Liz Eichholz, Co-founder & Creative Director of Weezie
Age: 31
Location: Savannah, GA
Education: BFA from the University of Georgia
Name: Lindsey Johnson, Co-founder & CEO of Weezie
Age: 30
Location: New York, NY
Education: BS from Vanderbilt University; MBA from Columbia Business School
What were your first jobs and how did you land them?
Liz: I studied Graphic Design at the University of Georgia, and moved to NYC after graduating. I've spent my career working on in-house creative teams, first at an e-commerce company, Uncommon Goods, and then at Bustle, where I was their first Creative Director. While at UncommonGoods, I was bit by the entrepreneurial bug and launched my first company, Tempe Rowe, which sold embroidered silk sleep masks. Working as Creative Director for my own company fulfills me in ways other roles did not – and I feel so fortunate to now have this at Weezie!
Lindsey: Prior to launching Weezie, I worked in a variety of finance roles at Morgan Stanley, BlackRock, and most recently, a hedge fund. Along the way, I became fascinated by early-stage consumer businesses and began angel investing in the space. I went to Columbia Business School with the plan of going into consumer Venture Capital before Liz approached me with the idea for Weezie.
While each job came about differently, the common theme is just all-out hustling. No one is going to find a job for you — you have to stay organized and on top of the search, and network, network, network.
How did you decide to start a towel company?
Liz: The idea for Weezie was born when I was registering for gifts for my wedding. I was at a big box department store, excited to register for monogrammed towels, but quickly became overwhelmed by the countless brands, never-ending options, and confusing jargon. Did I need my towel to be zero twist? What on earth was GSM?!
I shared my frustrations with my longtime friend Lindsey, only to find out she was similarly disappointed while towel shopping. Once we started talking to our friends and family (and really anyone and everyone we encountered), we realized a lot of people felt the same way — the towel purchase experience was dated, confusing, and lacking in joy.
Lindsey: The problems quickly became issues we couldn't ignore, but then came the hard part: could we actually solve them? We spent countless hours surveying thousands of consumers, hosting focus groups and interviews, and traveling the world to find the right partner to create the perfect towel. Fast forward many months of research and a year in business later, and we're building the company to fill that void.
What kinds of skills helped you navigate the launch and growth of the company?
Liz: As Creative Director, you have to be able to balance feedback while staying true to your vision for the company. Not everyone is going to respond well to your brand, and listening to everyone can leave you with a watered down version of your vision. Being open-minded and adaptable is important, but so is having the boldness to stay true to your brand.
Lindsey: In launching Weezie, I've recognized the utmost importance of determination, resilience, and ruthless prioritization. A lot of people have good ideas, but a good idea is worthless without flawless execution. You also can't be afraid to make mistakes, as they can provide the best learning opportunities as a leader. I also think the ability to be both detail-oriented and focused on high-level strategy at the same time is so important for any CEO.
Not everyone is going to respond well to your brand, and listening to everyone can leave you with a watered down version of your vision.
What do you wish you would've known before launching Weezie? What was the biggest obstacle you faced?
Liz: I wish I had known how important it is to go with your gut! I think we have had to learn that lesson over and over again and luckily, we are becoming better at recognizing important gut reactions. Hindsight is 20-20 and there are so many situations we have looked back and realized we knew we were ignoring red flags. As time goes on, the better we get at recognizing these red flags and acting. The biggest obstacle for me has been balancing a new baby and a new business. I got pregnant while we were working on the idea, gave birth right before our launch, and balanced life with a newborn post-launch. It's been … a lot … but it's my normal and I wouldn't trade it for anything (except maybe more sleep).
Lindsey: The biggest challenge has been learning to accept uncertainty and embrace the unknown. I am an obsessive planner, and unfortunately, that is just not feasible in startup life! I have (kind of) learned to take each day as it comes. On the business side, one of the biggest challenges we face is keeping up with consumer demand. Optimizing your supply chain is hard on its own, but adding in customization only further complicates things! Custom embroidery is a meticulous craft and we learned early on why so few players are able to do it at scale.
What advice do you have for working with a friend?
We can't emphasize enough the importance of honest, open (and frequent) communication — don't let issues fester! We each possess unique skill sets and are always challenging each other, providing feedback, and asking questions. It helps us (as individuals and as Weezie!) to learn and grow each day.
Another tip: know when to shut down! Easier said than done, but it's so important in maintaining your friendship first.
How did you decide when the towels were done with the R&D stage?
Through our extensive research, we found that consumers prioritize softness, absorbency, and aesthetics. Each of these needs were at the forefront of our product development process. We found an incredible partner in a family-owned factory in Portugal that utilizes a patented Japanese spinning technology to spin air into each and every fiber, a process that maximizes both softness and absorbency. By rounding the edge of the towel for an elevated look and selecting beautiful piping colors and embroidery options, we created a towel that was as beautiful and display-ready as it was functional. With each of our three key consumer priorities covered — and only after using the towels ourselves for almost a year — we knew we had the right towel to take to market.
We can't emphasize enough the importance of honest, open (and frequent) communication — don't let issues fester!
The brand turned one on October 9th. What was the biggest thing you learned your first year?
One of the biggest lessons for both of us has been to trust our gut. In an early-stage company, you're forced to act quickly. Our team is smart and scrappy, and we're often making decisions on the fly. Learning to trust our instinct has been so critical in guiding us through this first year in business.
Liz, you had a baby while launching Weezie; Lindsey, you're pregnant right now. What has it been like to launch a business and run a startup while pregnant?
Liz: I got pregnant right around the time we started working on Weezie. My daughter is now two years old, and I am still learning how to juggle it all! My family life has really helped me keep everything in perspective at work and learn to be efficient with my time. I think the biggest reward will (hopefully) be building something my daughter can be proud of and learn from. After all, she has been there every step of the way, including me reading her legal contracts from the delivery room!
Lindsey: I have been very fortunate that my pregnancy has been a breeze and has impacted my professional life very minimally. Ask me again when I have a newborn.
You're getting ready to make a big business move to Atlanta. How is that going to affect the way you're managing?
We're so looking forward to having our team in closer proximity! As we grow, our hope is that our culture is one that emphasizes collaboration and teamwork. Being in driving distance makes this even more achievable.
Equally exciting: Atlanta is also home to so many of our customers and interior designers. We can't wait to meet them and find unique ways to engage with them IRL.
Do you have any plans to expand beyond towels? If so, what's next? And if not, what factored into your decision?
We have so many exciting plans in the works for 2020. Wherever we go next, we continue to prioritize customer needs and our goal of modernizing luxury. Design, quality, and #enjoythestay remain our guiding principles — towels or otherwise!
Customer interaction is super important to you. How do you balance customer input with your creative vision?
Customer feedback has been an instrumental driver of product development pre- and post-launch. For example, we're currently working on an exciting 2020 product launch to respond to one of our most frequent customer requests. We've engaged hundreds of customers through Instagram, focus groups, and phone calls to inform both functionality and design. The response has been astounding — Weezie customers have strong opinions about their products!
That said, we always remind ourselves of the Henry Ford quote, "if I asked people what they wanted, they would have said a faster horse," so we definitely like to strike a balance between acting on customer feedback and offering entirely new products such as our best-selling short sleeve robe. In everything we do, we aim to improve the lives of customers by celebrating everyday luxuries. Both our customers and team offer such incredible ideas as to how to achieve this.
What do you hope is next for the two of you and for Weezie?
Our big-picture goals for Weezie are truly the same every year. We hope to continue to delight our customers with the highest quality, luxury products and customer service that help them #enjoythestay each and every day. We have big dreams for products, partnerships, and our brand to help make this a reality for everyone.
What advice would you give your 22-year-old self?
Liz: Ask questions! If you're interested in a certain topic or area, find someone who knows about it and ask to pick their brain. People are surprisingly more willing to help than you think when you just ask. Additionally, enjoy the ride and keep things in perspective to not get hung up on the bad days.
Lindsey: Stop worrying about what other people think and don't be scared to take a risk! Even with failure, you learn from trying something new. It is also important to connect with as many people as possible, both professionally and personally. The power of networking is real and has had a great pay off in launching Weezie.
Stop worrying about what other people think and don't be scared to take a risk! Even with failure, you learn from trying something new.
Liz & Lindsey are The Everygirl…
The beauty product you recommend to everyone:
Liz: Supergoop Daily Moisturizer
Lindsey: Drunk Elephant C-Firma Vitamin C Serum
Favorite thing about the city in which you live:
Liz: How historic it is! Savannah is so dreamy and dripping with history and charm. I love old architecture so much.
Lindsey: The walkability and convenience of everything
The best way to unwind after a long week:
Liz: There is truly nothing I love more than a bubble bath, a glass of wine, a candle, and a book. It really sets my head right. When I find the rare moment for some quality towel time, I wrap up in my new Weezie long robe and continue reading. It takes me a lifetime to read a book because I always fall asleep if I'm reading in bed, so I love nothing more than towel time and reading.
Lindsey: A cheese plate and a glass of wine (or martini) is my happy place.
Your travel must-have:
Liz: My Away suitcase, my Muji travel pillow, comfy tennies, and a sleep mask! I'm still using my Tempe Rowe archives 🙂
Lindsey: A great book and my laptop
Favorite book, movie, or TV show:
Liz: Movie: First Wives Club! TV Show: Curb Your Enthusiasm
Lindsey: Hard to pick a favorite! I recently devoured Shoe Dog — such an incredible story of the hard work and determination it took to build one of the world's most recognizable brands. I am reading Steve Jobs' bio now and have a feeling it will also be a quick one.