Personal truth: I live for my morning cup of coffee. You might even say I am in a fully committed relationship with coffee; it's the #1 thing on my mind from the minute I wake up until I take the first sip of a cup from my Keurig or a cold brew with foam (my drink of choice when ordering out). And I know I'm not the only one whose love for coffee knows no bounds.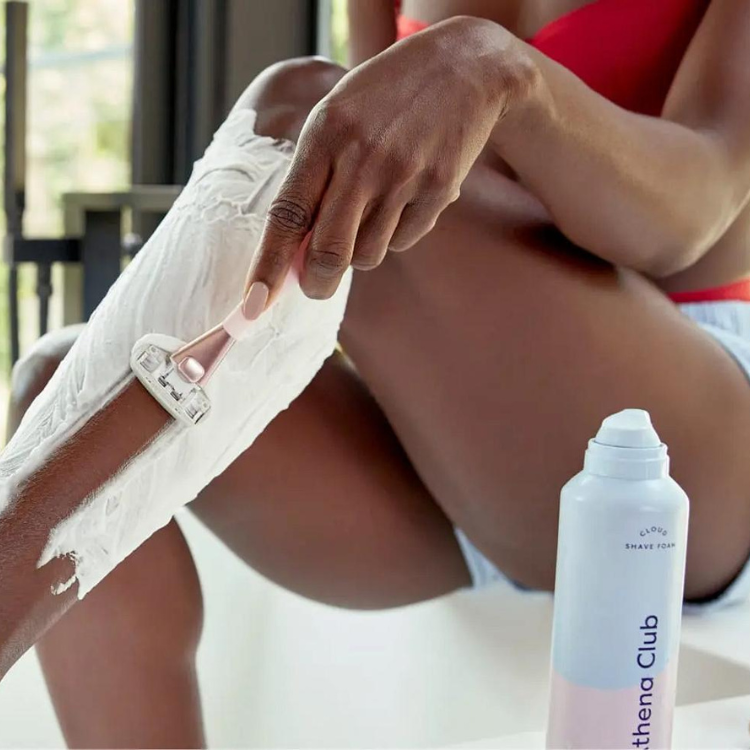 "This razor gave me the silkiest, smoothest shave I've ever had! I never get any cuts or scrapes, even on those hard-to-shave places."
Because I love to dabble with superfood lattes and wellness-ify a classic cup of joe, I wanted to see how other wellness-obsessed women optimize a basic cup of coffee. I asked some of my favorite wellness founders, doctors, nutritionists, and experts for what they add to their coffee to turn a satisfying morning ritual into a major health boost. Read on for all the best coffee tips–your latte will never be the same.
"My Morning Glory Coffee recipe is: espresso blended with cinnamon and coconut oil, plus or minus a hit of MCT oil."
2. Valerie Agyeman, RD, Women's Health Dietitian, and Founder of Flourish Heights
"Lately, I've been really looking forward to my morning coffee (maybe the new frother I just got?). I've been frothing up some almond milk and adding in cinnamon and a little honey. Just warmth and relaxation in a cup to start my day."
3. Shizu Okusa, Founder of Apothékary
"I start almost every day with this super creamy, energy boosting, hormone balancing cocoa and peppermint latte. It takes a total of 30 seconds to pull together, and gives me a day's worth of balanced energy. I do one cup of oat milk, 1.5 tsp of Chill The F* Out, 1 tsp Maca, 1 tsp maple syrup and a pinch of cinnamon, and just whisk everything together in a mug for 10-15 seconds."
4. Dr. Mona Vand, Pharmacist and Digital Creator
"In my coffee, I love to add cinnamon, nutmeg, cloves, and homemade coconut milk. But in matcha, I add either coconut or oat milk. I love the creamy consistency of coconut milk and that coconut milk, cinnamon, and nutmeg all have natural sweetness without needing to add sugar, which makes a world of difference."
5. Tess Brigham, Psychotherapist
"One very important thing to know about me is: I LOVE coffee and I take making my coffee each day very seriously. Over the years I've tried non-fat milk, soy, almond and even oat milk but I always go back to using cream."
6. Les Alfred, Personal Trainer, Nutrition Coach, and Host of the Balanced Black Girl Podcast
"These days, I'm drinking decaf coffee because it's a little easier on my body. I love blending my coffee with a little coconut oil, grass fed butter, and a teaspoon of adaptogens from Peak and Valley."
7. Jessica Rihal, Yoga and Meditation Instructor
"I experiment with adding different supplements to my coffee, but lately, I've been enjoying a reishi, maca, and CBD combo. I feel like this combo helps me to feel calmer and have longer-lasting energy. On weekends or evenings when I'm not in the mood for caffeine, I'll typically make this with spearmint tea instead of coffee for a more relaxing option."
8. Lo Bosworth, Founder and CEO of Love Wellness
"Lately, I've been making a protein iced coffee. I make it with coffee, cream (I usually use half and half, but you can use almond milk), chocolate protein powder, chia seeds, and almond butter! I'll also add in our Sparkle Fiber by opening the capsule and mixing it in."

9. Nitika Chopra, Chronic Illness Advocate and Founder of Chronicon
"I have to drink an oat milk latte with two stevia every single morning or I just don't feel complete. Lately, I have been adding a sprinkle of cinnamon because it feels like a special treat without adding any sugar. Plus, studies show that cinnamon has anti-inflammatory properties which is an added bonus!"
10. Ariel Belgrave, Health & Fitness Coach and Creator of The L.E.A.N. Method
"I am not a coffee drinker, but I'm all about the matcha life! My go-to way of drinking my matcha is over ice. I love to add vanilla almond milk and honey to lighten up the bitter taste."
11. Erika Polsinelli, Kundalini Breathwork Healer and Founder of Evolve By Erika
"I ditched coffee years ago because I was suffering from anxiety and caffeine would heighten that for me. When I am craving a coffee or warm delicious drink, my go to is a cacao elixir. It is delicious, decadent, and awakens me with the little and natural caffeine cacao contains. Here's the recipe:
Heat up oat milk over low to medium heat.
Add 1 – 2 tablespoons of cacao
Add 1 chunk of cacao butter
Add a drizzle of organic vanilla extract
Add a teaspoon – 1 tablespoon of cinnamon
Add a drizzle of agave syrup"
12. Carly Mentlik, Clinical Counselor, Therapist, and Founder of Inner Rainbow Project
"My morning coffee ritual: I grind organic coffee beans and make a pour-over with a Chemex coffee maker, blended with a Ladybird Provisions Butter Coffee Bomb, with coconut oil, grass-fed butter and collagen protein. The mug is important too. It has to be something inspiring or with sentimental value."
13. Dr. Poonam Desai, Board-Certified Lifestyle Medicine Physician
"I drink my coffee with NO additives. Black coffee has loads of antioxidants and nutrients, and it's linked to reduced risks of many conditions like heart disease and cancer."
14. Katrina Scott, Co-Founder of Tone It Up
"I use the Tone It Up Collagen Creamer every day!"
How do you take your coffee? Tell us in the comments below!