If you're at all familiar with the Food Network, Rachel Ray or the Cooking Channel, then there's a good chance you're also familiar with Jocelyn Adams, the face and founder of Grandbaby Cakes. Jocelyn started her booming food blog ten years into her career, never anticipating that it would eventually lead to her being contacted by two literary agents within one week of each other. "It took me approximately two years filled with insane hustle. My 9 to 5 was seriously more like a 7 to 8 WITH weekend work so it was very difficult figuring out how to balance the growth of a blog and full-time job while not completely losing my mind, though I am sure I lost it more than a few times. That growth included creating brand partnerships and making the right friends and contacts. Slowly but surely I saw a light at the end of the tunnel."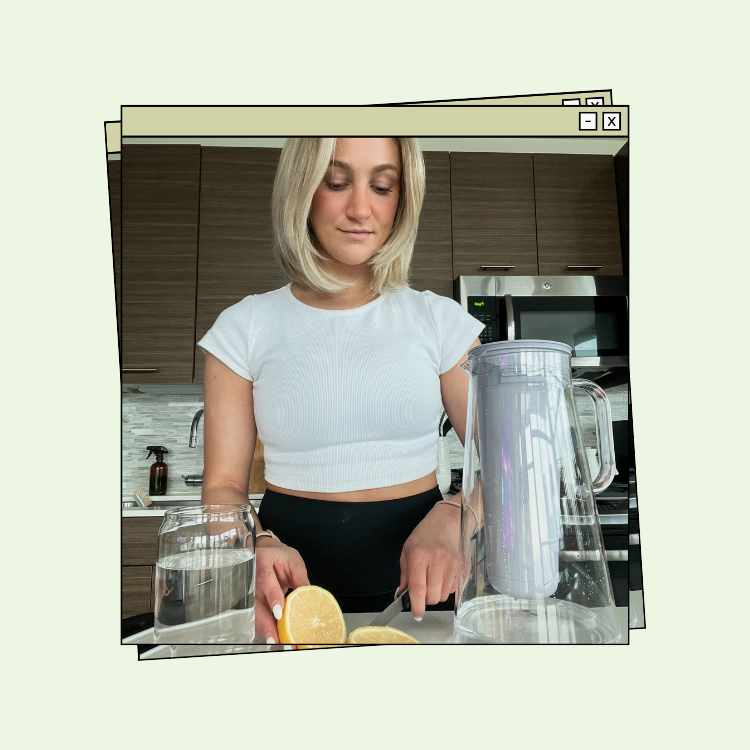 get it right in 2023 and beyond
Today Jocelyn is sharing a closer look at what exactly that "insane hustle" entailed, and how it turned into becoming a guest on the Today Show, an NAACP Image Award nomination and seeing her family recipes in print for the first time.
Full name: Jocelyn Jene' Delk Adams
Age: 35
Location: Chicago, IL
Current title/company: Founder of Grandbaby-Cakes.com/ Author of Grandbaby Cakes Cookbook
Educational background: B.A. Mass Media Communications, Concentration: Television/Film, Clark Atlanta University
What was your first job out of college, and how did you land that position?  
My first position was as a production assistant for the Judge Mathis Show at NBC Tower in downtown Chicago. I networked for a super long time and sent my resume to just about everyone in television.  I was contacted to start working as a travel production assistant just on production days. I did so well that they allowed me to interview for a full-time production assistant to start the following season, and I landed the job.
From there, how did you get the idea to start Grandbaby Cakes? What year did you launch? 
I didn't have the idea to start Grandbaby Cakes until over a decade later. I jumped around a lot in the media industry moving from television production to freelance film work to non-profit to magazines to finally marketing/events and pr. I was truly a creative wanderer. I finally launched my website in the fall of 2012 just as a hobby not knowing it would become my career full-time.
Slowly but surely I saw a light at the end of the tunnel when I was contacted by two literary agents within a week of each other.
After you had the idea, how long did it take for you to make Grandbaby Cakes your full-time position? 
It took me approximately two years filled with insane hustle. My 9 to 5 was seriously more like a 7 to 8 WITH weekend work so it was very difficult figuring out how to balance the growth of a blog and full-time job while not completely losing my mind, though I am sure I lost it more than a few times. I tried to build as much as I could. That growth included creating brand partnerships and making the right friends and contacts. Slowly but surely I saw a light at the end of the tunnel when I was contacted by two literary agents within a week of each other.
The list of honors and awards for your brand and cookbooks is incredible! Your first cookbook launched in September of 2015 and was featured as a top fall cookbook by People Magazine, Vanity Fair, Yahoo! and Epicurious. How did the cookbook come about? Tell us about the process from start to finish – were you approached with the opportunity to write the cookbook, or is this something you set out to do from the start?  
I was emailed by a literary agent in New York that I clicked with immediately. She seemed to see so much potential in me and was very experienced in the industry so I was super excited to work with her. We collaborated on a book proposal that was pitched to several publishers. We originally ended up with a publisher that wasn't a great fit so that contract was dissolved. I then signed with another publisher which was my Godsend. I couldn't have asked for anyone better. I wrote and photographed a cookbook authentically mine in about 5 months, went through 6 months of edits shortly after that, and a year and a half later, my first cookbook was published.
You have a beautiful website and great branding – did you invest in this from the very beginning, or did you work your way to a better visual presence after you had established yourself in the business?  
I definitely worked through several versions of my branding over the last four years. I originally started with a logo and design concept that was very obvious because I knew people wouldn't get the name Grandbaby Cakes right away. This was a great way to introduce my brand so I wouldn't have to constantly explain the meaning. The logo, tagline and website design were definitely more vintage and old fashioned like you would find in a 1950s bake shop. As my brand grew, I totally outgrew this design. I felt it didn't reflect me or my brand very well. It only got one part of my vision correct. I always tell people I'm the grandbaby, not the grandmother so I didn't want something so antiquated. I wanted branding that felt more modern and clean with a bit of edge to go with that classic feel. I reworked everything and feel in love with my new design. It feels very much "me" now, and it truly represents the brand well.
It is more important to me to preserve my brand's authenticity for the long run than receive a fat check in the short run.
You've been a brand spokesperson for Coca-Cola, Pillsbury, McCormick, Safest Choice Eggs, KitchenAid, BAILEYS Coffee Creamers and many more. How did these opportunities come about? Have you ever turned down the opportunity to be a brand spokesperson with a company you didn't think was the right fit?  
My brand relationships have been 70% brand initiated/30% me initiated. I have been very fortunate to have some incredible brand partnerships. My first relationship was with Pillsbury, and we have continued to find new and interesting ways to work together beyond our initial agreement when I first began blogging. Last year, I appeared in a segment for Pillsbury that aired live during the Thanksgiving Day Parade. For other brands where I have initiated the relationship, I or my management have pitched them directly. If it is a brand I absolutely love, I have no problem reaching out and telling them what a fan I am in hopes of working together.
I always make sure that I can truly advocate for a brand and make it work within my brand. If it feels like way too much of a stretch, then I definitely decline. It is more important to me to preserve my brand's authenticity for the long run than receive a fat check in the short run.
Talk a bit about the TV work that you've done. What does that area of your business look like? 
I have been fortunate to really excel in the TV realm in the last couple of years. Most people will say they have seen me regularly on the Today Show or Rachael Ray Show but I've also appeared on Food Network, Hallmark Channel, ABC, etc, and now I'm filming episodes for the Cooking Channel show Unique Sweets but all of this really started with local television.
You do not have to live a status quo life. Follow your curiousity wherever it may lead you, and try out as many different creative endeavors as you possibly can.
I don't consider myself an overnight television success at all. I did local television segments for years! I honed my skills and practiced on as many stations as I possibly could. It has made me very comfortable in front of the camera. I also really love this part of what I do, and it shows. It has become a big part of my business model, which separates my business from just being thought of as a blog.
You're business has received media placements everywhere from Oprah to BHG to Southern Living. At what point did you decide to work with a PR team, if at all?  
I actually never decided to work with a PR team. I had a publicist for literally 3 months when I first started out. She helped me get my first local tv segment. After that, I networked my booty off to continue to make more connections that opened doors for me. I have never been afraid to directly pitch story ideas to publications and news organizations. I find that part to be super exciting too and another way to really grow my business in a way that's different from how most bloggers approach growth. I have always thought of Grandbaby Cakes as a brand first instead of a blog and cookbook. Because of that, I realize how crucial media placements are in reaching a large and broad audience that doesn't visit my website.
Let's talk a bit more about the women who inspired it all: your grandmother. How does she react to your business and everything you've accomplished?
My big mama has to be one of my biggest cheerleaders. She is the biggest Grandbaby Cakes fan. Anytime I'm on television, she and my grandfather are glued to the screen to watch me. They are so proud of me, and it really means more to me than anything else. I started my business as a ode to them so knowing how honored they are by all of this is really inspiring. Besides them, I have the most supportive family and friends. My mom travels a lot with me, which is a blast. My dad, brother and husband are so invested in my growth as well. I'm truly blessed to have them in my corner.
Do you have a growing staff or do you continue to do most of the baking and decorating yourself? If it's still just you, what will be the first position you would hire out?
I am actually still doing a lot of stuff myself with a few freelance hires here and there. I have the following freelance positions keeping me afloat: tech, personal assistant for big projects, and graphic designer.  I also hire my mom to do a lot of work for Grandbaby Cakes. My first full time position hire will definitely be an administrative assistant.
Consistency is so key to achieving any dream. Sometimes it isn't talent that wins the race, it is the person who stays in the longest.
What is a typical day like for you?  
I absolutely love the fact that no day running Grandbaby Cakes is the same. Certain days of the week are totally devoted to new recipe development and brand related projects. Other days are focused on keeping the business end of my company together which means responding to emails and pitches, checking in with my management on partnerships, handling accounting, etc.
Far more recently, I have been traveling a ton so I could wake up anywhere from New York to Los Angeles to do television or book appearances. I have 10 trips planned in the next two months alone. I love that aspect the most.
Would you ever plan on opening up a shop available to the public in the future?
I certainly wouldn't rule it out in the far future but as of right now, I have no plans to. I'm more interested in possibly developing products. I think one of the reasons I am succeeding with Grandbaby Cakes is because I am able to wear so many different hats and focus on so many different things I absolutely enjoy. I don't think I would love being in one location baking the same things every single day. My creative spirit would be in jeopardy of being stiffled. Plus I need to make sure I don't get bored too easily. In the future when Grandbaby Cakes is more established, I might reconsider this if I can have it managed properly.
What advice would you give an aspiring baker who wants to start their own business?
I think there are so many ways to be successful in a cooking/baking career. It's important to experiment and choose a path that truly fits you. Asking questions like do I want to work in a bakery or own a bakery? Do I want to freelance for brands? Blog? Develop and write recipes? Write cookbooks? Be on tv? There are just so many avenues. For me, that was a blessing because I get bored easily. I chose a combination of things I wanted to do starting with the blog. The best advice after figuring out what it is you want to do is remaining focused and consistent. Consistency is so key to achieving any dream. Sometimes it isn't talent that wins the race, it is the person who stays in the longest. At some point, you will reap the benefits.
Best moment of your career thus far? 
Honestly the last year has been a combination of insane moments that made me feel like wow, this is insane! From seeing my first book in print and holding it for the first time to being on the Today Show and Rachael Ray to getting an NAACP Image Award nomination and now filming for the Cooking Channel, I seriously cannot believe my life sometimes.
What advice would you give your 23 year-old-self?  
Take as many risks as you want! You do not have to live a status quo life. Follow your curiousity wherever it may lead you, and try out as many different creative endeavors as you possibly can. This is how you will find out exactly what you are meant to do and be. And quickly develop some thick skin. You will certainly need it my dear.
Jocelyn Delk Adams is The Everygirl…

Favorite Dessert?
Definitely my big mama's peach cobbler.  Served with my big mama's homemade vanilla ice cream.  It doesn't get any better.
Best kitchen tool investment?  
My KitchenAid stand mixer by far.
Perfect summer day in Chicago?  
It starts with taking a nice walk along the lake, having breakfast with my mom at Mindy's Hot Chocolate (her pancakes are insane), then maybe heading to a Sox game or a tap dance class, having lunch with my brother at Dove's Luncheonette, taking a fun cooking class at The Chopping Block, then having dinner with the hubby at The Purple Pig followed by a caramel cupcake from Brown Sugar Bakery and ending with drinks with my girls at London House. Yep that sounds kinda awesome.
Go-to last minute dessert recipe?  
Random, but I personally love smoothies for dessert, and it only takes a few minutes to whip up. They are naturally sweet and healthy too. If I'm having a cheat day, a mug cake baked right in the microwave is perfect.
If you could have lunch with any woman, who would it be and why?  
Seriously way too hard to select one woman but I would have a group lunch with Oprah, Shonda Rhimes, Michelle Obama, Misty Copeland, Carla Hall, Ava Duvernay, Elizabeth Gilbert, Jill Scott, Beyonce, Ina Garten, Big Mama, my aunt and my mama of course.