When Ximena Ramirez wanted to revamp her New York City studio apartment, she simply made a call to her designer sister, Camila, who runs the blog and interior design business Effortless Style. Once Pinterest inspiration boards were created, the two sisters came up with a thrifty plan to turn this run down apartment into a sophisticated and fun space. By mingling bargains and splurges, Camila and Ximena gave this apartment a beautiful makeover that combines classic style with some bohemian flare.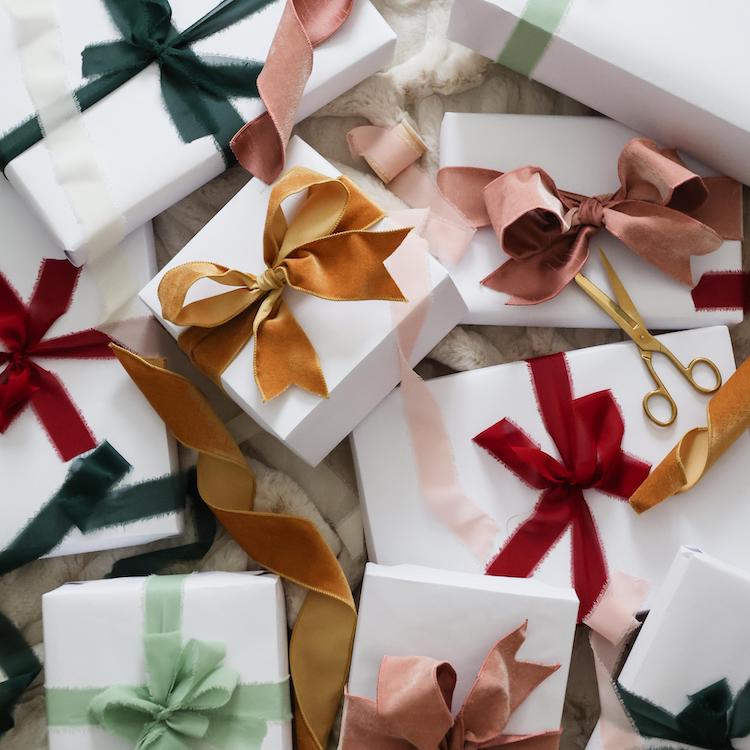 the perfect gifts for everyone—and we mean everyone—on your list
After graduating from college and working in the non-profit sector for years, Ximena has found her passion doing freelance work at a brand identity firm in New York City. When she's not at the office, she spends time with her boyfriend and adorable pup in her Washington Heights neighborhood. Studio living may sound cramped, or hard to define living areas, but with Camila's help, Ximena's apartment now has designated (and beautiful!) areas for sleeping, eating, lounging, and working. Read on to hear more about both talented sisters in this two-part interview.
Ximena Ramirez, Homeowner
Age: 30
Current Title/ Company: Freelancer, SARANKCO
Education: Boston College, BA in Communications and Minor in Women's Studies
What was your first job out of college and how did you land it? 
You know that scene in the movie Dirty Dancing where Baby's dad says she's going to change the world; then Baby responds that Lisa, her sister, is going to decorate it? That's what I always think about when I reflect on my entrance into the professional world—and my relationship with my sister!
My first job out of college was as at the Center For Reproductive Rights working on the communications team. After graduating from Boston College with a Bachelor of Arts degree in communications and a minor in women's studies, it was the perfect first job. I learned so much, while also fulfilling my desire to make a difference in the world.
Next, you started doing freelance work. How did you make this transition? And what is your current position?
Working in non-profit was incredibly rewarding, but after seven years I was itching for a change. I had acquired many skills; I thought I'd strike out on my own offering copy development, editing, brand strategy, and social media management services. I quickly found a gig freelancing at SARANKCO: Creative Studio, a strategic brand identity firm in Flatiron, and after a few months realized I had found my home. The environment was so creative and, in a word, happy. Everyone genuinely loves coming to work every day; we have a great time working together. It also helps that there is a cute toy poodle running around the office! After two months of freelancing, they convinced me to come on permanently and I've been here ever since as their creative copywriter. I work with a variety of clients from financial services to technology, health/wellness, and much more.
Besides working at SARANKCO, you also blog and volunteer. Tell us more!
I've always had a love affair with words and have found great power in using writing as a means to activate change in the world. To that end I've been blogging about women's and girl's rights at Care2.com for the last five years. This year I also started working with high school students on their college admissions essays with the organization sponsors for Educational Opportunity. I love working with students to write the most important essay of their lives (to date) and am in awed by the talent of so many of my students. It's a great source of inspiration for me. I actually also just started freelance copy writing for The Muse, a company I have admired from a far since it's inception and a place I go to often for career advice. I guess I like to keep busy!
Tell us what a typical day looks like for you.
I spend every last minute I can in bed in the mornings. I am not a morning person at all, so my boyfriend usually has to drag me out of bed (quite literally sometimes). After getting up and out the door, I commute about an hour to work. I like to maximize every minute of this ride; I usually have my laptop in tow and work on my Care2 blog post for the week or edit a student's essay. When I don't have my laptop I'm reading New York Magazine or a book. I recently finished Girl Boss and am now reading Amy Poehler's Yes Please.
The days fly at SARANKCO. I spend my day writing copy for a variety of clients or in meetings presenting options to clients. There is usually a break at some point during the day to celebrate someone's birthday or work anniversary. Just this week we celebrated our owner's birthday and filled his entire office from top to bottom with balloons as a practical joke. After work I like to hit up a workout class with ClassPass. I've currently become obsessed with spinning and love going to Peloton, a spin studio that is super close to the office. After getting a workout in I head home and again whip out my laptop on the train to get some work in. At home I eat dinner with my boyfriend and have some time to relax, but most nights I'm back on my laptop working on one thing or another!
Tell us about the Washington Heights neighborhood of New York City. What do you love most about the area?
I like to say that I live on the "upper, upper" west side of Manhattan. It's funny though, over the last two years when you say Washington Heights people actually know what you're talking about. When you mention The Cloisters (I live across the street) they get it even more.
The neighborhood is a little rough around the edges but changing very quickly. There are many young couples and families moving into the area—and lots of dogs. Cool new restaurants and bars are popping up all over the place and we even got a few froyo (frozen yogurt!) shops this year, which I was extremely excited about. There is also so much greenery, which I love! We have Fort Tyron Park right across the street; it's beautiful and has amazing hiking and views of the Hudson River and George Washington Bridge We also have Inwood Hill Park (the second largest park in Manhattan) a little further uptown with great bike trails.
You live in a studio apartment with your boyfriend and dog. How do you make small space living work for you?
Living in a studio as a couple (with a dog to boot) is certainly a challenge, but Camila really helped us organize the space so it would work as separate living areas. I remember when we first saw the apartment, which hadn't been renovated since the 1950s and I couldn't envision how it would work; Camila showed us how we could set it up to maximize the space. Even though it's just one room, we have a bedroom area, living room area, and dining area that all work together nicely and have worked well for us over the last few years. Camila also encouraged us to go with a dark wall color to play up the cozy feel of the space. We get compliments on the wall color all the time!
Your design savvy sister helped decorate; how did you work together to come up with a design strategy? Did you decorate on a budget?
Camila was incredible to work with and very budget conscious, which was great for us! We created a Pinterest board to share inspiration and get the design juices flowing. We also had lots of trips together to Home Goods and Ikea and her go-to thrift stores where we picked up a bunch of great pieces for a steal!
The final product is gorgeous! What is your favorite part of the apartment?
I couldn't agree more! My favorite part of the apartment is the gallery wall. Just looking at it makes me smile. I loved finding all the pieces and how they each tell a little story about us as a couple: the custom Etsy print of our pup Teddy or the gold wishbone print that we got because we feel so lucky to have found each other. 
Where do you see yourself in five years?
I'd say that in five years I'd like to be married and have a baby. Perhaps we'll be moving out to the suburbs or a bigger apartment. Either way we'll need Camila's great design eye!
Camila Pavone, Designer
Age: 33
Current Title/ Company: Founder, Effortless Style
Education: Hofstra University, BA in Communications
You interior design company, Effortless Style, actually started out as a blog. How did maintaining this blog help you transition into starting your own design business?
I started blogging back in 2008 and it has changed my life. I went from crying before work to finding an outlet that helped me discover what I was truly meant to do. I started the blog as a journal for my venture into the design world. My school and work background had been in communications and retail buying so I needed a place to share my love for design.
The blog helped me find friends in the business that helped me along the way. I don't know what I would have done without Lauren from Pure Style Home. She helped me figure out how to get design schooling, file my company as an LLC, and set up to the trade accounts. She has always been one of my biggest cheerleaders, and I will forever be thankful for her. Through the blog I showcased design projects I was doing in my own home and that lead to my first clients. To this day, the blog is where I get 90 percent of my clients.
What advice would you give to women who want to start their own business?
Be a do-er! I read blogs for about a year always thinking, "I could do this," but I was always too chicken to actually start. In order to be successful, the first step is to actually do. Writing my first blog post was one of the scariest things I have ever done, but it was also one of the best. Once I started I knew that I couldn't quit. To this day I post every single day Monday through Friday. It's like breathing to me. Once you decide you want to make a change and start working toward a goal, you make things work out. I knew I didn't want to go back into the corporate world and work for someone else. Everyday I hustle to get more design clients and more blog related work like partnerships and freelance writing.
How would you describe your decorating style?
My design style tends to be a mix of everything, but it's mainly new traditional with a preppy twist. I love bright colors and bold patterns along with the perfect mix of new and old.
What does a typical day look like for you?
I have two little boys so my days start on the early side. Normally I'm up by 6:30/7 a.m. From then until 10 a.m. I'm cooking breakfast, making the beds, showers, etc. By 10 a.m. my husband is off to work and my littlest, Asher, is napping so I get work done from 10 a.m. to 12 p.m. and then take a break with the boys and have lunch. In the afternoons I have help from Grandma and Pop-Pop so that's when I run to showrooms and meet with clients. Then it's back home to tackle dinner and bedtime. At around 9 p.m. I'm back to work and, normally, stay up working until midnight. It's a long day, but it's nice to be able to be a mom and work as well. Of course, some days no work gets done and other days I may be gone in the city for the majority of the day.
How did you work with you sister, Ximena, so come up with a vision for her studio? Did you face any decorating challenges?
Ximena was moving in with her boyfriend, who owned the apartment, so it actually took three of us to design the space. The main challenge was designing a space that was masculine yet feminine. I wanted them to both feel comfortable in the space and also balance the design. Another challege: working with such a small space. The studio is just about 400 square feet and it houses two adults and a dog. Having designated areas for everything helped make the space feel larger and keep them organized. They actually just bought a new one bedroom apartment together that we will start to decorate early this summer. If you want to check out the progress follow our Pinterest board here.
Did you decorate on a budget? What are some of your favorite sources for furniture and décor?
This wasn't one of those crazy $500 room reveals, but we were on a tight budget. The apartment was in bad shape when they got it and needed a whole new kitchen, new floors, and new lighting, which ate up most of the budget. We did splurge on a few items like the settee (to re-upholster) and the amazing rug in the living room area.
I love a mix of a new and old in a space so I adore thrift stores! I wish I had gotten into them sooner, but I started shopping at them right around the same time I started blogging. If you have a good eye you can find so many treasures. They get the most compliments on the mid-century style cabinet they use as a nightstand. I picked it up for less than $30 at a thrift store.
For retail shopping: I love using RugsUSA because they always have great sales and great quality; JCP is my secret source for budget friendly window treatments; Crane & Canopy has the softest bedding that I personally love crawling into at night; Society Social is my go to shop for happy colorful furniture that can be customized and not break the bank; World Market always has unique finds that look like they came from my exotic travels; and I can always find something from Target's Threshold collection that I need to have.
Where do you see yourself in five years?
In five years I would love to have a store front where I could sell home furnishings, furniture I have revamped, paintings from our Etsy shop, and hopefully fabric designed by me! I've been holding on to a notebook full of fabric sketches for years now and I really want to make it to come life. I would love to have the storefront be part shop and part studio and hopefully have a small staff to help me out.
Ximena and Camila are The Everygirls…
Morning or night?
Camila: I tend to stay up late getting work done so I would say I get more accomplished at night, but with two little guys that are morning people I have to be up super early as well. So, I guess I'm a little bit of both.
Ximena: Night! I am not a morning person!
Your perfect Saturday?
Camila: I would love to get to sleep in late and then head out for a yummy breakfast at my favorite cafe, Diane's, and then spend the day at the beach with my family reading a good book and hopefully taking a nap. My life is so busy that it would be nice to simply not have much of plan. Of course if I could sneak in a little shopping and perhaps a manicure and pedicure I would be a happy lady.
Ximena: My perfect Saturday would be sleeping in and then having breakfast in bed followed by a bike ride or a long walk with our dog Teddy and then lunch with my family and adorable nephews. I would end the day going out to dinner (I hate to cook but I love to bake) and then drinks with friends in the city.
Dream vacation?
Camila: There are so many places on my travel list at the moment. My guilty TV pleasure is watching Real Housewives of Melbourne. I have wanted to travel to Australia for as long as I remember and watching the show and catching glimpses of the beautiful city makes me want to book my plane ticket right away.
Ximena: I love to go on vacation! Right now we are dreaming of taking a trip out to California and driving along the west coast.
If you could have lunch with one woman, who would it be and what would you order?
Camila: I adore Anna Spiro (an Australian interior designer I am inspired by). She mixes colors and patterns so perfectly and I always fall in love with the spaces she designs. She is one of the main reasons why I decided to take the plunge, trust my gut, and go into the design field. I would order my favorite go-to lunch item: grilled cheese with bacon and fries. Yum!
Ximena: Camila of course—we have lots to talk about with the new one bedroom apartment we are buying! And I'd order a chocolate croissant!
Product Sources
Paint color
Holiday Wreath, Benjamin Moore
Dining Nook
Table, IKEA
Settee, Craigslist find
Mirror, Vintage
Dining Chairs, Tuesday Mornings (similar at Sears)
Rug, Overstock
Elephant chain over mirror is from travels (similar on Amazon)
Bedroom Nook
Bed: Sophie Tufted Platform Bed, Overstock
Artwork: Free NYC Map Printable
Floral Pillows: Lee Jofa California , Effortless Style
Coral Lattice pillow, HomeGoods
Jacquard Leaf Duvet, West Elm
Tufted Brown storage bench, HomeGoods (similar Wayfair)
Kantha Blanket, UncommonGoods
Mid Century Nightstand/Cabinet, Thrifted
White Ribbed Lamp, Home Depot
Living Room Area
Overdye rug, RugsUSA
Brickmaker Table, DIY
Lucite & Copper Tray, DIY
Manchester Sideboard Home Decorators
Round Tufted Storage Ottoman, Target
Love you to the moon and back artwork, Etsy
Polished Metal Letter X, Hudson Works
Vintage Marquee Letter S, Etsy
Wise Math Print, Michelle Armas
Love Print, SS Print Shop
Train Ticket Canvas, Burlington Coat Factory (similar at Canvas Gallery Art)
NYC Buildings Overexposed/Watercolor Prints, Parvez Taj
Work Station
Secretary Desk, Thrifted and refurbished by Effortless Style Interiors
Paint Color: Gloss Sail Blue, Rust-Oleum
Acrylic Chiavari Chair, Novi Decor
Brass Elephant Ring Pulls, Etsy
Vintage Rug, Esale Rugs
Kitchen area
Bamboo Roman Shades, Overstock
Rolling Cart, Ikea
Top Cabinets,Ikea
Base Cabinets, Ikea