We wait all year through the drudging cold and snowstorms for summer to come around, not truly remembering that the heat can be as brutal as the cold (except maybe worse because you're sweating so much that it's embarrassing). All you want to wear is some gross old tank top because everything remotely fashionable or chic seems too unbearable to fathom wearing in this heat. But you shouldn't have to sacrifice your style in the horribly hot days. Here's what to wear when it's too hot to wear anything, old tank top be damned.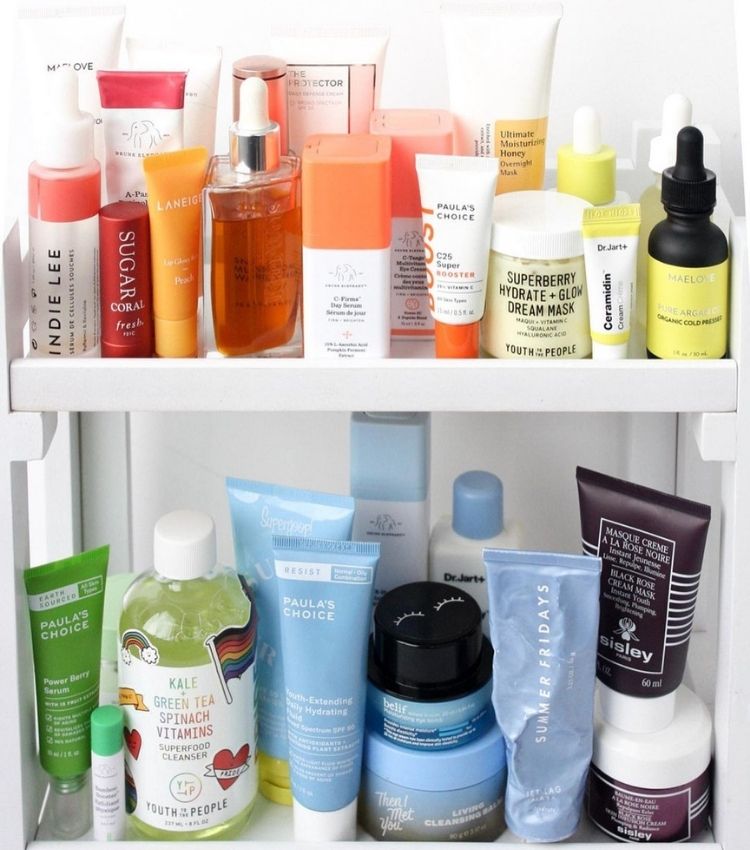 the wrong order can reduce effectiveness
Source: Zanni
1. A Shift Dress with Performance Fabric
Zanni is a brand who combines comfort and effortless style — they made an LBD feel like your comfiest leggings — what's not to love!? This chic shift dress is made with performance fabric (aka keeps you as sweat-resistant as your favorite workout gear) but looks work-ready with a blazer and heels. It will keep you cool through even the hottest temperatures. Dress it up, as you would your favorite LBD, with a pair of heels for work or a night on the town, or keep it casual with a pair of sneakers or sandals.
Source: Damsel in Dior
2. 24-hour Makeup
In the kind of weather where you're sweating just from stepping outside, long-lasting makeup is crucial to your routine — and your wellbeing. 24-hour foundation means that it is not going anywhere (even in the worst humidity) and long-lasting eye makeup will not smudge or melt away, no matter how much you sweat.
3. Setting Spray
Setting spray accomplishes just what it sounds like — it sets your makeup so that it lasts longer and stays on better. We all remember those times that we sweat so much, even waterproof makeup that lasts through an episode of Queer Eye will still smear and give us raccoon-eye. A setting spray helps your makeup stay longer through any kind of humidity and sweat.
4. A Straw Hat
Hats are crucial when you're outside on hot days. For one, skin cancer is no joke, people! Protect yourself from the vicious rays of the sun with a hat, so you don't depend solely on sunscreen (which can sweat off or wear off). But baseball caps or hats with thicker materials can get so hot. A straw hat is light and breezy, so you're protected from the sun and feeling nice and cool.
Source: Sincerely Jules
5. Light Delicates
All you ladies know what I'm talking about — boob sweat is real. And it can make you feel so much more sticky and uncomfortable. To avoid the dreaded sweaty bra (gross but so real), try a white or nude bralette or bandeau, which will be lighter and more breezy. If you need more support, find a bralette built for support with wide straps.
6. Slides
Slides are officially summer's chicest shoe. Not only are they easy to put on and take off (no obnoxious buckles, clasps, or ties), but they won't overheat your feet like strappy sandals or ballet flats would. We all know the pain of sweaty feet, and a chic pair of slides will completely avoid that disaster.
7. Chambray Shorts
Denim shorts seem like good go-tos when the temperatures start rising, but even your favorite cut-offs are actually a thick material that can make you feel even hotter. Even though they're cute, denim is not very breathable. Opting for a pair of shorts in chambray is a great alternative to denim cut-offs — the material is much more light and breathable, but you still get essentially the same look. Sorry, denim shorts! We love you, but we're putting you on the shelf until the heat wave is over.
Source: Not Your Standard
8. Weather Proof Humidity Spray
A humidity resistant spray is specifically designed for hot temperatures and humid air, sealing the hair cuticle better than other products, keeping the humidity out of your beloved strands. Extend your blowout through even the hottest, stickiest weather with a few extra sprays.
9. Crop Tops
Yes, this might give you flashbacks of listening to Britney Spears in ill-fitting crop tops in middle school, but nowadays, there are many adult versions of crop tops that you can, and should, be trying out. The style is light and breezy, and can be worn with high-waisted trousers or skirts for work. Your favorite summertime go-to as a preteen gets a lady-like update with ruffles, nice fabrics, and chic prints.
10. Culottes
When the temperatures are rising, it may not be your first choice to throw on a pair of pants. But sometimes, you have to look nice for work, and don't want to go through the hassle of a dress (and sweaty inner thighs mean chafing!). Enter: culottes — pants that are as cool as the temperature is hot. They don't cling to skin, making them the perfect alternative to trousers on a hot day.
This post includes a sponsored mention of Zanni, but all of the opinions within are those of The Everygirl editorial board.