I don't know how it happened so quickly (I'm still confidently writing "May" as the current date), but we're officially nearing the end of summer, when faux tans are flawless, swimsuits are in constant rotation, and the temperatures are hot (like fry-an-egg-on-the-sidewalk kind of hot). Since we can't always stay at home with our head in the freezer and still want to look cute for Zoom meetings, errand-running, or socially-distanced hangouts, we have some tricks up our sleeves to look cute when the temperatures start soaring. Here are 10 of our go-to items to wear when it's way too hot to wear anything else.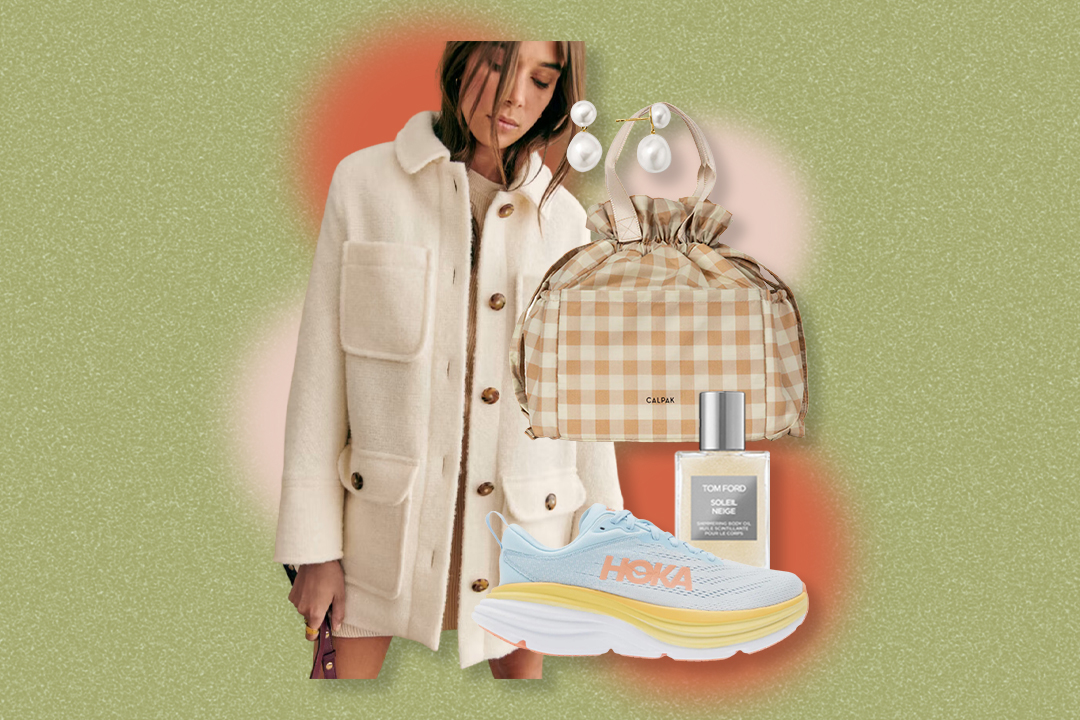 1. A breezy skirt
When it's so hot that you start sweating the second you step outside, you might feel tempted to go for shorts again. However, a breezy, loose skirt is not only a little more airy and cool than a pair of shorts, but will look even chicer. Pair with any tee and your go-to sandals.
2. Overall shorts
If your denim cut-offs have been worn every day for the past two weeks and you're lacking style inspiration, switch to a pair of overall shorts instead (it also doubles as a super cute bathing suit cover-up). Bonus tip: when it's even too hot for a tee, try a sports bra or crop top underneath. All the cool kids are doing it!
3. A graphic tee
Graphic tees are not only in style but are a timeless staple in the wardrobes of cool girls everywhere (and will be a way bigger upgrade from your typical basic tee). Style it tucked into denim shorts with a thick belt and your chunkiest booties for an outfit that's as cool (literally) as it is edgy.
4. Statement earrings
You know when it's so hot that you need to put your hair up in a ponytail or a bun just to survive the heat? A pair of really chic statement earrings will make the updo look like a style choice, rather than a there's-so-much-sweat-on-my-neck-it's-not-OK kind of choice.
5. Culotte Jumpsuit
When you don't feel like shaving your legs (because we all have those days), the answer to wardrobe conundrums on the hottest of days is an of-the-moment jumpsuit with flared, cropped pants. Wear with strappy heels for a dressed-up look, or sandals for a daytime affair.
6. Crop top
I know what you're thinking: crop tops!? I haven't worn one of those since my last frat darty! But hear me out. Crop tops are no longer reserved for college freshmen and Britney Spears superfans who never left the 2000s. Crop tops are ladylike, stylish, and mature. Oh, and they're perfect for staying cool in hot weather. To rock the trend in a more grown-up way, pair with high-waisted shorts, pants, or midi skirts, and keep the neckline on the higher side.
7. Lightweight button-up
A long-sleeve might not be the first thing that pops in your head when you walk outside and think, oh sh*t–it is freaking hot. However, a button-up in a lightweight fabric like cotton or satin might be better at hiding pit stains than typical T-shirts (just saying!). Tie it up, roll the sleeves, and wear with a pair of shorts for the easiest, breeziest outfit ever.
8. Long sundress
What do you wear on a socially-distanced date or a backyard barbecue when it's 90 degrees outside? You don't want to sweat too much (duh), and you also want to look good without, IDK, passing out. The answer, of course, is a breezy, flowy, sundress. Shorter mini-skirts are typically tighter, and therefore more restrictive. A flowy dress that hits at the knees or goes to midi length will not only allow for more air circulation (super important when thigh chaffing is at risk, AKA the case for the vast majority of human women), but will look pretty for any occasion.
9. Linen Pants
There's something about linen that reminds me of luxurious summer vacations in the South of France or the coast of Italy (not that I frequent there, but I'd imagine I'd wear linen pants if I did). Linen is perfect for summer because it's a lightweight fabric that absorbs sweat. Wear with a tee or over your bathing suit as a chic cover-up.
Madewell
33% off, plus an additional 30% off with code "WHATADEAL"
10. Embellished sandals
When all else fails and it's so hot that you can only manage throwing on a tank and denim cut-offs, no worries: statement sandals have your back. No matter what you're wearing up top, a pair of sandals with a bold print, embellishments, or seasonal fringe will show off your style.
What are your go-to pieces when it's really hot outside?