We've all been there. We hit the snooze button for an extra five minutes of sleep, we spent a few minutes too long scrolling through our Instagram feeds, we can't get our liquid eyeliner to cooperate, and suddenly our only breakfast options are a protein bar on-the-go or wasting money on buying breakfast en route.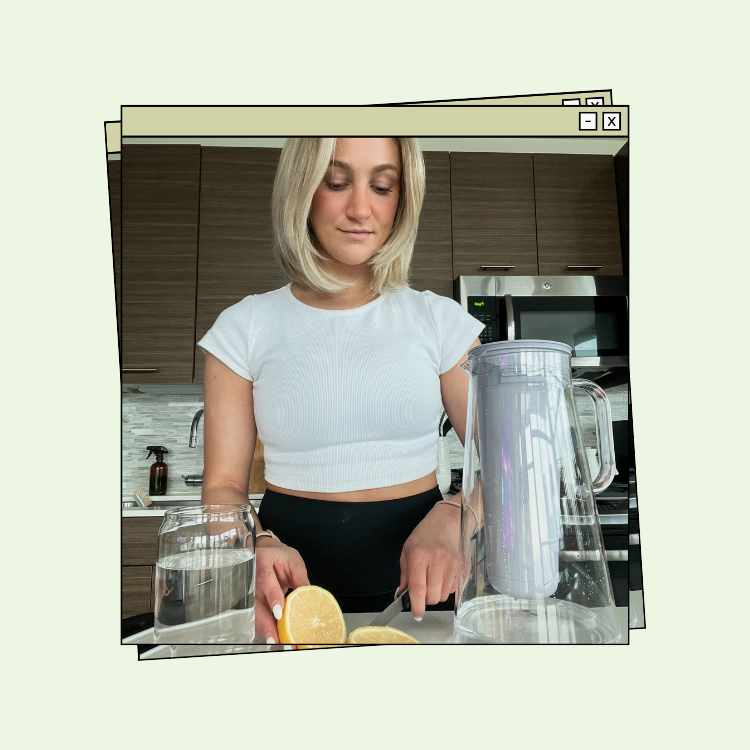 get it right in 2023 and beyond
Then you want to throw in health goals on top of time constraints? Well, that can feel like a gargantuan task at 7am when your brain is just thinking about how snuggly your sheets and pillow feel.
Thankfully, there are plenty of quick breakfast options to keep your life simple while keeping your health in mind — and some of them can even be done the night before, so it actually takes no time at all in the morning!
Make-Ahead Meals:
Source: Living Minimally
This is a ubiquitous classic now. You can make it vegan, gluten-free, nut-free, or whatever customizations you'd like, along with being able to sneak a lot of nutrition in there with things like chia or hemp seeds, and some with fruit. It takes 5 minutes the night before, so you can just grab and go in the morning!
Source: Minimalist Baker
Chia pudding is always a powerhouse of nutrition, filled with the healthy kind of fats that will tide you over until lunch. This chocolatey chia pudding can be put together the night before for a no-brainer morning.
Source: bon appétit
Healthy fats and natural sugars are the perfect fix for a morning sweet tooth lingering after a weekend full of fun. These bars can be made up to 2 weeks ahead, so hello snooze button!
No-Cook:
Source: Minimalist Baker
What's better than a quick breakfast on-the-go? The kind you can put extra of in your purse to snack on later. These PB & J energy bites pack about 5 grams of protein per bite-sized energy ball, so you'll be bouncing off the walls all day long.
Source: Wife Mama Foodie
Everyone knows how to make avocado toast now, so it's time to switch it up with some more fun toast ideas. My favorites on this quick and easy list are the cucumber, avocado, and dill toast, and the all-in-one toast that's basically a healthier open-faced breakfast sammie.
Super Smoothies:
Source: Paleo Gluten Free Eats
This blueberry-cauliflower smoothie is packed with antioxidants and vitamins to jumpstart your brain for the day. It's also Whole30 approved!
Source: Wife Mama Foodie
Feeling those summer vibes, but it's 8am on a Monday and not the right time for a piña colada? Try this peachy kale smoothie that fulfills your morning greens requirement —and satisfies your sweet tooth.
Source: Living Minimally
The perfect post-morning workout smoothie, this classic green smoothie is packed with protein and a variety of vitamins and minerals to give you a well-rounded, sippable breakfast.
Stovetop Quickies:
Source: Cookie + Kate
There's nothing like the smell of warming cinnamon on a stovetop in the morning. This one is also super customizable with whatever nuts, fruits, and seeds you have lying around for a nutrition-packed breakfast bowl.
Source: Living Minimally
Crepes in the morning — ain't nobody got time for that! Just kidding. All these take are dumping four ingredients in a bowl, stirring, then cooking for less than a minute per crepe. Getting fancy in the morning isn't so hard, now is it?
Source: Wife Mama Foodie
Switch up your boring traditional oatmeal by blending your oats before cooking them on the stovetop, to give it a more creamy, porridge-like consistency. Add some berries in, and you got yourself a pretty sweet dose of healthy carbs to energize your day.
What are your favorite quick meals in the morning? Share your go-to breakfasts in the comments!