Being a plus-size woman, finding clothes that are on-trend, show off my figure (only occasionally do I want to wear a potato sack), and are good quality is a challenge. Oh, and I can't always pay over a hundred dollars for one top. Basically, we can't always walk into a mall and have a plethora of options to wear on a night out or a last-minute wedding guest dress. So, plus-sized women have had to find their go-to retailers to get everything they want in their sizes.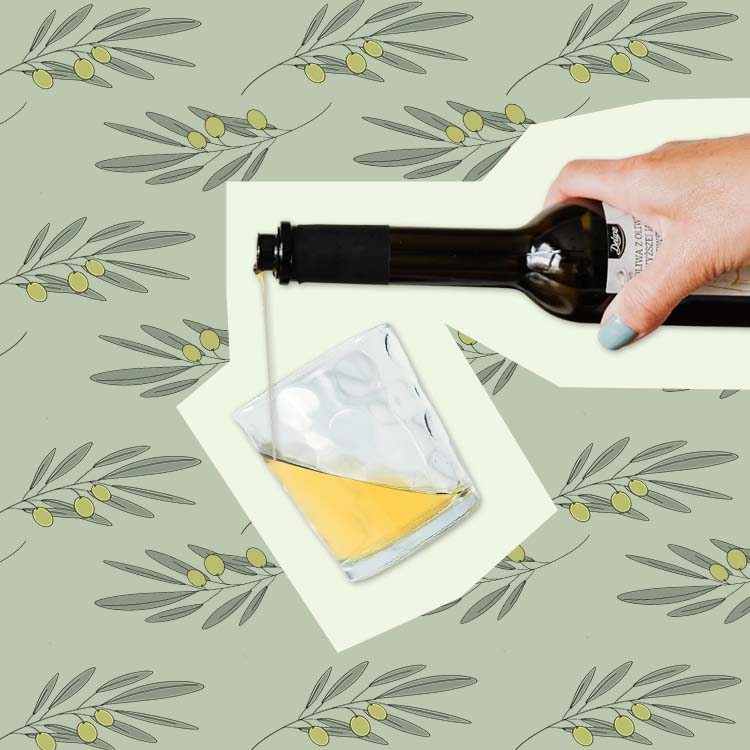 we love olive oil, but this seems a bit too far... or is it?
Luckily for us, our readers have found tons of great brands and lines that offer quality plus sized clothes at an affordable price. Here's where they love to shop:
Source: J.Crew
It's no surprise that we love J.Crew here at The Everygirl. The quality is amazing, the sales are to die for, and now, us plus size ladies can get in on ALL the fun!! From workwear to graphic tees, J.Crew is giving us all the ~modern prep~ vibes available in sizes up to a 24 or a 4X.
Source: Madewell
I've already discussed my love for Madewell and its addition of plus sizes, but I'm not the only one who's obsessed. Samara, who wears a size 18, said: "I am absolutely thrilled that Madewell is finally expanding their sizing as it has always been one of my favorite brands to peruse, but I haven't been able to find many things in my size until recently."
Source: @loft
I don't know how I didn't know the magic of LOFT until recently. LOFT Plus goes from sizes 16 to 26, but if you're a 12 or 14, you can still shop their amazing straight size line. Also, LOFT Plus is now sold in select stores across the U.S.! Check here to see if any of your closeby stores are now carrying plus. YAY!
Source: Nordstrom
If you're plus sized, you know that sometimes it's just comforting to shop with retailers that totally get you. That's City Chic. Its entire line is for plus sized women, ranging in sizes 14 to 24. If you're looking for occasion wear (think: fall wedding!), you've come to the right place.
Angela says to watch for sales! "I've gotten some great deals and get tons of compliments on the things I wear." She also says to pay attention to the site, as they do an outlet a few times a year where you can score some great finds for much less than you'd spend normally.
You can find City Chic on its website, Nordstrom, and Macy's.
Source: @whowhatwearcollection
Stylish pieces at an amazing price? Yep, that's Who What Wear's line for Target in six words. Available in sizes 0X to 4X, WWW offers every fall trend you can think of, from leopard print midi skirts (I honestly might buy two in case I wear the other too much) and gorgeous check prints to utilitarian jumpsuits and wide leg pants.
Source: @aerie
In case you didn't know, American Eagle carries up to a size 16 in stores, 20 online, and carries XXL online. Abby says: "As crazy as it sounds, I've been wearing AEO jeans since middle school, and they've continued to provide me with the best fit from when I was a size 6 in middle school, all the way through high school, college and into adulthood. They've got so many fit options, they last for years and years, and it's really hard to beat the price."
Aerie, American Eagle's intimates, and loungewear line, is also incredible. They offer the cutest swimsuits every summer, as well as the coziest pajamas and loungewear to get you through the cold seasons.
Source: @nordstrom
Nordstrom kills it every season with its plus size options, especially with its in-house brands such as BP. It's great to walk into a bigger retailer and find more than just a corner of the store dedicated to you. Aside from their in-store options, Nordstrom online has a huge selection of plus size brands online.
Samara explained that she loves Nordstrom, too, because "Nordstrom's website has really clear sizing and explains to size up or size down, based on how certain pieces fit." A great website makes shopping online SO much easier.
Source: @eloquii
If you aren't putting everything at Eloquii in your cart, go do it rn. Their size range is impeccable (14-28!!), and they offer styles that fit a wide range of body types. Their Viola line is specifically made for women with hips that are 1-2 sizes larger than their bust size.
Katie said: "Eloquii is far and away my favorite plus-sized clothing retailer. I purchase most of my workwear here and am always 100% pleased with the quality and the fit. I feel like they are also willing to take risks in regard to plus-sized fashion (why can't we wear crop tops and leather joggers, too?!), and I applaud them for that." Oh, yes!
Source: @oldnavy
It's a known fact that I'm obsessed with Old Navy, but it looks like I'm not the only one! They offer sizes XL and XXL in stores, and their plus size shop online is also filled with amazing styles. Angela said that Old Navy is her go-to for basics, and she loves that the XL and XXL in stores are true-to-size.
Source: ASOS
Our favorite UK retailer has some of the best plus size options on the market, from basics to lingerie to fun going out pieces to accessories (larger belts and longer necklaces are a thing, too!).
Katie LOVES ASOS, too! "ASOS is my go-to for casual or party items. Easy basics like camisoles, white button-ups and the like are very accessible on ASOS and at a good price point. They have fun, bold pieces for a night out, as well as pretty little dresses for showers, weddings, etc."
Source: @galmeetsglam
Who ISN'T obsessed with Julia Engel by now?! Her style is impeccable, and luckily for us, she's brought her eye to Nordstrom with her Gal Meets Glam collection! Her line goes from a size 00 to a 20, and her dresses are perfect for both special events and casual wear if you like to get a little glam (pun not intended).
Morgan, size 14, said that this line is "so exciting because I love her and have followed her forever and want to support her for doing that and being so size-inclusive."
Source: @torridfashion
I'd say most plus size women know and love Torrid, but there are a few hidden gems you might not know about. First of all, their size range (10-30) is out of this world. While I think most would say a size 10 and 12 aren't plus size, the range just gives these women some more options! I'm obsessed with their lingerie, specifically their underwear. I won't get into my anatomy rn, but let me just say, they're the perfect cut for plus sized women and so, SO comfy.
Wide calf boots for the fall and winter is a STRUGGLE for us plus size girls, too, and Morgan also said she finds killer options at Torrid every season. Katie said she recommends Torrid's swimwear to every plus size woman she meets, so I'd say it's probably pretty bomb.
Source: A Beautiful Soul
Under the umbrella of the Altar'd State line, A Beautiful Soul offers gorgeous maxi dresses, comfy sweaters, and tons of jackets and coats perfect for the fall weather.
Amanda said she loves shopping at both Altar'd State and A Beautiful Soul and that their clothes are "beautiful and always in style."
They also sell Capri Blue candles, so feel free to add some Volcano to every order you place.
Source: Target
JoyLab is Target's newest activewear line, and it is to DIE for. Noelle explained that it's similar to high-end brands but at a much lower cost. High waisted leggings (good for both high intensity work and lighter workouts like yoga), workout tanks and tees, and supportive sports bras? We'll take one of each, please.
Source: @gwynniebee
Clothing subscriptions are all the rage, but they're not always offered for plus size women, and if they are, they're not always all that stylish. Then, along came Gwynnie Bee, and the rest was history! If you're looking to amp up your 9-5 wardrobe, look no further — they have work basics, but they also offer so many options to change up your look and try something new for work. A new wardrobe is bound to spark some creativity, you know?!
Abby said that she found items she'd never thought to pick up previously, and she got to the point where she didn't even want to send anything back!
Where do you love to shop?! Let us know in the comments below!