I've never been a problem child when it comes to vegetables; I loved eating my broccoli and carrots as a kid (although my eyesight would beg to differ!) and as an adult, I don't consider a dish a meal unless there's a form of vegetable involved.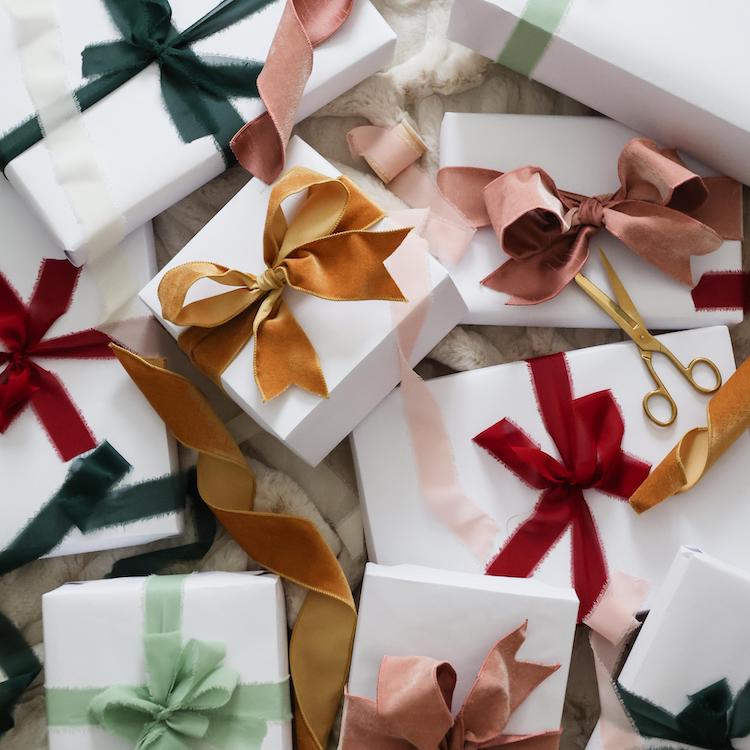 the perfect gifts for everyone—and we mean everyone—on your list
Although I don't have a problem incorporating vegetables with my meals I still like to find ways of substituting them into recipes—especially when it comes to salad and pasta. Don't get me wrong, I love carbs but if I can find a recipe that features vegetables versus pasta every once in a while, that's a win, right? When I'm adding some depth to my salad with a crunchy carrot or making a full meal of vegetables, I like to use my spiralizer.
Spiralizer Basics
What Is Spiralizing?
Spiralizing produce simply means turning vegetables into noodles. Spiralizing vegetables is a great way to incorporate more produce in your life. Adding spiralized veggies (or fruits) to salads, casseroles, pastas, and other meals is a great way to step up your nutrient game. I like using a spiralizer for appearance too—who can complain about eating veggies in ribbon form?
Spiralizing Products
There are many different spiralizers on the market. The Paderno Spiralizer, Veggetti Pro Vegetable Slicer, and Inspiralizer are all great picks. You can find spiralizers online or in a kitchen specialty store.
Spiralizing Alternatives
If you don't want to invest a spiralizer yet or just want to try the technique occasionally, there are other ways to achieve the spiralized look. You can use a julienne peeler, a spiraled vegetable slicer, or a handheld slicer.
How to Use a Spiralizer
Step one: Prepare all of your ingredients and set up the spiralizer to desired blade pattern. Wash vegetables and peel them if desired. Cut off both ends of vegetable to make them flat.
Step two: Place vegetable onto the spiralizer glider. Make sure the center or core of the vegetable is aligned with the circular center blade.
Step three: Push the back glider against the front blades and begin turning the handle. Tip: Depending on which spiralizer you have, there may be a knob you can hold to keep the vegetable forward.
Step four: Gather the spiralized vegetable in a bowl and clean the pulp out of the area—it can get pretty messy.
Please be cautious of the sharp blades.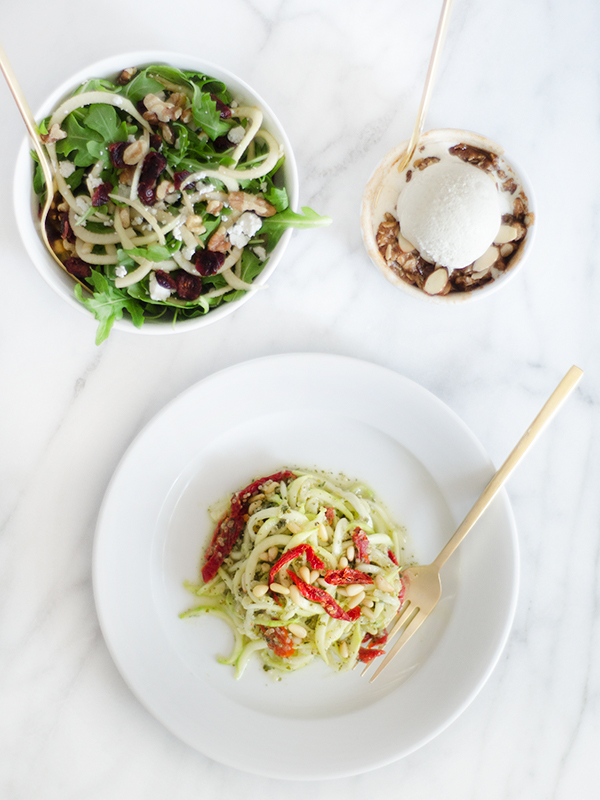 Recipes
Here are three simple recipes to start you on your spiralizing journey.
Apple Arugula Salad with Goat Cheese
Ingredients
arugula
1 apple for each salad (granny smith)
dried cranberries
crumbled goat cheese
pine nuts
vinaigrette dressing
In a large bowl, combine the arugula and dried cranberries. Sprinkle a pinch of salt and toss the ingredients. Using the thick setting, spiralize your apples and place them into the salad bowl. Mix all items until well incorporated. Top the salad with crumbled goat cheese and pine nuts. Serve with vinaigrette.
Pesto Zuchinni with Sundried Tomatoes
Ingredients
pesto sauce (I used this recipe)
1-2 medium zucchinis
1/3 cup cooked quinoa
sundried tomatoes
pine nuts
Cook the quinoa according to directions. Meanwhile, wash and peel the zucchinis and place them in the spiralizer. Once spiraled, place zucchini into large serving bowl. Mix in the cooked and drained quinoa, 1/4 to 1/2 cup pesto mixture (to taste) and the sundried tomatoes. Garnish with pine nuts and serve.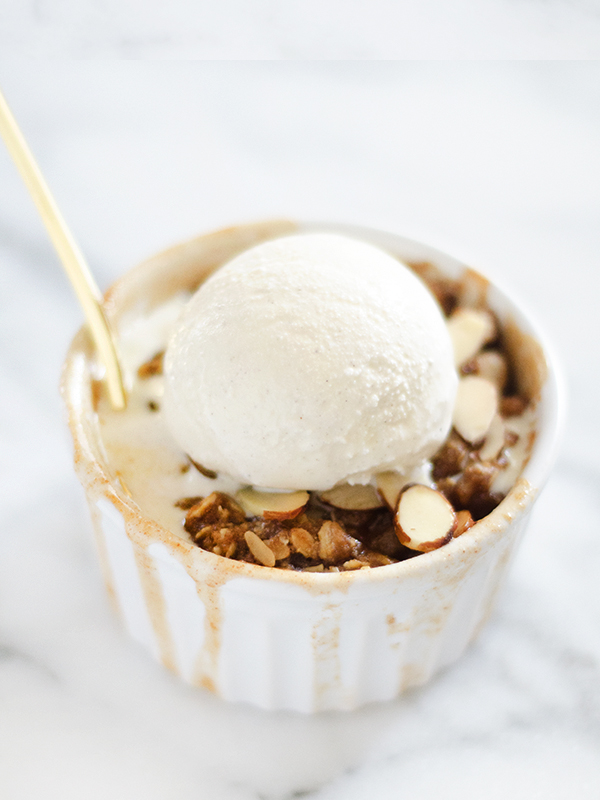 Spiralized Apple Crisp
Ingredients
for the filling 
10 granny smith apples, peeled with ends cut flat
2 tablespoons fresh lemon juice
3/4 cup granulated sugar
1/4 cup brown sugar
1 tablespoon all-purpose flour
1 teaspoon ground cinnamon
for the crisp
1 1/4 cup old fashioned oats
1 cup all-purpose flour
1 teaspoon ground cinnamon
1/2 teaspoon nutmeg
1 cup brown sugar
1/2 cup butter, melted and cooled
1 teaspoon pure vanilla extract
Preheat oven to 350° F and butter a 9×13 inch baking dish. Prepare the fruit base: In a large mixing bowl, combine apple, pears and lemon juice; toss to coat. In a medium bowl mix granulated sugar, brown sugar, flour and cinnamon. Sprinkle sugar mixture over apples and pears tossing to coat. Pour apple pear mixture into prepared pan, spread into an even layer. Next, prepare the topping: In a large bowl, combine the oats, flour, cinnamon, nutmeg and brown sugar. Mix butter and vanilla together and pour over oat mixture; stir to combine.
Crumble mixture evenly over the apples and pears. (Tip: Double the recipe for extra crumble.) Bake in preheated oven for 40-45 minutes or until the crumble topping it golden brown. Serve warm. If desired, top with vanilla ice cream, caramel sauce, or whipped cream.
For this article, I cut this recipe in half to fill personalized ramekins. I made about 4 ramekins. 
More Spiralized Recipes

What is your favorite vegetable to spiralize?