You've heard it a hundred times: the best way to fight aging is to prevent it from ever happening in the first place. Wear sunscreen every day, drink tons of water, find and stick to an effective skincare regimen—the list of prevention tips is a mile long. If you haven't already, it's never too early (or too late!) to start implementing healthy habits like these into your daily routine. But while there's no denying that prevention will slow the process down, it's only normal to notice signs of aging as time passes—regardless of how diligent you may be in taking the best care of your skin.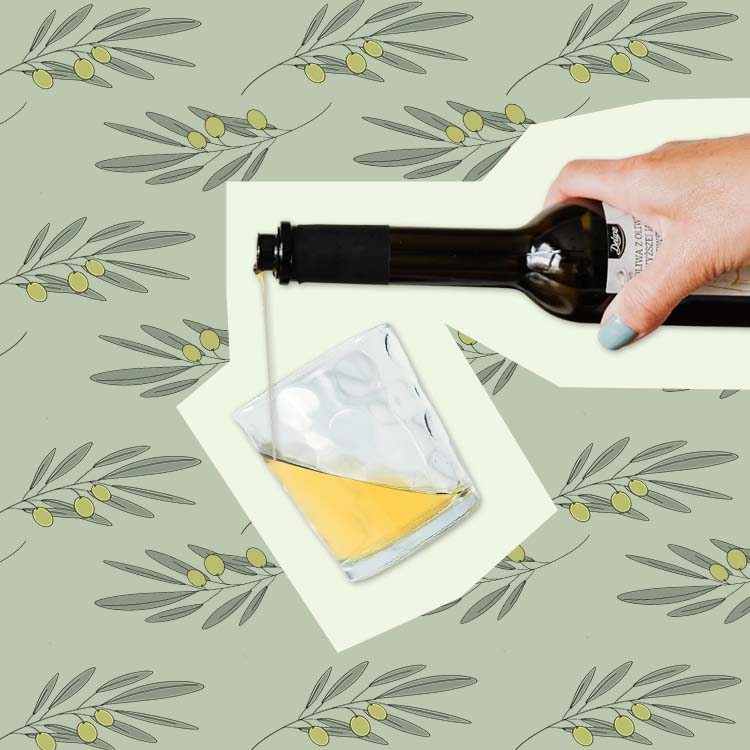 we love olive oil, but this seems a bit too far... or is it?
Once fine lines and wrinkles appear, so many resort to Botox, fillers, and every skin-penetrating laser you can think of to smooth the skin back to a youthful state, but there are plenty of less invasive ways to transform your skin before jumping to extreme measures like these. If signs of aging are something you wish to correct, but you'd like to take a more gentle approach, then keep reading for five anti-aging alternatives to Botox. Not only will these treatments help to erase existing signs of aging, but they will also slow down the process tremendously! When making tips like these a regular practice, you'll be looking younger and fresher in no time.
1. Get a facial.
Or two… or three… or more. One can never have too many facials, in our opinion. It's not just about the pampering, although that's an awfully nice (and relaxing) part of the whole deal. Think about what it is about your skin you would like to correct. Whether it's fine lines, dehydration, acne, or dullness—there's a facial to treat it, we promise.
Your esthetician should do a thorough evaluation of your skin and needs, then recommend a totally customized facial system to help. A facial we love is the Radiance Smoother Facial at Clarins Spa. This facial features two new exciting products: the Radiance Boosting Concentrate and the Complexion Radiance Peel Off Mask. Both of these products help exfoliate, hydrate, and brighten the skin through highly effective ingredients like glycolic acid, hyaluronic acid, and plant extracts.
During April, the Radiance Reviver Facial is $35 off, so it's a great time to take advantage of a fully customizable skin treatment. The 50-minute facial, normally $85, is just $50. Although the facial is geared towards exfoliation, adding hydration, and brightening the skin, it can be fully tailored to your exact needs, whether it be fine lines and wrinkles, breakouts, oiliness, dryness, hyperpigmentation, and so on.
You can now book appointments online here. Aren't sure if you have a Clarins Skin Spa near you? Find out here.
2. Use retinol.
Source: Ikea
Retinol is a skincare super hero. It helps with almost every skin issue you can think of: fine lines and wrinkles, sun spots, uneven skin tone, acne, and more. Although this ingredient in its most powerful form is something that needs to be prescribed by a dermatologist, there are now more and more products available at your local skincare store that include retinol in their list of active ingredients.
There are a few side effects you may notice when starting to use retinol in your routine (like redness and flaking) so it's best to start off in smaller amounts and work your dosage up. Also, retinol increases your skin's sensitivity to sun exposure, so keep it in your nighttime routine only. And as with any new skincare regimen, it's always best to consult your dermatologist first!
3. Try acupuncture.
Source: getty images
When you're stressed or feeling unbalanced in life, it's inevitably going to manifest itself in your skin—and cosmetic acupuncture may be the answer you're looking for. Acupuncture is a natural form of ancient Chinese medicine that involves inserting tiny needles into different parts of the body to help with anything from backaches to migraines—and now, it's even considered an anti-aging procedure.
By having a professional insert these hair-like needles into certain vortex and pressure points, blood circulation improves and energy starts flowing more efficiently, allowing the body to rejuvenate and strengthen its own anti-aging powers. When practiced cosmetically, acupuncture is a painless and non-surgical way to make a big difference in reducing wrinkles, lifting the skin, reducing pore size, and more. In fact, some refer to it as an "acupuncture face lift." It may not be the cheapest alternative, but it's certainly more natural and holistic!
4. Practice facial massages.

Source: byrdie beauty
This is a simple, at-home practice that has big results. Think of it as a workout for your skin. Facial massage promotes blood flow and increases muscle tone. So not only will it brighten your complexion and encourage cell turnover, but it will also make your skin more taught and lifted. The best part is that a facial massage has instantly visible results because it releases toxins, which in turn reduces puffiness and other signs of fatigue.
There is a special technique to it, though, and we think Lisa Eldridge explains it well in this easy tutorial video. You can also implement other tools into your facial, too. There's the derma roller, which uses tiny painless micro needles that help to boost natural collagen production in your skin. You can use it all over the body, too, like on stretch marks and to rejuvenate the lips. There's also an at-home handheld facial toning device that we love called the NuFACE, which is totally non-invasive, but sends microcurrents into the skin to reduce wrinkles and improve facial contour and skin tone.
5. Incorporate hyaluronic acid.
Source: sona gasparian
Hyaluronic Acid is the skin's water reservoir and a natural component of the skin that acts like a "sponge molecule" capable of holding up to 1,000 times its own weight in water. It is a hero in the skincare world that helps the skin lock in moisture and look full. It's naturally found in the body, but as we get older, we need more and more of it because skin moisture drops significantly with age. When applied topically, hyaluronic acid can penetrate the skin's upper layers, where it benefits tissue repair, skin elasticity, and hydration—all giving the skin that youthful appearance we all crave. It also protects the skin from the sun's UVB rays. Double win!
This post is sponsored by Clarins but all of the opinions within are those of The Everygirl editorial board.