Getting dressed to cheer on your alma mater post-college can be… annoying. What is a girl supposed to wear when she's left her trusty t-shirt-sneakers-and-a-solo-cup days behind her? Whether you're a die-hard basketball fan or just there for the drink specials, you need some foolproof outfit ideas to get you through March Madness. Unlike the glory days when you had Papa John's on speed dial, "game day" in the real world now calls for office bracket happy hours, classy house parties, and after-work cocktails with the girls. No matter what the occasion, these easy style tips will take your college gear from frattastic to classic.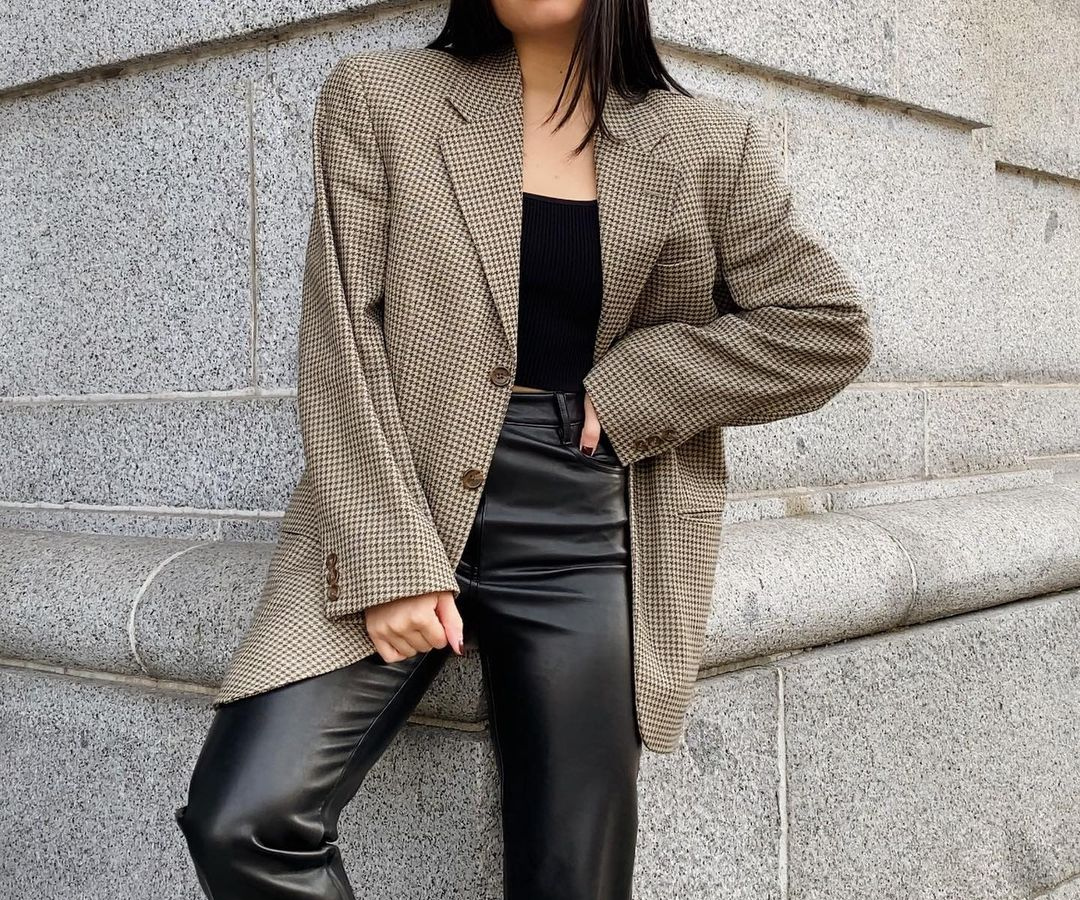 9-5 has never looked better
We called on a few of our favorite fashion bloggers, all alumnae from top basketball schools, to help us. So find that old college tee (or jersey), and put it to use! It's March Madness.
DATE NIGHT
Name: Caitlin Covington of Southern Curls & Pearls
Alma Mater: University of North Carolina, Chapel Hill
Caitlin's Styling Tips:
Since your frame can quickly get lost underneath a basketball jersey, the tailored fit of a blazer provides some needed shape.

I love team jerseys, but unfortunately, they can be very expensive. Here's a tip about this one – it's actually a kid's jersey in a size XL!

Simple, sparkly jewelry and a striped bag add some girlish charm.
Get Caitlin's Look:
Coral blazer: Similar here (and on sale!)
Jeans: Vigoss (similar here)
​Earrings: BaubleBar (similar here)
Flats: Sam & Libby for Target
Bag: Kate Spade (similar here)
Bracelets: Happy Wrist Zoe and Sparkle
Follow Caitlin on Social:
Instagram: @cmcoving
Twitter: @cmcoving
HOUSE PARTY
Name: Ali Bronska of A Dash of Details
Alma Mater: University of Kansas
Ali's Styling Tips:
Headed somewhere dressy but still want to show your team spirit? Opt out from your standard jeans and give your good ol' College tee a stylish twist by pairing it with an unexpected silk pant, preferably with a small print or solid bold color.

To create a waistline, tuck a corner of your tee into the top of your pants.

Wear a cute pair of heeled sandals so after the game is over you can head out on the town with the girls!
Get Ali's Look:
Pants: J.Crew
Heels: Zara (similar here)
Necklace: BaubleBar
Striped Blazer: J.Crew Factory
Bag: Kate Spade (old)
Follow Ali on Social:
Instagram: @adashofdetails
Facebook: @adashofdetails
Twitter: @adashofdetails
THE STADIUM
Name: Krista Robertson of Covering The Bases
Alma Mater: University of Kentucky
Krista's Styling Tips:
Put a feminine twist on that old jersey in the back of your closet. How? Let me tell you my secret: layering. Giving credit where credit is due, I have to thank the wonderful boys of Kentucky for this look. They're always looking so preppy and dapper with their polo button downs under their jerseys. It's like saying I'm serious about being a UK fan, but I'm also here to party. Kind of like a mullet, but not at all.

This outfit is one for just that occasion: trying to find the in between of being serious (since we're in the real world now… sniff sniff) and wanting to party. I'll usually wear different combinations of this to the office (note: I work in a sports environment and it's totally allowed), going out with friends for games on a random Wednesday night, or even to the games themselves!

If you're one of the lucky ones to be at an actual game, do yourself a favor opt for cute and comfortable flats (I went with a leopard pointed toe). You'll be on your feet most of the time cheering on your team!
Get Krista's Look:
Button down: Ralph Lauren
Pants: Flying Monkey
Loafers: Eddie Bauer (Thrifted)
Purse & Watch: Michael Kors
Jacket: Vineyard Vines (similar here)
Follow Krista on Social:
Instagram: @KristaRobertso
Facebook: @CoveringTheBasesBlog
Twitter: @KristaRobertso
CASUAL BAR
Name: Meggan Morehead of Somewhere, Lately
Alma Mater: University of Iowa
Meggan's Styling Tips:
With my school in the top 25 (go Hawkeyes!), I will be rocking this crewneck frequently in the coming weeks. Spice things up by adding a little edge! These black leather pants and booties are a perfect way to transition a sweatshirt from day to night.

A glam necklace dresses up the casualness of the sweatshirt. You can never go wrong with statement jewelry!

Tie a camouflage jacket around your waist to bring the whole look together. I will definitely be needing it if this crazy Chicago weather keeps up!
Get Meggan's Look:
Pants: Zara (similar here)
Booties: Sam Edelman (similar here)
Camo Jacket: Nordstrom (similar here)
Necklace: Topshop (similar here)
Bag: Rebecca Minkoff
Follow Meggan on Social:
Instagram: @SomewhereLately
Facebook: @Somewhere-Lately
Twitter: @SomewhereLately
OFFICE BRACKET
Name: Jen Dang of Skirt The Rules
Alma Mater: University of Arizona
Jen's Styling Tips:
When it comes to school spirit, it's go big or go home. I may be 2,400 miles away from my alma mater, but you can still find me cheering on my Wildcats at one of the watch parties, at home, and even at work. It might be time to invest in a nicer, newer, brighter t-shirt from your university, and save the old one for bed. The block "A" is the University of Arizona's most well-known icon. (One of my best friends once suggested getting matching tattoos of the logo, but I settled for a t-shirt instead. Good compromise, right?)

For a look that will dominate the office bracket, I paired my t-shirt with a navy knit moto jacket and bright red midi skirt. The silver pumps add a little extra flair to my spirited work wear.

I'm not shy when it comes to my college colors (cardinal red and navy blue), so a bold red lip is a must!
Get Jen's Look:
Jacket: Nic + Zoe (cute striped one here)
Skirt: ASOS
Bracelets: J.Crew, Juicy Couture
Pumps: ASOS
Follow Jen on Social:
Instagram: @SkirtTheRules_
Facebook: @SkirtTheRules
Twitter: @SkirtTheRules_