Lashes are having a major moment, and these six million hashtags are here to prove it. While they're one of the easiest ways to "up" your makeup game, the endless options and application process can be intimidating! These eight easy steps will ensure a seamless application and result in gorgeous faux flutter.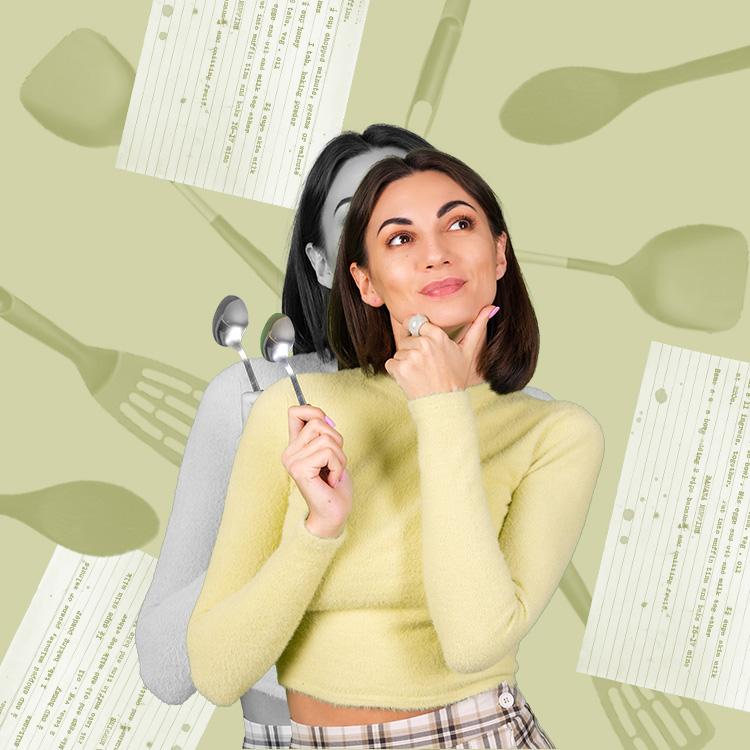 high in protein, good for gut health, and anti-inflammatory? yes, please!
1. Pick a true-to-you style…
Perfect faux lashes look best when they mirror your existing eye shape or enhance what you've already got.
Do you have almond-shaped eyes, or are you looking to achieve that cat-eye look? Seek out a strip that's tapered, with the lashes shorter on the side closest to your nose.
If you have round or deep-set eyes, choose a set that's full and the same length across the whole band.
If you're new to lashes, bands with a little space between each lash cluster are a great place to start.
2. …and lash type.
Our favorite lashes range from near "disposable" sets to lust-worthy investment pieces. Brands like House of Lashes are cruelty-free and only use human and synthetic hair. If you're on a budget, makeup pros everywhere know there's no better bargain than Ardelle, whose Demi Wispies are a cult favorite. If you're looking for an investment lash with high style, you'll want to check out Esqido lashes or Velour for photo shoot-worthy fauxs.
Source: Esqido
3. Trim your false lashes to fit your eyes.
The very first step in your application process should be popping those beauties out of the box and doing a little measuring. Since not all eyes are the same size, take a minute to see how the lashes fit your eye shape. If the band is too long, simply trim a bit off the end. Work from the outside edge (where the lashes may be a little longer) to avoid trimming away any built-in tapering that's part of the style.
Source: House of Lashes
4. Gather all your tools to reduce fumbling.
When you're ready to apply your lashes, be sure the rest of your eye makeup is complete and that the application tools you need are readily assembled. We're particularly fond of lash applicators, which help achieve pro-worthy results with minimal fumbling. These tools ensure even pressure and carefully seal the faux fringe to your natural lashline. Before you begin, it's also a good idea to give your natural lashes a light coat of your favorite mascara so they have something to hold onto.
Another one of our favorite prep tips is to gently wrap the lash band around a makeup brush or mascara tube for a few seconds before application. The heat from your hands not only warms up the lashes and makes them more flexible, it also gives them more curve. This means the edges stay tacked down much better once they're applied to your eye.
Source: My Beauty Bunny
5. Once you've applied glue, wait 10 seconds.
Our dreams of perfect faux lashes usually go south with glue application, when we're either left with a goopy mess or lashes that don't stick quite right. When you're ready to apply, squeeze a little glue on the back of your hand and gently drag the lashes through to pick up a minimal amount of product. Also, consider a glue that dries black (and blends right in with your liner!) or products you can apply with a brush.
Once you have glue on the band, contain your excitement for a few more seconds! (About 10, to be exact.) The glue should get a bit tacky before you apply the lashes, which will help them adhere and avoid a sticky mess!
6. Gently press and squeeze the lashes to set them.
We're ready to apply! Move those lashes to the top of your natural lash, setting them down lightly. The right motion here is to gently press and squeeze. You want to press the faux lashes into your own lash line, and carefully squeeze the band to your natural lashes at the base of your eyelashes. This is where a lash applicator can provide that gentle pressure you're looking for, but you can always use your fingers, too.
Application will also be easier if you position a mirror slightly underneath your chin and begin by looking down, with the lashes held over your eye. (Hint: We like saving lash curling until the very end. It's harder to position faux lashes if your natural ones are already curled up firmly!)
7. Add a few finishing touches to blend the lashes.
Do they look fabulous?! Well done, girl. Now let's add some finishing touches. Draw a bit of black liner over the band to fill in any gaps and hide any edges of the lash. A soft squeeze with a lash curler and a final coat of mascara is also a great way to blend your real lashes with the fakes. If you're not into topping your faux fringe with a lot of other makeup, you should consider a set with an invisible band.
8. Remove them properly.
As tempting as it may be to yank those bad boys off your face at the end of the night, proper removal saves your natural lashes. Proper removal can also extend faux lashes' life span, depending whether or not the pair is reusable. Soak a cotton swab in oil-free makeup remover and dab it along your lash line, gently smudging and rolling it out like a mascara wand as you go. Ta-da! Faux lashes are lifted without damaging your own.
Using more makeup remover or a gentle face wash, clean and dry your lashes and pop them back the box for safekeeping. For extra credit, dab your real lashes with some coconut oil post-cleanup to keep them soft and hydrated.
Like any beauty trick, practice makes perfect. Instead of saving lashes for bridal makeup or a special occasion, think about working them into your beauty routine on a random date night. Lastly, faux lashes will look their best when what you've already got is in great condition, so be sure to check out our tips for maximizing your own lashes!
Are you a faux lash lover? What tricks do you use to ensure perfect application?