It's cold, it's warm—the weather flip flops so much this time of year that it makes it impossible to know if you need a parka or sandals for stepping outside. And now we are finally on the cusp of spring, so let's go through that winter closet and pull out the florals, brights, and a favorite silk dress! Here are eight tips to help you navigate this transitional season with style and grace.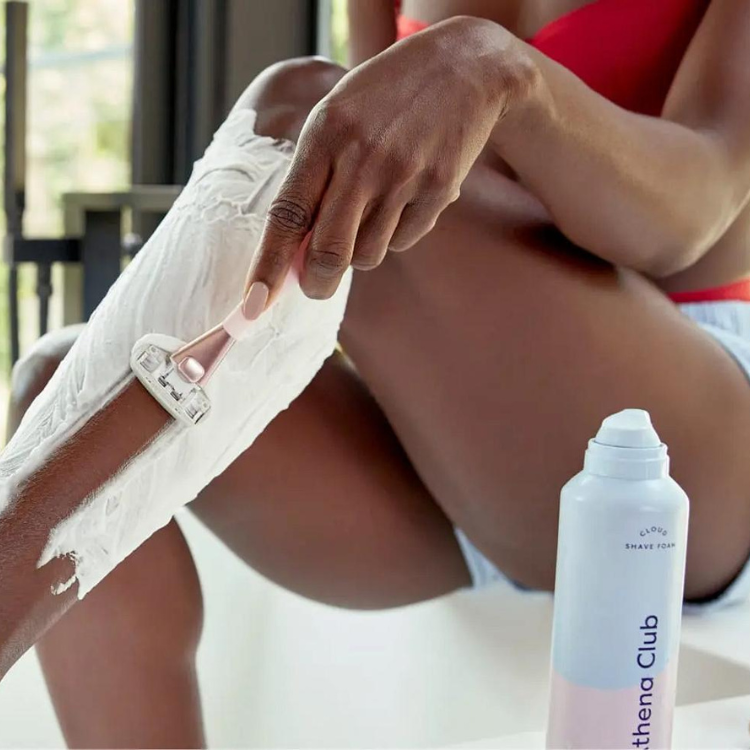 "This razor gave me the silkiest, smoothest shave I've ever had! I never get any cuts or scrapes, even on those hard-to-shave places."
1. Utilize over-the-knee boots (pair them with flirty spring dresses).
Source: Fashion Hippo
Source: Nordstrom
No need to pack these babies up with the rest of your winter clothes. Try wearing them with a chiffon mini dress and a lightweight jacket. You'll look chic, and they will keep your legs warm—all while showing off a bit of skin.
2. Layer a chunky sweater with a soft chiffon maxi skirt.
Source: detelle / fleurs
Source: AVE Styles
We've all been basking in the warmth of cashmere sweaters for months now and are thrilled at the thought of feeling the actual sun on our skin. But before you immediately disqualify your big chunky sweater and toss it into the "see you next winter" pile, try wearing it in a new way. Instead of wearing a big sweater with jeans or tights, try it over a lightweight chiffon maxi skirt or culottes. It's simple and chic, and when paired with bold accessories you've got yourself the perfect transitional outfit.
3. Take advantage of a boyfriend blazer (use it as a lightweight jacket).
Source: Cladwell
Source: Chuan Song
We've been wearing peacoats and parkas every day, so now try your boyfriend blazer as a jacket for a classic and easy transition layer. Pair it over a bright graphic t-shirt and embellished skirt for a thrown together, yet sophisticated look.
4. Culottes are the perfect transitional bottom layer.
Source: Tsangtastic
Source: Collage Vintage
Is it a pant or is it a short? Who knows, but you're comfortable, warm, and still able to feel a little breeze on those ankles. Try velvet or leather culottes mixed with lightweight layers and a statement heel or bootie.
5. Go for a trench coat (it will be the centerpiece to a simple outfit).
Source: @aliciatenise
Source: OMG Outfits
A trench coat is the perfect weight and length for transitional weather, especially if you need to spice up your closet. This is a key piece to throw on over a flirty dress for when it's too cold to stand alone. Try different materials such as silk—this will keep you warm without being too heavy and is still visually appealing.
6. Trade in dark indigo jeans (try light wash denim).
Source: Caroline Rector for The Everygirl
Source: Sincerely Jules
Slowly brighten your wardrobe by moving denim toward a lighter, brighter wash. Cropped oversized denim jackets are trending and will continue to do so all year, so don't be afraid to invest in a good silhouette.
7. Stick with an open-toe boot or chunky mule.
Source: The Daily Dose
Source: Blog Drops
If there's ever a perfect time for ankle boots it's now. It's the perfect shoe to keep your toes warm but light enough to keep you running around in the sun. Open-toe booties and mules are a big trend this year—both are a fantastic way to show off that new pedicure.
8. Use your own closet to pair opposite fabrics.
Source: @theteacherdiva
Source: @thriftsandthreads
A great way to transition your wardrobe is to pair a heavier fabric with chiffon, poplin, or suede. It's important to pick breathable fabrics, but also those with enough weight. My favorite layering combination right now is a lightweight dress or skirt with denim. If the right fabrics are combined it makes for a very chic look.
How do you make your wardrobe work for that in-between season? Share your tips in the comments below!