The little known secret about beauty editors is that while we walk, talk, and breathe beauty, we don't always wear all that much makeup. But I can give myself lashes that go for miles and the meanest chiseled cheekbones around. How? I've learned from the best.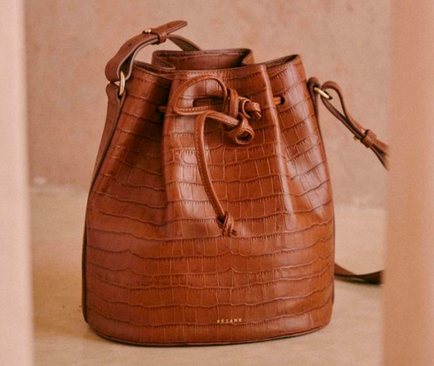 With a smooth, crocodile embossed leather exterior, the ability to style as a shoulder bag or a crossbody, and a design bound to turn heads, this bag will be an absolute hit. Use code THEEVERYGIRL22 for a free gift with purchase!
As a magazine beauty editor, my job was to interview the top industry pros to find out their secrets. From swatches of every shade of red (yes, there is a difference between cherry and berry) for every skin tone to watching celebrity makeup artists backstage at fashion week create next season's trends, it was inevitable I'd pick up a few tricks of the trade. Of course some of them, the most practical and impactful, stuck.
Having gone from beauty editor to creating my own beauty blog, The Beauty Girl, I've collected a treasure chest of beauty tips over the years. Here are the best that have never failed me and will most likely help you too.
1. Dip the Tips
When you need a fresh coat of polish to dry five minutes ago, run your nails under cold water. Then, gingerly touch your nails. If they feel tacky, they're still suspect to smudge so give them another shot of icy water. I learned this trick when I had to step in last minute as the hand model for a beauty story we were shooting for the magazine. The nail technician on set rushed to give me a photo worthy manicure in record time and her cold water trick worked.
image via Vivaluxury
2. Master The Tap
When it comes to eye shadow application think text instead of Tinder. While most people swipe on shadow, tapping will get you exactly what you want. I learned this during a meeting that turned into an impromptu makeup session with makeup artist Paula Dorf, who owns her eponymous cosmetics line. Hold your brush vertically and gently tap/press the shadow onto the eyelid. This technique best deposits color evenly across the lid and gives you more control.
3. Dry Shampoo at Night
Apply dry shampoo before you go to bed, rather than in the morning. As hair gets oily throughout the night, it will continue to absorb the dry shampoo so you'll wake up with clean looking, volumized hair. Plus, this gives plenty of time for the white cast dry shampoo sometimes causes to fade.
image via Sincerely, Jules
4. Smoke Out
I was always intimidated by the idea of a smoky eye because I never knew where to start (so I never attempted!). So I asked celeb makeup artist Mally Roncal to show me how to make it work. She shared three simple rules I now swear by—I can now pull off the season's hottest smoky eye looks from navy to plum.
Start with a palette. It's much easier than single pots because the colors are already coordinated for you. Try Charlotte Tilbury's Luxury Palettes—they are foolproof and the shades work on everyone.
Wondering what color goes where? Here's a cheat sheet: The lightest shade (usually a neutral tone) should be applied from the lid to the brow bone; the second lightest shade should be applied along the lid; the darker shade goes in the crease; the deepest should line the upper and lower lash lines.
It's important to finish by curling your lashes and slicking on two coats of mascara. Perfect!
image via Younique
5. Powder for Longevity
The best way to set your lipstick so that it lasts all day or night is to place a tissue over your finished lips and lightly dust translucent powder through the tissue on top of your lips. You won't see the powder (promise!) but this will keep your lipstick right where you want it. The current Everygirl favorite is bareMinerals Marvelous Moxie Lipstick. The formula is moisturizing, pigmented, and has plenty of lasting power.
6. Save Face
Did you know that there's a better way to dry your face after washing? I used to rub mine dry with a washcloth and I didn't think twice about it until a dermatologist said, "Tsk tsk." The best way is to pat skin dry, ideally with a tissue and pressing it on skin. This technique is a bit too precise for me, so I use a washcloth instead and press it on my skin to absorb the water. Pressing is better than rubbing because it's less irritating, and you're not tugging on skin as much, which helps preserve the elasticity.
7. Anti Frizz Forecast
Humidity feeds on frizz, which can make hair extra temperamental this time of year; my mane is naturally curly so frizz is just part of its DNA. I've been fortunate to sit in the chair of some of the best hairstylists in the biz from Oscar Blandi to Harry Josh so frizz is always a topic of discussion with these experts. Here's some of the best advice I've gotten on how to combat the pouf.
Before getting out of the shower, give your hair a cold water rinse. This seals the cuticle to add smoothness and shine.
Touch your hair as little as possible once you're out of the shower, which means you need to comb your hair with a wide tooth comb while in the shower. If you insist on brushing post shower, then use your fingers as your brush and gently run them through your locks.
Don't ring out your hair with a towel. Instead, to remove excess water gently press it out.
Image via Negin Mirsalehi
8. Mascara Matters
Many people think you should apply mascara by wiggling the wand up and out, but there's a better way to get the most out of your lashes. When applying mascara, comb the wand through your upper lashes inwards towards your nose. This will get your lashes to stand a little taller and appear more curled. The current Everygirl favorite is bareMinerals Lash Domination Mascara.
image via Estee Lauder
feature image via Krystal Schlegel, header image via Who What Wear