The New York City apartment that Amy Littleson calls home truly feels like a tropical oasis within Manhattan. And that was exactly the vision that the blogger and content creator had top of mind when setting out to decorate her space—the tagline "Palm Beach Meets Manhattan" is something she often referenced throughout the design process!
Amy, who formerly held a position in influencer marketing at the Lilly Pulitzer Corporate Headquarters, has been working for herself full time since Spring 2020 and is currently in the process of planning a wedding! Below, she fills us in on what it was like to design a space to share with her fiancé, Johnny, what she's been loving most about New York City and how to throw a fabulous apartment party in a pinch.
Name: Amy Littleson
Location: Upper East Side, Manhattan
Square Footage: 1,100
Rent/Own: Rent
You moved to NYC about a year and a half ago after having lived in Philadelphia for several years. What are you enjoying most about life in New York City?
The most enjoyable part is that it allows me to live with my fiancé, Johnny, and that all of our siblings and most of our closest friends live in NYC, too! Before this, Johnny lived in NYC and I lived in Philly, so we were switching cities every other weekend to see each other. This is much more convenient and has been so much fun. I've also enjoyed getting to explore our neighborhood and Central Park, which I had no idea was as incredible as it is before I moved here!
When you and Johnny moved into this apartment, it was your first time sharing a space together. How did you work to make your home reflective of each of your personalities and styles?
This makes me laugh looking back on it because I went from living in a pink-meets-palms apartment fit for a Barbie to moving in with my then-boyfriend, who is much more into the Chicago Cubs than chinoiserie. So we ended up working with a dear friend of ours who's a designer, Adnan Anwar (also a Chicago native, like my fiancé), to merge our styles and favorite things so the apartment felt like the best combination of us. I shifted my color scheme from pink and gold to green and gold and was also very pleased (more like relieved) to realize that the Chicago Cubs colors coordinated with those, too!
We also went to town curating our collection of coffee table books and a huge gallery wall, both of which are at the center of our apartment and feature places and things that are special to each of us and to us as a couple. The coffee table books cover topics from the history of Wrigley Field to Lilly Pulitzer, and the gallery wall has everything from framed tickets from Johnny's favorite sports moments at the Masters, US Open, and World Series to framed photos of my favorite destinations in Vero Beach, Capri, and Palm Beach. Both the coffee table books and gallery wall are the best conversation starters when people visit and are an eclectic reflection of our combined personalities!
Anyone who follows your blog or Instagram knows you have a flair for entertaining! What are some of your tips for hosting friends and family in a small space?
I don't cook well, but I can cocktail it up! My best tip is to clear off your coffee table and make that a focal point for everyone to gather around for more seating, as your couch/rug probably seats more than your dining table (I know ours does!). Throw a pitcher of cocktails on there, add a cheese board, and display some cheeky cocktail napkins. The best nights we've had in our apartment with friends always result in a very (happily) messy coffee table by the end. Fishbowl is also our favorite party game, and you barely need any space to play it!
Your living room is quite large for a NYC apartment and features a lot of different zones: a lounge area, a dining space, a home office, and more! How have you worked to make each of these spaces feel distinct?
Adnan actually came up with the creative layout we went with (I never would have thought to put my desk in the middle of the kitchen nook!), and we differentiated each space with subtle but unique color choices. The dining area is white/green, the living area is navy, white, and green, and my office space is pink and green!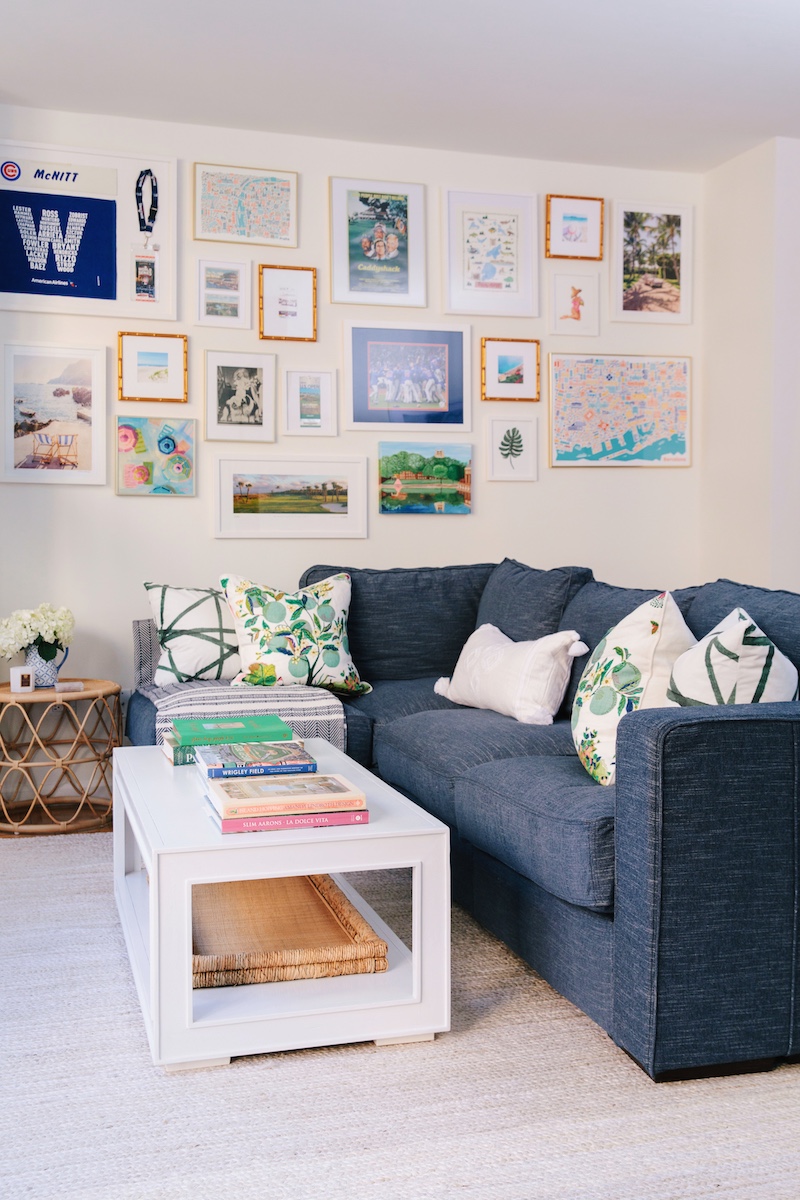 You have such an incredible gallery wall on display in the living room! What are some of your favorite pieces featured?
Definitely the pieces that apply to both Johnny and me—like the maps of where we both studied abroad (he was living in Barcelona while I was living in Prague—and we were dating then!) and the painting of the library at the University of Richmond, where we met. You can almost make out the window where we used to sit next to each other and attempt to study! The wall also displays the place where we will have our rehearsal dinner and welcome party for our wedding, and I've since added in a framed matchbox print of where our wedding will be!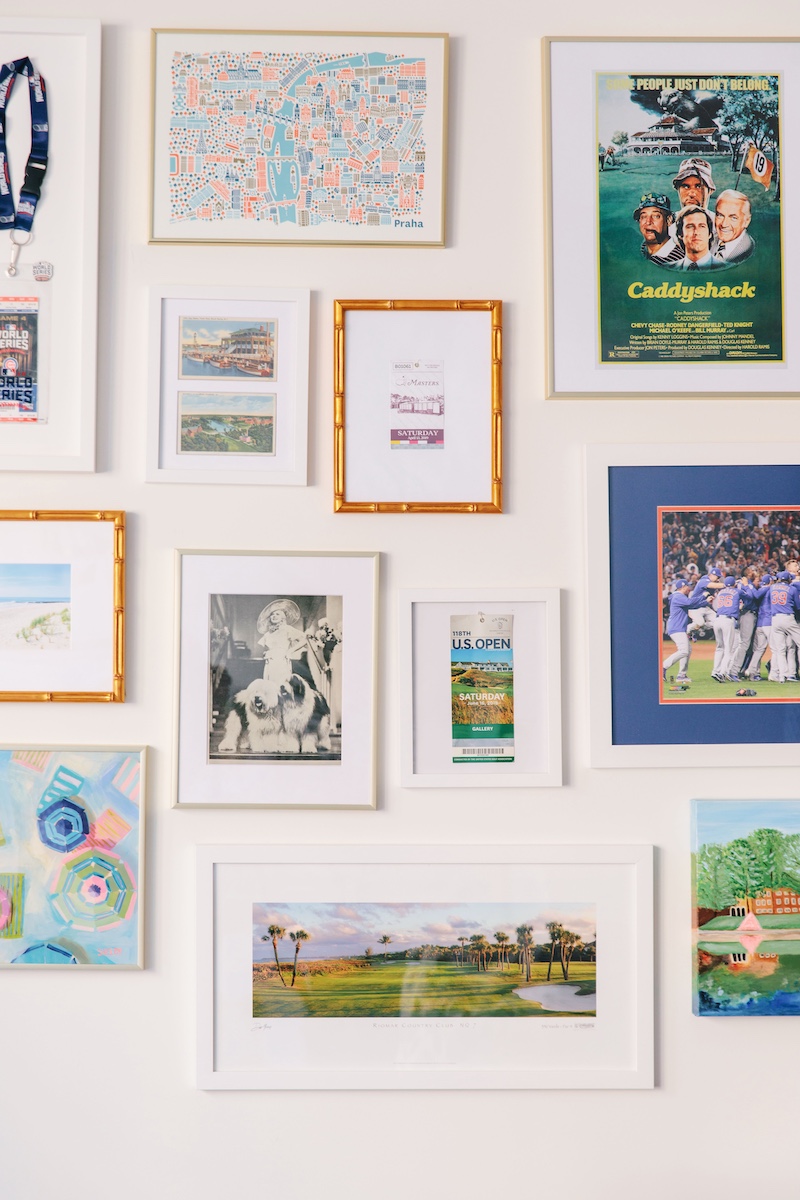 Both the coffee table books and gallery wall are the best conversation starters when people visit and are an eclectic reflection of our combined personalities!
Can you describe the aesthetic you had in mind and how you worked with Adnan to achieve it?
We went into the design process with an aesthetic mindset of "Palm Beach Meets Manhattan," which I think we achieved, considering all of the palm fronds and orchids about. Our first priority was comfort, since Johnny and I knew we would be spending most of our time in the apartment and didn't want to tiptoe around anything, and then personalizing it came in as a close second to make it feel truly like us.
Adnan and I prepped for months to try and creatively tie in items I already owned, things that were meaningful to Johnny, and new pieces that we wanted to incorporate. The result is an eclectic blend of elements that creates a style we refer to as "traditional with a twist." You'll find some warm rattan elements, contemporary acrylic pieces, and lots of print! Adnan used to work for Schumacher, so it was a no-brainer to pull from their iconic lines of fabrics for our dining chairs and throw pillows. There's also a putting mat in the middle of our living room if you really want to pretend you're on a sunny golf course!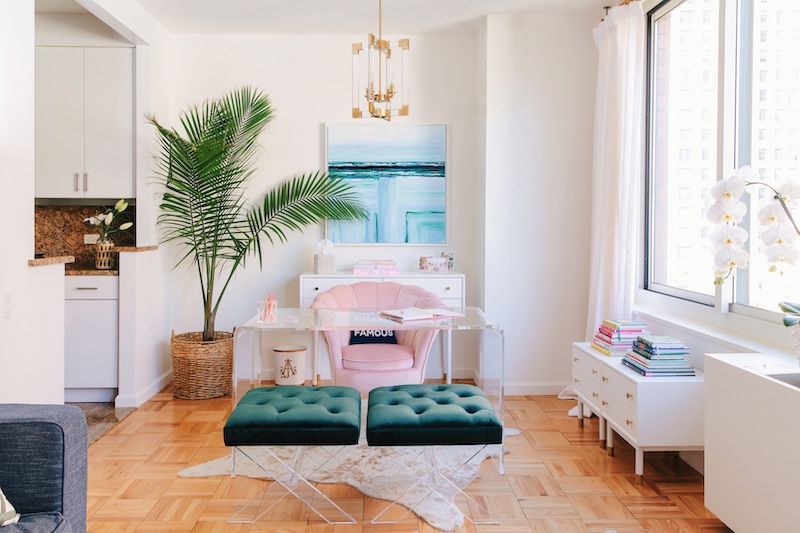 You have a lot of fun lucite furniture pieces. What do you appreciate most about this style?
The lucite pieces we have definitely make our apartment feel bigger because they're so clear and airy. It also helps that you can pair any colors or prints with lucite and know that everything will coordinate—which I definitely needed, knowing how much I adore color and print.
You've worked for yourself for a couple of years now. What does a typical day working from your home office look like?
There are some days where I'm behind my desk for 10-plus hours, and then there are days where I barely use it! I am either doing the computer work part of my job, which entails answering emails, writing blog posts, planning future posts, etc. or the more dynamic content creation aspect of my work, which is all about taking photos, making videos, and running errands or shopping. I always start my day with hot water with lemon, CBD, and a devotional and end it with watching whatever show we're binging at the time (right now it's Downton Abbey!).
Both you and your fiancé work from home at the moment. How did you set up a space that's conducive to each of your needs during the work day? And how have you made the apartment a restful, enjoyable space in which to unplug together at night?
The simple answer? We work on opposite sides of the apartment from each other. I work in my office "nook" right off of the kitchen and he works at a desk by the big windows in our bedroom. We sometimes see each other for lunch but keep pretty separate work schedules to stay focused. Also, neither of us works from the couch or our bed, so that's how we differentiate when the work day is "done" and when it's time to relax together. Our downtime is spent on our Lovesac Sactional, which we are obsessed with!
Your bedroom looks so peaceful and organized. How do you keep the space clean to promote relaxation?
Thank you! Well, I can tell you that right now, there are quite a few piles of boxes in the room (featuring my bridesmaid gifts and Johnny's studying material for an exam he's taking), so it is usually far from photoshoot-ready. But we try to keep the space clean and simple by keeping our clutter in our closets and drawers, so the surface areas in our bedroom are clean and not distracting. We also mounted a TV in there to give us more room on top of our dresser. Side note: I never had a TV in my bedroom before this, and it's life changing. I truly *still* feel like I'm in a hotel whenever we have it on!
We also wanted the room to feel like a relaxing oasis as much as possible as well as an escape from the hustle and bustle of the city. Therefore, we stuck to soothing French blues and white and lots of neutral, cozy coastal details like rattan and linen! Our Coley Home headboard is actually made of foam, which supports the stunning mosaic fabric so well. All of these combined elements makes the bedroom feel much softer than the rest of the apartment and almost like a room that could be close to the water, which is the most relaxing setting we both could imagine.
And your bed looks so comfortable. What are some of your favorite bedding essentials?
I learned everything about making up a bed from my mom! She is the queen of comfortable beds and a big believer that when you're moving, the first thing that you should do is "make up your bed" so that you feel put together and have somewhere cozy to sleep in that night. Her major trick is to double up on mattress pads and duvet inserts so that you have twice the fluff on the top and bottom! We've always affectionately called our beds "marshmallow caves" because of that. The rest of my bedding is Serena and Lily, which I think looks so beautifully crisp and classic.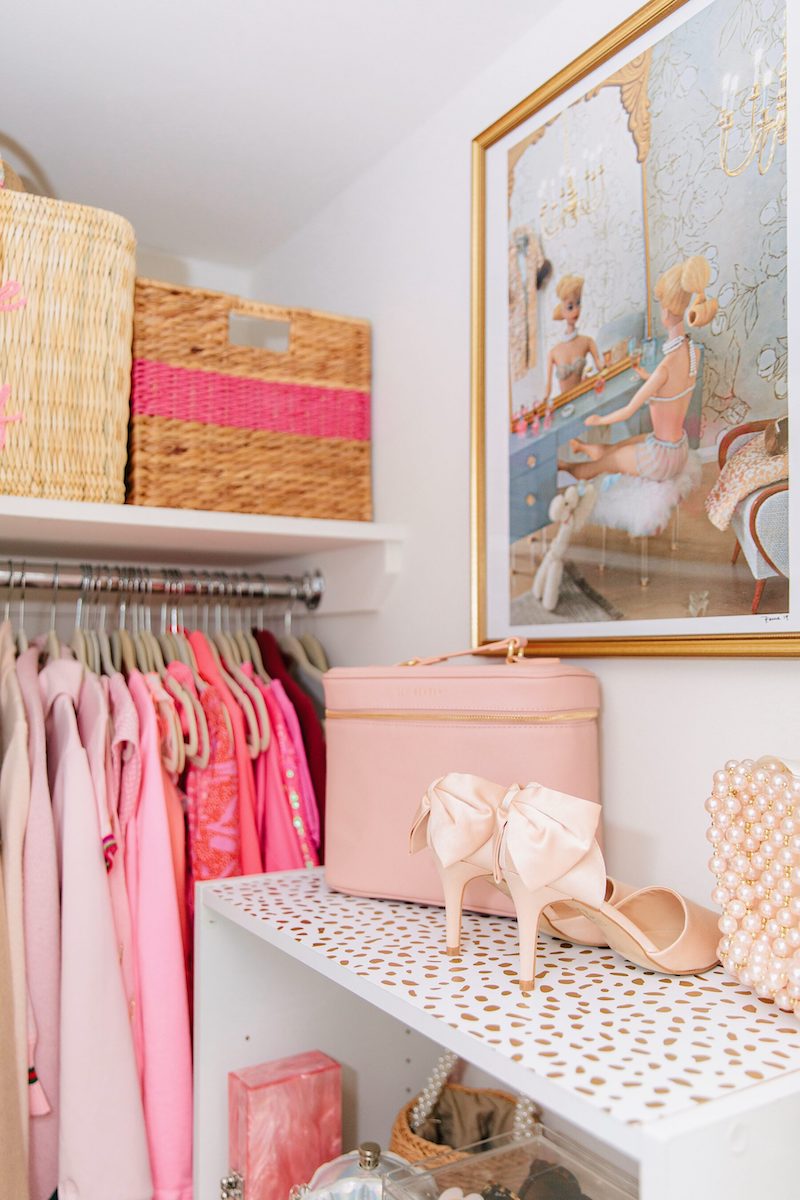 Your closet is such a dream! How have you worked to maximize storage space?
It's by far the girliest part of our apartment; I refer to it as my boutique jewel box! But not to worry: Johnny has his own double-door closet in the bedroom. I worked with a professional organizer, Kate Turk of House of Turk, when I lived in Philly, and she set me up with a lot of the storage containers that I brought with me when I moved to New York. I utilized every single inch of my closet here (from floor to ceiling) and had to troubleshoot a bunch of different combinations of storing everything to see what would fit the most. I'd recommend using the velvet space-saving hangers for your hanging clothes, putting your jewelry in acrylic or open-air storage containers so you can see everything, using an acrylic file organizer for your clutches, and putting bags in bags in bags to save room! Oh, and then hang a huge photo of Barbie sitting at her vanity for some sass!
We love all of your woven bags. Which one is your favorite?
It's nearly impossible to choose, but there's a miniature rainbow sequin straw bag that I got in St. Barts years ago that's a standout. It's tiny but packs a punch.
Amy Littleson is The Everygirl…
Go-to cocktail? Anything pink, sweet, or bubbly!
Up late or early morning? I'm a night owl and would sleep in all day if I could!
Binge-worthy TV show you can't stop thinking about? Johnny and I are halfway through Downton Abbey and we love it so.
Favorite finishing touch when getting ready? Shimmery bronzer or a soft pink lip.
Summer or winter? I'm a summer girl through and through!
​​
Amy's favorite New York spots:
Coffee shop: Ralph's or Maman if you also want a cute pic!
Date night restaurant: Caffe Buon Gusto followed by Anita's Gelato
Brunch: The Penrose (get the tater tots!)
Healthy spot: Snob Health (for juices or bowls) or Rumble (for a killer motivating workout)
Place to unwind: Walking down Madison Avenue—or during the 10-minute massage at my nail salon!
Local shop: Oui! Boutique
View of the city: Anywhere in Central Park in the fall or spring
Tourist spot to take visitors: Tea at The Plaza to feel like Eloise!