Creating a cohesive yet beautiful office space is NOT easy — you need functional pieces (hello desks, lighting, storage) that play seamlessly against the rest of the decor, creating a space that employees want to work in. A space that feels inspirational, yet comfortable enough for those inevitable looooooong days ahead. A space that is just as right for a 2pm pitch meeting as it is for a 5pm rosé break.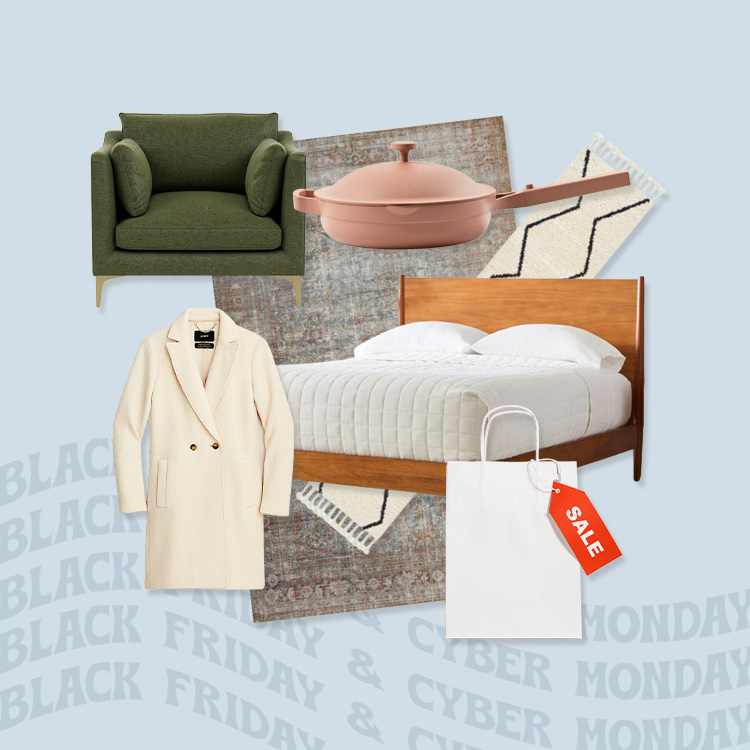 we combed the internet for the best OMG-CANNOT-MISS deals
As The Everygirl team has grown, our office space has been constantly adapting and changing — the living room area was swapped for more desks (yay new team members!), the entire kitchen was overhauled, and other small, strategic changes were made — more on that below — that had a huge impact on the space. Our cofounders Alaina Kaczmarski and Danielle Moss spill the details on how they knew it was time to get an office space (and the decorating process), how The Everygirl brand has grown and changed over the years, and what the future has in store.
You started the Everygirl in 2012 out of your homes — when and how did you know it was time for office space?
Yes — we both worked from home for the first few years! The real catalyst for getting an office was because we were hiring full-time employees here in Chicago and needed a space where we could work together and produce photo shoots. We found this amazing loft in Chicago's West Loop that rents as either a live or work space, so the rent was much more affordable than standard commercial office rentals, and it had a much cooler aesthetic than most office spaces, so we jumped on it. We now have seven full-time editors (the two of us included), one part-time editor, and two interns working out of our Chicago office.


How did you know the company was financially prepared for the investment?
This was a bit tricky to figure out, but ultimately it came down to weighing forecasted quarterly revenue with expenses. After meeting with our accountant, we figured out what we could afford and also initially planned to offset the cost of the rent by renting out the space on Airbnb. That worked for a while but ultimately it became too much of a hassle and we were able to afford the space regardless.
What were you looking for in a space? How many different offices did you look at before deciding on this one?
We looked at a few of the shared coworking spaces in the city, and those were shockingly expensive to rent what is essentially a closet with glass walls. So comparing the price of our loft studio to those, we knew we had a great deal.
In terms of what we were looking for, we wanted something open, unique, and aesthetically cool with a lot of natural light. We loved the exposed brick walls and wooden beams this loft offers and knew we could make it special. A lot of offices are dark and boxy with little natural light, so again, this made it an easy decision.

What was the most important non-negotiable this space had to have to fit for The Everygirl?
Hands down natural light. Both for photo shoots and our mental health. 🙂


What was your first step in turning this loft apartment into a functional office?
Making it functional? Getting desks and chairs! Making it ours? Painting it all white!
Did you have any challenges in making the office work? If so, tell us how you worked around them.
The biggest challenge we face with our office is the lack of a conference room or private space to take calls or have meetings. It limits what the two of us can discuss, so we still have a few work-from-home days we use to take calls with our accountant, legal team, advertisers, and each other to discuss things like finances or HR that we can't discuss around the team.

Since moving into this office, your team has grown! Tell us a little about the women on your team, and how the growing staff is impacting your business.
Well the women on our team are, in a nutshell, absolutely the best. They're exactly who you'd want on your team — hard-working, talented, intelligent, and generally a blast to be around. They each bring their own unique personality and skill-set to the mix, and each one is always willing to jump on any assignment thrown their way. We got really lucky that everyone gets along as well as they do. It's really a special group and so much fun in the office and on our Slack conversations!
How has having an office changed The Everygirl? How has the team developed and grown through this space?
It's allowed the team to collaborate and bond in a way we wouldn't have been able to otherwise. It's allowed us to tackle projects that used to seem like a pipe dream — like producing videos, doing photo shoots in-house, organizing product that comes in, and a few other things we have in the works.
Our office has made expanding and hiring much easier because we can now say directly when and where they'd be working as opposed to "some days we'll meet at a coffee shop or Danielle or Alaina's house," which is what we did the first few years. It's allowed our company to be more organized and structured which helps the team and us as management.
Overall, it's been a great experience.
How would you describe your design style and aesthetic?
We both have a very clean, fresh take on traditional design. Just think English countryside meets California beach house meets cosmopolitan New York brownstone.
Where are your favorite places to shop for decor and furniture?
A few of our favorites include West Elm, CB2, Rejuvenation, HomeGoods, Serena and Lily, Wayfair, World Market — and of course our furniture collaborations with Interior Define and The Inside!
You worked with Home Depot to make over the kitchen area. Tell us about this process and how it changed the feel of the office.
We were so excited that Home Depot wanted to partner with us to redo our office kitchen. The ultimate goal was to create a Martha-Stewart-esque space for producing photo shoots. They were so open to letting us do what we wanted and thought we'd go a bit more contemporary given the urban loft environment, but we of course went with a more traditional style that really blends great in the space and makes it a lot more feminine.
The crew that we worked with on our kitchen visited our office with wood and hardware samples, and they took measurements and helped us collaborate on a design for the shelves, cabinets, and appliances. It was such a fun, easy process. Once materials arrived, the space was completed within a week! It completely transformed our office, making it feel even lighter, brighter, and a lot more open.

What's one thing someone looking to update their own space could do to make the most impact with minimal effort?
Get rid of excess "stuff" and clutter. Organize your workspace and keep it that way! Your overall mental clarity and work productivity will be vastly improved! It's so easy to find budget-friendly (and aesthetically pleasing) desk accessories, bins, and boxes to help you stay organized.
What's next for The Everygirl (and Everymom!) and this office!?
Well the most recent change was actually REMOVING the beautiful living room area you see (sad, we know), but it was for a good cause. We added more desks with our growing Everymom team and just didn't have the space for everything! It's crazy to think we'll outgrow this space within a year or so. We cannot wait to see where we end up next!
We asked our readers what you wanted to know about our office! Here are the most asked questions:
What's a typical day like in the office?
No two days ever feel the same, but that's the fun part about what we do. There's a lot of time spent at our respective computers or on calls — we're usually reviewing content, working with the team on whatever project is currently in the works, and spending a lot of time going over potential sponsorships with our part-time director of brand partnerships.
The team can be found doing anything from writing and producing content, copyediting, working on social media or our newsletter, graphics, video, and sponsorships, etc. We are generally a bit all over the place, but in a good way! And if you can believe it, we're currently getting ready for holiday!
What personal effects can you have in your office without looking cluttered or unprofessional? What items do you personally think everyone should keep at their desk?
Your desk should have the items you need. There are the essentials — lighting, computer, a mouse pad if needed, pen holder, and a place to keep any mail and paperwork. As far as personal effects are concerned, most of us have a picture frame, candle, or other small decor items (a vase or shadow box) but try to keep it to a minimum to avoid that cluttered look.
What roles/positions did you start with and how did you figure out the next positions to hire for as you grew?
At first, it was us and our interns, who we'll always be so grateful for. One intern in particular (our current editorial director, Allyson Fulcher) always did such an incredible job and was (for years) someone we talked about hiring full-time if and when we were able. When the time came to hire someone to help with the site, we lucked out and she was available for the job. We continued to grow, adding editorial assistants and associate editors, and eventually a managing editor for The Everymom. Almost all our hires were previous interns who we loved having on our team, and as roles would shift and the site would grow, we would figure out what we needed and when we were able to afford to grow the team, find the right person for the job. We have gotten so lucky and have a truly amazing, remarkable team!
What characteristics do you look for when hiring?
She's the creative, career-driven young woman who is passionate about what we do — who wants to inspire others and grow both personally and professionally. She's a self-starter with ideas. We love when our employees pitch ideas we never would have been able to produce on our own and whenever we think they're a fit, we go with it. The Everygirl and The Everymom may belong to us, but the sites are not a reflection of us at all — they are our team and our readers, and our hires get that. She's someone we trust to come up with and produce exciting and new ideas. She's open to feedback and loves working with a close team.
Product Sources
Entry
console, IKEA
horses print, Kara Rosenlund
abstract print, Minted
2/22/12 print, Minted
lamp, West Elm
wishbone, Imm Living
Conference Area
marble table, Rove Concepts
chairs, High Fashion Home
Alaina & Danielle's Desks
alaina and danielle's desks, Wayfair
alaina and danielle's desk chairs, Anthropologie
alaina and danielle's desk lamps, Wayfair
desk frames, Anthropologie
leather mouse pad, Etsy
acrylic pencil cups, CB2
gold file organizer, CB2 (similar)
pens, Poppin
Bulletin Wall
wall grid, Etsy
get in formation print, by Kelly Etz
gold envelope folder, Target
filing cabinet, Poppin
european print, by Alaina Kaczmarski
paris map print, Minted
strong women print, by Kelly Etz
let's get lost print, Minted
self-employed print, Vichcraft
flower painting, Katherine Corden
4×4 print squares, by Kelly Etz
Team Desks
team desks, Wayfair
team desk chairs, West Elm
team desk lamps, Rejuvenation
gold pencil cup, Amazon
glass storage box, West Elm
white accessory tray, Poppin
chevron jute rug, West Elm
Kitchen
pendant lighting, Rejuvenation (similar)
kitchen by Home Depot, see all the details here
Living Room Area
caitlin sofa, The Everygirl x Interior Define
rose chair, The Everygirl x Interior Define
rug, West Elm
fiddle leaf fig tree, West Elm
lamp, West Elm
poppies print, Minted
ferris wheel print, Minted
feathers print, Minted
abstract print, Minted
paris print, Minted
coffee table, West Elm
Eat Drink Nap book, Soho House
Quiet Los Angeles book, Rebecca Razo
Quiet Paris book, Siobhan Wall
Quiet New York book, Siobhan Wall
Elements of Style book, Erin Gates