The Everygirl has changed a lot over the past ten years. What started with some scrappy ambition and a dream has grown into a dynamic media group that employs 29 smart, creative, talented women. With all that growth and change, we needed an office space that could keep up. Earlier this year, we moved from our beloved loft studio in Chicago's West Loop to a new, larger office space that better suits our growing business. Now, we have an office that reflects who we are as a company: hardworking and driven, but stylish, fun-loving, and full of personality, too.
Designed, styled, and photographed by our cofounder and CEO Alaina, our new office space is a beautiful testament to who we are and where we're headed. Read on for all the details on the design process, what we love about the space, and how to get the look.
The Everygirl Media Group Office Tour
Tell us about the old Everygirl Media Group office and why an upgrade was necessary.
We moved into our first office space in 2017; it was a small open studio and perfect for the few of us that needed to work there. We found ourselves outgrowing it pretty quickly and rented a second studio in the same building for a while. By 2020, we were ready to upgrade to a larger, more functional office, but Covid lockdowns started and we had no idea how long it would last.
After being fully remote for almost two years, the Chicago team started coming back into the office occasionally last year, but we quickly realized that, with most of the team remote and the constant need for Zoom meetings or calls, we needed a more functional office that had private spaces built out.
I asked the Chicago team if they preferred to go fully remote and get rid of the office space altogether or find a more functional, larger space, which meant we'd all be back in the office at least twice a week. They voted on the latter, which I think says a lot about our culture and camaraderie. We are now able to use our larger office space for department meetings when remote staff flies in, and it's been amazing.
How did you find the new space? Why was the location important?
Our old office was in the West Loop, and the Chicago team requested we stay there if possible, so that helped me narrow down where to look in the city. It's relatively easy to get to from any suburb, airport, or part of the city, and we love all that it offers as far as restaurants and shops go. Plus, since Mcdonalds' headquarters and Google offices are located here, it's still a bustling part of the city, especially when you compare it to the Loop's daily activity since Covid.
What was your first impression when you initially toured it?
Funny story. I narrowed down the listings my realtor sent over to four, and this was the first space I toured in person that day. I was much more excited by two of the other units I was going to look at, so I walked through this space rather quickly and thought "pass."
I went on to see the other three spaces, and something wasn't right with all three of them. One was up three flights of stairs and had no elevator, and the location wasn't ideal. The second was beautiful but a bit too small, and the last was too expensive and not quite right given the price. I felt discouraged when I got home that evening, but I decided to look through the photos I took of the first unit and do some Photoshopping with different finishes–changing out the floors and lighting–and I quickly realized this place would work the best. And it has!
Walk us through the renovation process.
I really didn't change that much in this space, which is crazy because the before and after are so different. The most important things on my list were to change out the carpet floors to a vinyl light oak and swap out all of the lighting. Those two changes made a dramatic difference.
The secondary items were changing the doors from light oak to black paned glass and adding a privacy wall in front of the unit's bathroom to separate it from the main workspace. It was all supposed to take about a month and a half, but it ended up taking about four months. We moved in in August once the floors and lighting were updated, but work was still being done in it through October.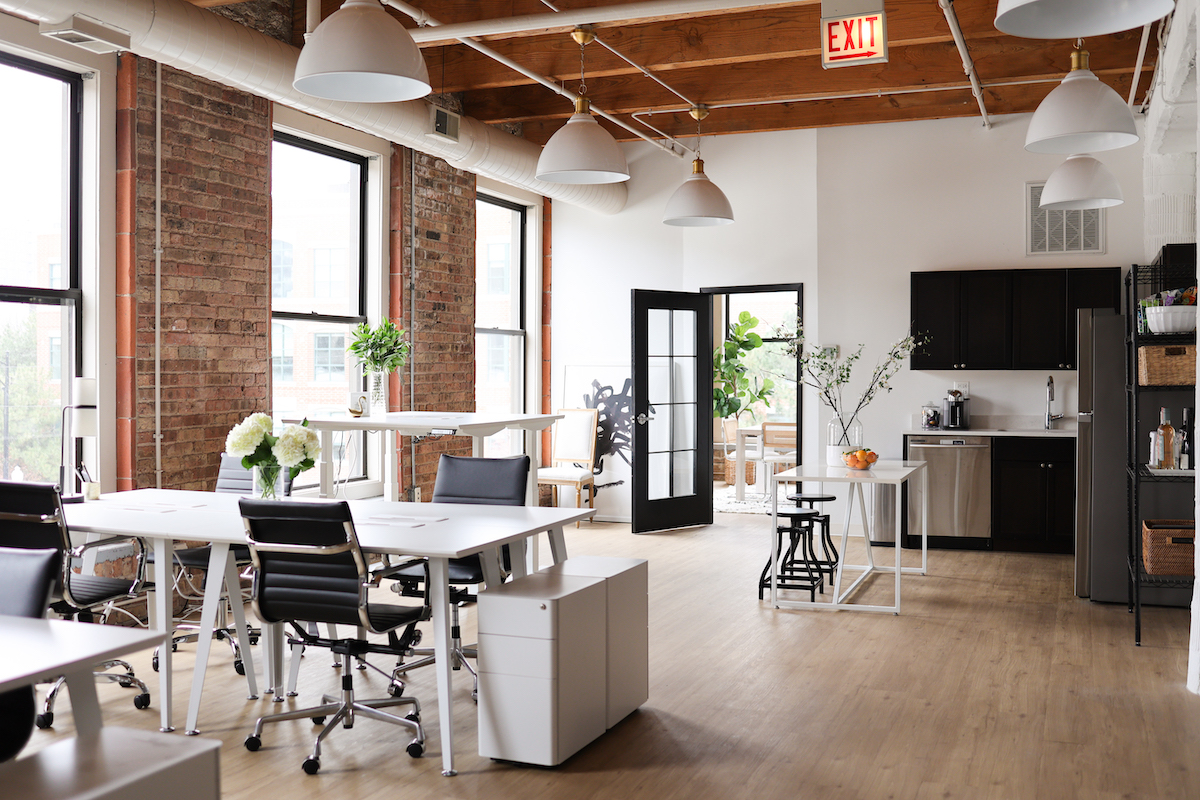 What was your overall vision for the office?
It's always been important to me that our company office space was as beautiful as it is functional with a lot of natural light. I didn't want it to feel like a typical corporate office with cubicles and fluorescent lighting. If you've ever seen the Nancy Myers movie The Intern, I absolutely love the office space design in it: open, industrial-style loft with big windows, exposed beams, and open seating plus quiet meeting spaces. It's perfect.
I also loved the look of our last office, which was in a timber loft as well, but it was important to me that the furnishings and vibe in this space looked and felt different. After all, we are a different company than we were before the pandemic, and I wanted that reflected in the space.
First and foremost, I wanted input from the team that would be working in it. They would be spending hours each week in the space, so I wanted them to love it. They definitely helped push me towards some more trend-forward pieces—like all the bouclé and velvet pieces, the splashes of color like the mustard chairs and colorful art, and of course, the beloved checkerboard throw. I also wanted to make some unexpected design choices and, most importantly, have fun with it! I think each room has some item of bouclé, from the oversized sectional in the main space to the conference room chairs to the two swivel chairs I have in my office.
Honestly, the only difficult thing about designing this space was the shipping delays on items; the design process itself was easy, collaborative, and fun!
Tell us more about the main office space. How did you ensure the more hardworking components (like desks, office chairs, and file cabinets) fit in with the overall aesthetic?
I had a few goals in mind when choosing furniture for the team office space. We had discussed communal work tables, but I wanted to make sure those who worked in the office regularly all had their own spaces, or desks, that they could organize and make their own. I also wanted to make sure the desks were large enough for laptops, notebooks, and any other items.
I was thrilled when we found these desks from Branch because they connect together perfectly to create a group table with individual workspaces. They are simple but beautiful and create the perfect clean backdrop for work. They come with great features like a built-in tabletop electrical outlet, which makes charging easy and greatly reduces the cord mess under the table. The legs are also adjustable at the bottom to account for uneven floors, which is a small detail I love.
We also added two standing desks from Branch to encourage our team to not sit all day and have a change of movement and scenery. I love that the standing desks have electronic adjustments to change the desk height to suit the user.
The office has a pretty open floor plan–how did you intentionally create more private areas within the space?
One of the main reasons I went with this office space was because it already had private spaces built out. We have a large conference room that can seat up to ten people. I have a private office space that others sometimes use for meetings. And I turned what was a large tech closet into a private room for calls or meetings. So we went from having no private meetings to three, which has been amazing. All three spaces are used all day long.
Let's talk through some of the private spaces, starting with your office. You went from having nothing more than a desk at the old location to having a private office that's all your own. Tell us more about the upgrade and what you love about your new space.
Yes, this is a very exciting change! With the number of calls and meetings I take, a private office was essential, so having this office already built out was a huge perk to this unit. I didn't realize how much room I had until I moved my desk into it—that's when I decided to get a larger, more practical L-shaped desk I could spread all my work out on. I realize an L-shaped desk evokes images of a very corporate office from the 80s, but Crate & Barrel has this super chic light wood version with rounded edges that I love.
I also realized I had enough room to create a seating area for meetings and thought it would be fun to bring in the bouclé trend that is in every other room in the new space. These two bouclé swivel chairs from Article are so comfortable and were the perfect solution for additional seating for team members or guests.
I anchored the room with a dramatic, vintage-looking rug from Amber Interiors for Loloi and paired it with a green velvet desk chair from CB2. Lastly, I centered the space around this fun, oversized art piece from Minted in their new aluminum-mounted acrylic framing option. I just love the fun energy it captures; it reminds me of the wild spirit of our reader and team in many ways.
The call room is stunning. How did you transform this space from a storage closet into the chic, moody room it is now?
Thank you! The call room is the space I'm most proud of because it truly started as a windowless, fluorescent-lit tech closet. Since this room is so little, I wanted it to feel really special and a bit dramatic. I pictured a moody color with a lot of art on the wall, warm wood and velvet furniture, and brass accents–kind of like a Soho House club feel.
I'd been seeing Farrow & Ball's Dead Salmon paint color popping up on Instagram, and I loved that it was feminine, moody, and definitely unexpected. I sourced the beautiful wood table from Anthropologie and the gorgeous green velvet chairs from CB2. Paired with a colorful work of art and a brass picture light, this room is a favorite among the team.
A conference room is a staple in any office, but this one is far from the sterile corporate space you might find elsewhere. How did you balance beautiful design with all the functionality of a meeting room?
Honestly, this room was the highlight of the space even on that initial tour. Two walls of large windows, exposed brick, and wood beams are an amazing place to start. I didn't want to take away from that too much with fussy decor.
We used the conference table we had in our old space (technically a CB2 dining table from several years ago) and added Cesca-inspired chairs for seating.
What is your single favorite thing about The Everygirl Media Group's new office?
Oh my gosh! So many things. Honestly, it's so wonderful seeing our team in it working together and using the space. We were at home for two years, and one of my favorite things about this job is the people I get to work with, so honestly, seeing THEM in the space is the best part.
Secondly, as a mom of two little boys, I find the office to be a very peaceful place I can focus and think solely about work. And of course, it doesn't hurt that it's a beautiful workspace!
What advice do you have for someone who wants to re-create a similar look in their home office or cubicle?
At The Everygirl, we've always believed in investing in large items that are timeless and neutral and having fun with the decorative accents, smaller furniture items, and art, which are easier to change out. I tried to add a lot of texture with the velvet and bouclé fabrics and bring in fun, surprising elements like the disco ball, the swing chair, and the moody call room paint color. Honestly, my best advice is to lean into items that catch your eye and make you smile! Surrounding yourself with things you love will spark creativity and joy and help you focus. Don't be afraid to have fun with it.
This new office reflects how much The Everygirl has grown over the past ten years. What's next?
Oh gosh, this question always gives me butterflies—in a good way! We have an incredible team and a new generation of readers, so we are working to meet them where they are in both the video and audio space, as well as on our traditional platforms. Hopefully, there will be more opportunities for us to engage and connect in person in the near future. And now that we have this amazing new office, we'll hopefully continue to grow our team in the Chicagoland area, so be on the lookout for new positions coming in 2023.