It's no secret that Parisian style has ruled the fashion world for centuries. But the question still remains, how do they look so effortlessly chic, and how in the world can we copy it? Lucky for us fashion-obsessed, dressing in the signature Parisian aesthetic just got a lot easier now that the French girl's best kept secret has finally made it to the US. Sézane, the clothing brand that Parisians religiously go to for the chicest and most quintessential french pieces, recently opened a l'Appartement in New York. Finally, we no longer have to "add to cart" to get Sézane's signature Parisian style in the U.S! Head over to their New York location, which opened September 7th, for an experience that will undoubtedly make you feel like you're in Paris.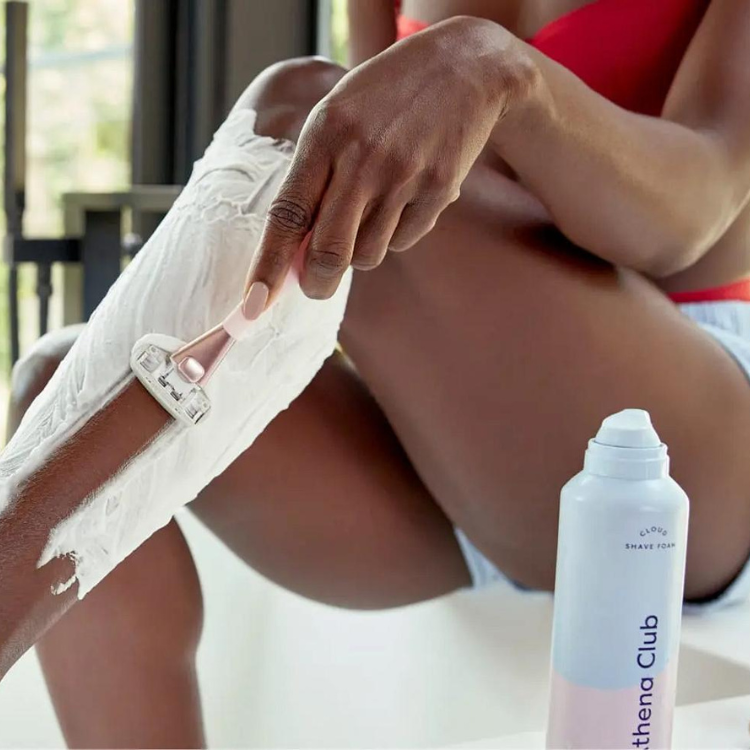 "This razor gave me the silkiest, smoothest shave I've ever had! I never get any cuts or scrapes, even on those hard-to-shave places."
The founder, Morgane Sezalory, is the ultimate cool-girl and chic Parisienne. She gets a lot of inspiration from her hometown, and founded the go-to brand for the most stylish Parisians. Who better to ask for Paris travel tips? Read on to be immediately transported to the City of Light, or just visit l'Appartement New York for a more local option.
"Parisian style" has long been pined for by women all around the world. How would you best describe what defines Parisian style?
It's all about the attitude; a very natural, effortless, don't-care attitude. The Parisian girl wants others to believe that she just woke up and got ready in 10 minutes. She also never follows the trends but rather stays true to herself, because she knows herself.
Where are your favorite places to go in Paris for inspiration?
You can find inspiration anywhere in Paris! On the streets, walking along the banks of the Seine, in the parks, in museums, old cinemas… I also love Le Bon Marché in the 6th arrondissment. It was the first department store in the world, and I think the most beautiful. We're so excited to have a little Sézane shop in there now – I love visiting it.
What is the best time of year to visit Paris, and why?
Paris is magical in every season, each time it is so different! But for a tourist, I believe the spring is ideal. It's not too warm, and the parks are beautiful with flowers.
Which restaurants do you tell friends who are visiting that they have to try?
For tourists who want to try French food, I would say Septime in the 11th arrondissment, which is modern French cuisine but in a relaxed, farmhouse-style environment. One of my favorite restaurants in Paris is Bronco – I love the ambiance of this restaurant because you feel like you are at someone's house. We also love this modern Thai restaurant across from L'Appartement called Bambou – it's one of the few spaces in Paris that has an outdoor garden that is quite big, but not on the street so it's very quiet and peaceful. The food is delicious too!
Favorite place to get a croissant?
Des Gateaux et des Pains in my neighborhood.
Favorite place to get a glass of wine?
The bar of l'hotel des Beaux Arts. I love the atmosphere of this timeless, secret bar.
What is the first meal you crave when you arrive back in Paris after traveling?
In the summer or when the weather is hot, it is mozzarella and tomato with a glass of rosé, ideally outdoors or near the windows with a light breeze streaming in.
What is your favorite indulgence in Paris?
The Spa Six Senses in the Place Vendôme and Bread & Roses for their delicious tarts!
You've called yourself "an inveterate bargain hunter" from a young age. Where in Paris do you go for shop for bargains?
You're also known for your impeccable interior decorating (like the amazing style of your Sézane locations or your own chic apartment). Where do you go for decor inspiration or shopping?
My inspiration comes from everywhere – I'm very open and curious with discovering new things but also build around pieces I've had in my life and love. For example, I have a little green chair in my apartment that I bought 10 years ago from a vintage shop in France that I reupholstered and love. Then we decorated around that and found a beautiful India Madhavi lamp that is green and pink, and so on.
What are your favorite things to do in Paris with your daughters?
In the summer, it's a little picnic on the left side of the Seine just behind Notre Dame, or a little café terrace on the Butte aux Cailles, or a Bertillon sorbet…
What museums or exhibits are essential to Parisian culture?
Musée d'Orsay and Musée Rodin.
What tourist attractions do locals actually go to?
Walking through the Jardin du Luxembourg or having a picnic there. It's so beautiful!
Paris is known as the City of Love. Why do you think that is, and what are the most romantic spots in Paris?
It's a cliché, but I believe it's true. There is something magical in the air! For me, there is nothing more romantic in Paris than a kiss on the Place Furstenberg.
Where are your favorite places to stay for a weekend in Paris?
Hotel Particulier Montmartre – it's the best secret hotel, tucked inside a little garden in Montmartre and full of luxurious rooms and suites.
What are your favorite go-to spots in Paris? Which of these tips make you want to book a flight ASAP?
This post was in partnership with Sézane, but all of the opinions within are those of The Everygirl editorial board.