Women around the world have tried to emulate Parisian style for years. It's effortless, distinctive — and has us wondering if there's something in the water. Many obvious tips are easily copied, like wearing striped tees or keeping colors neutral. But there are many aspects of French style that Parisians deem as crucial to formulating how they get dressed in the morning, but somehow we Americans are missing.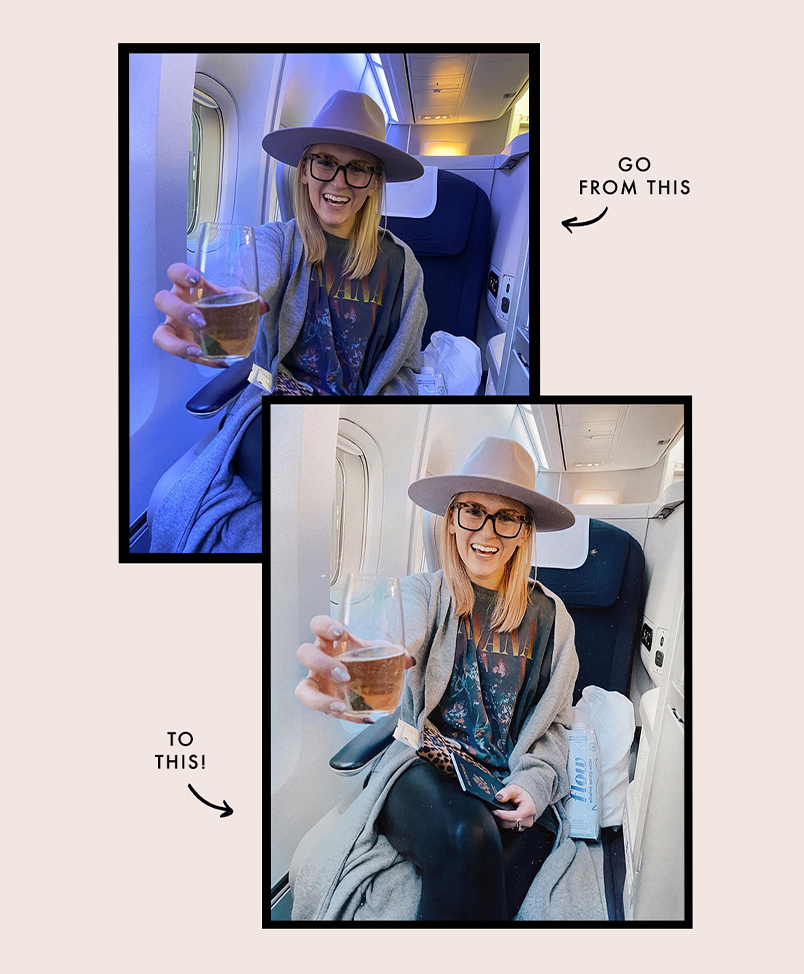 Want to style, shoot, and edit your photos perfectly every time?
We're sharing our secrets to photo editing in our all-new online course, Mastering Photo Editing On Your Phone. Enrollment closes on Thursday, so grab your spot now!
Here are style secrets of the most stylish Parisians, explaining the quoi to their je ne sais quoi:
1. Wear less.
Because no one knows Parisian style like Mademoiselle Coco Chanel, one of her famous style rules were "before you leave the house, look in the mirror and take one thing off." Keep jewelry simple; don't wear more than three delicate pieces. If you want to wear a statement piece, choose only one like a scarf, a hat, or a great pair of shoes and pair it with the best Parisian accessory: simplicity.
2. Be discrete about labels.
It is not stylish nor tasteful to wear clothes with the brand name shown too distinctly (the crossed Chanel C's on a purse is as obvious as the brand should be). Style is determined in how the woman is wearing the clothes, not in what label she is wearing.
3. Aim for "intellectual" instead of "sexy."
Julia Restoin Roitfeld says, "The French like to play the intellectual card; they don't like to be over-sexy. The sexiness comes from the way they walk and hold themselves." When wanting to dress or feel sexy, opt for the intellectual card like Roitfeld. Avoid push-up bras or short skin-tight dresses. Sultriness comes from what is left to the imagination and is more about how you carry yourself than what skin is showing.
4. Have a uniform and stick to it.
Every Parisian celebrity and style star, whether it's Jeanne Damas, Clémence Poésy, or Audrey Tautou, have an outfit formula that they wear over and over again. This might be the secret to their unfailing style; they know exactly what works, what they like, and what they feel comfortable in, and they don't try to change that for flashy trends.
5. Use the element of surprise.
Model and style icon Ines de la Fressange said that a key Parisian style secret is to "Always keep them surprised. If they think you'll wear heels, wear flats. If they expect flats, wear heels." Don't let your uniform make you predictable. Add an element of surprise in every outfit you wear, whether it's a single rip in your otherwise brand new jeans, or a fancy jacket with your casual tee.
6. Silhouettes are relaxed and flattering.
No need for skinnies with crop tops or bodycon dresses here. Silhouettes are all about A-line dresses and jeans with long jackets. When a tight pencil skirt is worn, it is well-tailored, perfectly fitting, and paired with a loose fitted top so the silhouette is not too skin tight. Femininity is expressed through boyish silhouettes or cinched waists with relaxed shapes.
7. Perfect how you wear it.
Carine Roitfeld said that French style "is more the way you mix the clothes and how you move, how you open your bag, how to cross your legs — just little things that make a difference. With French women, you first see the woman and then you see the clothes." Perhaps the most important way to achieve Parisian style is to work on the aspects that are more mental than exterior; perfect your posture, feel confident everywhere you go, smile often and slyly. Clothing can only do so much; Parisian style is more than skin-deep.
8. Mix dressy with casual.
Ines de la Fressange (considered by some as the ideal Parisienne) offers ways to master the "offbeat look à la Parisienne" to the New York Times; "Wearing jeans with gem-encrusted sandals, not sneakers; a pencil skirt with ballet flats, not heels; an evening dress with a straw handbag, not a gold clutch; a chiffon print dress with battered biker boots, not brand-new ballet flats; a sequined sweater with men's trousers, not a skirt; a tuxedo jacket with sneakers, not femme fatale stilettos." In other words, the key to Parisian style is sophistication mixed with imperfection. Always add a casual element to a dressy outfit or a dressy element to a casual outfit. Never try to make anything too perfect, whether it's your outfit or yourself. That's true Parisian style.
Which of these looks do you implement into your own style?