The last time I was single, dating apps didn't exist. Despite that fact, I'm pretty guilty of ghosting when it comes to apps—and just not dating apps. For years, I downloaded them with the best of intentions, poked around for a few minutes, and then, poof, I was gone. I would quickly forget about these apps until my phone ran out of storage and then I would do a clean sweep and delete them all.
your one-way ticket to your cool, calm, and collected era
Then, 2021 introduced some significant life changes (I'll share more about these in a minute) and I found myself feeling completely overwhelmed and struggling to adjust to my new day-to-day life. I needed to make some changes and I needed help to get the job done. Much to my surprise, I turned to apps and they changed my daily routine, organization habits, and health. Let's take a closer look at what these apps are and how I use them every day.
I swore up and down I would never pay for an app—I was wrong. In the fall of 2021, my business took a turn for the better. I work as a freelance writer and content strategist and even though I managed to stay fully booked for years with great clients, at the end of 2021, my client roster exploded. I not only found myself with an increased workload but also taking on a greater level of responsibility than I ever had before. My typical organization techniques weren't cutting it anymore.
I love paper goods and can't go a day without using my The Everygirl planner for my work to-dos and this daily diary from An Organised Life for setting goals and daily intentions. So I never thought I would turn to a digital planning tool, but now I gladly pay $36 a year for the Pro version of Todoist. Why am I willing to pay a pretty steep price for a to-do list app? The free version is great and allows you to section off to-do lists into five different projects. Because I work with upwards of 30 clients a year, I need to create a lot more than five projects, which the Pro version permits.
To get the most out of this app, I create a separate project for each client as well as other categories of tasks relating to admin, sales funnel, and personal to-dos. Then, whenever a new task comes in from a client or from myself, I add a to-do with a deadline. With each task, you can add a detailed description (which is key for keeping track of can't-miss details) and you can add subtasks if need be to break down an assignment into smaller pieces.
You can either view your to-dos by looking at each project individually, by sorting all tasks due that day, or by looking at a list of all upcoming tasks in chronological order. You can also sync these due dates with your calendar so you can view them next to your meetings and appointments. Basically, this app ensures nothing ever slips through the cracks and makes it easier to plan my days.
Because of the aforementioned increased workload, my days are pretty packed. This is a good thing but can often feel a bit overwhelming. Similar to my flaky app use of days past, I always struggled to stick with meditating even though I knew it was good for me. Because my mind was constantly racing between the dozens of things I needed to do each day to keep my business running smoothly, it was time to give my mind a break. I decided to give Headspace another try and I think I've finally cracked the code on meditating.
In the past, I tried to squeeze in meditation sessions in the corner of a busy office or while commuting on a train, and I just couldn't find my focus. Now that I work from home, it's much easier to find a quiet space to meditate, but I also introduced these insanely effective noise canceling Microsoft Surface Headphones into my mediation routine. These headphones seriously cancel out all noise and help me focus on the task at hand. Once a day—usually after lunch—I sit down somewhere quiet and comfortable and turn on one of the guided Headspace meditations designed to increase focus. Not only does this time spent meditating help my stress levels drop, but I also find it a lot easier to get through the afternoon slump after taking 10 minutes away from screens to just breathe and clear my mind.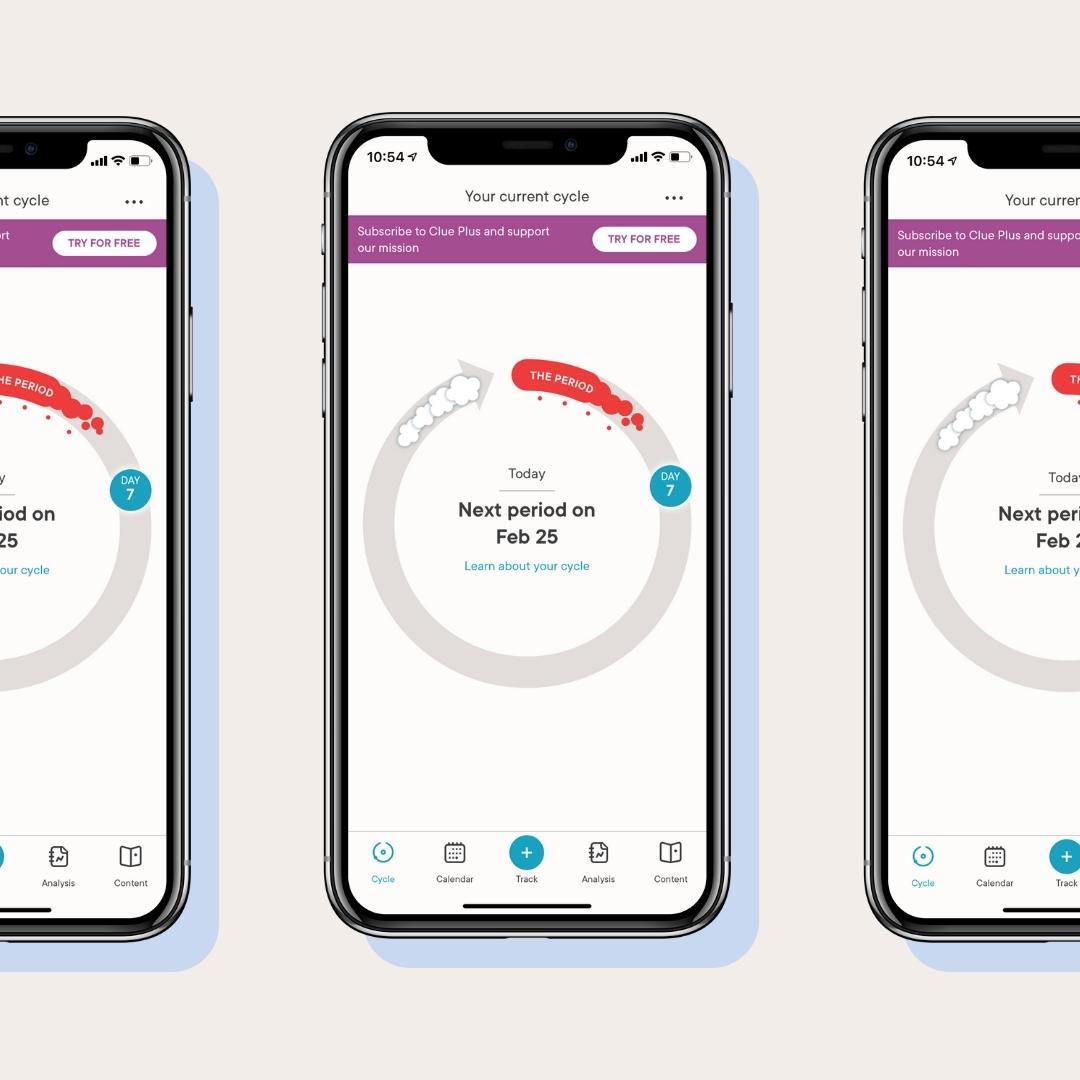 Fun fact about having an IUD—they can make your period disappear. While not everyone who has one experiences this, I had two IUDs over the course of six years and never had a period. Admittedly, I loved the convenience of this, but while there were no physical signs of a period, there were still times where I experienced PMS symptoms but couldn't officially attribute them to hormones. A few months ago, I switched to a birth control pill and my cycle returned. I find it weirdly satisfying to know why I'm feeling the way I'm feeling. Even though I know when my cycle is starting, I like to use Clue to track my cycle and PMS symptoms. This app has been around for ages, but it has tons of cool new features since I last used it more than six years ago. Every day, I track how my skin is looking, how I'm feeling emotionally, what my energy is, any pain I'm having, and how focused I am. I find it so helpful to look back at the past months to see when my skin broke out or when I experienced back pain. Did I eat something that caused a breakout or is it just hormones? Did I hurt my back working out or is it just a PMS symptom? Understanding your body is so important to treating it right.
Using Clue, I've learned that about a week before my period begins, I tend to experience a lot of fatigue in the afternoons, and I now plan accordingly. I know that afternoons that week are rough, so I either plan time in my schedule for a nap or a restorative activity, or I plan to do deep-focus work earlier in the day and easier work in the afternoons.
I also use the app to make sure I'm staying on track of my shopping list for any PMS must-haves like the Good Patch Plant Based Awake Patch with B12, which is my saving grace when I need a pick-me-up on those fatigued afternoons when I don't want to reach for caffeine that late in the day. It's so tempting to act like our periods don't affect us much, but I find that embracing my cycle makes my days go a lot smoother.
I had a pretty good workout routine going with F45 classes at my gym, but once my work schedule picked up, I found it a lot harder to make it to the gym, especially since I was constantly changing class bookings to make room for last minute meetings (a bad habit I need to work on). When I don't have time to make it to the gym, I love turning to The Pilates Class app, which offers virtual workout classes in both full-class and short-form versions. If I only have 10 minutes to squeeze in a workout between meetings, I like to do one of the shorter classes designed to stretch you out or help build back strength (both of which assist with that midday back and neck pain that comes with sitting at a desk for hours). You can watch the classes on a desktop, but I find it easiest to use the mobile app on my iPad so I can work out wherever is convenient.