We're big fans of the YouTube Beauty Community here at The Everygirl. We're constantly talking about our favorite creators, their best looks, and buying pretty much everything they recommend. The YouTube beauty world is honestly what we have to thank for some of the biggest trends in beauty—we'd never be baking our undereyes or curling our hair with straighteners or using men's post-shave balm as a primer if it weren't for the beauty YouTubers who taught us how.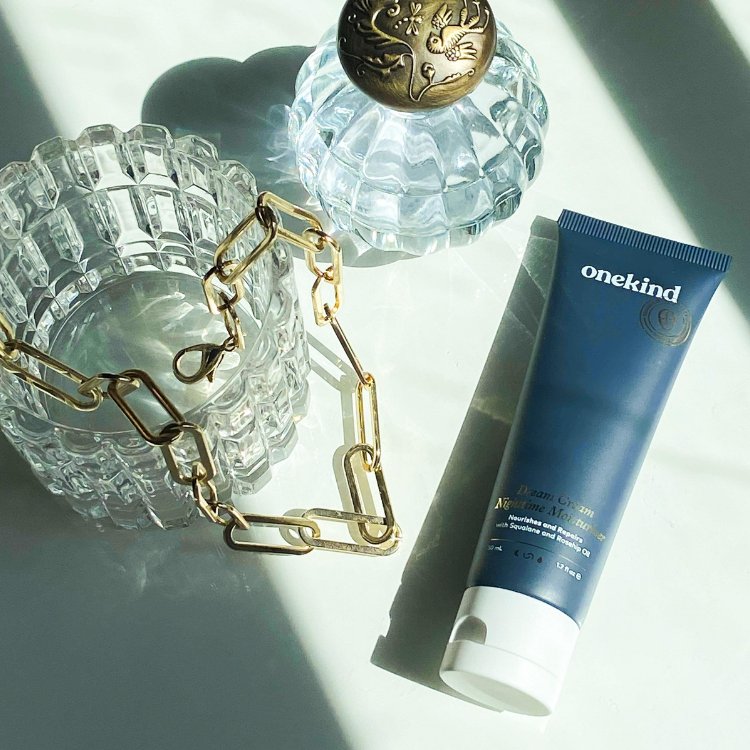 you just pay shipping—use code EVERYGIRL to get yours today!
Alongside the various techniques YouTube has taught us, the phenomenon of the ever-so-popular "empties video" has truly taken over our subscription feeds. Every beauty YouTuber has made an empties video (if not five), and everyone who even knows just a glimpse of beauty YouTube has seen one. The concept is simple: show everyone what's in your trash and talk about if you loved it, if you'll buy it again, and how long it took you to use up.
So being the beauty-lovers we are at TEG HQ, we decided to create our own empties series. Every month, all of our editors will share a few of our own empties—from skin, hair, and makeup products to candles and vitamins and home items—and give our unfiltered review on each of the products. Some of them we'll love and need to repurchase ASAP … and some we'll celebrate finally finishing them up. If you've ever wondered what our absolute favorites (and not-so-favorites) are, this is the right place to be. It's finally time for our trash cans to shine!
Redken
To be totally fair, my mom and I went through this together, but I'm sharing regardless. I've gone through two of these purple shampoos at this point, and it remains one of my favorites I've ever tried (and I've tried a few—I went through a platinum phase a few years ago, and my parents' house has well water which is basically a blonde's enemy). If you're someone who uses a purple shampoo for most of your washes, pick this up ASAP because it's definitely the most moisturizing I've ever tried. However, my favorite is this one from Kristin Ess; it's a little drying, but it tones your hair like crazy. But recently, I've been using a yellow shampoo for blondes because I've grown to love a warm, golden tone instead. As you can tell, my shower is filled-to-the-brim with random, half-full shampoos.
Caudalie
I was first introduced to Caudalie when I was studying in Paris a few years ago and have been hooked ever since (and not just because using their products makes me feel Parisian). This Beauty Elixir not only sounds fancy, but the results measure up to the cult-following. It's a toning mist that tightens pores, sets makeup, and provides an instant shot of radiance. Thanks to ingredients like rosemary (to tone) and organic rose oil (to boost glow), it's clean, so I know it's 100 percent good for my skin. I use it as a toner before serum, and a primer spray before dabbing on foundation (*sigh* remember the days when we put on makeup?), so I go through these quickly. It's time to order another, ASAP!
Nars
I've been scraping the sides of this to get every last drop of product out for about a month now, but have finally had to throw in the towel and order a new one. This concealer is a cult favorite for a reason. It's super natural looking while still giving the perfect amount of coverage, and never creases or looks dry (even on my crazy-dry skin). I've been loving putting a little of this under my eyes and on blemishes when I work from home to put a little put-together and awake. I love that I can wear it on its own without it ever looking like I'm obviously wearing concealer. This was an obvious re-purchase for me—I'll never be without it.
Fenty
I'll admit it: when I first tried this mascara, I hated it. Our beauty guru Beth loved it and sang its praises constantly, and I couldn't figure out why. Then I picked it up one day to give it a second try, and have been absolutely obsessed since (what changed? Who knows!). It is the perfect mascara to get that fluffy, fanned-out lash look without ever veering toward a scary spider-legs, Madison-Prewitt-on-The-Bachelor scenario (sorry Madi, I had to). The #1 thing I look for in a mascara is volume, and this delivers while looking natural and almost like I'm wearing falsies. It's amazing. I have a few more mascaras I need to finish up, but I plan on repurchasing this once I'm leaving my home again.
Acnefree
When I first started staying home I thought that my skin would be glowing and feel fresh from wearing less makeup. Instead, I had a few days where my skin was an absolute mess! I don't know if it was from the stress or the transition, or both, but I'm so glad I had this on hand to clear up my face and give me one less thing to worry about. It works seemingly overnight and a great product to keep on hand.
MOROCCANOIL
I bought this heat protectant during one of my in-person Sephora hauls of 2019 (@Sephora, I miss you terribly), and it's lasted me almost seven months. I went an embarrassingly long time without using any type of heat protectant on my hair despite blow-drying my mane three times a week and styling it at least four, but 2020 Ashley is much more responsible and has learned her lesson. Not only is this product lightweight, color-safe, and hydrating, but it smells amazing, which is probably more important to me than any other factor combined. I was highly saddened to learn that I ran out last week and will be rebuying STAT.