Whenever we come across a brand that's truly changing the game, we quickly become OBSESSED. When we first came across Parachute, that's exactly what went down — we were jonesing to change all the linens in our home to those of our new favorite brand. Whether or not you've heard of Parachute before (but, like, you have), prepare yourself — because you're about to get THAT obsessed with its founder, Ariel Kaye.
As the founder and CEO of Parachute, Ariel wears a lot of different hats — she's a passionate business owner, friendly customer experience expert, and, at her core, a laid-back California girl. We chatted with Ariel to learn more about starting — and then scaling — her business, the ins and outs of hiring employees, and the next spot on her travel bucket list.
Name: Ariel Kaye
Job Title: Founder and CEO, Parachute
Age: 34
Location: Venice Beach, CA
Education: Master's Degree in Media Studies from the New School, a Bachelor of Arts Degree from the Gallatin School at NYU
Between your first job and Parachute, what did your career trajectory look like? What lessons did you learn during this time?
I began building a career in brand development and advertising in New York. My ten years of experience yielded invaluable insights into purchase behavior — what motivates, inspires, and connects with consumers. I also witnessed the public's growing interest in quality, craftsmanship, and social responsibility — now tenets of the Parachute brand.
What inspired the idea for Parachute?
In 2012, I went shopping for bedding and found myself surrounded by stacks of products that all looked the same. I wanted comfortable, quality sheets, but I didn't want to spend a fortune or settle for the cheaper options covered with synthetics and chemicals. I started to do some research. Many consumers remembered where they bought their bedding — a department store or big box retailer — but there wasn't a brand that was connecting with customers and engaging with them past the point of purchase. I couldn't believe there was no brand loyalty. As someone who built brands in advertising, I recognized a true business opportunity.
At the very beginning, first-time business ownership isn't a walk in the park. Tell us about your early experiences running Parachute out of your home.
I started working on Parachute in January 2013 and spent a year building the business on my own. We launched in January 2014 and I was taking investor meetings, packing boxes, answering the phone, responding to emails, packing more boxes — all at once. I couldn't remember the last time I had slept — and I was selling bedding!
What lessons did you have to learn in those early days to get Parachute to where it is now?
When I started talking to investors, I received feedback that the way I talked about Parachute was too relaxed and my overall energy was too chill. While I'm laid-back, potential investors were mistaking this as a lack of enthusiasm for what I was working on.
I shifted my pitch to show my hustle, drive, and unrelenting passion. I learned to channel the intensity and excitement I felt. Every time I spoke to a potential investor, I made sure they didn't leave the room without feeling my intensity and excitement too. I was determined, and although starting a brand is extremely challenging, they needed to know I was never going to give up.
Every time I spoke to a potential investor, I made sure they didn't leave the room without feeling my intensity and excitement too. They needed to know I was never going to give up.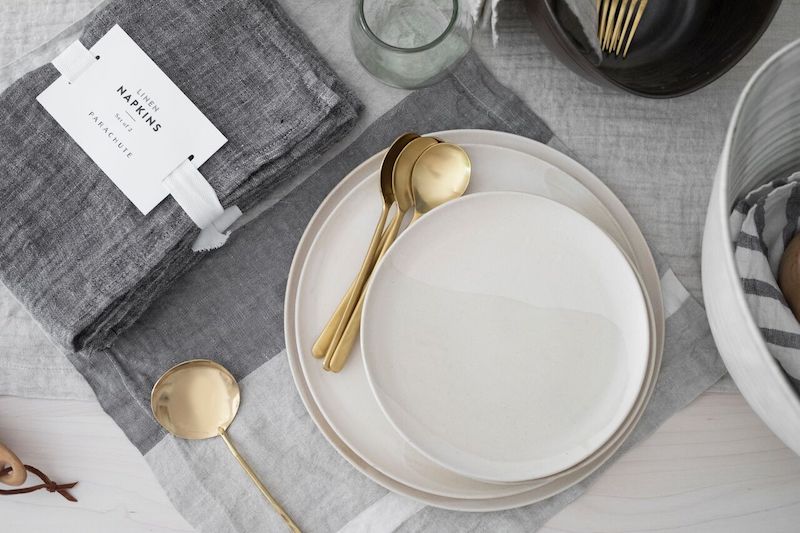 Who was the first employee that you hired? What advice do you have for others who are hiring their own employees for the first time?
Two or three weeks after Parachute launched, I made the first hire — someone who was willing to take that risk with me! Looking back, I realized I waited too long to hire and that there are plenty of people who want to be involved in the early stages of building a business. It's an invaluable experience.
As a founder, one of the biggest problems I've seen other companies face is hiring too many people too quickly, which makes achieving profitability extremely difficult. We're super conscious of this and do not rush into hiring new roles just to check boxes off of an org chart.
Parachute is now a thriving online business AND has two brick-and-mortar stores. Tell us a little more about this large-scale growth.
Our mission is to be a part of the everyday rituals in all areas of the home, from the sheets in your bedroom to the towels in your bathroom to the table linens in your kitchen.
Beyond our robust digital platforms, we want to be where all of our customers are! We will continue to bring a physical and experiential version of Parachute to our customers in more cities through additional retail spaces.
We're building a successful business by creating meaningful relationships and lasting impressions. I've been so happy with how Parachute has evolved. We're continuing to dream big!
What do you love about your job?
Becoming a founder has been a completely transformative experience — and I love it! Creating something that people care about and that has that impact is my favorite part of being an entrepreneur.
Walk us through a typical workday for you.
I like to wake up early, meditate, and work out before I come into the office. Once I'm at the office, I wear many hats. I read and respond to emails, meet with various teams, pop in and out of the store to talk to customers, manage our investors… I am actively involved in every part of the Parachute brand. We're a start-up, and that hustle is what keeps me motivated to succeed. Every day is different, which makes them always seem to fly by!
What professional accomplishment are you most proud of? Additionally, who do you consider your greatest mentors?
Scaling the Parachute business has given me the opportunity to meet and work with so many talented people — from our manufacturers in Portugal to our team here in Venice Beach. I've learned so much and grown with the company.
My parents are my greatest mentors. They both have their own businesses and supported my decision to strike out on my own.
What was the best advice you've ever received?
The best advice I've received is to always put the customer first. We're always striving to learn more about our community through testing, research, and focus groups. I strongly advise budding entrepreneurs to truly listen to customer feedback and use those takeaways to implement changes when appropriate.
What advice would you give to your own younger self?
Don't sweat the small stuff. When you are so invested in building something, it's challenging to do anything but obsess over every mistake, delay, or piece of criticism. Wasting energy on every small detail hinders momentum. Keeping a positive, solutions-minded attitude and focusing on the big picture is imperative to moving forward.
Don't sweat the small stuff. When you are so invested in building something, it's challenging to do anything but obsess over every mistake, delay, or piece of criticism.
Ariel Kaye is The Everygirl…
Current favorite TV show?
Loving Billions right now. Also Chef's Table.
All-time favorite vacation?
So hard to pick just one – I visited Japan last summer and can't wait to go back.
Next spot on your travel bucket list?
Morocco for design inspiration.
Favorite IG account to follow?
@thedelicious for avocado-heavy food photos accompanied by humorous captions.
Go-to Starbucks order?
Always an Americano. No milk or sugar.
If you could have lunch with any woman, who would it be and why?
Frida Kahlo – I visited her studio and home in Mexico City a few months ago. I was incredibly inspired by her approach to art and depiction of the female form. I need to know more!  
SHOP PARACHUTE