I've never decided to put myself on the frontlines of anything until now. My friend, Jaylon, asked me to join him to protest on behalf of George Floyd. Of course, I opted to say yes, because I felt it would've been hypocritical of me to write on Black culture and not be fully down for the cause. At the same time, this was an opportunity to show the Black community how passionate I am about our culture and what we stand for. Also, who wouldn't want to be Black? We're dope.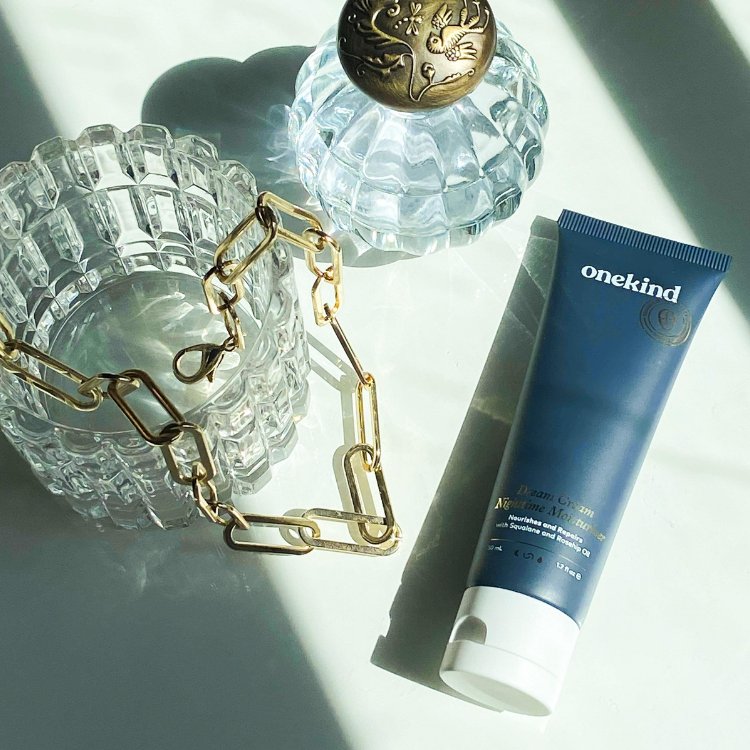 you just pay shipping—use code EVERYGIRL to get yours today!
My first experience with tear gas.
We parked across from the Mercedes-Benz Dome and proceeded toward the CNN headquarters. We were met with a crowd holding signs that express their current feelings towards police brutality "Fuck 12," Black Lives Matter, and the way Black lives are and always have been mistreated in America. I decided to stay and watch, considering that this is my first time at a protest and I wanted to take it all in—the sights, sounds, demonstrations, and chants. The crowd proceeded to move down the street once the police allowed them, then all of a sudden , there was  tear gas and pepper spray. I saw a small cloud of mist and a group of people started running towards the CNN Headquarters that was behind us. A middle-aged white male bolted past me holding an unrecognizable container, followed by a police officer running past him. I only heard that he was the reason behind the reason pepper spray was used, but I never had the chance to ask why—nor did I really want to.
I choked under my COVID-19 mask and avoided wiping my eyes while a young man, around my age, ran past me unable to see. People surrounded him — consoling, pouring milk on his face, all while fighting back their own tears. Then, everyone started running. What did my Black ass do? I ran too. No questions asked. It was only after the initial panic that I remembered I had friends with me. I started to scramble and look for them. Once we were reunited, Jaylon got in contact with a friend that was at the peaceful protest under the Centennial Park pavilion area. We headed there to witness the speeches given by family members of police brutality victims, activists, and individuals currently holding government positions.
A moment I will never forget.
Beautiful. Comfortable. Comforting. Those three words describe the sense of community I felt as we gathered within the pavilion at the park. I missed the sign-making, free snacks, and masks, but was there for what mattered. The motivational speeches gave everyone hope for the future. White, Latinx, queer, and all of the above, we gathered as one under the sole purpose of actually making America great; a promise of progress happening before our eyes.
There was one person, in particular, that stuck out to me the most : Jamarion Robinson's mother. Unfortunately, this was my first time hearing of her son's passing. According to Robinson's mother, in 2016 he was shot 76 times by the police as he was mistaken for the wrong person. The police said they were trying to serve a warrant for his arrest after he allegedly "fired a gun at police during a previous confrontation." According to the civil rights lawsuit his family filed, Robinson presented no threat to the officers or anyone else. Who shoots someone 76 times, let alone the wrong person?
Hear me.
I've seen the media misconstrue these moments one too many times, and make Black Lives Matter out to be an "extremist group." The people who truly stand for what Black Lives Matter was founded upon are the ones making a difference, and demonstrating what needs to be done for the Black community. Spray painting, burning buildings, looting, etc. are not a direct reflection of what Black Lives Matter is about. It's not who we are or what we stand for. But when you consider hundreds of years of anger and oppression, it's reasonable to accept that eventually there will be a tipping point. Seemingly extreme actions by one group are often a result of long overdue inaction by another.
This is a cry for help! We're a tired community—tired of always having to speak up when no one is speaking out; having to defend others when no one is there to defend us; and, making sure that our lives are protected, all while watching our brothers and sisters' lives getting taken away.
Please protect yourselves both from others with intentions who are opposite of your own and police officers whenever you demonstrate your right to protest. I'm not one to tell you how, when, or what you should do whenever you protest. But, just be safe, mindful, and helpful.
We remember the souls, both past and present, that have lost their lives due to police brutality and the unfair mistreatment of Black people under the American government. We will continue to fight for justice, on your behalf, and for future generations to come.