While many of us have transitioned to working from home over the past few years, we're officially at a place where some employers have required staff to go back to the office. And while the notion of picking up your daily commute and spending 8+ hours at an office surrounded by other people might not exactly have you jumping for joy, there's at least one sure-fire advantage to working in the office: the prospect of breaking out our favorite office outfits.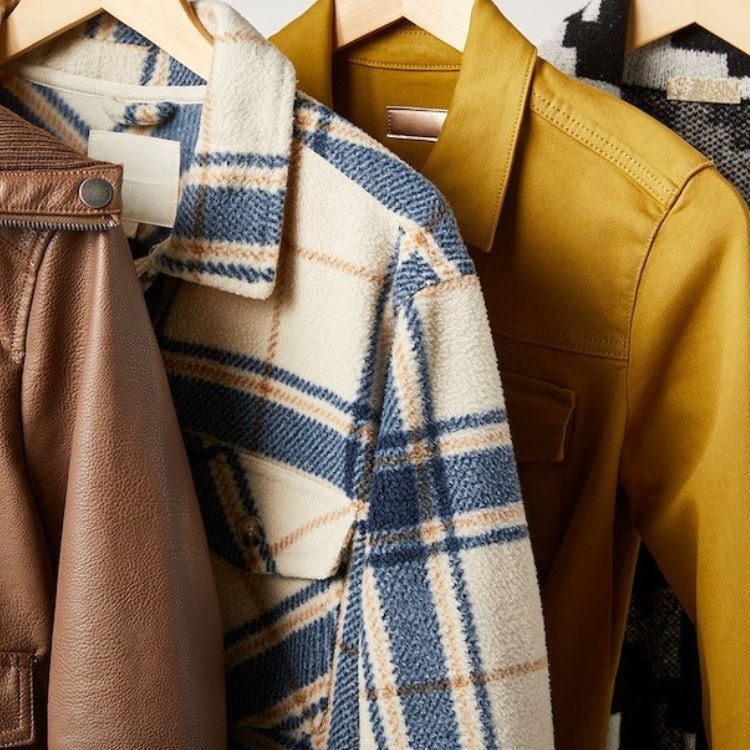 ...and it's wallet-friendly
While you can 100 percent dress like a boss while working from home, there is undeniably something special about getting dressed for work when you're actually physically, you know, going to work. Admit it: A small part of you missed picking out your outfit the night before and swapping wardrobe compliments around the break room coffee maker.
Don't fret if you've forgotten what it's like to dress for the office—we've got 7 outfits to style with pieces you already own to take you to your 9-5.
1. A knit top + leather pants
Leather (and faux-leather) pants are a great alternative to classic trousers if you work at an office with a more laid-back attire expectation. Top them off with a knit top and sneakers for a look that's both put-together for the office and comfortable enough to get you through the entire workday and commute home.
2. A knit dress + heels
We love wearing dresses to the office because they are an all-in-one solution. Perfect for when you hit snooze on your alarm once (or twice) and don't have time to coordinate several wardrobe pieces while rushing out the door. Throw on a pair of heels for a look that's feminine and timeless.
3. A trench coat + jeans
We're so glad we live in an age where for many of us, it's more than OK to wear jeans to the office. Add some polish to the look with a pair of classic loafers. Enduring a chilly commute? Trench coats are both practical and effortlessly chic.
4. A colorful blazer + trousers + ballet flats
If you work in a more traditional office setting, this outfit formula is a perfect way to have a little fun with you work attire. Rather than a neutral blazer, opt for one in a pop of color, and pair it with a blouse, trousers, and ballet flats. The bones of the look are appropriate for a business-casual setting, but the updated details make the look feel more modern.
6. A midi skirt + T-shirt
If your office errs on the more casual side, a midi skirt, T-shirt, and sneaker combo is a laid-back 'fit that's still office appropriate (especially when the weather warms up and you need to keep cool on your commute). Finish it with polished accessories, like your favorite gold hoops, to make it work-ready. If you want to make it more business-casual, throw a blazer over top to dress it up a bit.
6. A trench coat + trousers + loafers
There's no time to take advantage of your favorite trench like when you're heading to the office, so we're turning to ours as much as possible this year. Paired with black trousers and your favorite work top, it's easy and professional enough to be considered your go-to uniform (and will give you a confidence boost on days you have high-stakes meetings). You can opt for your favorite classic loafers to finish it off, or to make it a little bit cooler, a pair of chunkier ones instead.
7. Trousers + a button-up
Trousers have gone from workwear to cool-girl in the past year, which means when you opt for a pair in a more relaxed style, you can wear them outside of office hours too. For your 9-5, style them with a white button-up and gold accessories for a season-less look that can be taken advantage of year-round.