Maybe it was my teenage obsession with the movie 500 Days of Summer or how I've always romanced anything and everything French. But for whatever reason, I've had a long-term, love-hate relationship with bangs. I've Googled "Should I get bangs?" and saved one too many Instagram photos of flawless models with perfectly imperfect fringes to understand the disappointment of a haircut that over-promises and under-delivers. Sigh.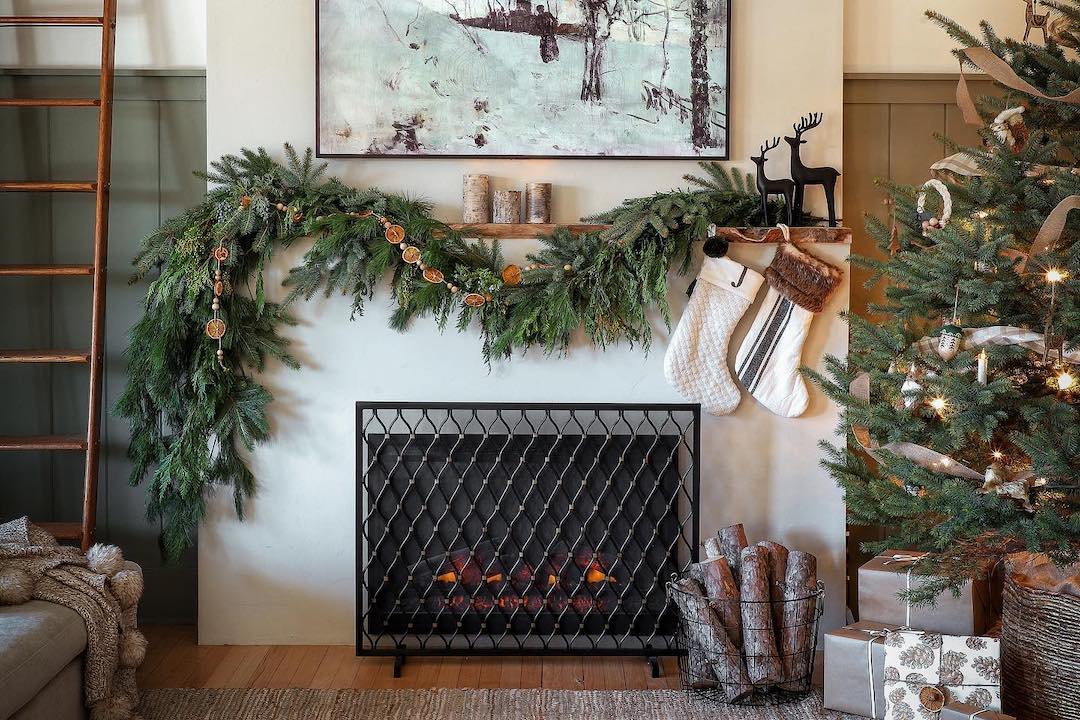 there's still time to deck your halls
After scrolling too long on Instagram yourself, you might feel the urge to call your hairstylist. "I could pull this off!" you say, only to be reminded of how high maintenance, unpredictable, and often unruly bangs really are. If this sounds familiar, take heart in knowing we've all been there. The on-again-off-again relationship with bangs is universal. But I'm here to tell you there is hope. Perfectly imperfect fringe, despite what the naysayers say, is attainable.
"People were letting their lengths grow out and color fade or roots grow because they didn't have a choice [during the pandemic]," said Franck Izquierdo, cofounder of IGK Hair and IGK Salons. "We are seeing a resurgence in people wanting a big change to feel fresh, and getting bangs is one way they can feel a major transformation. Clients don't just want a trim; they are open to a major cut and even a fringe."
The wonderful thing about bangs is that there are endless styles to choose from. Baby bangs, curtain bangs, side-swept bangs, the inimitable Zooey Deschanel bangs—if you're brave enough, try them all on for size. Experiment and have fun; it's just hair, after all. But if you're the indecisive type, hear me out. For bangs that are not only tolerable but also adorable, here's what's worked for me.
Meet the expert
Marwa Bashir
HAIRSTYLIST
Marwa Bashir is a hairstylist and member of the R+Co Collective. She has worked with celebrities like Maren Morris, Kristin Cavallari, and more.
Meet the expert
Franck Izquierdo
COFOUNDER OF IGK HAIRCARE
Franck Izquierdo is the cofounder of IGK Haircare and IGK Salons in New York and Miami.
1. Everyone can wear bangs—it just depends on the style
Contrary to popular belief, all hair types, lengths, and textures can pull off bangs. " … a knowledgeable hairstylist can help you find the right type of bangs for your hair and face shape," said Marwa Bashir, a hairstylist and member of the R+Co Collective. "I think there is fringe for everyone, but some hair can be more difficult to manage and can take more styling time."
Of course, lots of people rock a bold, blunt bang look, but from personal experience, I've found that subtly choppy bangs with edges that blend into the rest of your hair are a game changer. Those slightly longer pieces do a wonderful job of framing your face, making your morning routine that much easier. Take this into account when you're deciding which style of bangs to go with.
Similarly, those with curly hair often think they can't wear bangs; however, Izquierdo explained that curly bangs are about to be one of the biggest hair trends this year as a way to show off your natural texture.
2. Master the delicate balance between too thick and too thin
This is both an art and a science, and sometimes it's a matter of trial and error. But before you make your way into the hot seat at your next appointment, consider not just the length but also the thickness you prefer. Ask your hairdresser to slowly cut into your bangs so you can get a sense of how wispy or heavy they should be. Somewhere right in the middle is what I recommend aiming for. This will make a world of difference in how manageable they are. Remember to always bring photos to your stylist to show what you're thinking about, and they can help create a look that is a marriage of what you want, what will look good on you, and what is appropriate for your hair type and length.
3. Be prepared for frequent trips to the salon
To have bangs is to accept the major upkeep that comes with them. Your stylist may offer complimentary bang trims, and if so, be sure to take advantage of this perk (just don't forget to tip!). I beg of you, resist reaching for the scissors. I've learned the hard way over and over again.
Bashir warned that it can take about a year for bangs to fully grow out (depending on your hair length) if you don't like them. If you want to try bangs without the commitment, clip-in bangs are a great alternative to cutting your own hair and won't require the same upkeep.
4. Collect all the mini hair tools
Instead of the usual paddle brush, I love using a tiny round brush for some extra oomph. Blow-dry the ends of your bangs in opposite directions, and softly curl the middle section for a bit of volume and movement. Although my hair is naturally wavy and sometimes just straight out of control, this technique never fails.
A tiny flat iron is another must and can give your bangs a polished, sleek look. It's also known for saving the day when they're just a little out of whack. To spruce them up, apply heat protectant spray and repeat the same curling method you used with the round brush. I've found I can even skip the awkward bang wash if they're in disarray just by using a flat iron.
5. Utilize hair clips and dry shampoo
Lately, I've been trying to limit how often I wash my hair to avoid stripping it of its natural oils. But bangs are another story. Too much dry shampoo is a no-go, but I've found that it can be extra helpful when used proactively. Sometimes, after I've washed and styled my bangs, I like to lightly spray some dry shampoo on the roots to keep them lively and fresh all day long. And although not the cutest look, I make a habit at night of pinning them away from my forehead with some clips.
6. Let your bangs live
With so many types of bangs to consider, along with various styling techniques, it's easy to feel overwhelmed. Bangs are a commitment. But the one trick that might be the most important has nothing to do with your hair itself but your mindset. Embrace the occasional chaos. Learn to love your bangs, even when they're out of place, and you might find they're actually effortless after all.
If you get bangs and don't like them at first, don't freak out. "[Bangs] usually take a week to settle in and get used to," Bashir noted. If you don't like them, Bashir warned it can take about a year to grow them out, depending on your hair length. If you're a commitment-phobe (same), Bashir recommended trying clip-in bangs as an alternative to cutting your own hair.
Want to try bangs? Here's what to ask your stylist for:
Curtain Bangs
According to Bashir, curtain bangs are a simple way to add fringe for most face shapes and hair types. "These are by far the most popular in my chair. This shape looks great on most face shapes. [It's a] softer, more wispy style that's usually shorter in the middle and gets longer toward the edges." Izquierdo also explained curtain bangs can be a low-commitment stylle since it grows into layers quite quickly and isn't as bold as a full bang.
How to Style Curtain Bangs
According to Izquierdo, you can air-dry your curtain bangs for a rough, undone look once your hair settles and gets used to sitting that way (especially if you've not had a middle part previously). But if you want a classier look, "Use a small round brush and dry hair with your brush forward, not under, to open the frame and face. Split the bangs in the center and start blow-drying each part. Then, twirl the pieces outward," Izquierdo detailed. If your bangs are a little flat or get greasy, add dry shampoo to add some texture.
Blunt Bangs
"These tend to be on the thicker side and give the most impact," Bashir explained. "The lines of the fringe are more of a square shape and have blunt edges." You can let this style air-dry or use a brush and blow dryer to dry them into place. A round brush will give your bangs lots of volume (think '80s vibes), whereas a paddle brush will give them that Zooey Deschanel, polished look.
How to Style Curly Bangs
A full bang looks great on curly hair and is so easy to style. Izquierdo recommended finger-coiling every strand when wet with a little curl gel and drying with a diffuser or letting air-dry.
Wispy Bangs
If you have fine, thin hair and feel like traditional blunt bangs don't give your hair enough body, the wispy style is a great alternative. Popular amongst K-pop stars like Lisa of Blackpink, this style is usually longer than blunt bangs, hitting below the eyebrows. If your hair is naturally straight, you can let your hair air-dry, or you can take a flat iron to your bangs.
Face-Framing Layers
Not to be confused with curtain bangs—face-framing layers are chin-length; bangs are eye-to-cheekbone-length. However, Bashir said she's expecting to see this trend grow exponentially in 2022. "I am seeing a lot more people growing the bangs out these days to be more of the '90s bouncy layers. Bangs that are hitting just at the cheekbone to the chin are my vibe," Bashir added.
Side-Swept Bangs
The side-swept bang isn't as popular as it was in 2010, but it's a go-to look for hairstyles that require a deep side part. This style looks good on every single hair type and texture. If you're still unsure about a middle part but want to add a little oomph to your hair, a side bang brings attention to your face in a very old-Hollywood way.
Baby Bangs
"Baby" bangs are bangs that stop before your brows. "These can be worn blunt or softer and are a major statement. I adore them for anyone who has no cowlicks on the hairline," Bashir said. This is a bold look that can feel intimidating to some, but it's actually one of the easiest bangs to style. Because they're so short, you're able to just let them air-dry and go on your merry way.