Summertime and the livin' is easy, right? (Come on, you know the song.) Well, for us girls and our beauty routines, that's not always the case. If only we had a dollar for every time we've spent what feels like forever on a hairstyle, only to go outside in the summer heat and have the weather elements completely squash our dreams of a perfect hair day. So why not unplug the hot tools—that's your hair dryer, curling iron, and hair straightener—for a while and enjoy an air-dried look? We know the thought can be daunting. Even though air-drying your hair sounds effortless, it can end up looking like a mess if not done correctly. Today we're sharing the right way to let your hair dry on its own—because "wash and go" doesn't quite cut it.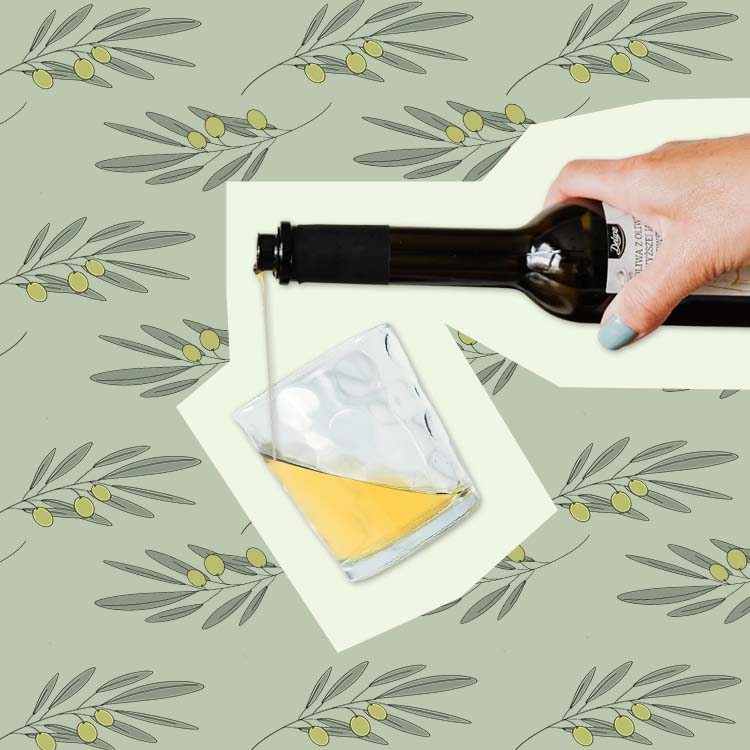 we love olive oil, but this seems a bit too far... or is it?
step one: condition the right way
Just like our skin can get burned if out in the sun without SPF, our hair can get damaged as well. That's why it's important to nurture your hair with a deep conditioning mask to keep it healthy, shiny, and bouncy. On clean hair, apply a product like the Aussie 3 Minute Miracle Moist deep conditioning treatment. Wait a few minutes and then rinse completely. It's the perfect first step to beautiful air-dried hair because the formula encourages silky, shiny waves with incredibly nourishing ingredients like Australian Aloe, Jojoba and Sea Kelp. Plus, it's under $3, so that's a no-brainer.
step two: remove excess water
Say it with us… all towels are not created equal. Drying your hair with the same type of towel you used on your body can roughen the hair cuticle, leading to frizz and unwanted knots. Instead, grab a soft microfiber towel or an old t-shirt and gently press it against the hair. We think you'll be surprised with how quickly it will soak up the water. Be sure not to wrap a towel around your head like a turban, either! This can tug on the hair roots, put creases in the hair, and worse… cause breakage.

Source: Getty Images
step three: get the tangles out
After removing that excess moisture from your hair, use a wide-toothed comb or one of our favorite hair tools, the Wet Brush, to get out every last tangle. Remember to start in small sections at the bottom of your hair and work your way up, which is much more gentle on the hair shaft.
step four: add a little texture
For a little texture and hold, add in your favorite sprunch spray or mousse. We love the Aussie Sprunch Mousse + Leave-In Conditioner because it's a multi-tasker that helps create super soft waves that have a bit of hold to them. If you need a little extra texture, try our recipe for a DIY sea salt spray for beachy waves!
step five: sleeping on it?
If you shower at night and plan on sleeping on damp hair, you've got a couple options that will bring forth beautiful hair come morning. If you're after beach waves, try braiding your hair loosely before bed. If smoother waves are your game, wrap hair in a bun on the top of your head. These tactics will also help keep hair from getting knotted in the middle of the night from tossing and turning. In the morning, just release hair and rake your fingers through to blend the sections together! Resist the urge to brush your hair with a hairbrush because that will take away from the beachy look and might cause frizz, depending on your hair type.

Source: Daily Makeover
step six: touch once and go
After blending your hair sections with your fingers, it's time to lightly style and go. If your hair is in need of volume or is looking a little greasy, try a spritz of your favorite dry shampoo right at the roots. If frizz has gotten the best of your hair or if you need a little hold, you may want to spray a lightweight hairspray and then quickly smooth with your fingers. Looking to style your hair in a way that looks much harder than it actually is? Sarah Potempa can guide you through tons of styles that are perfectly suited for air-dried hair. Just remember: don't overly touch your hair when styling and definitely don't keep touching it throughout the day, if you can help it! Oils from your hands will transfer to the hair, leaving behind a greasy residue that can weigh it down.
step seven: enjoy your air-dried hair and be glad this hair mess won't happen to you!
You'll also like:
READ: 10 Quick and Easy Ways to Style Hair!
READ: Easy DIY At-home Coconut Oil and Honey Hair Mask