I heard once that you need to see an ad seven to nine times before you actually make a purchase, and after taking inventory of how many beauty products I've bought after repeatedly seeing them on Instagram, I can't help but feel like those numbers are true. That being said, just because a product is being raved about online doesn't necessarily mean that it deserves all the praise.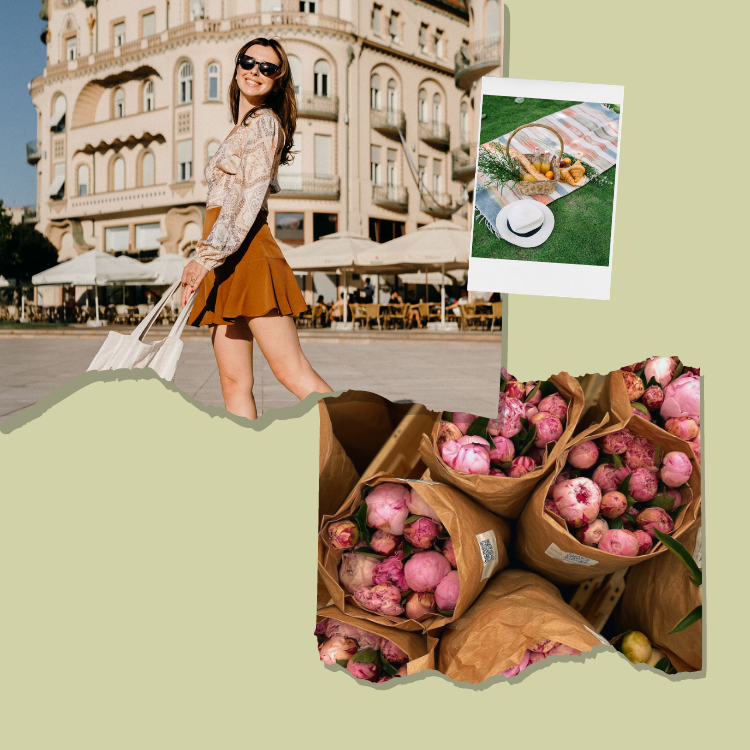 read this if you're in your saving era this summer
Luckily for me, some of the products I've been influenced to buy off of Instagram are actually pretty great. These are some of my recent favorites:
Rare Beauty
When I hear everyone talking about a great new product that does exactly what it claims to do, I can't help but pick it up on my next trip to Sephora to see if it is actually as great as all the ads claim. Thankfully, this Rare Beauty mascara does everything that it is supposed to. My lashes look lifted, lengthened, and defined, and I especially love how much volume it adds to each lash without making them look thick, clumpy, or heavy. Plus, it stays in place all day, so I'm not dealing with irritated eyes or flakes under my eyes after a day of wear.
Fenty Beauty
Miss Fenty knows exactly what she is doing with every single product launch, and the marketing plan for this skin tint was no exception.
I have what would be classified as normal skin, but this skin tint is perfect for all skin types. It is a light to medium coverage complexion product that applies effortlessly—Rihanna recommends using your fingers—and is so lightweight that it has quickly become one of my everyday go-tos, especially on long, 12-hour days. It also leaves the most natural finish and makes my skin look even, hydrated, and smooth.
Dieux Skin
Danielle Prescod wears the Dieux Skin Forever Eye Masks quite frequently on her Instagram stories, and after months of seeing them, I realized that it was a beauty tool that I wanted in my life. These reusable silicone eye masks hold your preferred gel, serum, or cream close to the skin to help product fully absorb. With these, you can get all the benefits of your favorite single-use face masks without the unnecessary waste. I typically use them while getting ready in the morning, and I love that they stay perfectly in place, so I am never worried about them sliding off my face as I move through my morning routine.
Farmacy
Whenever I use a chemical exfoliant or retinol or know that I will be wearing makeup for an extended period of time, I tend to reach for a hyaluronic acid to make sure that my skin is not left dry or scaly. This hyaluronic acid has quickly become one of my favorites, as it hydrates perfectly and smells just like honey. It also feels weightless and works extremely well under makeup.
LA Beautyologist
One thing I definitely don't enjoy while washing my face is having water dripping down my arm, especially if I am wearing clothes I don't want to be ruined by suds or makeup. So trust esthetician, Nayamka Roberts-Smith, to come up with a chic solution to an everyday problem. Placed around each wrist, these super-soft microfiber cuffs are absorbent enough to stop water in its tracks, even after a lengthy double cleanse, so that you can have a drip-free experience. They also dry very quickly—I use mine twice a day, and they aren't even damp when I put them on—and are easy to keep clean by popping them in the wash at least once a week with all my washcloths.
HANACURE
Trying out this zombie mask was a direct result of Instagram ads targeting me. I liked one Instagram post about this mask, and the next thing I knew, I couldn't scroll through my feed or stories without seeing at least one ad for the mask. I've known about it for years, but I the ads intrigued me enough to purchase it, and I was so impressed by the results I saw. I've already stocked up on a 4-pack ($110 each) so that I can have glowing, bright skin throughout the next few months.
LANEIGE
If I am even slightly dehydrated, my lips turn super dry. This lip mask is hands-down one of my holy grail lip products. It instantly soothes my lips and leaves them plump, hydrated, and smooth, and even though it is marketed as an overnight treatment mask, I keep a jar of it in my nightstand as well as in my desk drawer and reach for it at all hours of the day. It is also a great way to protect my lips on the coldest winter days as well as the perfect way to prep my lips for matte or bright lipsticks. The original Berry flavor is my favorite, but the Vanilla and Peach Iced Tea versions can also be found in my rotation.