From Rare Beauty's Soft Pinch Liquid Blush which went viral on Tiktok to Hailey Bieber's skincare line, Rhode, which sold out in no time, there were dozens of beauty products that made an impact on our year and not so surprisingly, earned permanent spots in our editors' toiletry bags. Whether products are in the spotlight or not, we collectively try hundreds to find out for ourselves and you, dear reader, which ones are worth their weight in gold. After another year of brand launches, product waitlists, and trial and error, we have decided on our favorites in every single category: hair, makeup, skin, and body. Ranging from high-end splurges to drugstore finds, these products get The Everygirl HQ stamp of approval.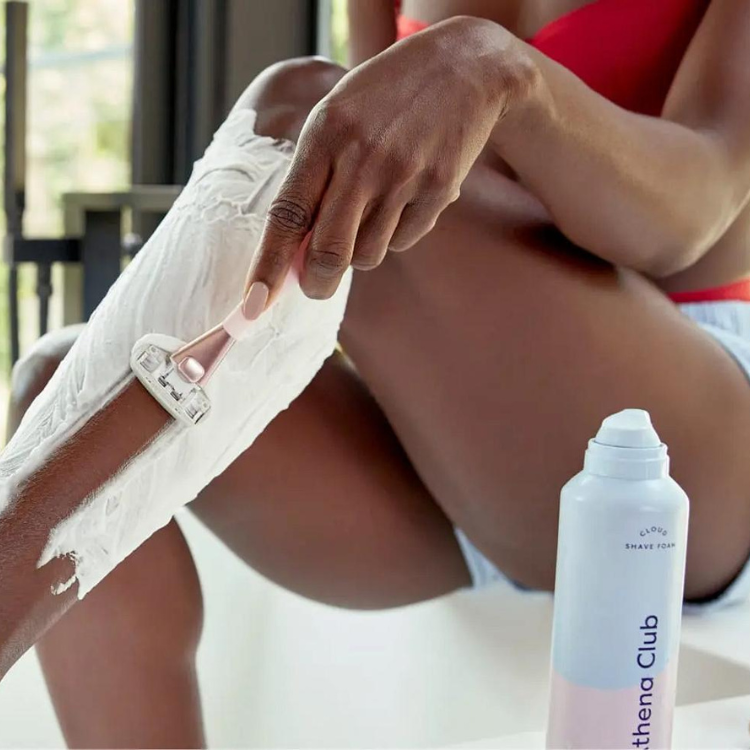 "This razor gave me the silkiest, smoothest shave I've ever had! I never get any cuts or scrapes, even on those hard-to-shave places."
Belif
I use a prescription-strength retin-A several times a week, so maintaining hydration is one of my top skincare priorities. I added this toner to my routine this year in addition to my usual hyaluronic acid and it has been a real game changer. My skin is the healthiest it's been in years and this product is a big reason why.
Rare Beauty
We're big Rare Beauty fans here, and while I love a ton of their products, this lip liner really surprised me. It glides on so smoothly and leaves my notoriously sensitive lips actually feeling hydrated. I've never used a lip liner like it before and can't recommend it enough to my fellow sensitive-lip friends.
Saie
Rare Beauty blush this, Rare Beauty blush that. Yes—that one has garnered such a huge cult following for a reason, and I love it too. But hear me out: the Saie blush is better. It has great color payoff and blends out to an incredibly natural finish, without the "I can't use more than an eyelash-sized dollop of this without looking like a clown" problem the Rare Beauty blush has. I have quite the blush collection, but this one has become a holy grail and the one product I reach for more than any others in my arsenal.
Maybelline
This is definitely one of my favorite beauty products of the year, but I would even go as far as to say it's my favorite lip gloss of all time. And it's not just me: every single one of my friends has one of these in their bag 24/7. The hyaluronic acid provides the perfect amount of plumping, and it comes in a ton of gorgeous colors. And at just $10, this will be a staple of mine for years to come.
Rare Beauty
One thing you'll never catch me doing is wearing a full-coverage foundation. I love tinted moisturizers, skin tints, and anything in the same realm, so I've tried a lot of them. However, Rare Beauty's Tinted Moisturizer is 100% my favorite of the year. It provides the perfect amount of coverage that evens out your skin tone and provides a smoothing effect, but the best part is how comfortable it is to wear all day long.
K18
This completely changed the health and appearance of my hair! I'm so mad I didn't start using this sooner when I first started hearing people talk about this product. I'm on my second bottle, and it has added so much bounce and shine to hair after I blow dry it out. It's my new go-to hair product.
Charlotte Tilbury
This product went viral on TikTok for good reason. I love to wear this by itself for a natural glow or under foundation to help smooth and illuminate my makeup. I love that there are so many ways this product can be used based on your preference and will still always give your skin a radiating, brightening, and smoothing effect.
Hero Cosmetics
The first time I tried this product, I knew I wasn't going to be able to live without it—thankfully, it's only $12.99. It instantly delivers moisture back to a recently popped or patched pimple, soothes upset skin, and smooths texture. Seriously, my pimples look better right away and heal completely after just a few days. I keep a backup in my bag just incase because I fear the day I lose it or run out.
Ilia
I have repurchased this concealer over and over again this year, and I never feel the need to waver. It is creamy while still being lightweight, never looks cakey, and stays put all day. I can count on it to conceal the worst of my dark circles and blemishes, so I am a forever fan.
Gisou
I'm not kidding I have this by my bedside table and by my desk while I'm working every single day. My lips feel so hydrated and smooth now that this lip oil has become a beauty staple in my life. A little product truly goes a long way, so I love that it lasts a long time.
Meebak
This is so refreshing and really does feel like a mist! It feels like it's not getting the job done, but it really does hydrate the skin and make my skin glow. I love using it in my skincare routine, but also it doubles as a really amazing setting spray after applying makeup.
by Rosie Jane
I will never stop raving about the scent of this perfume, and how many compliments I get when I wear it! It is so warm and sweet and I love the way it carries throughout the entire day. It starts out very vanilla-centric, and by the end of the day the scent is spicy and sophisticated.
It Cosmetics
Wearing sunscreen everyday is a non-negotiable for me. I have very fair and sensitive skin so finding a foundation that includes sunscreen that doesn't break me out is a quest I have been on for years. This CC cream with SPF 50+ is an everyday essential for me and has fully replaced my foundation. I love how lightweight and silky it is, and it is buildable when I need even more coverage.
Glossier
I will be the first to admit I am not a makeup girl. I have used the same brand of mascara since I first started wearing makeup in 7th grade. When I wanted to start exploring eye shadow the powders felt way too extreme for me, I could never get it to look right. So when I went to a Glossier store a year ago they recommended the shade Valley for my eye lids and I have been obsessed ever since. It doesn't feel as try hard as proper eye shadow, but gives the same effect that I was looking for.
Juice Beauty
As someone who has skipped primer for years because I assumed it was an "unnecessary step," this one is a game-changer. It makes your skin so glowy that I even add it as a final step when I'm not wearing makeup–it gives you the most stunning shinner without being too shiny. Also, it is immensely hydrating and helps my skin (typically super dry) hold onto makeup without drying up or looking cakey. It also has such amazing ingredients that are adding extra benefits to the skin, and is non-toxic so you know your skin is getting all the good stuff without any of the bad.
Summer Fridays
I always thought of SPF as a necessity, rather than a product I get super amped about. However, Summer Fridays changed all that with their mineral milk SPF. It is extremely hydrating but feels so light, and adds a luxurious glow after applying. I swear it also helps blur imperfections, even though it isn't technically tinted (so you don't have to worry about mismatched color). It also smells delicious and there is no white cast–totally changing the game on the SPF experience.
Gisou
Gisou's Beauty Balm made it into my top products of 2022 because I use it for So. Many. Things. It's basically become my cure-all product that I always have with me because it can help with so many beauty woes. It's been a game changer to dab onto lips, elbows, and hands during the dry, winter season, and I dab a little bit on my face before bed or under makeup to add extra glow. I also love to take it with me when I travel because it melts into an oil, so I've used it in a pinch to help remove makeup and on the ends of hair to repair split ends. Think of it like an updated actually-good-for-you replacement for that tube of Aquaphor.
Merit
I've tried a lot of complexion products this year, but this one stood out to me the most (and has been my most-used). It can be used all-over as a foundation or just where you need it as a concealer, and either way, it's completely undetectable on the skin. It makes my skin look perfected, while still keeping that no-makeup look. I love it so much that I bought a back-up of my shade just in case it sells out. Trust me: This is popular for a reason.
Givenchy
This product is definitely a splurge, but in my opinion, there is nothing else like it. In one finely milled powder, it has four different shades that work together to color correct and provide an even, perfected finish. I have very dry skin and it still works for me, and I use it every single day. If I lost all my makeup and had to repurchase my stash, this would be one of the first three things I picked up.
Color Wow
I have very straight, fine hair, which I'm always at war against to try to look fuller. I've had the Dyson Airwrap for over a year now, and this product is by far what makes it work the best for me. Not only does it help my hair hold a curl, but it makes it look like I have quite literally double the amount of hair, with no weird texture or stickiness. This is an automatic repurchase for me, and truly the best volumizing product I've ever used.