When I was in middle school, the local CVS was my playground. My hometown was small enough to cosplay as Bomont, the town in Footloose that decided dancing was just too salacious to be entertained. Sephora was about as accessible to me as the moon or a date with Jess Mariano. All I had was the tiny, winding aisles of the CVS beauty section, where I would spend hours debating Lip Smacker flavors and press-on nail colors.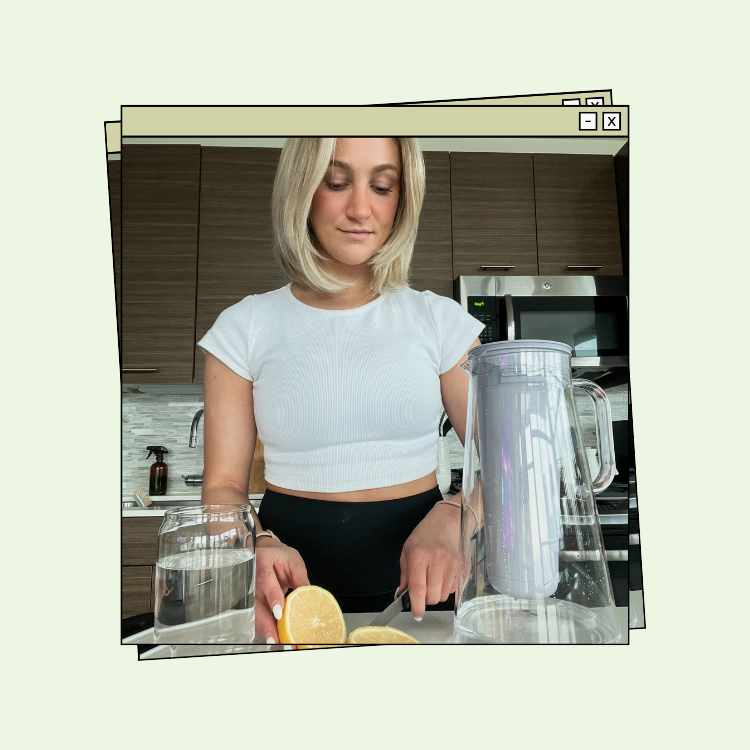 get it right in 2023 and beyond
As I glide further into my late 20s, I've left Lip Smacker behind (I'll always love you!), in favor of clean-forward products, cruelty-free commitments, and science-backed ingredients… all in search of The Perfect Routine. It was in this quest that I first discovered Biossance and squalane, on an episode of the Fat Mascara podcast.
As an oily gal already, slathering my face in more oil has always given me pause (won't I just be feeding the monster??) but the skin gods have smiled upon us these last few years with a proliferation of good-for-you oils specifically designed for oily-prone skin. The holy grail of these? Squalene (with an e), a naturally occurring lipid produced by our sebaceous glands, which are made up of "triglycerides, wax esters, and squalene," Marisa Garshick a board certified dermatologist told Allure.
Squalane (with an a) is derived from squalene, but with a lighter consistency that works well for oily and acne-prone skin. I'd been looking for an oil to use with my gua sha stone that wouldn't break me out as I essentially pressed and smoothed it as deep into my skin as it could possibly go, so I went for the Biossance Squalane + Vitamin C Rose Oil. As a teenager, I woke up with new cystic acne every single day and while I've turned a corner on the volatile emotions of my high school self, I still get antsy about thick oils just resting on top of my skin. Which is why I love the formula for the rose oil—it's incredibly light and sinks immediately in so you don't get that filmy, oily feeling. Spoiler alert: Squalane is my hero ingredient of 2020. I would bathe in squalane nightly if I had a beautiful freestanding bathtub instead of my wonky apartment shower.
Biossance
Also worth noting: I'm not a huge fan of rose-scented things, but this oil doesn't have any powdery fragrance notes so it's more provincial country village and less Nana's house.
I use it as part of my morning routine (oils in the morning?! how far I've come), which I have honed to precision while in isolation. I never wash my face in the am, I'll just splash with water to knock the sleep out (scientific terms here) and pat dry. Then a few drops of the Vitamin C Rose Oil, patted in and followed up with a few passes from a cold quartz roller (I keep mine in the fridge; I tried keeping one in the freezer once and it shattered. Just another pro tip for you.) or a gua sha stone. Then I finish everything with a moisturizer. I know this sounds like a lot of dewiness for an oily-prone skin routine but I'm here to convert you: moisture is not your enemy.
I've been using the oil for a few months now and no sneaky breakouts: success! Biossance uses 100% plant-derived squalane (squalane can be derived from shark liver oil, but most companies no longer use this practice) in all of their products. It reacts perfectly with my skin (make sense, because our glands naturally produce squalene), so using the oil in the am leaves me feeling hydrated and not sticky or greasy by midday. Using the oil in the morning has also been a nice dewy base under my makeup, as road tested the three times I've put on makeup during isolation.
Another squalane-infused product I've realized I can't live without: hand cream. I have washed my hands more in the past three months than I probably have in the last five years combined. Things my hands have resembled and/or felt like while in isolation include: dried out husks of corn, prunes, rough woolen mittens, and a jute rug. I'm now armed with hand cream at all times, to ensure I haven't swapped hands with a Deadliest Catch fisherman while I wasn't paying attention. I was so excited for the launch of Biossance's new hand cream made with squalane and omega fatty acids. I would cover my entire body with squalane if possible.
The consistency is super thick and rich, so a little bit goes a long way. Just like the oil, it sinks in immediately so you're not left with filmy hands—my biggest problem with most hand creams, since I usually need to go right back to working and feeling your fingers grease up your laptop keyboard is the pits. I need my hands useable immediately after application. I use it directly after washing my hands to avoid that stiff, dry feeling and it's basically nirvana in a tube.
More squalane favorites from Biossance
Biossance
I bought this last year (This is 27) and it's super rich but doesn't clog my pores or leave an milia behind.
This post was in partnership with Biossance, but all of the opinions within are those of The Everygirl editorial board.