For this Atlanta-based painter, art isn't just Britt's day job; art is in her soul. Britt's mom, an interior designer, was her first source of inspiration giving her an early exposure to color, design, texture, and the experience of creating. Britt believes in the "artistic relationship" within her work, painting what both inspires her and makes her happy.

After obtaining a Bachelor of Fine Arts from the University of Georgia, Britt opened up shop as an abstract painter–a talent she discovered with less than a year and a half left at the Lamar Dodd School of Art. Honing in on abstract painting, she was fortunate enough to study underneath several inspiring abstract artists on her way to sharpening her own craft.
Britt now resides in a charming rental set in the quaint neighborhood of Normaltown in Athens, GA, where she splits her days between long painting sessions, meetings, drawing up statistics for her business, and spending time with her husband. We were thrilled to find out more about her artistic process here on The Everygirl so whether you are looking for advice on how to earn a living from original work or want to know more about the process of choosing art for your home, read on!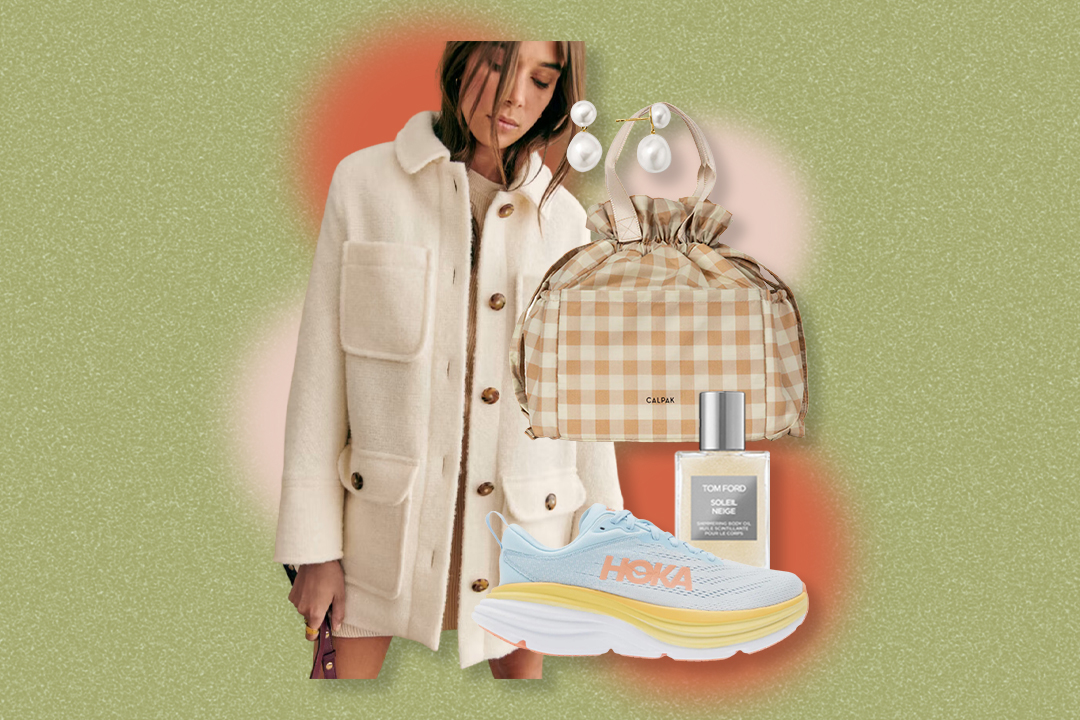 Full Name: Britt Bass Turner
Age: 25
Educational background: University of Georgia, Lamar Dodd School of Art, B.F.A.
Current title/company: Britt Bass Turner, Owner
When and how did you discover your passion for fine art?
I loved texture and color and making things at a young age. My mom is an interior designer so I've grown up surrounded by these inspirations which led to my interest in art classes throughout school and eventually my choice to major in art in college!
Tell us about your apartment. Do you rent or own? What sold you on the space?
We rent the cutest house in the sweet neighborhood of Normaltown in Athens, GA. We have lived here for just under a year. We love all of the natural light that pours in all day long, the fig tree by the kitchen window, and all of the charming old hardware.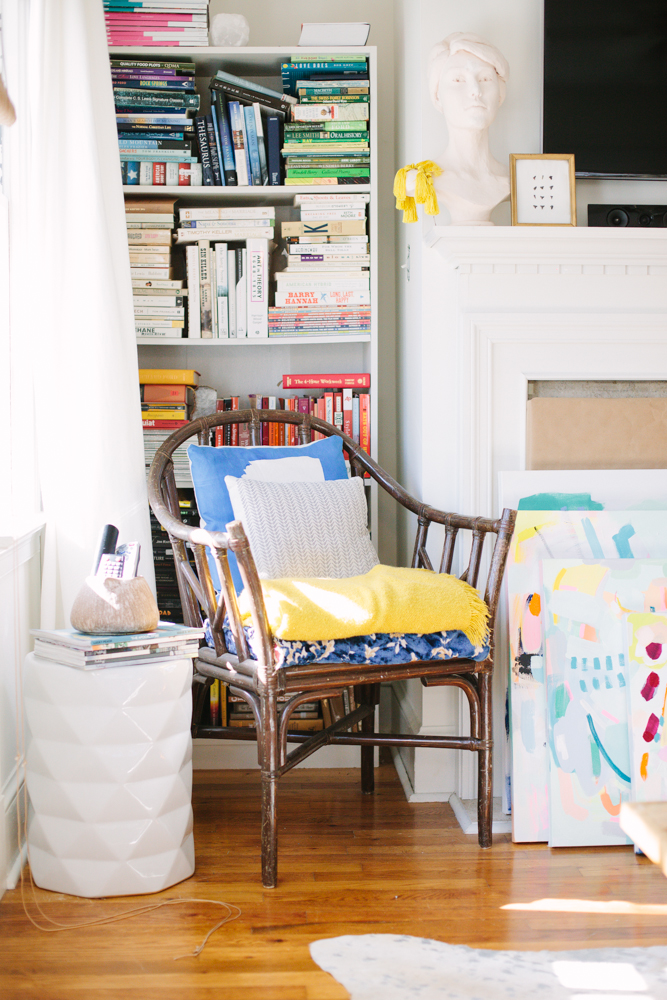 What has been your biggest decorating challenge thus far?
The biggest challenge has been blending all of our acquired furnishings together. We are young and recently married, so we have hand-me-downs from our parents, pieces from college, wedding gifts, and a few brand-new items (couch and coffee table) that we are really excited about.
What pieces do you splurge on when decorating? Save?
We're starting off slow, but I prefer to splurge on statement pieces like lighting, artwork, accent chairs, and rugs. I save on other pieces like our bar cart, mirrors, and frames from IKEA and Target. We also like to do a little DIY by repainting and reupholstering items including our dresser, bookshelf, side chairs, and even the bed frame!
How has your art collection inspired your home? Do you begin with art in mind when designing a room?
I now have a wide variety of small pieces that I've collected over the years, which is a little intimidating to hang all at once. I usually place furniture and other decor in the rooms first, then hang the large pieces. Next I line up all of the smaller works and start hanging one by one in little collections. It's an evolving process; I'll wake up some mornings and take all the art down and start over – I like that it's always changing!
Tell us about your artistic process. What inspires you to begin a new piece? How does your idea evolve into the finished product?
My work is all about process and intuition. It's fun for me to guide the painting, yet be completely unaware of what the finished piece will look like. It's a mutual give-and-take between action and reaction, and I get to play both sides. I'll generally start with a palette or shape in mind and then the painting takes on its own life from there. Sounds fun, right?
What art is your specialty? How did you find your niche?
My work is abstract; it's contemporary, fun and light-hearted. I found my niche by finally painting work that I liked and would like to hang in my own home. I think it's one of life's pleasures to surround yourself with things you love – I'm blessed that I get to define that every time I approach the canvas!
What is it like to be an abstract artist in Atlanta? What are some of your favorite things about living in Georgia?
It's invigorating to be an artist in Atlanta. Atlanta is a super inspiring contemporary art and design hub of the South. My favorite artists, designers, and showrooms surround me – it's an exciting place to be right now! I love living in Georgia because we have mountains, lakes, beaches, the pastoral farm-lands, and the horse country along with historic towns and a metropolitan city – all topped with vibrant southern culture and a new revivalist energy to make the South better than ever.
For those without a fine arts background, what would you tell someone who is sourcing artwork for their home? What are the key things to look for when investing in original art?
Spend time researching and investigating different artwork to help find what you are drawn to. Once you know what you like, it's much easier to find what you're looking for. I think it's key to invest in pieces that mean something to you and have a story. For me, I like to make a connection with the artist, or the content or context of the piece. For example, I can tell you about every art piece in our home, including who made it, when I bought it, where I was, what it commemorated, why I knew I needed to snatch it up, etc. Find something that resonates with you!
What suggestions do you have for collecting meaningful art on a tight budget?
It doesn't have to be original art, or it may be something you save for a year to purchase. I like to think of the investment as the commitment of adding a possible lifelong piece to your collection, rather than the cost to do so.
Your mom is an interior designer. How did this influence your career choice and your home decor?
Yes, growing up with an interior designer has certainly guided my career choice and work. I like to say my work is "designer based". I am very influenced by design in every realm: industrial, interior, color, texture, patter, shape, etc. I create art with the hope and intention that it will be hung in a beautifully designed space. My mom's interior design background has also influenced my home. I'm daring, like her, when it comes it trying out new patterns and furniture arrangements and am always up for changing things on a whim. When she comes over we spend our time rearranging, styling, and making wish lists for future furniture pieces and accents!
You obviously have a knack for the creative side of things, but how do you manage the day-to-day of running a business? Budgeting, filing taxes, marketing, web development, etc.?
My husband always tells me that I'm not a "regular" artist because I am not stuck in my creative realm at all times. I have a Type A personality, I love math and problem solving and I have been known to lose an entire painting day because of drawing up stats and new monthly budgets. I really love both sides of the business but I finally hired some help (yay!) so now I can spend more time painting!
Take us through your average workday. What does a day in the life of Britt Bass Turner look like?
My workday looks different every day! My goal is to work through emails and my to-do list early so I can paint for at least half of the day. However, meetings, deadlines, etc. often break this up.
What advice would you have for other aspiring business owners, especially those in the fine arts field?
My advice would be to go for it, but be intentional. Think through your aesthetic, your audience, and your goals. Define your brand early and don't half-ass it!
Best moment of your career so far?
Every month is something new to celebrate! At the end of the day, I get to wake up, do what I love, and I made a career out of it!
What is the most challenging part of being a painter?
The most challenging part of painting is being able to handle the failures as well as the successes and treating every new painting as a fresh new opportunity!
What advice would you give your 23-year-old self?
Don't compare. Comparison is the thief of joy! Enjoy every step along the way…but Instagram is still really great!
Britt Bass is The Everygirl
If you could have lunch with any woman, who would it be and what would you order?
On any given day I would grab sushi with my Japanese grandmother–she's the best!
Favorite color to paint with?
All of them! But white and mint are definitely my favorites.
Best music to listen to while you work?
When you listen to hours of music every day you listen to everything! My Morning Jacket, Lana Del Rey, and the Black Keys are my go tos when I'm stuck!
Perfect Atlanta date night?
Trying out a new restaurant with my husband!
Dream purchase for your home?
SMEG fridge–can't decide on the color yet.