About two years ago, I was going through a difficult period in my life. I desperately needed something to help me contain the chaos. On a whim, I decided to start a bullet journal. I first heard about the concept through some friends who had recently taken it up, and I'll admit that I was initially apprehensive. Although I've always enjoyed journaling as a way to release my thoughts, bullet journaling is a bit more involved than keeping a standard diary. But before I knew it, my bullet journal had become my lifeline. It came to serve as my planner, to-do list, goal tracker, and so much more.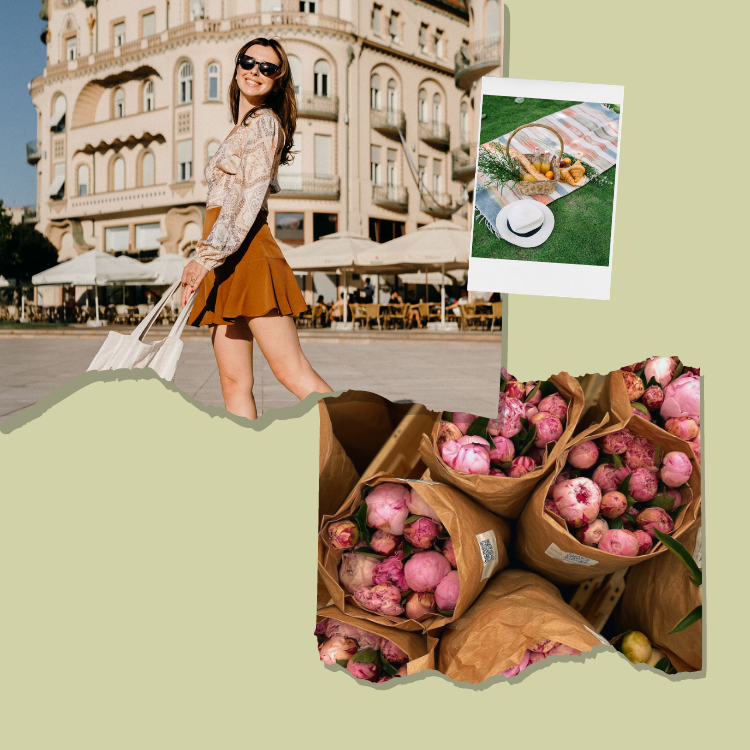 read this if you're in your saving era this summer
Whereas my old journals served solely as a cathartic way to dump my problems and thoughts, my bullet journal helps me work through these thoughts and stay focused on my habits and goals. Read on to learn more about the basics of bullet journaling and how I use this hobby to stay centered and invest in myself.
What Is Bullet Journaling?
A bullet journal (bujo for short) is typically a blank or dot grid size-A5 journal. But it can vary in size depending on your preference. (I'm currently using a B5 journal that I love.) There's no set template, so you choose how to decorate your journal and what stationery products to use.
The beauty of bullet journaling is that it's tailored to your specific needs. There's no right or wrong way to do it, so your bullet journal can be anything you want it to be. Before getting started, think about the purpose you want your journal to serve. It could be a diary, to-do list, planner, personal goal tracker, doodle sketchbook, or all of the above, depending on what you want to get from it.
Here is a basic framework to get started:
Yearly:
At the start of a new bullet journal (often at the beginning of the year, but you can start anytime), create a section for your future intentions, goals, and aspirations. Often called a "future log," this is a place to note what you want to accomplish throughout the next year. Then as time passes, you can refer back to it as often as you'd like. Keep it simple with a single page listing your yearly aspirations, or designate multiple pages with different sets of goals.
Monthly:
Next up, create monthly spreads. These may include a calendar and other monthly logs. Here, you can keep track of more tangible short-term goals, things you need to get done, and important dates for the month.
Weekly:
Finally, you'll set up weekly (or daily) spreads where you can keep track of your day-to-day events, tasks, and thoughts.
How I Bullet Journal
The Setup
Before the start of a new month (typically during the last week of the current month), I'll come up with a theme for the following month. For instance, I decided on a magical witchy theme for my October spreads. I'll use colors, washi tapes, and stickers that match that vibe. Next, I determine how I want my monthly spreads to look. I usually create a calendar and cover page for each month. Additionally, I create individual pages to track my moods, daily habits, monthly goals, and thoughts. These pages are followed by my weekly spreads. After some trial and error, this setup has proven to be the most useful for me. But the format is flexible and can vary from month to month, depending on my specific needs.
After I've determined my theme and setup, I start designing and filling out the pages leading up to the start of the new month. I find this part extremely soothing and consider it an act of self-care. I love that I'm fully in control of how everything will look and function. Although some people create their weekly spreads as the month goes on, I like to have everything ready before the month starts. When and how you want to create your spreads is up to you!
The Practice
Throughout the month, I fill in my bullet journal pages daily. This allows me to check in with myself and hold myself accountable. I can visualize what I've been actively working on while still having a traditional space where I can dump my thoughts. On a typical day, I check my bullet journal at least twice: once in the morning and again before I go to bed. To start my day, I write down my daily schedule and the things I want to accomplish and remind myself of my goals and habits that I want to keep up.
At night, I reflect on my day. I also take the time to process my thoughts and feelings for the day. After filling out my mood tracker, I refer to my daily habits list and mark the day off for that specific habit if I've accomplished it. For example, one of the habits I focus on is exercise and health, so if I work out or eat a healthy, nutritious meal that day, I mark that day off. After that, I refer to my goals page. If I have thoughts, I note them on my thoughts page. For days when I have a lot to say, I just make a new separate page after my monthly spread.
Over the past two years, bullet journaling has helped me manage my time, accomplish my goals, and set intentions. It allows me to visualize my habits, goals, and thoughts in ways that suit me best. I love that bullet journaling provides a safe space for me to jot down my thoughts while expressing my creativity. Here are some of the bullet journaling essentials I swear by:
Yop & Tom
5 colors available
EASTHILL
10+ colors available