We know how special your birthday is, so we're sharing a monthly run-down of everything you should wear, read, watch, and do to celebrate your big day. Tune in every month as we share a guide to having the best birthday month, all according to your zodiac sign.
HBD, Capricorns! Capricorns are our favorite goal-crushers who tell it like it is. We're here for their organized calendars, ability to multitask, and loyalty to their friends. Capricorns spend so much time working that now is their time to give it back to themselves. Here's to you and your birthday, Caps!
What to Read
Sarah Jaffe
If you've ever heard "do what you love and you'll never work a day in your life," Jaffe is about to shatter that entire concept. Capricorns are known workaholics who find their worth through work, and this will make them think twice.
Dawnie Walton
For lovers of Daisy Jones and the Six, this story follows an interracial rock duo from the '70s through their rise and seismic fall. This has the makings of a sensational story with the literary prose a Capricorn will love.
Christina Henry
Capricorns can handle just about anything, including a creepy horror set on a snowy mountaintop when a woman gets trapped and fears she might not be alone up there.
What to Watch
1. Emily in Paris
What it's all about: Our favorite American girl in Paris is back for season two—and this time, it's sexier, funnier, and a whole lot more complicated. If you haven't tuned into season one yet, Emily jets off to Paris after a breakup to provide some American expertise to a French marketing firm.
Why Capricorns will love it: lots of cheese (literal and figurative), the perfect escape, and awe-worthy fashion
Where to Watch: Netflix | Release Date: Dec. 22
2. Nightmare Alley
What it's all about: Bradley Cooper plays a manipulative carny trying to con a husband and wife duo on their traveling carnival when he's finally met his match: a dangerous psychotherapist (the fabulous Cate Blanchett).
Why Capricorns will love it: a star-studded cast, a complicated-yet-thrilling plot, and a book adaption to read after
Where to Watch: Select theaters | Release Date: Dec. 17
3. Encounter
What it's all about: A former marine goes on a rescue to save his two sons from a threat that might not be human.
Why Capricorns will love it: a little sci-fi, lots of action, and a less-than-two-hour movie so you can get back to your life
Where to Watch: Amazon Prime Video | Release Date: Dec. 3
What to Wear
Day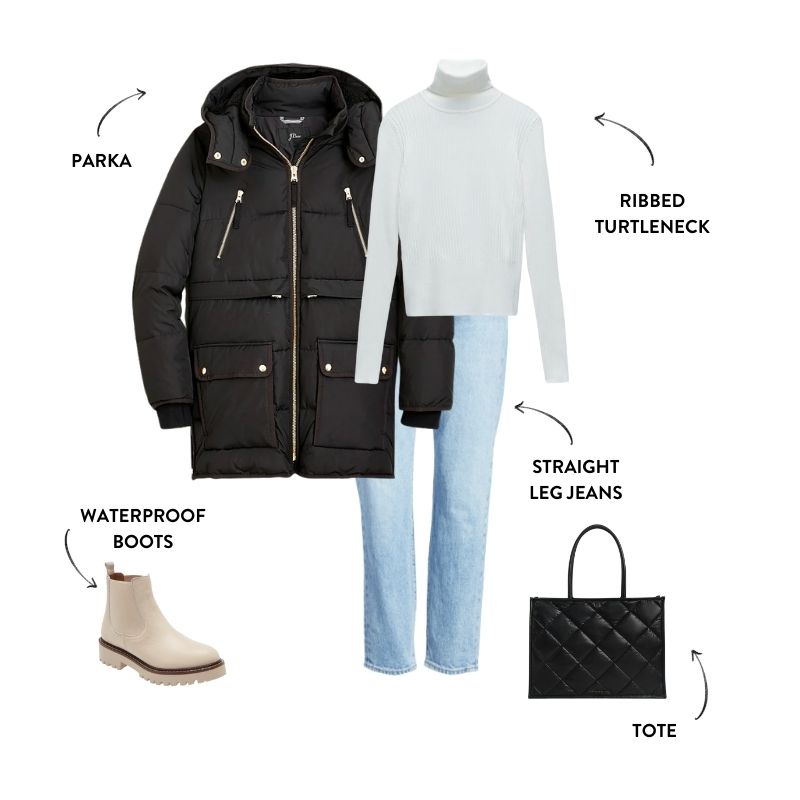 parka / turtleneck / jeans / boots / tote
Night
button-down / leggings / heels / earrings
Lounge
leggings / sweatshirt / belt bag / sneakers / AirPod pros
What to Do
1. Start a manifestation journal
Capricorns are goal-oriented and already have a list of goals for next year, and they'll do anything to reach them. This year, turn your sights toward the Law of Attraction and try creating a manifestation journal. This gives you a place to set intentions, repeat affirmations, and journal about progress. Goals, crushed.
2. Declutter the pantry
We can already expect Caps to be clean and organized, but to prepare for any health-related goals you might have this year, it's time to tackle the pantry. Get rid of all those canned goods you'll never use (and make sure to donate them!), organize supplies (hello to your quarantine baking habit), and set yourself up for success.
3. Master your skincare routine
Now's the perfect time to splurge on yourself a little in the name of self-care. If there are any gaps in your skincare routine, pick up a few new pieces based on your goals. If you're looking to moisturize dry skin, add a hydrating serum. If you're looking to add an anti-aging product, try a peptide serum. And of course, never forget sunscreen.