A few New Years ago, I challenged myself to do a tiny bit of reflecting each day in the form of a One Line A Day journal. The premise felt simple enough—I'd add a sentence recapping my day to each of the 365 dated pages and repeat every day for five years until the journal was full—and I figured the resulting memento would be a useful refresher should I ever have grandkids with whom to share "back in my day" stories.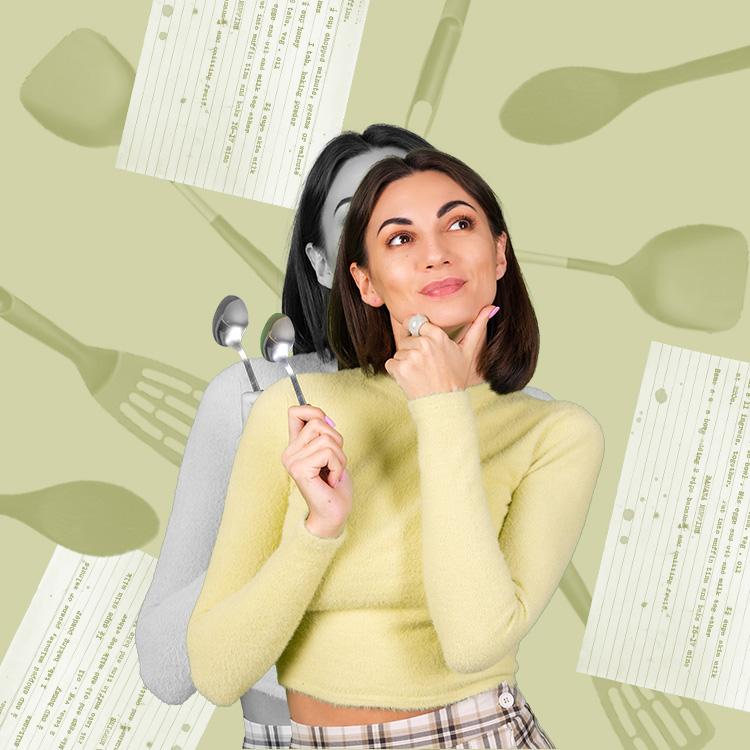 high in protein, good for gut health, and anti-inflammatory? yes, please!
To my surprise, however, my newfound journaling habit came in handy much earlier than I originally imagined. By the time I started adding my third round of updates to the journal this year, I realized just how many of the little details from past years had seemingly disappeared from my memory. Now, after a cross-country move to Texas, I especially cherish looking back on the normal, everyday details from my life in Minnesota—my coffee orders, how much it snowed, the workout I was doing—that could be easy to overlook considering what a whirlwind the past year has been.
But all the while I'd been diligently filling out my journal before bed, it never occurred to me just how beneficial this super simple task could be in my professional life—that is, until I started a new job. In the early weeks at my new company, I was completely overwhelmed with the sheer volume of new names, processes, applications, and tasks I was encountering, to the point where I doubted my capability to balance them all. Thankfully, my predecessor had left an invaluable resource: a computer folder of documents logging content, contacts, and other tasks they oversaw. I soon began doing the same, first creating documents for individual projects, and eventually developing a master work inventory to keep all my updates in one place.
In the days since, I have created a template I add to every afternoon before leaving the office. I start each week with a header that serves as a table of contents, write the day of the week in bold, and jot down bullet points on major takeaways including:
Important emails

Meetings and resulting action items

Tasks in progress

Status updates

Completed projects
Here's a sample of what that might look like to help illustrate the format.
Week of June 1, 2020
Monday
Emailed Ms. Colleague an update on the slide deck for the June 5 presentation on Important Topic for her review

Weekly check-in meeting with Ms. Boss. Discussion items included:

Plans for professional development—look into industry conferences

Status of slide deck for June 5 presentation

New assignment: Create rundown of clients for Mr. Supplier

Reviewed 12 resumes submitted by applicants for the associate position

Met with Ms. Intern to discuss her hours for the week
Now, after having kept an inventory for several months, I can easily say it has yielded a massive return. In addition to having practical benefits, this simple task has improved my mindset and confidence. Not convinced yet? Here are a few of the other perks of creating a work inventory:
Recalling tasks and conversations is So. Much. Easier.
Perhaps the greatest work struggle of all is when someone asks you a question before your morning coffee kicks in. No more! Now when Jan bops by your desk at 8:01am on a Monday morning to check in about the status of a project you haven't thought about since 5pm on Friday, your answer will be close at hand. Whether you keep your inventory using an application like Notes or Word or opt for an online option like Google Docs, just use the "find" feature to search for a keyword (⌘ + F on Mac; Ctrl F on PC). Mission accomplished!
Communicating about your work is a cinch
While to-do lists have always been my old faithful for staying organized, productive, and motivated, I've always recycled those same lists once they filled up. In other words, prior to starting my work inventory, I didn't keep track of the projects and tasks I had finished. This meant that when it came time for a team meeting, I would have to rely on whatever tasks were fresh in my memory (a feat that anyone who has ever struggled to remember some seemingly simple information—like what they ate for lunch last Wednesday— knows isn't always the most reliable method).
A work inventory can also be beneficial for other professional situations such as networking, job interviews, presentations, and reviews, but it doesn't stop there. Like it or not, so many personal conversations—from first dates to family gatherings—involve someone asking, "So, what do you do?" making it all the more important to be able to confidently articulate exactly what it is you spend your days doing. Talking about yourself and your work isn't always the most comfortable thing in the world, especially for those who would rather not be the center of attention.
Fortunately, the simple act of taking a few notes on your day allows for plenty of opportunities to flex that muscle and figure out how to phrase the different activities you spend so much of your time and energy on. And while those on-the-spot "How's work going?" questions over Thanksgiving dinner may never be the most fun, ultimately it is possible to feel at least a bit more ready when the topic inevitably arises.
Stats are easier to organize
If the thought of pulling together your own metrics is cold-sweat levels of stressful, fear not! Now when the time comes to update your resume or portfolio, develop talking points for an interview, or make the case for a salary bump at your next performance review, you will have relevant statistics and metrics at the ready. While every inventory will vary based on your role and responsibilities, here are a few ideas to consider keeping tabs on as you recap your day:
Social media engagement

Website hits

Sales

Customers served

Calls made

Emails sent

Attendees at meeting or presentation

Hours worked
It shows the bigger picture
Just like every other thing in life, no job is perfect. Whether you are pinching yourself as you roll into your dream job or counting down the seconds at a job you hate, some days will be better than others. But even when you'd rather not, keep track of them all—the daily grind and the big payoffs—because every day feels a bit more purposeful when it is put in context.
For me, reading back over my work inventory serves as a retroactive road map of sorts; a reminder of how far I have come and an inspiration to keep pushing forward. When the struggle gets real, it helps to remember that what used to be my most daunting to-dos are now tasks I can complete with confidence.
Similarly, reading back over your own inventory might help you see your career trajectory more clearly. And besides—if nothing else—keeping a record will make for great notes for your future autobiography.