We spend a lot of time in our kitchens. Whether you're entertaining a crowd, finding a creative way to use up leftovers (#studioapartmentlife), or whipping up a quick dinner for the fam, you want your kitchen to be a space where creativity flows and stress decreases. Founder and Creative Director of Coco Kelley Cassandra LaValle understands the importance of the perfect kitchen, and this before (built in 1910!) and after is exactly that. It's bright, open, and the little details she went with are just to die for — I mean, could we be any more obsessed with that cement look farmhouse sink?!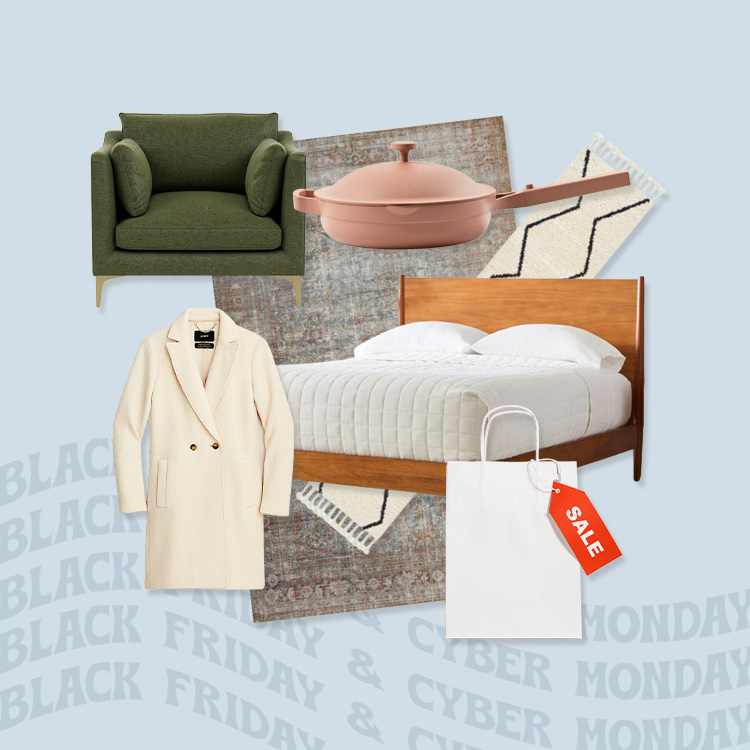 we combed the internet for the best OMG-CANNOT-MISS deals
We're all heart eye emojis over here. Read on to learn more about how she started the reno process, how she added that old charm back to the space, and how she found zen throughout it all.
Name:  Cassandra LaValle, Founder & Creative Director at Coco Kelley
Age: 37
Location: Seattle, WA
Rent or Own?: Own
What was the first thing you knew you wanted to change in this kitchen?
The biggest thing lacking in our kitchen was natural light. Even though gutting the entire space meant a lot of changes, the most important thing to me was opening up the space to maximize sunshine.
Originally, there was a wall (and doorway) between the kitchen and a weird breakfast room/sunroom. Taking that whole wall down allowed for light to come in through two more large windows so the space gets light all day long.
What did you know you needed to have to make this kitchen work for your family?
A HUGE kitchen island was on our priority list. In the original kitchen, the range was in the island, and it broke up all the counter space in an awkward way that made it really non-functional. And as much as I love the look of marble, I am a quartz fan all the way. Since we've had it in our office, and it's been indestructible, I will probably never use another material again. Using Silestone quartz in 'Lagoon' by Cosentino for our countertops was a no-brainer. Plus the color of the surfacing added to the bright, modern look I was going for. The new counter space allows us to really spread out when cooking or baking, and it makes it much more enjoyable! I also love to entertain, so the island serves as the perfect spot for guests to hang out while we catch up.
Another feature I really wanted for myself was a classic built-in cabinet to house all my favorite props. Not only did the built-in bring character back into the kitchen, it also serves the purpose of displaying all my favorite dishes, glassware, and loads of linens.
Where did you look for inspiration?
Inspiration is never lacking these days — my Pinterest board was out of control for sure! But I also really wanted to hone in on spaces that felt authentic to the age and character of our house, so I did a lot of editing to really figure out what it was that I wanted and could also get away with. I also looked a lot more at regional design to get ideas for what really works in the Pacific Northwest.
What was the first step? Tell us about the process…
The amount of decisions you have to make when remodeling a kitchen is overwhelming. So before we even started tearing down walls, I wanted to have a pretty strong direction for the space. I treated myself as if I were a client — creating a moodboard that I could always go back to when choosing materials.
One of the first decisions we made was to use the LG Studio Series for our appliances. I had seen them in person in October when I was invited to the launch of these pieces, designed by Nate Berkus. I loved the modern commercial-style appeal they had. Second up was flooring. With white oak floors throughout the rest of the house already, we decided to continue with the style into the kitchen, but opted for this wider plank option from Lumber Liquidators.
Picking paint colors was of course quite the process, but we landed on Benjamin Moore White Dove for the majority of the cabinets and Gothic Arch for the island. And the sink is something I'm pretty excited about — I really wanted to bring in that feeling of concrete somewhere in the scheme, so we're doing it here! It'll look gorgeous with the brass faucet.
And finally — the finishing touch: HARDWARE! I have been dying to use the beautiful pieces from Rocky Mountain Hardware in a project, so I'm thrilled that I'll be getting to use their perfectly crafted pieces in a space I get to enjoy every single day!
The biggest challenge was coming up with a layout for the space. Luckily, when working with our cabinet designer (Omega by Master Brand) they were incredibly helpful in not only refining the layout but also in thinking of every detail and bringing their knowledge of things like depth of drawers and types of molding.
Then it was really just working with our contractor on a daily basis to stay on our timeline as much as possible! You can almost always count on things taking more time than you think and being over budget when it's all said and done, but a good contractor will at least help in managing expectations.
This home was built in the early 1900s! What challenges came with renovating an old kitchen?
We were lucky in that there weren't a ton of surprises that came with renovating an older home. We pulled out all the old wiring and had to update some plumbing, but that was about it. The biggest challenge was when removing the wall dividing the two spaces. We ended up having to insert a steel beam to support the structure, which was a major unforeseen cost.
The downside to renovating old homes is that it's much harder to do some of the work yourself. For example, laying down flooring isn't really that hard, but it's super challenging when your floors are uneven. Same with making sure all the cabinets, surfaces, and molding are as straight as possible. So not only are you unable to DIY some of these things, but you also have to hire people who really know what they're doing.
What helped you keep that old charm while still updating the space?
We actually had to bring a lot of charm BACK into the space that wasn't there before. Prior renovations definitely took some of the original detail out of the kitchen and other areas of the home. The choices I made in the style of cabinetry weren't ones that I would necessarily make for other spaces, but they were right for our space and in keeping with the history of the home. Choosing some more modern styles for lighting, tile, and accessories helped keep things feeling fresh at the same time.
That backsplash! What went into choosing that specific one?
Out of all the decisions I had to make for the kitchen, the tile was definitely the hardest. It really just came down to lead time, price, and style. I knew that I wanted the tile to be an accent that felt strong but neutral at the same time — no color, not too trendy, and not too busy. I love the look of cement tile, and the pattern felt old-world and modern at the same time.
Renovations can be stressful — how did you find zen in the chaos?!
It's not always easy and it's not always going to happen. There was a lot of tension in our house at moments! We were lucky in that our basement has an additional kitchen, so that helped ease the crazy. We could still cook regular meals, so when our timeline got longer and longer, it wasn't that bad.
A huge part of keeping your sanity during a renovation is simply communication. Not only should you hire a good contractor, but you should also probably like them and their communication style. It's immensely helpful.
How would you describe your design style?
Neutrals and classic lines are my jam. I'm a west coast girl, so my look is pretty natural and laid back. I love using linen, worn woods, and organic textures. Mixing a variety of styles and eras is important to me, but it makes my overall style hard to define!
What is your favorite part about the kitchen now?
What's crazy is that when people ask if there is anything I would change about the kitchen now that we've lived in it a while, I think the only thing I might add is a tiny bit more pantry space, but it's honestly perfect. So to pick a favorite part is hard! I love the breakfast nook because it's where I work most days, and it's so cozy. The lightness of the space, the patina on the hardware, the huge island… it's really the combination of it all that I love. But I will say one of my favorite details is how the star in the pendant over the breakfast nook mimics the star motif in the tile backsplash because it's a detail that most people overlook, but I notice it every day.