When we saw Chelsea's Austin abode, we first fell in love with its ease and simplicity. Then we realized that it was the backdrop for a creative life well lived, and one for following dreams. Take, for example, Chelsea's beautiful wooden bed and desk—both handmade by her and her husband. Why buy it when you can do-it-yourself? A motto we certainly know and love.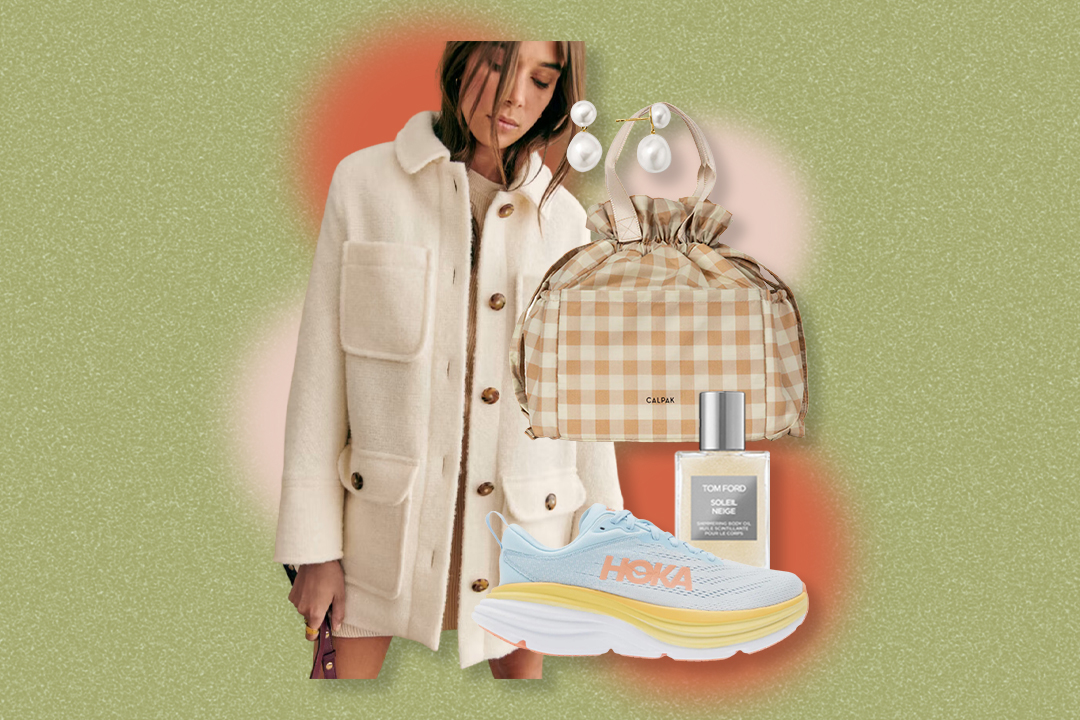 But that doesn't take away from the fact that Chelsea is a self-proclaimed "Craigslist addict," one that scours daily. And from some of the beautiful pieces in her home (hello, wicker peacock chairs!) we'd say, she's pretty good at finding diamonds in the rough. She'll tell you how below! Chelsea also reminds us to "take risks and put yourself out there"—both of which she accomplishes at home and in the office.
Chelsea shares with us her advice for working from home and how the city of Austin influences her work. She started Go Forth Creative in 2012 to offer design, photography, and creative direction to those looking for "help with how your business looks and feels." Chelsea loves creating beautiful things, not just for her but for others too. A girl after our own heart. Enjoy!
Name: Chelsea Fullerton Jones
Age: 29
Current title/company: Founder of Go Forth Creative
Education: BFA in Design from University of Texas at Austin
What was your first job out of college and how did you land it? 
After graduating in 2007, I was hired by a small design firm that I had been interning with in Austin, Viewers Like You. I worked for them 20 hours a week until this year—eight years in total! Having that part-time opportunity allowed me to slowly build a portfolio and gain confidence. If you're interested in going freelance, I recommend working part-time in a related field before committing to a new venture full-time.
You now own your own design and photography business! What made you decide to start your own business?
I joke with Jennifer, founder of Viewers Like You, that she "miyagi'd" me over the years. I unknowingly learned how to run a design studio while I was with her. If I hadn't worked with a small firm for so many years, I would most likely have been more reluctant to start my own business. I'm not sure where I would be!
What does a typical workday look like for you?
8:30 / Iced coffee or hot tea with a granola bar. Straight to my back yard studio, still half asleep.
9:00 / Make my daily to-do list and start working on top priority work items. (Lots of resources keep telling me to avoid email first thing and go straight to your most important tasks of the day.)
12:00 / Water the plants in the backyard, make lunch at home.
1:00 / Back to work. Emails, phone calls and finishing up the priorities for the day.
5:30 / End the day with a happy hour and friend somewhere in Austin. (Not everyday but at least once a week.)
You live in Austin—such a vibrant, creative city! How has this influenced your work?
Austin strikes the perfect balance of energy and calm, which has been a great atmosphere for growing and sustaining my business. Free time with friends or time outdoors is just as important to my business as working billable hours. It's also full of creative small business owners. You hear of something new opening everyday, and that's exciting to be apart of.
You currently work from home, in a gorgeous freestanding studio space in your backyard! What tips do you have for fellow creatives looking to work from home?
I've done it all. Working in my bedroom, working in an off-site studio and working where I am now in the backyard. The backyard is my favorite but a close second was working in a studio. Unless you have a designated space for your desk in your home, I would highly recommend getting a studio with a few business owners. Working out of my bedroom was torture!
Where do you see your business in five years?
In five years, I imagine my studio growing in small ways. Collaborating with other creatives on larger projects and hiring younger designers and writers. I like being small and nimble.
You recently bought your home in Austin with your husband! Congratulations! Austin has quite the competitive housing market! How did you find your home?
Funny story. We bought it from my work colleague and close friend, Jennifer, who I mentioned above! They sadly moved to Virginia and were ready to sell the same time we were looking to buy. We did everything privately, without the help of a real estate agent, which saved us both a little in the end. The stars aligned for us with this house. It couldn't be a better size and layout for Cam and our two pets.
Your husband calls you a Craigslist addict! What are some good tricks to hunting down the pieces you want without having to sift through thousands of listings?
Oh man, I love Craigslist. Our couch and wicker peacock chairs are some of my favorite recent finds. I owe it all to an app called cMobile. It allows you to save searches like "Wicker Chair" or "West Elm" or "Estate Sale." If you're on the hunt, check the app twice a day to see if any new items have been posted!

You and your husband have built some of your own furniture in your home, including your bed and desks! What made you decide to build, rather than buy?
Now that we're in permanent space, we want to buy quality items made of real wood. But alas, those come with a hefty price tag, so we decided to build the ones we could.
My best advice if you want to make something on your own is to:
1. Find images of simple pieces that you're capable of making.
2. Sketch and measure and figure out the type of wood you want to use.
3. Search for a wood shop in your town. Google '[Your City] Lumber Supply'.
4. Borrow or rent the tools needed to finish the wood, like an orbital sander and chop saw.
5. If you need table legs, try The Floyd Leg, Ikea, or tablelegs.com.
Did you start out decorating your home with a budget in mind or find deals along the way?
We've been budget conscious from the start! Aside from Craigslist, we hold out for promotions on the new items we want at furniture stores. Another trick is to stop into West Elm and Crate & Barrel on Saturday morning to see what floor samples are for sale.
What is your favorite budget-friendly piece in your home and why?
We bought our dining room chairs from Design Within Reach during their annual chair sale for $80 each! I love the classic yet modern style of the Salt Chair. Great for small spaces.
What do you love most about living in Austin, Texas?
Hands down, the FOOD. So much to love. Uchiko, Elizabeth Street Cafe, Contigo, Counter Cafe, and Eastside Kings are some of my favorites.
Your home looks and feels so minimal without looking empty. Any advice for keeping the clutter at bay?
Don't get me wrong; I let piles build up often. I'm working on it, though! I think working on the dishes/laundry/papers a little everyday is key. It sounds simple but as we all know, it's not easy!
Best moment of your career so far?
Designing and launching goforthcreative.com in 2012. Putting my portfolio first is hard (you know!). It took a long time and I've never felt prouder or more exhausted.
What advice would you give to your 23-year-old self?
Don't be afraid to ask for what you want and take risks. I wish I would've had more confidence earlier in my professional life. To do this, you have to put yourself out there. Email that person you want to work with, ask for a blog feature, and go to that workshop you've been putting off. What are you waiting for?
Chelsea Fullerton is The Everygirl…
I wish I knew how to… 
Play the saxophone.
The perfect Austin weekend?
A walk in the neighborhood with Cameron and Alice
Blueberry pancakes at Counter Cafe
Shopping at Spartan and JM Drygoods
Swimming and sunning at Barton Springs
#42 with a Shady Blonde at Elizabeth Street Cafe
Perusing the green houses at Eastside Succulents
Kayaking on Lady Bird Lake
Champassion at the Hotel San Jose Lounge
Masterpancake Theater at Alamo, The Ritz
If you could have lunch with any woman, who would it be and what would you order?
Ellen Degeneres. I can only dream of us sharing a bottle of wine and laughing the night away.
Product Sources:
Living Room
Couch from Thrive
Brown and white throw from Mex Chic
upholstered chair from Craigslist (search 'mid-century upholstered arm chair')
Wood and woven chair from Anthropologie (great furniture sales!)
Coffee Table from Crate & Barrel
Rug from World Market
Figure Drawing by Mia Carameros (contact for pricing)
Yves Klein abstract print from art.comBlack and white pillow from Fine Little Day
Small stool from Etsy (search 'vintage wood stool')
Light fixture from Design Within Reach
Bedroom
Bedframe handmade by Cameron and I. (made of walnut, two coats of poly)
Bed pillows from Garza Marfa (contact for pricing)
Chest of drawers from West Elm
Photography print above bed by Wynn Myers (contact for pricing)
Side table from Steven Alan
Table lamp from West Elm
Floor lamp from Restoration Hardware
Plant pot from Nannie Inez
Jewelry holder from Spartan
Vintage bench from Craigslist (search 'vintage slat wood bench')
Dining Room
Table from Mockingbird Domestics, by Hatch Workshop
Salt Chairs from Design Within Reach
Rug from Tienda M in Marfa
Light fixture from Ikea
Wood clock from AC Gears, by Lemnos
Entryway
Coat rack from Blu Dot
Vintage chest of drawers from Craigslist (search 'vintage wood chest of drawers')
Red task lamp from OH! Fox Vintage
'Hold Still' bunting sign from Oh Albatross
Studio
Desk legs from Ikea. Wood tops handmade by Cameron and I. (made of poplar, two coats of poly)
White storage units from Ikea.
Office chair from Craiglist (search 'eames management chair')