Chelsey Cobbs' Oklahoma City studio loft feels like home—and so much bigger than 800 square feet! With plenty of greenery, natural textures, and cool colors, this freelance makeup artist has created the perfect calm escape from the color that is her world.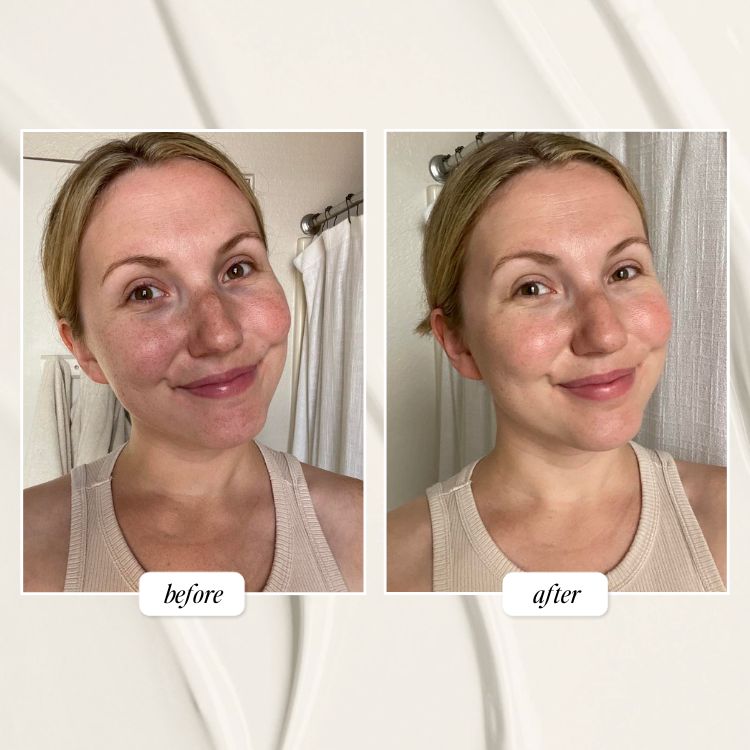 After studying psychology at the University of Oklahoma, Chelsey learned what excited her most: makeup. She learned the ins and outs of cosmetics from the Bobbi Brown school and while working for Bobbi Brown, Chelsey began doing freelance work. In the spring of last year, Chelsey took the leap making ChelseyAnn Artistry her full-time gig and never looked back. Her days are now filled with consultations, weddings, photo shoots, and commercials. Chelsey and her son London share this darling studio apartment that she fills with all her favorite beautiful things.
Keep reading to hear more about Chelsey's transition into full-time freelance work, how she became her own boss, and the challenges she has faced with decorating and living in a small space.
Name: Chelsey Ann Cobbs
Age: 31
Current job/company: Owner and Makeup Artist, Chelsey Ann Artistry
Education: Psychology, University of Oklahoma; Bobbi Brown
What was your first job out of college and how did you land it? 
I was a barista at Starbucks, baby—5 a.m. shift. I obviously became long-term friends with those people I saw every day at that hour pre-coffee. I worked there during college and kept the job until I started working at the Bobbi Brown counter. From there I worked my way up, and now I travel with the Bobbi Team occasionally and book enough freelance work to fill up my week.
Tell us about the pros and cons of working freelance.
Pros? I do what I want. Cons? I do what I want and then all of my clients tell me they want it.
What does a typical week look like for you? 
Do you want to see my Google calendar? It looks like a Lego rainbow. It's finding a way to schedule five commercial shoots, five weddings, assisting other photographers, dates with my son, and making sure happy hour still happens.
Let's talk about your home! How did you decide this was the space?
It's a legit, actual warehouse loft. The openness gives me light and space to make it my own and keep it minimalist. With the amazing window light and open spaces, I also get a few unique features (like experiencing more of a rainstorm) than I might like. I love my baby neighborhood. I can walk to Coffee Slingers to get locally roasted coffee, Elemental for vegan lunch and my favorite new sidewalk bar, Sidecar for a bourbon margarita—all within a few blocks.
You live in an 800 square foot studio loft apartment. How do you make such a small space work?
It made me come up with two hard and fast rules: If an object enters my home, it must be functional and it must be beautiful. I'm not being a snob, you just can't fit very much and you can't hide it. If I see it, others see it, so it better be beautiful to look at.
How would you describe your style? Where do you find inspiration? 
I get all the color and stimulation I could ever need from my job and schedule. When I am home, I want the feeling to be calm and minimal. It's like a daily reset.
What was your approach to designing the space? Did you have a specific vision in mind or did you buy pieces that you liked along the way?
I find things that I fall in love with and make them work. I don't have a master design in my mind. I don't buy things to fit a design, I just let the design take direction as I find pieces I like.
What are your tips for decorating on a budget without sacrificing style? Where do you invest and where do you save?  
Only buy things that you need. Again, "Is it functional?" and "Is it beautiful?" is the criteria. If you buy less, you can invest more. It's the same with clothing. I love great texture, so I invest in a tapestry or something.
Where do you see yourself in five years?
Aside from the deep desire to be near crashing waves on the beach… A dear friend sent me these words a while back: "Make art and create beauty, babe." This pretty much sums it up. I want to push myself to grow and to create throughout the spaces I touch.
What advice would you give your 23-year-old self?
A few rules for 23-year-old Chelsey: Be nice; give more than you get. Be impeccable in keeping your word. Take risks; don't give up. Live in the grey; keep your life balanced. You aren't always right, and you aren't always wrong. And never drink cheap bourbon.
Chelsey Cobbs is The Everygirl…
Coffee order? 
Currently indulging in a quad almond milk latte. At least through bridal season.
Guilty pleasure?
Baths. Yes, full body submersion in water. Guilty! Living in a studio space where I only have a shower equals trips to a local "soaking tub."
Wardrobe item you couldn't live without?
Light wash denim shorts. Absolutely the best accessory given to me by a friend is my This Is Ground camel Mod. I have not left it behind for one second. Hands down the most beautiful and useful accessory in my life.
Best moment of your career?
OK, I need two—one fashion and one wedding. I had the absolute pleasure of being part of a surprise wedding thrown by the mother of the bride and the groom. Tears, smiling, laughing, more tears, joy—simply a creative and passionate career moment. For fashion, I fell in love. Game over. NYFW '14 stole my heart and has yet to give it back. I had an amazing opportunity to work alongside the Bobbi Brown team last fall—moment overload.
Perfect weekend in OKC?
Perfect weekends can't be planned, they just happen. You wake up thinking you are just going on a walk a few blocks for coffee, stumble into your neighbors and friends, and order amazing vegan biscuits.
Product Sources
Entry 
Brain Poster, Blue Seven
Crosley, Guest Room
Table, antique store
Shelf, West Elm
Smudge stick, Stash
Candle, Bisby from Dry Shop
Matchbox, Plenty Mercantile
Catchall, family heirloom
Living Room
Stump Stool, friend's yard
Sofa, West Elm
Blanket, The Source (Denver)
Pillows, West Elm
Coffee Table, West Elm
Quarterly Magazines, Darling
Cactus, Old Candle Jar
Candle, West Elm
Piece of wood, antique store
Fig tree container, vintage spitting tobacco can
Kid's Chair, Vertigris
Hammock Swing, gift from a friend's trip to Mexico
Basket, Target
Dresser, vintage find refinished
Tall candle, Pottery Barn
Concrete succulent, Plant Shoppe
Pillow, West Elm
Paiting, great great grandmother's
Pouf, West Elm
Skyline photograph, ToddScott.Co
Office
Desk, Western Antiques
Chair, Western Antiques
Lamp, West Elm
Notebook holder, This Is Ground
Stationery, Chirps and Cheers
Wagon, estate sale find
Stool, West Elm
Calendar, Field Notes
Pencil jar, thrift store find
Kitchen
Step stool, Stokke
Rewined candle, Plenty Mercantile
Book, Williams-Sonoma
Shells, beach in Miami
Old glass fuses, local antique store
Ceramic, Anthropologie
Cards, Sugarboo Designs
Natural bowl, Plenty Mercantile
Flower arrangement, Poppy Lane Design
Smudge stick, Verdigris
Mug with tea, Anthropologie
Collander, Anthropologie
Plant holders, West Elm
Cardboard plants, Plant Shoppe
Berry crate, Anthropologie
Teacup, Starbucks
Local Honey, Prairie Gothic Honey
Coffee grinder, The Camano Coffee Mill
Cookbook, dad's vintage
Towel, West Elm
Phases of the moon poster/calendar, 1canoe2 from Dutch
Chelsey's Bedroom 
Bedside table (left), local thrift
Stay True banner, Secret Holiday Co.
Bedside table (right), antique
Candle, West Elm
Bed skirt, Bella Notte
White coverlet, Pottery Barn
Blue grey blanket, West Elm
Blanket, West Elm
Blue decorative pillows, Anthropologie
London's Bedroom 
Hooks, Urban Outfitters
Hat and Scarf, Fore from Uptown Kids
Wardrobe, thrift find refinished
London sign, made from an old fence post
Bed, made
Bedding, Bella Notte
Blanket, Zebi Baby
Doll, IKEA
Fox, Craft Bizarre
Giraffe, Melissa and Doug
Moose, Urban Outfitters
Bathroom 
Common good soap, Plenty Mercantile
Q Tip jar, Anthropologie
Jewelry dish, Anthropologie