All too often, people get into a job that they know in their gut isn't right for them. When Chrissy McDonald began feeling that, she took a leap of faith and started one of our all-time favorite blogs — Harlowe James.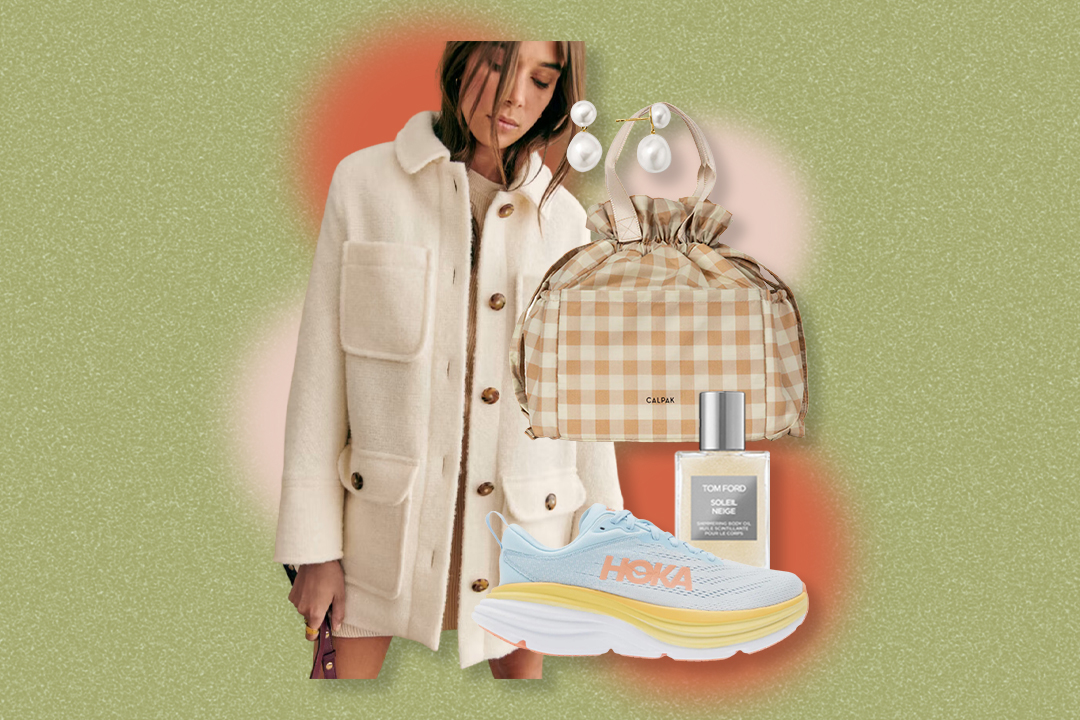 Now, in addition to running her blog, Chrissy also works in an interior design firm. Both of these led her to designing — you guessed it — her absolutely stunning home. Her Sausalito, California apartment is a neutral dream, and her classic design is serious inspiration.
We talked to her about her journey to creating her blog, what it's like to work in an interior design firm, and her favorite things about living the California life.
Name: Chrissy McDonald, Interior Designer/Founder of Harlowe James
Location: Sausalito, California
Sq. Ft.: 550 sq. ft.
Years Lived In: 2
Rent or Own: Rent
What was your first job out of college and how did you land it?
I really underestimated how long it would take to get a job after graduating college. I got my BA in Interior Design from a great school (SCAD) and assumed it would be a smooth transition from student to the working world. I was wrong. I left Savannah right after graduation and moved back in with my parents in Marin County. I applied to jobs just about every day all over the Bay Area. Any posting I found online that even remotely matched my skillset, I applied to. I went to multiple interviews, got a lot of nos and got some offers, but nothing really felt right for me.
About five months after graduation I finally landed an assistant interior design position at a small residential firm in Marin. It felt like the right place for me to start my design career.  
We love your blog, Harlowe James! How did you get started blogging?
About a year into my first job I found that I was really unhappy. I felt a little out of place in my position and questioned if I went into the right field because I didn't feel like I was growing. I wasn't executing my talent fully at work and was desperately seeking a side project to dive into.
I ended up realizing that job wasn't the right fit for me, so I quit and starting freelancing and building my blog at night. I was so terrified to quit because I had never really quit a job before — it was always more of a natural transition out. I never for a second regretted quitting — it felt like a weight was lifted off my shoulders.
I did not know one thing about blogging, I didn't even know anyone who had a blog, so I spent hours on end researching, figuring out how to write basic code, designing my own logo — everything. It wasn't the prettiest when it first came out, but I hadn't been that excited about something in a really long time.  




Your blog's name has such a cute story behind it — tell us about its origin.
I lived in Savannah, Georgia while I was going to college. It truly is one of my favorite places in the world and is home to incredible antique stores. Cobblestone Antiques (that is sadly no longer there) had a large collection of vintage street signs. As I was going through them one day I came across one that said Harlowe on it. I didn't buy the sign or even take a picture of it, but I couldn't get the name out of my head. I thought it would be the cutest little girl's name if I ever had a daughter.
When I was creating my blog I had a blank heading for about two months. I wrote pages of ideas, but nothing sounded right or evoked the feeling I was trying to achieve. One day, sitting at Starbucks I typed out the name Harlowe and instantly thought, that's it! It sounded odd on its own, so going back to my list of imaginary kids' names I pulled James. To me it sounded southern and I loved that it could be a multitude of things. Is Harlowe James a person? Is that a store? I get a lot of people thinking it is my name (I wish!), but I really wanted the name to embody something bigger than myself and remind me of my time in Savannah.
I say on my blog it is a reminder that we are all a collection of the places we have lived, the people we meet, and the moments we share.

In addition to blogging, you currently work in an interior design firm. What's the first step you usually take in designing a client's home?
Every client is really different, but the process almost always starts with getting an overall idea of what they are looking to achieve. It is important to set realistic expectations at the beginning and make sure both the designer and client are on the same page as far as project goals. If it is a new build or a heavy construction based project, the beginning consists of a lot of CAD drawings (floor plans, elevations, etc.) and in other cases we can jump right in to looking at furnishings. No two days are the same and that keeps things really interesting.
How does the process of designing your own space compare to designing clients'?
It is completely opposite. My boss and I always joke it is so much harder to design your own space because we design things all day. The last thing I want to do when I go home is start looking at more furniture and decor. It can be a bit harder to make decisions for myself, but I really love the process of working with my own space. I move furniture around a lot and can constantly change accessories to give off a different vibe. Once you are done with a client project, it is really in their hands. My apartment is ever evolving and a reflection of my personal style at that moment.
How did you find your current space? What were you looking for in the process?
Just like my first job, I found my apartment on Craigslist! Daniel and I wanted to be in Sausalito for our jobs (I work here and he works in the city), but this area is really expensive. A lot of what we looked at was simply out of our price range and not even the style we were looking for. I was getting really frustrated because I was not finding anything that fit us and thought we would have to settle on another city.
One morning I couldn't sleep and decided to check Craigslist again, and there it was. The posting had just gone up the day before, it was in our price range, and was exactly what we wanted. We both didn't want to be in a standard style apartment complex and I was craving something with character. The photo posted was of the living room with no furniture in it, so you could really see the bay window with a slight view of the water and the gorgeous built-in shelves. I sent an email right then and got one back about an hour later saying it was open to take a tour.
We drove down to Sausalito in the pouring rain, and as much as I would like to say it was love at first sight, it wasn't. The apartment was filthy and with the storm outside it seemed kind of eerie. It had a weird smell and desperately needed a lot of cosmetic work. After talking it over and minorly freaking out, we signed the lease a few days later. After almost two years, we have poured so much into this tiny space to make it our own and I couldn't be happier with the result.

Were there any odd quirks you had to decorate or work around? If so, tell us about them and how you made it work.
Oh boy, so many. Our apartment was built in 1941 and hadn't really had a ton of updates. The first thing I wanted to do was hang our TV between the built-ins in the living room, but that wall butts up to the built-in in our kitchen, making it impossible to mount a TV. That was easily solved by sitting the TV on top of a cute console, but is one of those small things that still bothers me.
Our lovely built-in shelves are also fixed at the oddest varying heights so trying to style them was a bit of a challenge. I filled the awkwardly large spaces with big pieces of leaning artwork and I stack all of the books horizontally opposed to vertically to help distract from the fact that none of the shelves line up.
The structure of our apartment building is also built at an angle, so the side wall of our living room and bedroom is at a subtle angle, not 90 degrees. This means the couch does not go into the corner of the room and in the bedroom everything feels a little off center. When we first moved in, this drove me crazy, because at first glance you can't really tell the wall is angled — something just feels a little off about each room. We worked around this by getting a large sectional chaise instead of a sofa and playing around with artwork layout on those walls.
Our bathroom is also never photographed… I really don't think I've ever even taken one because the lighting is terrible and feels like a tunnel. I would love to tackle that someday, but we definitely won't live here forever and I am always toying with how much to invest in a rental.
We love how bright and airy your home feels! How did you achieve this?
Thank you! That was the big draw to this apartment in the first place. Having incredible natural lighting makes a world of difference. We are lucky to have a lot of windows, and I like to accentuate them with breezy white linen drapes. I also clearly love neutrals. I am a big proponent of layering neutrals in a bunch of different ways to keep it from feeling stale. One of the first major tasks we had when moving in was to paint everything white. We live in a small space, so this never feels boring and serves as the perfect backdrop to anything we add.
When you have a lot of colors going on in different rooms, it can make a space feel choppy and closed off. With the white walls, everything really flows from room to room. I also like sticking to natural fiber rugs because it creates a nice visual blend between the hardwood floors and the furniture. We have a light jute rug in our bedroom and living room, but I like to throw in some vintage textiles with subtle color or layer a thinner rug on top of one.
How would you describe your style?
Easy. I like to dress comfortably and I like to live comfortably. I don't own things that can't get messy or look lived in. I like a little bit of a tailored touch, but I love an overall relaxed California aesthetic. I live in jeans and t shirts and even when I'm dressing up I have to be comfortable. It is always fun to add a cool element as well. If I am in jeans and a t-shirt, adding a fun bag or shoes can make such a big difference. I am all about this in our apartment as well. I love a simple base, but layering in quirky artwork or unique vintage pieces that make guests stop and stare is my favorite.
Living rooms are SO difficult to design, yet yours looks absolutely perfect and inviting. Can you tell us about the process? What did you purchase first? Have you swapped things over time? How long until it felt "complete"?
Our apartment is small, but our living room is a decent size. I knew I wanted a place to comfortably hang out at home or when we were having people over. The first item we purchased for this room was our large West Elm sectional sofa. We went with a blue grey upholstery to avoid the hassle of maintaining a light color. It really is the focal point of the room and makes a nice casual seating arrangement for a lot of people. We added a new coffee table about a year ago and the marble top really helps to lighten up the room.
I like to mix different materials so we have a darker wood and rattan front TV cabinet that pairs well with an unfinished farmhouse console in the bay window. Again, nothing is too precious in this room. We invested in the sectional, but all the other furniture is fairly inexpensive. To make a room feel inviting, it is all about the details. I added a large plant in the corner, some comfy linen pillows on the sofa, and a lot of accessories that bring me so much joy.
It is common to go to everyday stores like Target or West Elm to load up on accessories, but for a really layered home that has character, I always tell people to incorporate vintage accessories. I look for things every time I travel like artwork, pretty ceramics, or a new candle scent. I don't think this room or our apartment will ever feel complete. I don't wear the same thing every day, so why would I want my living space to stay the same? When I get bored I'll move around the pillows, re-style the shelves, and maybe add some new accents on the coffee table or console.

With a house full of light-colored neutrals: how do you keep your pieces clean? Any secrets?
I invested in a nice vacuum and an air purifier. The combo helps keep some of the dust and cat hair at bay, but with great natural light comes a lot of dust! To be honest, I vacuum our apartment a lot and am constantly wiping down surfaces. Our white drapes are impossible to keep clean so I kind of gave up, but they are so cheap from Target that I will just slowly replace the panels when need be. I think if you choose to go more neutral you are accepting that nothing in your home will ever be spotless.
Do you have a favorite space in your home?
I really love every room for different reasons, but the living room just makes me happy. We spend most of our time in here and because I don't have an office or even a desk for that matter, so much of my work gets done in the living room. On a nice day the lighting is incredible and great for taking photos for the blog. I love decorating this room for the holidays and find it so relaxing to come home, light a pretty candle, and turn on a good show.
What's your favorite part about living in California? How do you feel it influences your home's design?
California is truly embedded in who I am. It sounds a bit overdramatic, but growing up in Northern California afforded me the opportunity to be exposed to an array of different landscapes all within a few hours drive. That is my favorite thing about living here.  We have wine country, the ocean, the mountains, the desert. There are endless possibilities for finding inspiration. To this day, one of my favorite things to do is get in my car, roll down the windows, and go for a drive. I do my best thinking and brainstorming in the car, taking in fresh air. This has totally influenced my interiors style and overall personal style.
I don't like things to be fussy or frilly. I can appreciate classic design and was so inspired living in the south, but I find comfort in simplicity. I like textures over loud colors and gravitate towards subtle pattern over large prints. I want someone to walk into my apartment and feel a sense of home. I get a lot of that from my parents. I grew up in a house with a pretty open door policy and nothing was too precious. Mine and my brother's friends were coming and going all the time, so I love the feeling of a gathering space.  

Tell us about decorating your bedroom: what was the process like and what items in there ensure it's a haven?
I have major anxiety and can find it hard to shut off my brain at the end of the day, so it is crucial for me to have a cozy bedroom that relaxes me opposed to causing more stress. For this reason, our bedroom is pretty minimal. We painted both the walls and ceiling Simply White by Benjamin Moore, which is one of my all time favorite whites. Our room isn't huge, so the main component is our comfy king bed. We chose a linen headboard opposed to a full bed to help save space and I love that it can be changed out pretty inexpensively. I am all about white linen bedding and added some pretty lumbar pillows and a soft Moroccan blanket at the end of the bed to bring in more texture and color.
To offset all of the white I painted two mismatched nightstands Ashwood Moss by Benjamin Moore. I love the color of the nightstands against the antique brass lamps. Also because storage is a major issue in a small apartment, we replaced our dresser with two large Ikea Billy cabinets. This houses all of my shoes, bags, and folded clothes. It made such a big difference having more space, and although it takes up a major wall in our room, it was worth it.
You've decorated your home with mostly vintage finds, which is amazing! What advice would you give someone trying to find vintage pieces of their own?
A lot of our small pieces are vintage and the bigger furniture is new. I like to have a balance and only bring in pieces that you feel add character, not clutter. I love finding cute vintage bowls or crocks for the kitchen and a good vintage rug really is my weakness. I highly recommend flea markets. The price points can be incredible and I always find some cool accessory that I wouldn't be able to get at a store. If you don't live close to a good flea market, vintage decor has become so popular that there are dozens of great websites to purchase from.
If I am going to a flea market  I make a list of pieces I am looking for and try to stick to that. It can be overwhelming and a little distracting, so having a gameplan keeps me from spending too much money. Also, do a little research before purchasing anything large. Some places charge crazy high markups and might claim a piece is authentic when it isn't.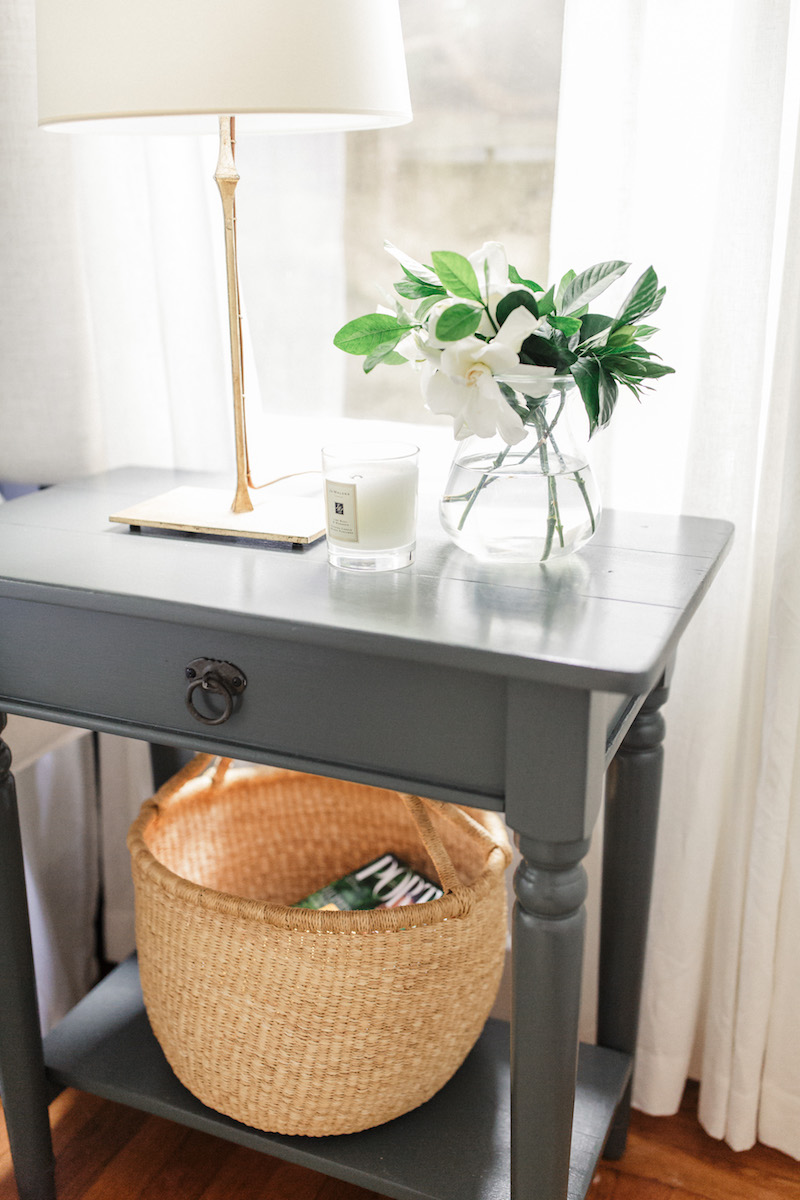 Where else do you shop for home decor?
The Bay Area has some great stores, so I am a little spoiled here. I try and shop local whenever I can. I love Elsie Green and Truck & Barter for accessories as well as Hudson Grace and Shed for kitchen accents. I find a lot of good inexpensive furniture at Wayfair, CB2, One Kings Lane, and Shop Candelabra always has great pieces. Etsy is wonderful for vintage finds and is where I have purchased a lot of my pillows and rugs. I also have a real weakness for baskets so I like to shop at Indego Africa and The Little Market.
The cat owners want to know: what are your secrets for designing a cat-friendly home that you can still enjoy? And keeping the hair at bay? Did your pet play a role in any of the fabrics you chose?
We actually rescued Norman after we had been settled into our place for a while, but I take him into consideration when buying pieces now. Nothing we have is super high end, so if he really destroyed them I wouldn't be devastated. I had to learn to be flexible and realize I have an all black cat in a neutral apartment — there is going to be cat hair! I use a cat spray on the upholstery to try and deter him from sinking his claws in and brush down our sofa and bed with a fabric comb (game changer!). He loves to dig into our plants, so we took a plastic plant liner, cut a slit in the side and flipped it upside down to create a really discrete cover. I have also found there are some chic cat accessories like the play towers from Kitty Kasas that can blend into your home decor a bit better.
What do you have in store for the future of your blog?
So much has changed in two and a half years and it just keeps getting better. I am excited to continue to grow Harlowe James into more of a brand. My goal is to expand past the web format and be able to offer products inspired by some of the pieces I love. In addition to the blog, I now offer design services, which has been a wonderful way to connect with readers and work together on another level, so I am excited to build that out more.
What advice would you give your 22-year-old self?
I would say stop being so hard on yourself and don't take everything so seriously. Life is about making mistakes and growing from them. I would say the same applies now. I have to constantly remind myself to take a step back and ask does this really matter in the big picture of my life? Most of the time is doesn't. An argument I have with Daniel, the dessert I wanted to photograph but burned, just move on. It can be so easy to fixate on trivial things and get down about yourself, but you will never move forward if you don't keep trudging through.
Chrissy McDonald is The Everygirl…
Last movie you saw in a theater?
Mission Impossible (I swear Tom Cruise doesn't age)
Go-to coffee order?
Skinny Vanilla Latte
Favorite season?
Fall
Favorite candle?
Jo Malone Orange Blossom
If you could have lunch with any woman, who would it be? 
Kristen Wiig. I think I could hang out with her all day, everyday.