Like many Chicago residents, Clare Kalimuthu has apartment hopped all over the city in her 10 years as a resident. So, when it came time for her and her husband to take the plunge and purchase their first home together, they did their research before putting down roots.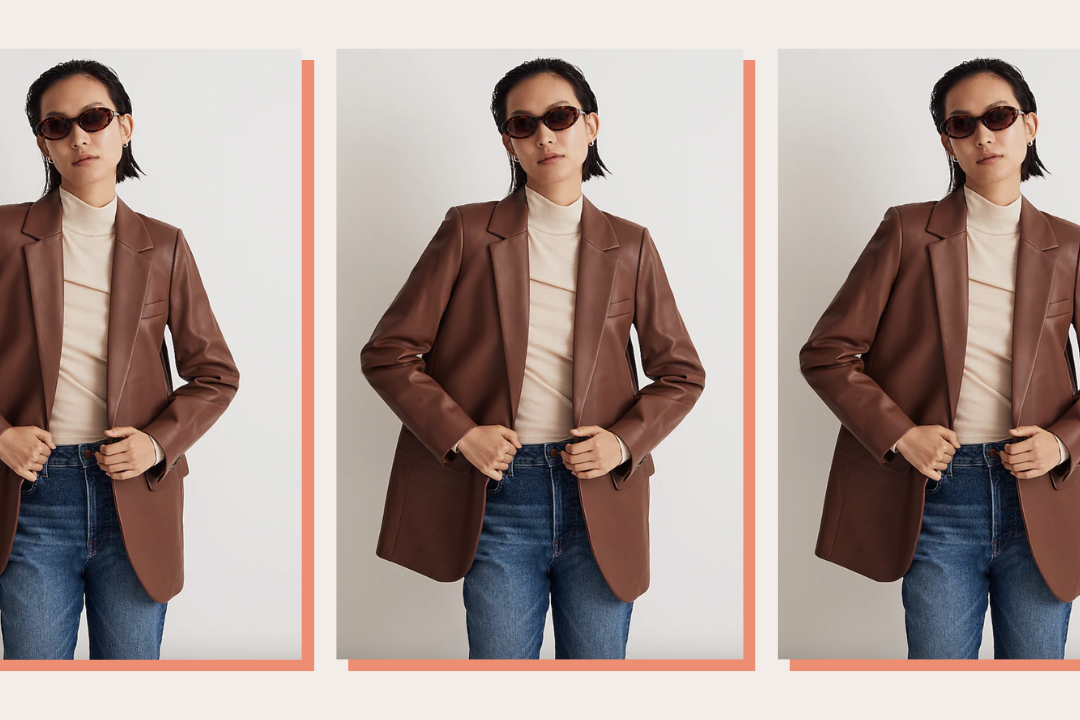 time for your fall wardrobe update!
Here, we chat with Clare about the decision to buy in Logan Square, how she and her husband tackled the decorating process, and her tips for city dwellers looking to make the leap with more permanent real estate.
Name: Clare Kalimuthu, Facilities/Events Coordinator, Wolverine Trading
Age: 29
Square Footage: 1,400
Rent or Own: Own
City: Chicago, IL


How long have you been in Chicago? What drew you here initially and why have you stayed?
I have been in Chicago since attending the University of Illinois Chicago — about 10 years! I am originally from the southwest suburbs and always have dreamed of living in the city.
Living in a big city, you obviously had the choice between renting/owning. What influenced your decision to buy?
Since first moving to the city, I've rented in a lot of different areas. I have lived in University Village, Streeterville, Noble Square, and now Logan Square. We always wanted to buy, but we were waiting for the right time. After we got married, we saved and waited to find the perfect place that we both loved. We also felt it was worth it to buy due to the costs of renting in the city.
Tell us about your hunt for the perfect home — what was on your wish list? What compromises did you have to make? Any non-negotiables?
After renting so many different apartments in different neighborhoods, my husband and I were ready to look to buy. We really wanted to buy a place that was brand new, where we could pick out our own finishes. We looked at a few previously owned places that were within our budget — but they just weren't for us. We would have had to do a lot of changes to make it "home." We looked daily for new places and noticed there was a condo being built in Logan Square where you could pick your own finishes that was within our budget, and we were sold! I love that we were able to create our condo exactly how we wanted.
What do you love most about your neighborhood?
We are right next to the 606 trail, which is good for walking our dog, Stevie. There are also a lot of great new restaurants that were built in the area, and it is really up-and-coming. We are close to public transportation as well, which works for us because we both work in the Loop.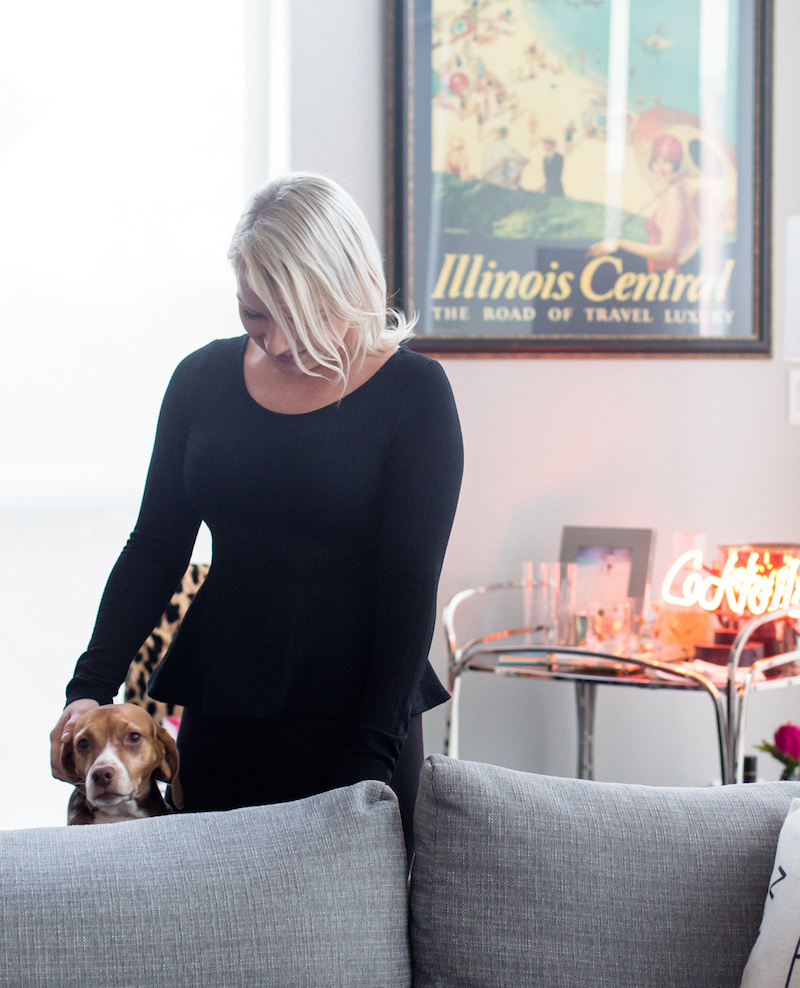 What was the design process like? Any design advice for couples looking to move in together?
I have always loved a black-and-white scheme. My mom and sister, who also love interior design, inspired me and helped with my decorating as well. I did a lot of research on different finishes while the condo was being built, in addition to different decorating schemes. I knew right away I wanted white cabinets in every room and dark floors (which I now somewhat regret, due to having to vacuum so much every day because of our dog!). I would describe my style as a modern yet vintage; we have a lot of modern décor in our place but we also have a lot of vintage posters and small antiques from my friend Molly's store, Rara Avis.
We went back and forth a few times during the design process. We went to the tile and cabinet store together and picked out a few finishes, but I wasn't happy with our choices, so of course, we went back. It is also quite hard for me to make up my mind so I went back and forth with the contractors on what finishes I wanted, which I'm sure they were annoyed with! I showed my husband a lot of my ideas that I found through Pinterest and other blogs and he felt good about the choices, as well. There are definitely some things I wish I did differently, but we now know for our next place one day what we would change! My advice for other couples looking to move in together is to make sure you both agree on finishes as well as décor. You'll both have to compromise in order to enjoy your home together.

How did you stick to a budget for decor and furnishings?
I did a lot of online shopping and waited for a lot of promotional codes. We definitely wanted the place to look nice and spent more money on bigger pieces, but we were very cost-conscious while buying. We spread out larger purchases across a long period of time. I bought a few items before we even moved in and really didn't get everything until a few months ago. It took about a year-and-a-half to have everything really decorated.

Were there any areas/pieces of your home you splurged on?
Some items we spent more money on than others were the couch in our living room (which still wasn't even that expensive compared to other couches we looked at), our furniture on our rooftop, and we did spend a lot on desk and daybed in our guest room. My husband needed a nice desk for his work, and we have a lot of guests that stay over, so we wanted a nice bed for them. We really tried to not spend too much on most of our furniture and décor.
What advice do you have for someone looking to purchase a home in the city? 
Definitely look at more than one mortgage company and different real estate websites. Do your research on what you can afford. Do your best to negotiate on pricing of a home and check mortgage rates as often as you can. Also, if you're buying new, make sure you do your research on the builder beforehand. It's a little risky having a builder that you didn't choose building your home and having to trust that they will do everything you want correctly. It's also a good idea to ask other people you know for advice on buying. My dad and his family are all contractors with Castletown Homes in Lemont, and they were able to help me understand the whole process. My dad even did the walk through with us. I would also do a lot of research on the finishes and appliances you choose, as well. I didn't really look into a lot about marble and just picked it for my bathroom without realizing how high maintenance it is! It is beautiful, though!
What advice would you give your 23-year-old self?
Save more. I didn't save anything until later on, and it is definitely something I regret (but I did enjoy some great times in the city with that money!).
Clare Kalimuthu Is The Everygirl…
Favorite place to brunch in Chicago? 
I love Breakfast Club in my old neighborhood, Noble Square. It's a cute pink and white restaurant and I love their eggs benedict, while my husband loves their breakfast burrito! I also recently went to Blue Door Kitchen in the Gold Coast where my sister lives and it was amazing and has the cutest outside area.
Guilty pleasure?  
I love Sour Patch Kids and McDonald's cheeseburgers! EEK!
I wish I knew how to…
be a great cook and cook amazing meals. I also wish I was crafty and could do more DIY projects!
If you could have lunch with any woman, who would it be and what would you order? 
If I could eat lunch with any woman it would be with my grandma one last time. She loved coming to the city and getting lunch with me, my sister, and my mom. She loved going to RM and Nordstrom's café. I definitely miss those times and her advice on things ☺ She also was a great decorator and loved to go antique shopping in the city!
Product Sources
Kitchen
Bar Stools, Overstock
Kitchen Rug, Caitlin Wilson Textiles
Dining Table, World Market
Dining Chairs, World Market
Kitchen Chandelier, West Elm
Living Room
Couch, Interior Define
Rug, Overstock
Bar Cart, West Elm
Media Console, Walmart
Coffee Table, Urban Outfitters, Sold out
Marble Side Tables, West Elm
Fuzzy Stools, Target
Floor Lamp, Target
Ghost Chair, Amazon
Floor  Mirror, West Elm
Master Bedroom
Bed, Amazon
Side Tables, Lamp Plus
Dresser, West Elm
Bedding, Pottery Barn
Floor plant in living room and bedroom, Wayfair, Sold out