To color my gray hair or to not color my gray hair… That is the daily question. Because gray hair represents aging, many of us (including myself), have learned very early that gray hair, especially for women, is a no-no. This mantra has often left me conflicted about covering my own gray. As someone who is all about veering away from societal pressures of maintaining our youth and never aging, the mere thought of even considering coloring my hair makes me feel disappointed. But when you start sprouting gray hair at 19 like I did, I think it's normal to have this inner dialogue about what it means to have gray hair so young.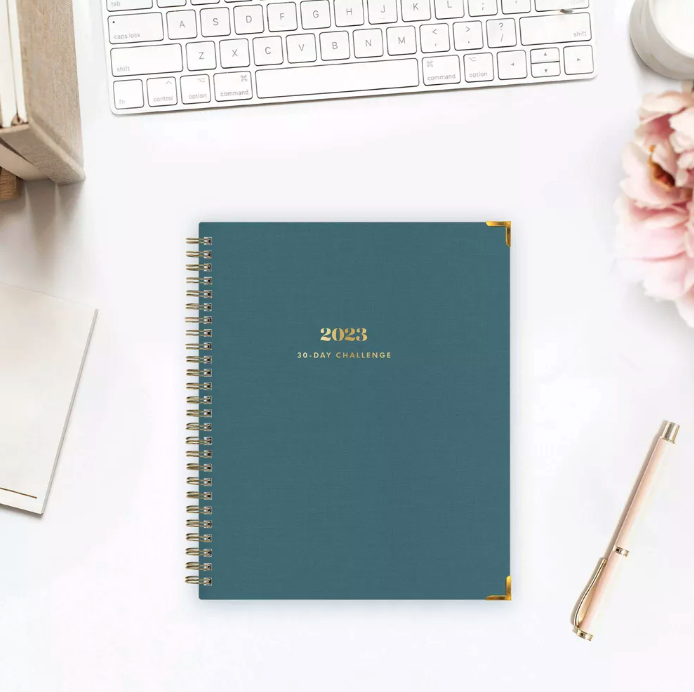 We may be biased, but this is the ultimate planner for the motivated goal-getter. Schedule your days, track your habits, and set new goals every month.
Instead of coloring my hair to cover the grays, I decided to highlight my coils to add dimension to my mix of 4-type curls for the first time about two years ago. However, when my roots grow out, the mismatched color drives me up a wall, which is what drove me to try coloring my hair at home. Instead of me looking at coloring my salt-and-pepper roots as giving in to the unrealistic expectations the world and beauty industry places on women, I now see this as a choice to do what makes me feel best.
After a lot of research and watching way too many YouTube videos of people coloring their highlighted hair at home, I decided to give Color&Co by L'Oréal a try. I love their offering because it comes with an option for a live, on-camera consultation. Because I have professional balayage, I didn't want to do anything that could potentially disrupt my color even though it's been nearly eight months since my last salon visit. Here's how my experience coloring my hair with customized color at home went.
The Consult
When you land on Color&Co's website, you can select to take the color quiz or consult with a colorist. As I said before, because I'm trying to hold on to my eight-month balayage, consulting with an expert about my hair color felt like the best option. The day after I made my appointment, I logged in and met with Deb. After asking me a series of questions and looking at my hair color and type, she helped me find a color solution that worked for what I was hoping to achieve. I wanted to color my roots with a brown color because black can be too harsh, and tone my highlighted ends.
The Color Kit
When the kit arrived, I opened it up and was immediately impressed by the packaging. I am a millennial after all. My kit came with a base color to touch-up my roots and a color to help tone and deposit color into my balayage. Each bottle was clearly labeled, and there was an instruction guide made just for me, including gloves, conditioner, stain eraser, and color protectant to place around the base of my head to prevent stains.
The Experience
I procrastinated coloring my hair for a bit because my hair is natural and thick. I knew I would have to take my time to properly detangle and section my hair for the best results. Once that was done, I placed my hair into four sections, then I started with the front of my head, where most of my gray hair lives. Applying the product with a bottle was the best option for me versus using a bowl and brush. I loved how easy the gel-like formula was to work with. It stayed in place, didn't drip, and was easy to work through my coily hair. Remember when I told you I had a color for my roots and my ends? Well, I got scared to add any color to my ends for a couple of reasons. For starters, I didn't want to mess up my current color, and I also feel more comfortable leaving the light parts of my hair to a professional because of my hair texture, even though the color only tones and deposits.
Because I have stubborn grays, I let my color stay on for 45 minutes. As I rinsed it away, I was expecting to spend a good chunk of time making sure it was all gone. Instead, the formula rinsed away with ease, and best of all, my hair felt pretty good.
It didn't feel dry either, which was surprising considering when I saw the tiny packet of conditioner, I laughed. If you have natural hair, you can relate. However, like rinsing the color formula away, the conditioner exceeded my expectations. It had slip, was enough to condition all of my hair, and made my coils so soft. I did follow up the conditioner with Pattern Beauty's Treatment Mask (my new fave) and Briogeo's Deep Conditioning Hair Mask because my coils need all the moisture they can get every day of the week, and coloring my hair makes moisture even more pressing.
While I'm glad I took the time to focus on doubling up on my conditioning treatments, I think my continued conditioning treatments and the additional rinsing of my hair post-color didn't allow my cuticle layer to close. So, my stubborn gray hairs sprouted back up. This is totally a user error, and I've learned a valuable lesson for the next time I color my hair.
When I look in the mirror, I love my new deep roots. No more salt and pepper for me—for now at least. Even with a few stubborn grays sticking around (because of my mistake), I love how easy and effective using this color kit was. Even if you aren't a professional, coloring your hair at home with this is a breeze—and my hair feels great. I will most definitely be using this to touch-up my roots every six weeks moving forward until I'm ready to fully embrace my gray.