I'm a sucker for a good dip manicure, but my resolution to save more money has put quite the wrench in my biweekly trips to drop $50 at my local nail salon. As I've mourned the loss of my favorite Thursday evening pastime, I've been looking beyond to the horizon to nontoxic brands that allow me a DIY-yet-luxury result that will save me money in the long run. When Instagram ushered Dazzle Dry my way, my interest was piqued.
Hate grocery shopping? Same. These hacks make them 100x easier.
Dazzle Dry checked off all of my boxes: nontoxic/hypoallergenic, quick-drying, long-lasting, and not tested on animals. I've spent an absurd amount of time in my life trying to find a home nail polish routine that would save me money/time at the nail salon, but my impatience and dissatisfaction toward my end result (AKA watching my hard work chip away in three to five business days) left me frustrated. I'm not going to lie: I wasn't expecting to be blown away by another brand that claimed a five-minute dry time and lasting results. But I'll be damned.
Each step of the system costs $12 to $20 dollars, and after reading rave reviews of the brand and their products, I decided upon The System, which is a bundle of all of the products you need for the results they promise. It included the nail prep, base coat, top coat, and "revive," which helps maintain the integrity of the top coat and nail lacquer in the bottles if they thicken or bubble over time. The most important part of these steps is the base coat, which contains special polymers that make your nails dry nearly instantly without the use of UV lights like gel polish. However, without the rest of the system, your mani might not last as long or be fully vegan and cruelty-free, so we swear by The System.
Their website offers 148 different shades of nail lacquer, and I was so overwhelmed by choices that, *naturally*, I settled for a clean-looking shade of white called "White Lightning" that I saw featured on one of their IG posts. The nail color was an additional $18, so I refrained from purchasing any more until I gave it the good ole' college try.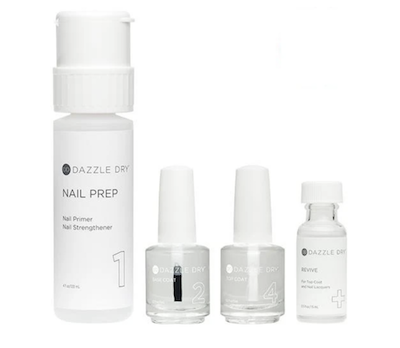 Dazzle Dry
This contains everything you need for the perfect Dazzle Dry mani/pedi, including Nail Prep, Base Coat, Top Coat, and "Revive," a liquid you can drop into your lacquers to give them new life if they become goopy.
I must say, I am so pleasantly surprised. I literally can't believe I'm saying this, but it actually dries in less than five minutes, as promised. After my glowing review over Slack, Beth, our beauty content manager, tried the set and set up a timer to truly test how fast it dried. It clocked in at completely dry in under three minutes—and we mean "rub your nails together, run your fingers through your hair, and do the dishes" dry. It's witchcraft.
Even better than the quick dry time, this polish lasted me two weeks without chipping. Unfortunately, it didn't hold up to the three-week guarantee, but I blame washing my hands an absurd amount (hello flu season), ripping open packages in a pinch at work, and nervously picking at them for their inability to endure until that third week (perhaps a bad habit to crush this year). On the other hand, Dazzle Dry claims the polish can last up to 30 days on your toes, and Beth's test came up positive—she had no chips for an entire month (a little regrowth though, but that's to be expected).
Overall, I'm so pleasantly surprised by the quick dry time, longevity, feel, and make-up of this product. Bravo, Dazzle Dry. Dare I say it? You ladies nailed it. I'll never paint my nails without Dazzle Dry again.
Shop our favorite shades: