If you've scrolled Instagram or Pinterest lately, you'll notice hair has gotten… easier? Gone are the days where you have to sit in front of a mirror giving yourself an arm workout to get those perfect Victoria's Secret Angel curls (#TB to when that was the *dream* hair—I miss it). We're not about spending our precious time in the morning doing our hair anymore (we can probably thank early Zoom meetings for that). Move over, Brazilian blowouts, high-effort mermaid waves, and the sought-after slicked-back bun—there are a handful of easy hairstyles taking over this spring.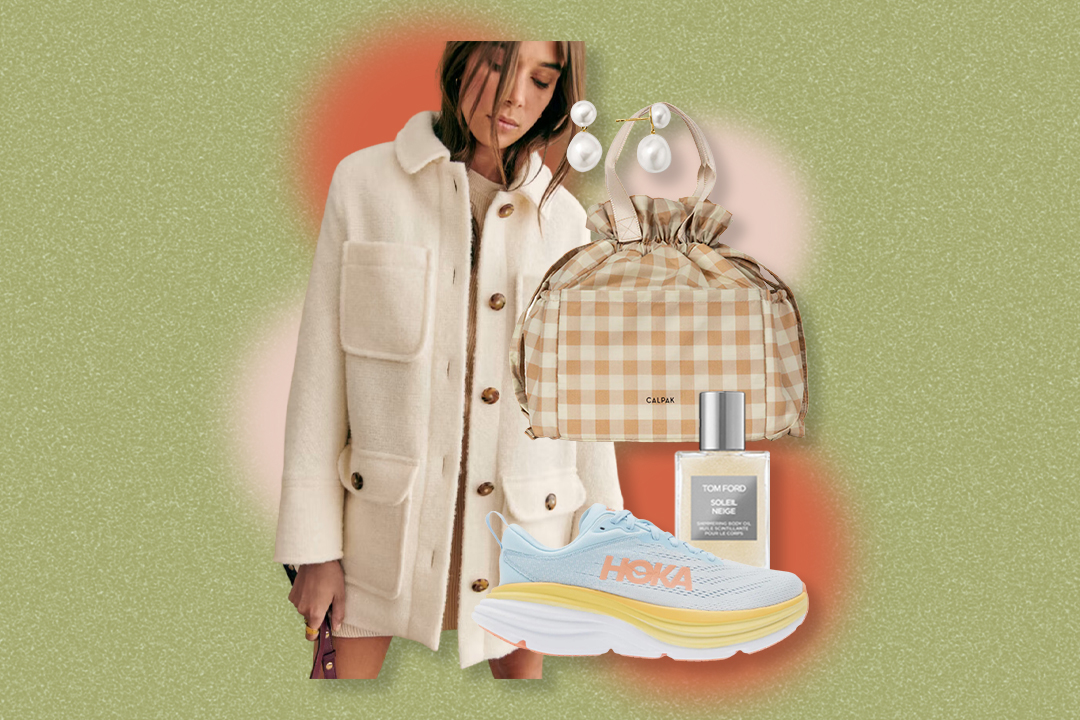 From Y2K braids and clips to exaggerated volume, your new go-to style is less than 20 minutes away. Regardless of your hair texture, length, or type, we've compiled eight different looks to make you feel confident and cool this spring (and we won't judge if you take them into summer too).
1. '70s Volume
This trend has made the rounds for a few seasons, but we're not seeing it die down anytime soon (I mean, the Dyson Airwrap continues to sell out—if that isn't proof, IDK what is). Whether you cut curtain bangs or just want to fake it, this style is best achieved using hot rollers. While you do have to put them in, they're easy to place and get other things done (makeup, those taxes you've been putting off, etc.) while they set. And when they're done? Bombshell hair.
2. Colorful Accessories
Of all the styles on this list, this is, hand's down, the easiest, but it's also not without impact. Whether you stack a bunch of accessories along your hairline or layer them around a bun or ponytail, the options are endless. You could go monochrome with a bunch of different accessories in the same color (á la this gorgeous look celebrity hairstylist Justine Marjan did for Alice and Olivia in 2021) or color-block like above.
3. Long Braid
For those of us in the Midwest and East Coast, this isn't a thing, but for anyone who experiences an actually warm spring, you're likely already probably looking for ways to pull your hair back in the heat without sacrificing style. This single, low braid gathers all of your hair off your neck and away from your face but looks impeccably chic. Whether you have naturally long hair or call in reinforcements (we're obsessed with these INH clip-in ponytails), this style fits every single hair texture and face shape.
4. Y2K Clips
We've been back on claw clips for a bit, but this summer, we're doing away with our traditional and opting for fun shapes. Butterflies, flowers, shells—these look extra fun and unique with zero added effort on your end. You can pull all of your hair back with these or let the clip really shine with a half-up style like above.
5. '90s Blowout
We're talking a lot about the Y2K influences in beauty right now, but the '90s aren't going anywhere either. "The Rachel" haircut is still reigning supreme, and the classic supermodel blowout is right up there with it. Even better, this hairstyle is significantly easier to achieve this time around using a hot air brush. When your hair is 60 percent dry, take the hot air brush through your hair in sections, flipping it under. At the roots, this will create lots of volume, while your ends get that perfect face-frame.
6. Face-Framing Braids
You've seen this look on everyone who's anyone: Hailey Bieber, Olivia Rodrigo, Megan Thee Stallion. It's a nod to the early aughts, post-family-vacation chic, and we're happy that it couldn't be easier. Part your hair down the middle and grab an inch-sized chunk on either side of your head and braid until you have a few inches left at the ends. Tie off with an elastic, and you're good to go. To make this even more Y2K, add colorful elastics and thank us later when you feel like you're 10 again.
And if you have box braids, we're jealous of your ability to pull up the rest of your braids and go with zero fuss.
7. Messy Bun
Consider this the Pam and Tommy effect. We're going to see this '90s Pamela Anderson-style messy, voluminous bun everywhere this year. This look is easy to achieve on all hair textures, but it's definitely a bit easier the longer your hair is. To give some extra volume to short or fine hair, gather all of your hair at the top of your head and pull pieces apart to give the illusion of more hair. Extra points with this look if you have the classic '80s bangs Pam didn't give up through the '90s!
8. Barely-There Waves
For a cool-girl style that simultaneously looks like you barely tried but has everyone wondering how you possibly got it, waves that almost don't look like waves are it. As seen above on Hunter Schafer, this look is easily achieved on a straight or wavy hair texture. For a heatless style, simply put your hair into twists while it's wet and blow dry. Or you can use a flat iron to add a crimped-wave look. Don't be afraid to leave a few pieces straight or forget to get the underneath—the messier this looks, the better.