Since I purchased my first tube of lipstick (obviously MAC Velvet Teddy!), I've never really had anyone to talk to about my love for beauty products. All the women in my family wore makeup as a necessity rather than because they enjoyed it. I've turned to beauty YouTubers to learn and find new products for as long as I can remember.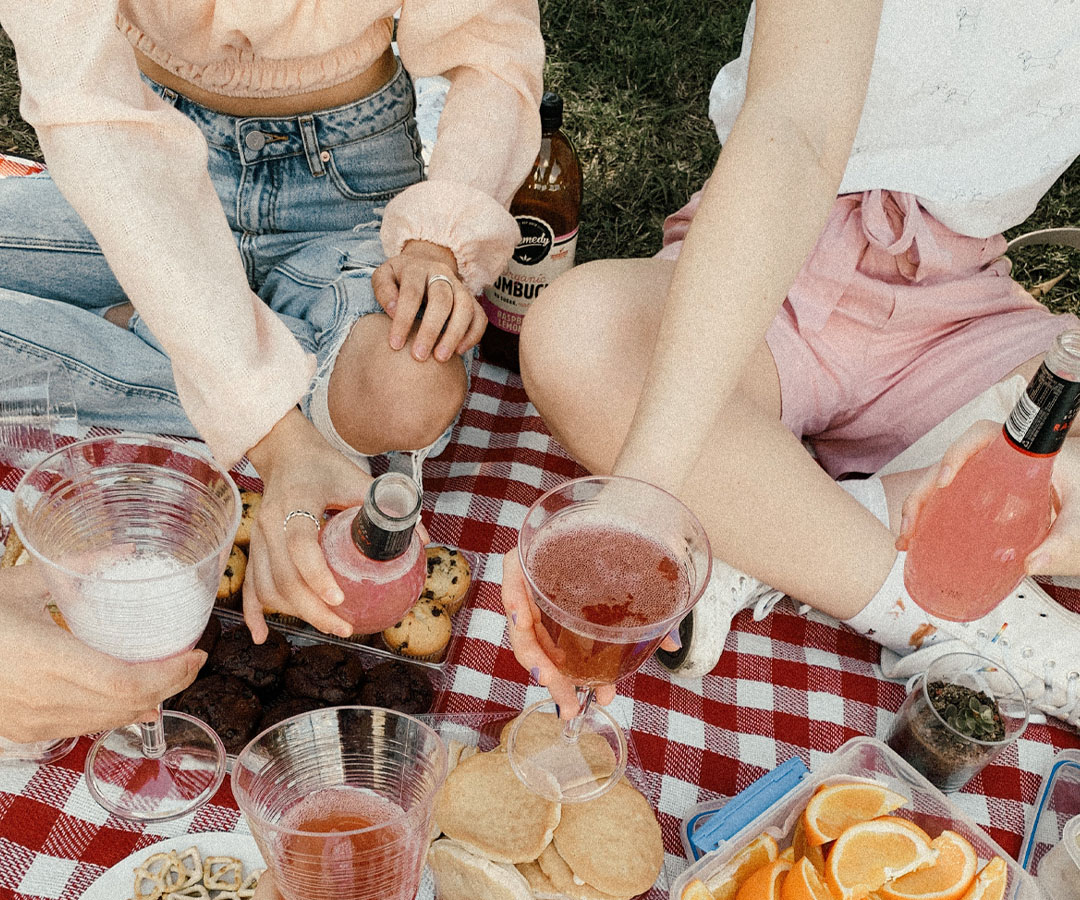 CURRENTLY TRENDING IN /
LIVING
your complete summer shopping guide
Well, that was until I met the Everygirl team. It was like I finally found my people. People who understand that it's ok to wake up 20 minutes early to draw out the perfect wing or get that natural looking wave that isn't actually natural. I can talk to them about my favorite new products and get so many recommendations, too. Every week I come into the office with so many questions: what's your favorite foundation? How can I get my curl to hold? What lipstick are you wearing? Tell me everything!
So, if you are like I once was and had no one to talk about your beauty-obsessed side with, we're here to show you everything we're loving right now. It's like a peek into our office chats except from the comfort of your own home. Lucky you!
The Ordinary
THIS STUFF IS AMAZING. I use it every Friday as a little ~ self care ~ treat. It's a peeling solution, so it's a lil intense. Here's the deets: You put it on your face for about 10 min. It's REALLY red, so it's a little like seeing the inside of your skin. It tingles and kind of itches a little — my hands usually twitch to wipe it off a few times — but then when you do get to wash it off, your skin emerges SOFT AS ALL HECK. Magic.
NARS
I am a lipstick person, always and forever. These are my favorite (I have them in an inadvisable amount of colors, including an impulse purchase of the midnight blue, like who am I kidding, but I digress) because they are SO DANG PIGMENTED. They can get a little drying (lip pencils are like that) so I usually follow up application with a few taps of chapstick. And, as always with lip color, make sure you're prepping your lips with a good scrub so the color evenly distributes. Chicy chic.
Maybelline
I've been using this mascara since I was in 9th grade. It's the literal perfect amount of coverage and lengthening power — with no clumps (seriously would I lie to you? NO CLUMPS). It's a great every. single. day. mascara and the price cannot be beat. Plus, the reason I started using it was because Lauren Conrad recommended it (in some interview not personally to me to my everlasting sadness) so you know it's flames.
Peter Thomas Roth
As someone who has self-diagnosed lifelong under eye bags, I constantly look like I haven't slept in days, even on the (very rare) occasion I get my full eight hours. Enter: miracle under eye patches. I keep these bad boys in the fridge (I need the extra cooling), toss them on in the mornings, and my entire face magically brightens up. I look fresher, brighter, and — dare I say — prettier. I've even been known to scare some fellow passengers by wearing them on airplanes. They're worth it!
Glow Recipe
On the record, let me just say that I would be sold on this product solely by its smell. I'm a sucker for a scent that's not too sweet, but gives me an immediate boost whenever I smell it. This ahhmazing-smelling sleeping mask just so happens to work wonders, too. I wake up every morning with an even skin tone and a glow I could only attribute to watermelon (or the exfoliating AHAs, but you know, whichever).
Radha Beauty
I can't say enough good things about some good old fashioned Rosehip Essential Oil. It is truly the miracle skincare cure-all, and I'm a sucker for anything natural. It contains antioxidants and fatty acids that do everything from reduce blemishes to brighten skin to increase collagen production. This one's USDA certified Organic (so you know there's no bad stuff in it) and cold-pressed (contains the most nutrients possible). Use it with your jade roller, put it on your body/cuticles/hair, or dab it onto your skin before bed. You can thank me later.
Kopari
I have tried so many natural deodorants and as much as I want to switch, they've all just fallen below the bar for me. I have a pretty extreme reaction to baking soda and had yet to find an option that didn't leave me stinky, so I had resigned back to my drugstore option until I tried Kopari. The texture is unlike any other natural deodorant and from one sweaty girl to another: it REALLY works. Plus, it smells so good. 5 gold stars in my book.
If you want to try it for yourself, use the discount code Everygirl25 for 25 percent off your first order.
KIEHL'S
As much as I love my nighttime routine and layering all my potions, there are nights where I pass out without doing anything to my skin. This oil is like an "undo" button IRL... which I honestly need for more aspects of my life. It's hydrating and visibly restores your skin. Mark my words: this will be your cold weather savior.
Barefoot Blonde
I bought these for my upcoming wedding... but honestly that was just an excuse because I had wanted clip ins for quite some time. After months of research (yes, this is what I spend my nights and weekends doing), I went with a tester set from Barefoot Blonde because they allow you to try on up to 5 colors at home, free of charge. They are an investment, but not when you compare the quality to similar brands that run around $400 - $500. I was floored with how substantial my set felt and even my stylist (who cut them to blend in with my hair) was shocked by the price. I NEVER want to take them out.
Charlotte Tilbury
I got roped into buying this when I was wandering around Nordstrom one day, but I'm so glad I did. I mix a little into my CC cream and I'm instantly walking around with the pretty Instagram filter. Bonus: you can use it as a highlighter, too.
Clinique
Makeup looks best when you take care of your skin! This is my favorite moisturizer — it's a gel-like texture that isn't too heavy, is very moisturizing, but won't break you out.
MAC
Our lovely Editorial Assistant Madeline recommended a color similar to this in a liquid lip formula, so I went on a hunt to find that color in a bullet lipstick. Of course, I found the exact shade in my favorite MAC lipstick formula! Their matte formula doesn't crack or make your lips look disgusting like some matte lipsticks. Chili has a gorgeous rust tone making it the perfect red for fall.
Hourglass
I basically overhauled my entire beauty routine for the fall, which included swapping out my light, glowy foundations for something with a little more coverage. This foundation has a medium coverage (but you can build it up to be full without any cakiness!) and in a stick formula that makes applying it SO easy. The finish is also so natural looking that people compliment on my skin rather than my makeup when I've got this baby on. You'll have to pry it out of my cold, dead hands.
Klorane
I have just about the oilest of oily hair. In about 18 hours, my hair needs to be washed again. So, I've tried every single dry shampoo known to man, and this one finally did the trick. It doesn't just mask the oils; it actually makes my hair look clean again. I usually will put it on before bed, and I wake up with clean looking hair every time. (It's also comes in a mini size for travel, so I keep one in my bag at all times!).
Nars
It's always been a struggle for me to find a foundation I really love. I don't like looking like I'm wearing a ton of makeup, and with so many foundations, I feel like my skin looks worse by the end of the work day. This foundation is hands-down the best I've ever tried — it looks good all day long, and keeps my skin looking glowing and healthy. It can be super full-coverage if you choose, but I find that if I just use the smallest amount, I can tailor it to fit the more minimal coverage I prefer. It's 100 percent worth the price!
Bumble and Bumble
As a gal with pin-straight hair, it can be hard to find something that gives my hair texture without making it feel too crunchy or dry. After a recent hair chop, I had to figure out how to style my hair again, and this spray has been the solution to all of my problems. It gives my hair a perfect beachy look, but doesn't dry it out like other sea salt sprays tend to.
It Cosmetics
My combination skin can be a bit of a mystery — some days I feel super oily, others I feel dryer than the Sahara. This moisturizer is super thick, but doesn't leave me feeling greasy. It feels like it really absorbs into my skin, rather than just sitting on top of it, and somehow manages to make my skin look better overall. Win!