With her advertising-turned-interior-design career, Emily Hodge is a woman who knows the risk of taking chances — and the opportunities that happen once you do. From quitting her first job to enrolling in design school, Emily's path to becoming a designer was filled with determination and self-discovery. She even spent time with one of our favorite design teams, Nate Berkus Associates.
Here, Emily lets us inside her newly completed project in Deerfield, IL while dishing out her advice on how to update a home and the one element she wishes she could incorporate in every design.
Before
After
How did your interior design career begin?
It all started with being unhappy in my first job as an advertising account executive. I wanted to be in a creative environment that I had more control over, but ultimately, I knew I wanted to be my own boss. I just had to figure out what I was going to be the boss of! I always considered myself a creative person, but I certainly didn't wake up one day and realize that interior design was my calling. I've always loved it though, and on paper, the job checked all the right boxes. I took a leap of faith and went for it. I quit my advertising job, became an administrative assistant to pay the bills and enrolled in Harrington College of Design's night program. During my time at Harrington, I interned at Nate Berkus Associates, in Kara Mann's showroom, and studied under Kelly Hoppen for a stint in London. Eventually, I joined Nate's team full time, which was where I really learned the in's and out's of the industry.  
Before
After
How would you describe your design style?
This is such a hard question! I have definitely been influenced by the designers I've worked for. I tend to see my work as a mix of them all, but with my own twist. Lots of natural materials and classic furniture pieces, yet structured and clean. I love the final layer of accessories where you can throw in some really cool objects of interest like a sculptural piece of art or a massive, sparkly geode.  
Has your design style evolved throughout your career?
Absolutely! Design style is ever changing in my mind — just like fashion style. Both interiors and fashion should be representative of your personality, lifestyle, experiences, stage in life, etc. If those things are evolving, so should your style.
Before
After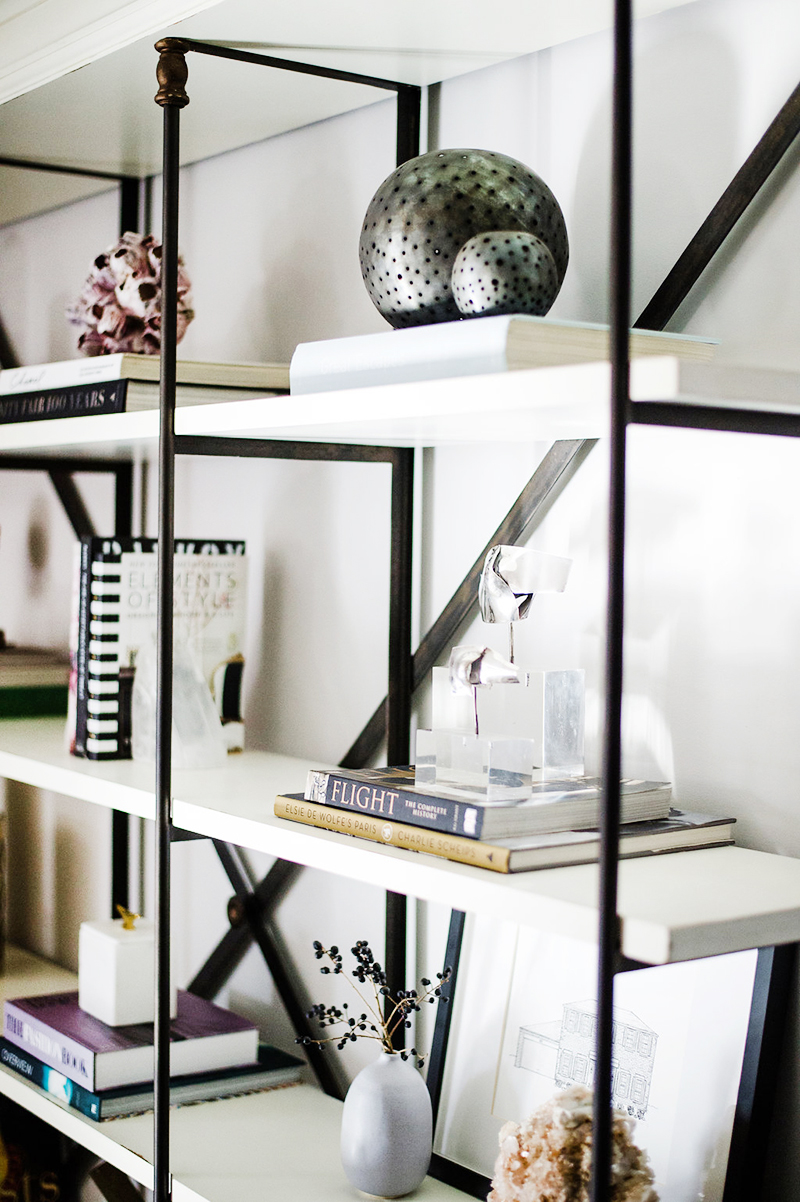 When redoing this home, where did you begin?
I was brought into this project after the contractor had been signed on, so my initial role was to help navigate the myriad of finish options as we recreated the bones of the house. Good bones are so, so, so important. There was nowhere to go but up with this project!
What's your best advice for someone looking to completely update a home such as this one?
Whether you start with a designer, contractor, or architect, it's most important to hash out the creative vision for each room. Back to talking bones: Think about how you want your floors, walls, and ceilings to look. When you take your ideas to the contractor, the pricing process will be more straightforward if you have the little details called out. For example, in this project, we were within the contractor's provided budget to specify a 3×6 marble subway tile for the master bathroom flooring. However, to make it more interesting, we wanted to lay the subway tiles in a herringbone pattern with a linear border. Sure, we made the material budget, but the additional labor costs had to be discussed on the back end. More work in the beginning means fewer ($$$) surprises in the end.
Before
After
What's your favorite part of this home?
I love the updates we made to the kitchen nook, which is my favorite space in any house. That's where all of the day-to-day memories are made.
Did this home present any unique challenges?
Originally, the home was very compartmentalized, so from a space planning perspective, we knocked down one major wall in the living space to create a more open plan. With the amount of demo that went down, we were pretty fortunate to not have any major structural surprises along the way.
Before
After
Where do you search for decor and furniture?
For new pieces, I like to start at Candelabra. They pull from so many different vendors, so they have a great mix of styles and prices. For those one-of-a-kind pieces, antiques are the way to go. If you don't have access to a good antique market, look through eBay or 1st Dibs.
Before
After
What's your favorite current design trend?
I love that it's no longer considered a faux pas to mix metals. From an industry perspective, it's been that way for a while, but I still find that some clients are hesitant. Since more and more designers are embracing it, it's easy to show examples of how the mix creates depth in your home.
What's a design trend you hope to never see again?
Shiny, yellowy gold from the 80s!! The 80s ruined poor brass' persona. A lot of people are now afraid that brass will look tacky, which is fair when their only point of reference is shiny, yellowy gold things of yore. When you source real brass or bronze, especially from an antique venue, it has much more depth and weight to it. It can be a real showstopper.
What's your favorite interior design element of all time? (If you could incorporate one thing into every home you design, what would it be?)
While working for Lauren and Sasha at NBA, I fell in love with the world of antiques, and quickly learned how imperative they are in the home. Antiques bring meaning, intrigue, and conversation, and ground a space with character. Lighting can be transformative, so if you're going to splurge on an antique, look for an antique table lamp or chandelier. You'll find that your space is instantly elevated.