The Everygirl's Guide to Everyday Gatherings
It's the little moments in life that make it special—hosting a party just because, laughing with your girlfriends, and having nights so memorable that you lose all track of time. You don't need a holiday or milestone to experience life in a way that you have always dreamed of. We partnered with La Crema to show you how to make any gathering, whether it be big or small, one you and the people you love will remember for a lifetime. So grab a bottle of wine and prepare for hosting to become your core personality.
Explore Everyday Gatherings
Date Night At Home
Friend's Birthday
Dinner Party
Favorite Things Party
Themed Brunch
Streaming Party
Housewarming
Clothing Swap
Date Night At Home
From sushi to tacos and every french fry in between, there is a wine that perfectly pairs with each. To help make your takeout feel like a five-star experience, we're sharing them all.
Simple things like saying thank you more often, expressing gratitude, and letting the other person know how much you appreciate them can go a long way in a relationship.
Friend's Birthday
Everyone deserves a birthday celebration that goes beyond simply grabbing dinner and drinks with friends. These birthday ideas take the cake for kicking off another year around the sun.
When building a cheese board, offer three to five cheeses. Choose a nice assortment of high-quality cheeses with a variety of textures, flavors and types of milk (cow, goat, sheep).
Chef Tracey Shepos-Cenami
Dinner Party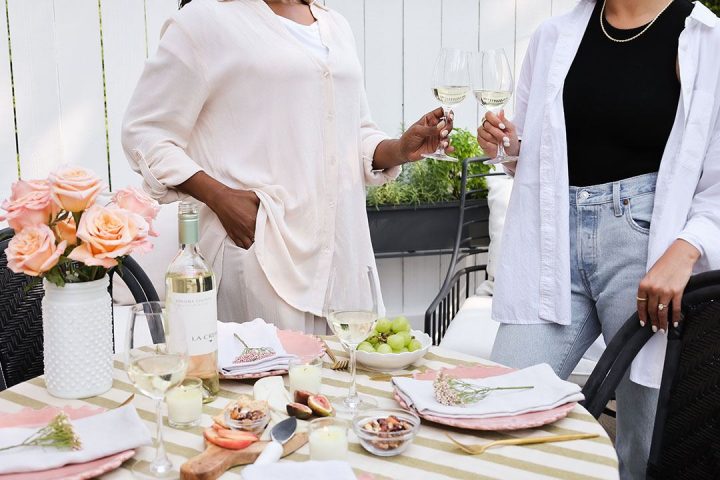 Running out of wine? Couldn't be you. An expert is sharing her top tips and tricks for ensuring that you always have enough wine for a crowd, no matter how big or small.
Keep whites in the fridge and reds at room temperature until 15 minutes before your guests arrive, and then swap them in the fridge.
Emily Pickral, Master Sommelier
Favorite Things Party
Prepare to be convinced that a Favorite Things Party will be the best thing you've ever done with your girlfriends. We're sharing how to host your own and every party detail to make the night perfect.
This party is a perfect representation of the unique experience of girlhood: the excitement of sharing the little things that make life feel fun, exciting, and just downright good.
Themed Brunch
Anyone can toast a bagel, but not everyone can throw a memorable brunch—until now. With the help of a fun theme and our tips, you're about to be the hostess with the mostess.
Depending on how varied the brunch items are, the more wines the merrier! Rose, Chardonnay, Sauvignon Blanc, Pinot—all are deserving of a spot at the table.
Emily Pickral, Master Sommelier
Streaming Party
Pop some popcorn, grab a few bottles of wine, put on your coziest loungewear, and prepare to host a streaming party that will have your friends begging you to host another one ASAP.
Contrary to popular belief, Chardonnay is the number one selling varietal in the U.S. so it can likely please many palates–and is also a killer pairing for chips and popcorn!
Emily Pickral, Master Sommelier
Housewarming
You don't have to be in Sonoma's wine country to enjoy the delicacy that is a wine testing. We're sharing exactly how to throw a memorable tasting at home.
The finish is often the defining factor between a mediocre and an awesome-tasting wine. Following a sip, are you left with a hint of tartness, spice, heat, or bitterness? Does that taste linger or does it disappear quickly? All of these can describe the finish of a wine.
Emily Pickral, Master Sommelier
Clothing Swap
Thrifting girlies rejoice, swapping clothing with your girlfriends is all the rage right now, and they are one of the easiest parties to plan. From invites to swapping rules, we've got you covered.
If you have a hard time letting go, try this: turn all your hangers the opposite way. Once you've worn an item, turn the hanger back around. You'll be able to clearly see the pieces you don't reach for.