This fall has been nothing for me if not a rollercoaster of false optimism mixed in with quite a bit (read: a lot) of cabin fever. For a few glorious weeks here in Chicago, we were able to sit outside on patios and leave our homes (socially-distanced, of course), and it felt like there was light at the end of the COVID-19 tunnel—but alas, that was, of course, a mirage.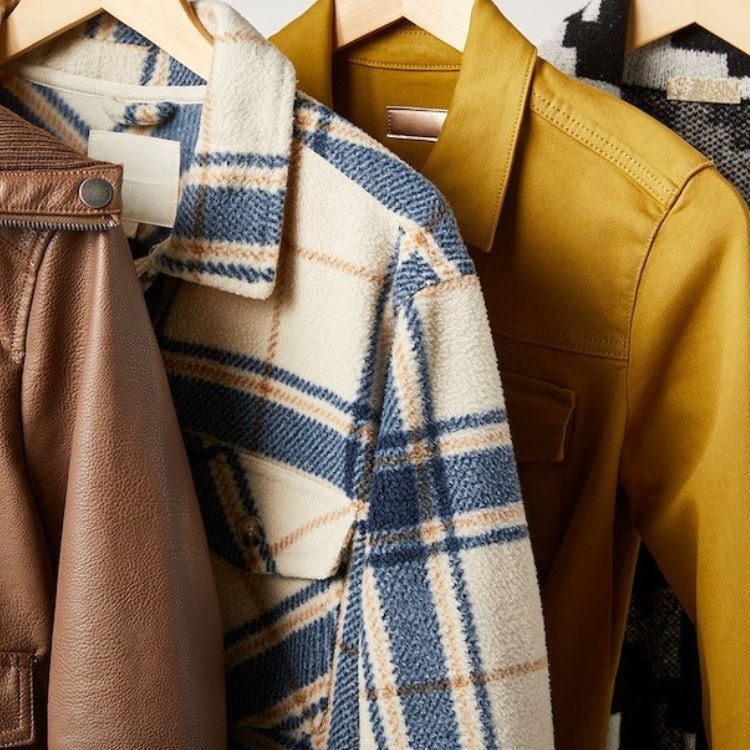 ...and it's wallet-friendly
All this to say that, I write about fashion for my job, so I obviously love trends and clothes and figuring out my wardrobe when new seasons come. So when many were on the train of only wearing joggers, as they should have been, my mind played tricks on me and let me plan out some outfits for winter that may not see the light of day (but there's always next year!).
From matching sets to fun joggers to some new jeans (I told you, cabin fever!), these are the things I've added to my wardrobe for fall and winter—even if it means the only way anyone sees them is if I do an outfit change between every course on Thanksgiving for only my parents to see.
I ordered this sherpa on Amazon one day when I was freezing cold and hadn't found a new winter coat I loved yet, and it is quite literally one of my favorite things of the year. It's more of a sweatshirt-level warmth (it isn't a coat by any means), but I wear it around my apartment with leggings every single day, and every day it continues to wrap me in a soft, cozy hug and bring me joy. I loved the camel so much I ordered it in black too so I had one in case the camel one was in the wash. This is, by far, my favorite purchase of the past few months—and it's $30.
As I previously disclosed, I did the opposite of what society has chosen to do and made the ill-informed decision to begin my hunt for the perfect pair of jeans a few weeks ago. I placed an order of literally eight pairs in all different sizes from Zara just to be able to try some on, and these are actually so comfortable that I've been wearing them for my quarantined life. They're so soft and comfortable and flattering and wearing them to the grocery store is a joy.
I struggle a lot with finding straight-leg jeans that fit my body right, but these are amazing. I would definitely recommend sizing up one size in these.
During my jean excursion, I had only planned on keeping one pair, but these were such a rare gem that I kept them too. I. love. these. jeans. I had to order two sizes up (I literally could not get my normal size above my thighs), but they are also so comfortable and flattering, and I'm a sucker for a raw hem and button fly. If you, too, feel the need to add jeans to your wardrobe this winter, I couldn't recommend either of these enough (and they are both super affordable).
I got a targeted ad for this matching set so many times that it felt like it was God's will for me to have it. I love wearing this on work-from-home days, of which I have worn it four out of my last five. It definitely helps me mentally to not feel super sloppy throughout the day, and this takes me from Zoom meetings to my afternoon nap seamlessly.
If 2020 did one single thing right, it's fun joggers. These are a jogger material but are made of corduroy, which defies all explanation and is something I don't feel the need to question.
My exact pair is from Gap and is sold out in some sizes, but Nordstrom now has a very similar pair which will hopefully lead the masses to experience this joy.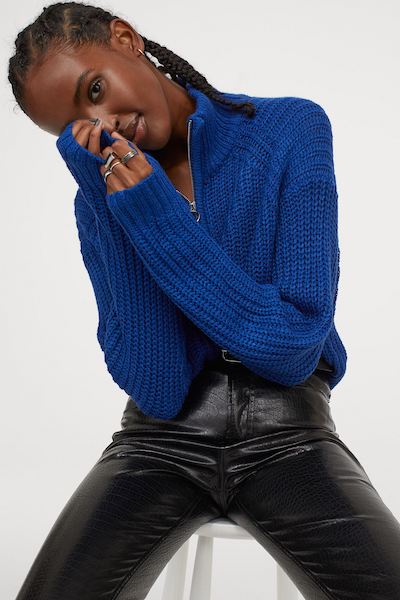 If there is one thing that I love above all else in my wardrobe, it is my jackets. I choose them strategically and treasure them, and they are the glue that holds my outfits together—and it's very rare that one speaks to me in the way this one did. I never would have gotten it based on Zara's picture of it, but I saw it on a blogger on Instagram and knew I would wear it for years to come. It's fun and completely unique, and I'm so excited to be able to wear it to death in the future. (Pro tip: this runs absolutely huge. This is an XS, which I never get, and is still quite large).
This very '70s print was one of H&M's gems of the year, and I loved the thought of wearing this with tights and my knee-high boots. I wear my dresses to death but don't see many I love very often, so I know I'll be getting a ton of use out of this bad boy.
This turtleneck makes me laugh in that it makes me feel like I'm wearing Kim Kardashian's couch dress from the 2013 met gala, but it also makes me a bit fonder of it. I love wearing a thin turtleneck with joggers throughout the day and to have them to wear under jackets, and this was a nice detour from my collection of plain black ones.
As we know, faux leather is the hottest thing since sliced bread this year, and I took it upon myself to find a pair that was both affordable and high-quality. After much, much trial and error and many trips to USPS to send return packages, I found these. I sized up, but they are such a good fit and are such a fun, versatile addition to your wardrobe that can be worn next year too (and the year after that, and the year after that).